It's St. Patrick's Weekend! Well the holiday isn't quite a weekend long activity but whose to say you can make it one?With LA's bounty of Irish pubs go ahead and fancy a neon beverage! Read our round-up below of LA's best Irish sips and bites. Enjoy a round of Guinness with a side of Boxty and discover your inner Angeleno!!
Pub's
The Auld Dubliner
Location: Long Beach
Here is what we love about the Auld Dubliner: The menu doesn't dabble in Irish dishes, it full-on embraces them. Bangers and champ, a plate of sausage and mash; Irish ham and cabbage; shepherd's pie; boxty, a traditional Irish potato pancake; and an all-day full Irish breakfast are just a few of the plates that'll have you breaking out in a jig. Their drink selection is nothing to scoff at, either: The Auld Dubliner is known for pouring the perfect pint of Guinness!
Casey's Irish Pub
Location: Downtown
Even if you've never been to Casey's, you're probably familiar with the sprawling, dark-wood-everything bar: It's served as the set for just about every pub-focused scene on TV in the last 20 years. Given an Irish reboot from the brains at 213 Hospitality, Casey's is still imbued with that faded-elegance vibe.
The Irish Times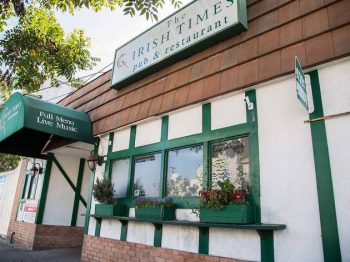 Location: Culver City
Your eyes may need some adjusting once you enter the Irish Times, a divey, dimly-lit Irish pub, but give it some time and you'll soon find yourself comfortably immersed in your surroundings. That's because comfort is key at this Culver City bar, where regulars gather for trivia on Tuesdays and Thursdays while noshing on bangers and mash or beef-and-Guinness pie. Authentic Celtic music drifts throughout the pub, then there's karaoke on Wednesdays, and live bands that perform on Fridays and Saturdays (no cover!)
Jameson's Irish Pub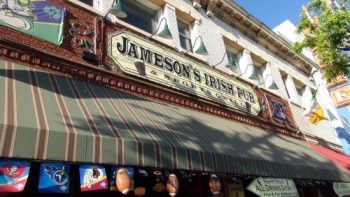 Location: Hollywood
An Irish pub in the middle of Hollywood may seem like a boozy tourist trap, but we're not complaining because Jameson's Irish Pub has one of the best happy hours on the Walk of Fame: two-for-one drinks, Monday through Friday, noon to 8pm. What's more, their namesake liquor is featured in over half the drinks on the cocktail list, making this pub a whiskey-lover's haven—and you know they've even got Jameson on tap.
Molly Malone's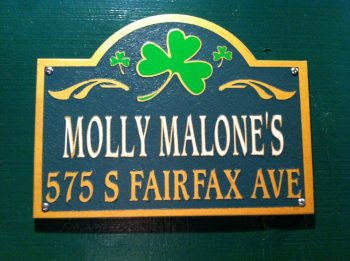 Location: Los Angeles
There are Irish pubs that feature music, and then there are music venues that happen to live in an Irish pub. Molly Malone's has been brewing up its own little pint of Dublin in L.A. since 1969 and showcasing musical talent (and a great beer list) every step of the way. Rock, Irish folk, country: The lineup spans the genre gamut, and with Molly's stellar acoustics, it's one of L.A.'s better pubs for catching a show—dinner and a show, in fact. On nights with live music, the kitchen is open late.
Patrick Molloy's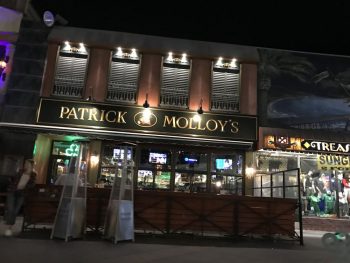 Location: Manhattan/Hermosa/Redondo
Check out this Irish pub for some after-beach drinks and a football game, or start you morning here—either way, it's got plenty to offer. Swing by on Saturday or Sunday for breakfast and get free, bottomless mimosas with any purchase. You won't find traditional Irish fare on the food menu, but the drink menu is stacked with whiskeys, beer and cocktails, like the Irish Mule and Irish Ivy Gimlet. Check out their daily specials online, including build-your-own-burger Thursdays (with $5 beer pitchers) and $3 bar bites and beers on Fridays.
Green Sips
1886 Bar at the Raymond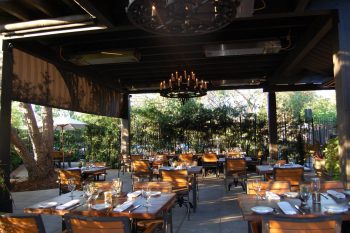 Location: Pasadena
Known as one of the best cocktail bars in the city, this place takes the craft of mixology very seriously with delightful details such as hand-cut ice, freshly-squeezed juices, as well as house-made infusions and tinctures. This charming establishment is even housed in a historic craftsman cottage. On St. Paddy's Day, head bartender Peter Lloyd-Jones will be pouring the Tipperary, a specialty mixed drink with Tyrconnell Irish Whiskey, Green Chartreuse and Carpano Antica. Sláinte!
The Pikey
Location: Hollywood
If something bubbly is more your style, the Pikey's Denver Mint Fizz with Jameson Irish Whiskey, mint, lemon, orange, club soda is highly recommended. Also, Michelin Star-awarded chef Ralph Johnson will be serving traditional Irish black-and-white pudding and corned beef and cabbage with horseradish cream. Yum!
Harvard & Stone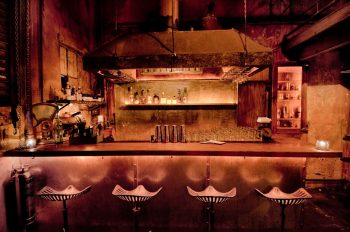 Location: Los Feliz
For those looking for a humorous take on the holiday, the trendy cocktail lounge Harvard & Stone will be showcasing their Leprechaun Piss concoction made with Green Spot Irish whiskey, Green Chartreuse and sweet vermouth. And for the true connoisseur, there's the Pot of Gold, a shot of Redbreast Irish Whiskey, a pack of Skittles, and a can of Olympia beer. Bask in the opulence!
Tavern
Location: Brentwood
On St. Patrick's Day, patrons of this elegant Westside eatery will get to enjoy Tavern on the Green. A cocktail with Brugal Añejo Rum, lime, muddled basil, cilantro and jalapeño. There will also be special menu featuring corned beef brisket with butter braised cabbage. Not your fave? They'll also have beer-battered fish 'n' chips with Guinness-battered pollock.
Whiskey Hubs
Seven Grand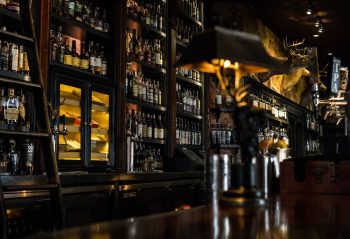 Location: Downtown
With taxidermy, plaid wallpaper, pool tables and an impressive, 700-plus collection of Scotch, bourbon, rye, single malt and whiskey—one of the largest selection on the West Coast—Downtown's popular Seven Grand is a boozehound's man cave. Take a trip to Japan, Scotland, Australia and even India with pours that will surprise even the most seasoned of whiskey enthusiasts. For those who want to geek out on the brown stuff, sign up for the Whiskey Society's tastings, held weekly at 6:30pm.
Ten Pound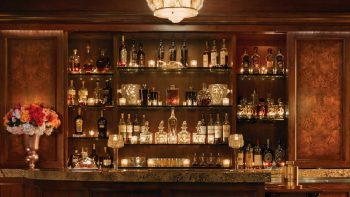 Location: Beverly Hills
L.A.'s classiest whiskey bar is, unsurprisingly, also one of the toughest to get into. This reservation-only spot within the Montage Beverly Hills is dedicated to one thing: scotch, namely Macallan. Browse the list of sherry oak, fine oak, Highland Park and "old & rare" bottles aged anywhere from 15 to 64 years. Then, there's the ice: Your barman rolls out a cart of chilling options, which can include Kold-Draft cubes, soapstone rocks, a water ball made from Highland Springs water and, finally, the ice sphere with the house £10 logo. With top-notch selects and service, you can also expect some of the best cocktails around.
The Blind Donkey
Location: Old Town
The bar's name pays homage to the bygone donkeys. Blindfolded, so as not to get spooked—they churned old mills that crushed grains for making whiskey. And that's what you'll find at the Blind Donkey: 100-plus whiskeys from America, Scotland, Ireland and Canada. The Pasadena gastropub is a spot whiskey lovers and beer geeks flock, where whiskey flights cross the globe from the Bourbon Trail to Ireland. And what whiskey cocktail is better than an old-fashioned?
Bar Jackalope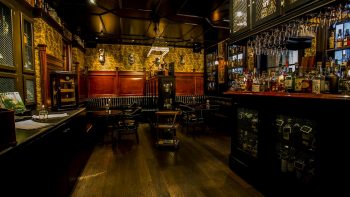 Location: Downtown
The entrance to this taxidermy-peppered saloon is tucked inside the converted back room of Seven Grand Downtown. Press the call button and an unmarked door inches open just wide enough for patrons to be signaled inside. What awaits is a whiskey lover's dream like cult favorite Pappy Van Winkle 15-years! As well as cocktails stirred to perfection.
Rock and Reilly's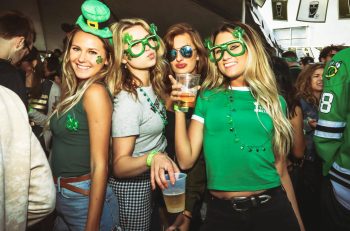 Location: West Hollywood
Choose from more than 50 varieties of whiskey at this Irish pub. Pair your flights of whiskey or beer with comfort bar food. Enjoy their guilt-inducing Irish Nachos, made with crispy potato slices instead of tortilla chips. On weekends, expect to rub shoulders with local hipsters. Try your luck in their upstairs lounge or back patio, no matter your location. Rock And Reilly's Locations: Downtown, USC, LAX and West Hollywood's Sunset Strip.
The Daily Pint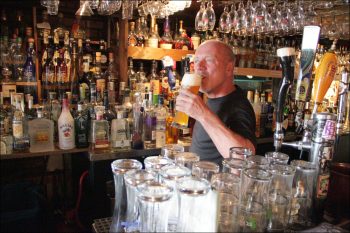 Location: Santa Monica
You'll find here ever-changing line up of craft brews on tap and hundreds of bottles of whiskey. Browse the longstanding watering hole's extensive selection of bourbon, scotch and whiskey from around the world. For those looking to shell out to get liquored up, ask the sassy-mouthed barkeep for a top-reach bottle. The floor-to-ceiling stocked vault holds bottles aged 65 years and beyond.