Do you know the perfect activity for a rainy day in LA? No it is not Netflix-ing the newest show or all of The Office. Head over to your nearest Museum for a proper dose of culture. While the clouds play a game of hide-and-seek, LA is offering a bounty of famed art and it's all right outside your door. Well not literally but you get the jest of it. From LACMA to MOCA, we've got you covered with a list below of current exhibits and museum deets(details but shortened for the millennial reading this).
When you gotta Van Gogh. You gotta Van Gogh check out some art!
LACMA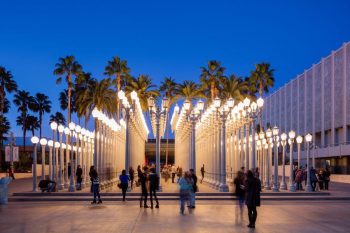 LACMA's collections boast modernist masterpieces, large-scale contemporary works (including Richard Serra's massive swirling sculpture and Burden's buzzing, hypnotic Metropolis II), traditional Japanese screens and by far L.A.'s most consistently terrific special exhibitions.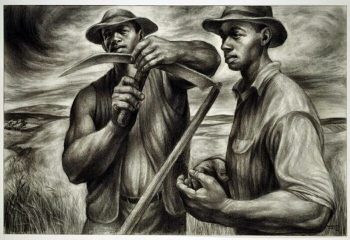 Current Exhibits: Charles White: A Retrospective (February 17-June 9, 2019), The Bauhaus at 100: Modern Legacies(February 16-May 5, 2019), Life Model: Charles White and His Students (February-September 15, 2019), Power of Pattern: Central Asian Ikats from David and Elizabeth Resibord Collection (February 3- July 28, 2019), Teresa HUbbard/Alexander Birchler: Flora(January 20-April 7, 2019), The Jeweled Isle: Art from Sri Lanka(December 9, 2018-June 23, 2019), Outliers and American Vanguard ARt (November 18, 2018-March 17, 2019), Rauschenberg: The 1/4 Mile (October 28, 2018- June 9, 2019).
Hours:
| | |
| --- | --- |
| Monday | 11 am–5 pm |
| Tuesday | 11 am–5 pm |
| Wednesday | Closed |
| Thursday | 11 am–5 pm |
| Friday | 11 am–8 pm |
| Saturday | 10 am–7 pm |
| Sunday | 10 am–7 pm |
Closed on Wednesdays, Thanksgiving Day, and Christmas Day
Admission:
People Residing in 

L.A. County 

with Valid ID

People Residing 

Outside L.A. County
Members
Free
Free
After 3 pm, Mon–Fri
Free
$25
Children (17 & under)
Free
Free
Adults
$20
$25
Seniors (65+ with ID)
$16
$21
Students (18+ with ID)
$16
$2
Getty Center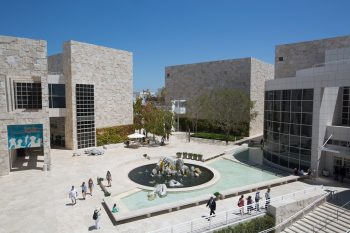 What's now called the Getty Villa served as the decades-long home for the J. Paul Getty Trust's extensive art collection. But in 1997, the Getty Center opened. The end result is a remarkable complex of travertine and white metal-clad pavilions that houses ornate French furniture, recognizable Impressionist pieces and rotating exhibitions. Its relative inaccessibility is more than compensated for by free admission and panoramic views, from the hills and the ocean in the west all the way around to Downtown in the east.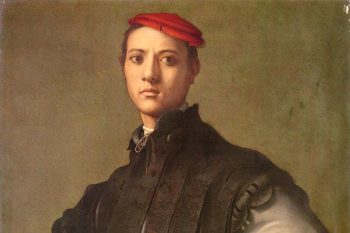 Current Exhibits: Mapping Space: Recent Acquisitions in Focus (February 26-July 15, 2019), Marks of Collaboration: Drawing in Context (February 5-April 14, 2019), Pontormo: Miraculous Encounters (February 5-April 28, 219), Artful Words: Calligraphy in Illuminated Manuscripts(December 18, 2018-April 7, 2019), Spectacular Mysteries: Renaissance Drawings Reveled (December 121, 2018- April 28, 2019), MONUMENTality (December 4, 2018-April 21, 2019), Eighteenth-Century Pastel Portraits (August 28, 2018-October 13, 2019)
Hours: Open 10 am–5:30 pmSaturday 10 am–9 pm
Closed Mondays
Holiday closures: Thanksgiving Day, December 25, and January 1
Admissions: Admission is FREE. Parking is $15, $10 after 3pm
Huntington Library, Art Collections and Botanical Gardens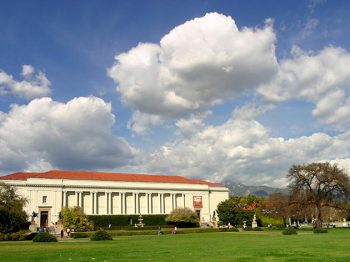 The bequest of entrepreneur Henry E. Huntington is now one of the most enjoyable attractions in the Los Angeles region. It's also a destination that demands an entire day should you attempt to explore it in full: Between the art, the library holdings and the spreadeagled outdoor spaces, there's plenty to see, and most of it is best enjoyed at lingering leisure rather than as part of a mad day-long dash. From a Gutenberg Bible to an exquisitely landscaped Japanese garden, nearly every inch of the estate's grounds and collection is essential.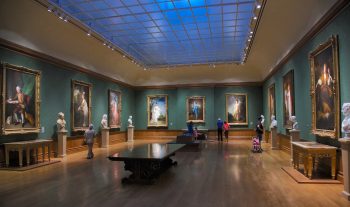 Current Exhibits: The Huntington presents a range of pieces focused on American and European Art. See American art from the late 17th to the late 20th century on view in the Virginia Steele Scott Galleries of American Art, and European art from the 15th to the early 20th century in the Huntington Art Gallery, the original Huntington residence.
Hours:
| | |
| --- | --- |
| Monday | 10 a.m.–5 p.m. |
| Tuesday | Closed |
| Wednesday | 10 a.m.–5 p.m. |
| Thursday | 10 a.m.–5 p.m. |
| Friday | 10 a.m.–5 p.m. |
| Saturday | 10 a.m.–5 p.m. |
| Sunday | 10 a.m.–5 p.m. |
Last ticketed entry time is 4 p.m.
The Huntington is closed on Thanksgiving, Christmas Eve, Christmas Day, and Independence Day.
Admissions:
Reservations are not necessary to visit The Huntington (except on Free Days). Tickets may be purchased on site at the time of your visit or online in advance. Parking is free.
| | |
| --- | --- |
| | Weekdays/Weekends* |
| Adult | $25/$29 |
| Senior (65+) | $21/$24 |
| Student (f/t ID) | $21/$24 |
| Youth (4-11) | $13 |
| Child (under 4) | free |
| Groups (15+) | $19/$23 |
| Members | free |
The Broad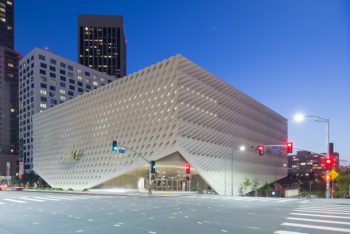 Three words: Infinity Mirror Rooms. Downtown's persistently popular contemporary art museum has two of Yayoi Kusama's immersive, mirror-laden rooms (and the stand by queue to prove it). Elsewhere in the free museum, Eli and Edythe Broad's collection of 2,000 post-war works includes artists like Andy Warhol, Roy Lichtenstein, Ed Ruscha, Cindy Sherman, Barbara Kruger and Jeff Koons. Outside, the museum's plaza features a lovely olive tree grove that sits in from of Otium, the museum's signature restaurant from French Laundry alum Timothy Hollingsworth.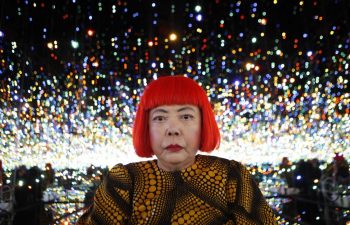 Current Exhibits: Infinity Mirror Rooms
Coming Soon: Soul of a Nation(March 23-Sept 1, 2019) and Shirin Neshat: I Will Greet The Sun Again(October 19-February 16, 2020)
Hours:
Tuesday & Wednesday | 11 a.m. – 5 p.m.
Thursday & Friday | 11 a.m. – 8 p.m.
Saturday | 10 a.m. – 8 p.m.
Sunday | 10 a.m. – 6 p.m.
Closed Mondays, Thanksgiving Day and Christmas Day.
The standby line closes 60-90 minutes before the museum closes and may close earlier on busy days.
Admissions:
General admission to The Broad is free and includes access to the third floor galleries, which display a robust and changing selection of work by artists including Jean-Michel Basquiat, Mark Bradford, Jeff Koons, Barbara Kruger, Yayoi Kusama, Takashi Murakami, Andy Warhol, and more.
GA tickets are timed and available every half hour, up until one hour before the museum closes. General admission tickets do not include access Yayoi Kusama's Infinity Mirrored Room—The Souls of Millions of Light Years Away, 2013. To experience this artwork, a separate signup is required after you enter the museum with your admission ticket.
Hammer Museum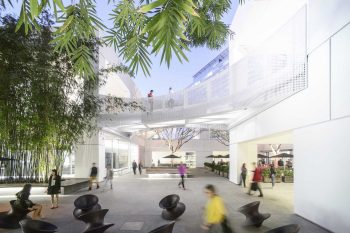 Industrialist Armand Hammer founded this museum in 1990, primarily to house his own collection, and it opened just three weeks before he died. Now, the free, UCLA partner institution stages fascinating shows of modern art, photography and design, often with an emphasis on local artists. The shows are supplemented by the Hammer's public events calendar (arguably one of the best in the city), chock full of free lectures, concerts and screenings.
Current Exhibits: Allen Ruppersberg: Intellectual Property 1968-2019(February 10-May 12, 2019), Dirty Protest: Selections from the Hammer Contemporary Collection (January 24- May 19, 2019), Hammer Projects: Tschabalala Self (February 2-April 28, 2019), Jamilah Sabur(January 19-May 5, 2019), Math Bass(September 29-March 17, 2019).
Hours:
| | |
| --- | --- |
| Monday | Closed |
| Tuesday | 11 a.m.—8 p.m. |
| Wednesday | 11 a.m.—8 p.m. |
| Thursday | 11 a.m.—8 p.m. |
| Friday | 11 a.m.—8 p.m. |
| Saturday | 11 a.m.—5 p.m. |
| Sunday | 11 a.m.—5 p.m. |
The museum is open every day, except Mondays, July 4, Thanksgiving, Christmas, and New Year's Day.
Admission:
Admission to all exhibitions and public programs is free and open to the public.
Free admission to the Hammer Museum is made possible through the generosity of Erika J Glazer and Brenda R. Potter.
MOCA Grand Ave.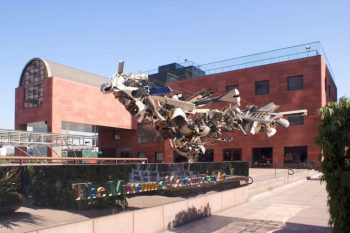 The main branch of L.A.'s Museum of Contemporary Art houses thousands of artworks. They range in those crafted from 1940 to today, and it's an efficient primer on post-war art. Spend half an hour or an entire afternoon absorbing contemporary pieces. From lesser known artists, punctuated by sightings of Mark Rothko and Jackson Pollock works. The museum's most exciting exhibitions take place at the nearby Geffen Contemporary, while interior design buffs will want to visit their outpost at the Pacific Design Center.
Current Exhibits: One Day at a Time: Manny Farber and Termite Art (October 14, 2018- March 11, 2019), Zoe Leonard: Survey (November 11, 2018- March 25, 2019), Barbara Kruger, 'Untitled (Questions)(1990/2019' (October 20, 2018- November 30, 2020), Laura Owens (November 11, 2018- March 25, 2019), Cameron Rowland D37 (October 14, 2018- June 24, 2019)
Hours:
| | |
| --- | --- |
| Mon | 11am – 6pm |
| Tues | Closed |
| Wed | 11am – 6pm |
| Thur | 11am – 8pm |
| Fri | 11am – 6pm |
| Sat | 11am – 5pm |
| Sun | 11am – 5pm |
Admissions:
Members: Free
General Admission (valid all day at both DTLA locations): $15
Students with I.D.: $8
Seniors (65+): $10
Children under 12: Free
Jurors with I.D.: Free
Admission is free every Thursday from 5pm to 8pm.