Outside of Orange County, Anaheim is mostly known for its largest tourist destination: Disneyland. But locals know that the city extends far beyond The Happiest Place on Earth, with plenty of non-Disney things worth doing — and the food scene doesn't end at the resort zone, either. Dig deeper into the strip malls, modern food courts, and transit terminals in Anaheim's surrounding grid, and you'll uncover restaurants serving food from around the world that are cool enough for LA, but could only exist in the OC.
From speakeasy fine dining to all-Halal feasts (and every down-home American breakfast in between), here are the restaurants you should be eating at in Anaheim right now.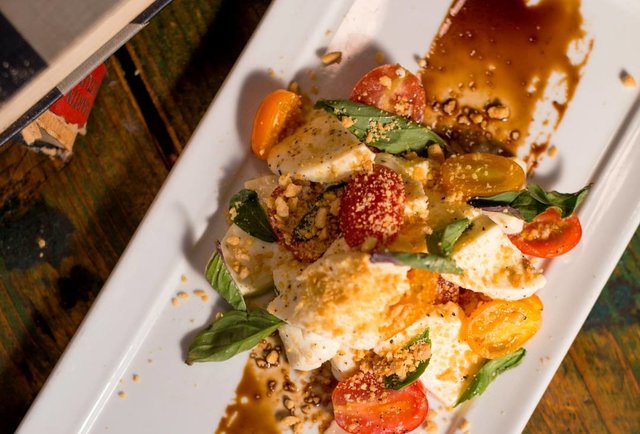 Hidden spot for fine cocktails and decadent food
Orange County's first speakeasy is thankfully still one of its best. Some of the most creative mixologists in the region continue to pass through The Blind Rabbit's hidden front doors, where they craft seasonal menus of stalwart classics and custom cocktails that range from off-the-wall to tiki-inspired. A food menu of equal decadence (bone marrow, duck confit mac & cheese, lamb chops) awaits — if you can find the place.
Middle Eastern food at Little Arabia's preeminent restaurant
Orange County's unofficial "Little Arabia" is a conglomeration of restaurants and businesses around the intersection of Brookhurst and Ball in West Anaheim; Olive Tree is its most notable food ambassador. The eatery (which recently expanded across the strip mall) serves familiar Middle Eastern food like falafel and beef shawarma alongside hard-to-find regional specialties from Palestine, Libya, Syria, and Saudi Arabia.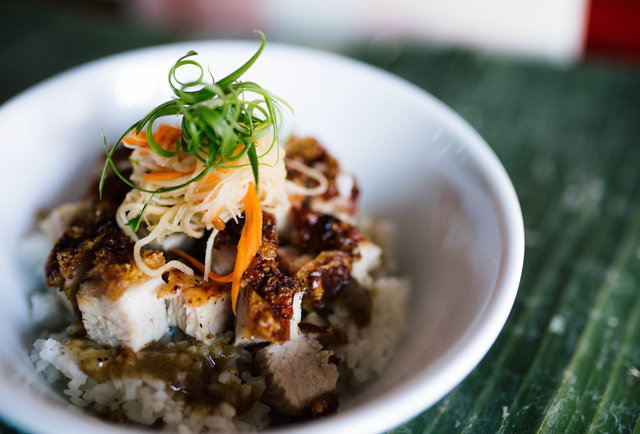 Filipino bowls and a dinner you eat with your hands
In the Philippines, chef Henry Pineda's aunt and grandmother own a small chain of restaurants specializing in sisig, or crispy chopped pig-head parts that come sizzling on a cast-iron plate. In Anaheim, Pineda serves the same dish but is more well known for his quick-service rice bowls topped with everything from spiced chicken adobo to crispy pork belly lechon. Order in advance for a full kamayan dinner, where you'll eat a traditional Filipino meal of various fried and stewed meats off banana leaves with no utensils.
The two best restaurants at the Happiest Place on Earth
Amusement parks are known for hocking lots of junk food, but Disneyland's most exclusive dining experiences instead offer up-close views to upscale, cheffy freedom. At Napa Rose inside the Grand Californian Hotel & Spa, the Chef's Table offers custom, multi-course meals from chef Andrew Sutton, who puts SoCal twists on NorCal-inspired California cuisine. Club 33, meanwhile, is Sutton's more historic affair. The exclusive, membership-only restaurant hidden somewhere in New Orleans Square is where, for $10,000 a year (plus a $25,000 initiation fee), you get five annual passes, private tours, access to VIP treatment and the privilege of reserving a time to try Sutton's take on classic American fine dining.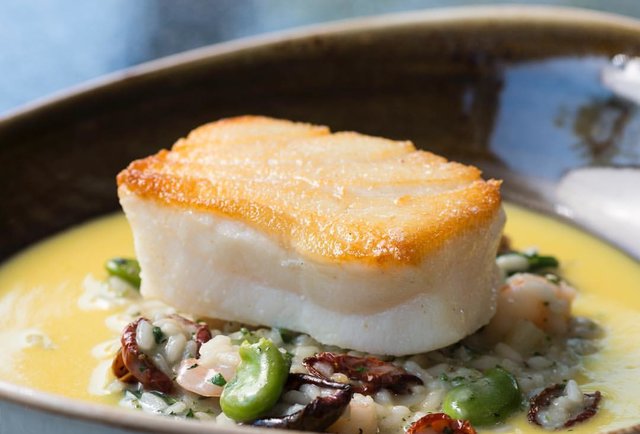 Farm-to-table steakhouse and dance hall
THE RANCH (yes, all caps) can best be described as a new-school steakhouse — enough nostalgia to represent the genre, but with a contemporary upgrade to keep the food snobs happy. Executive chef Michael Rossi and master sommelier Michael Jordan (both formerly of Disneyland's Napa Rose) represent Western farm-to-table with seasonal takes on classic meat dishes, like a 36-ounce bone-in rib-eye and Beeler's Family Farm pork chop. Bring lots of friends, and stick around for the live music afterward!
Southern selections inside a transit hub
The Oyster Bar SKC is the only sit-down restaurant operating inside ARTIC: Anaheim's new train and bus terminal that looks like a fluorescent rainbow airplane hangar just off the 57 Freeway. With a New Orleans theme, The Oyster Bar focuses on seafood-drenched pan roasts — made through steam kettle cooking, thus the "SKC" — and its raw bar, which stocks shells of all kinds from every coast.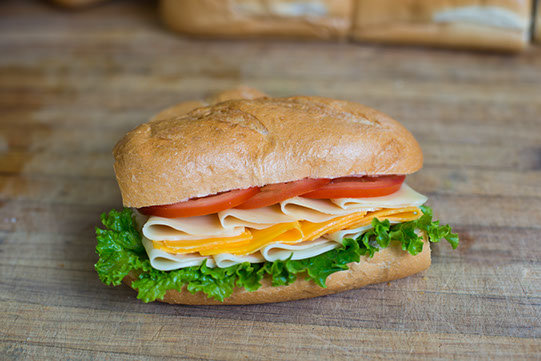 Argentine market and deli that's perfect for lunch
From the outside, El Gaucho looks like it could be just another suburban carniceria, but this Argentine market and deli counter offers so much more. Shelves of South American goods and a well-stocked butcher counter await for the grab-and-go set, while the attached deli oozes Italian influence with Argentine pizzas, charcuterie sandwiches, and empanadas stuffed with Mediterranean spiced meats like beef and tuna.
Pork-free dishes from Western China
If you ever needed a reminder of how diverse Chinese food can be, spend a Sunday grubbing with a posse at Ma's Islamic Chinese, a restaurant that from the outside looks like a mosque but might as well be Muslim Chinese food heaven. No pork, but lots of beef, lamb, and noodles dot a menu of massively portioned dishes, each originating from the Hui people of Western China. Food here is hearty, heaving with spice and designed to be wiped up with a fresh sesame-seed flatbread that tastes like the bridge between the Arab and Chinese worlds — just like the Hui themselves.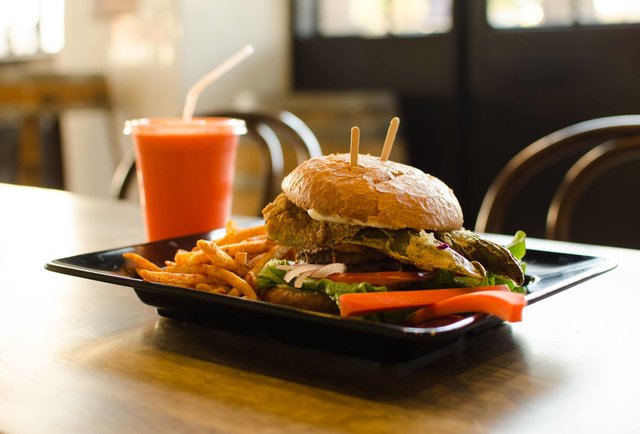 Vegan fast food and other comforts
When a former manager of beloved Costa Mesa vegan restaurant Native Foods strikes out on her own, you get Healthy Junk: a haven of animal-free comfort food on a redeveloped promenade in Anaheim. Almost In-N-Out burgers, mock-meat Tex-Mex, and not-lame salads made this one of the OC's early vegan spots that helped spawned the current wave of cruelty-free dining.
Churro truck straight outta Jalisco
Forget the Instagram-famous wannabes at The Loop and Churroholic: Don Churros Gomez is the real deal. Pulling from a family recipe brought here from the highlands of Jalisco, this Anaheim food truck makes not long and lean churros of the carnival variety, but puffy, fat and stout ones oozing caramel and topped with ice cream. It's what churros have always wanted to taste like — worth the wait!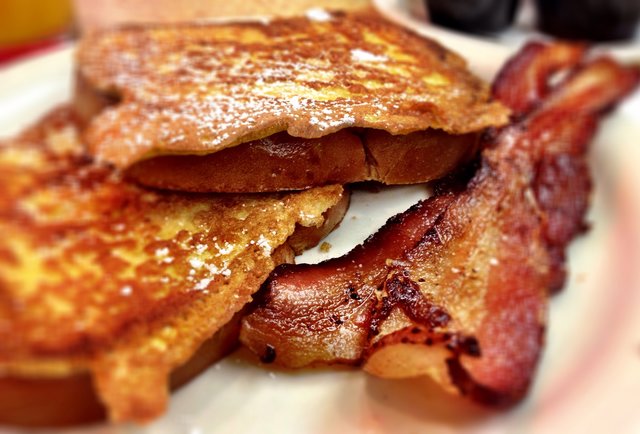 Old-school breakfast in a classic setting
The Original Pancake House might have started in the Pacific Northwest, but its Anaheim location has become a breakfast institution for its decades of dedication to the international art of flapjacks. Specializing in sugary and fruit-filled pancake recipes from around the world, TOPH is where you'll find Danish, Dutch, and Tahitian specialties plus crepes, bacon waffles and enough maple syrup to put you in a sugar coma before lunchtime.
New, creative modern brunch  
Traditional breakfast mashes up with contemporary SoCal culture at The Scratch Room, where brunchy burgers come on French toast-dipped brioche buns, and the Benedicts are topped with corned beef hash, salmon cakes, carnitas, and more. The family-owned restaurant is everything a modern diner in Anaheim should be — machaca breakfast burrito and all.
Story by Thrillist.