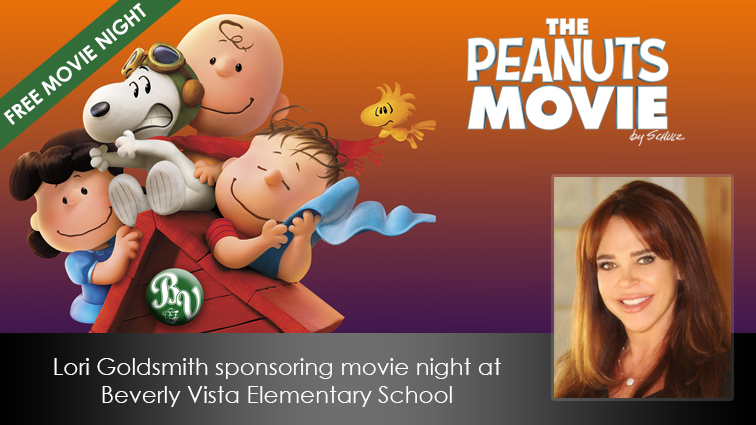 School is back in session and Beverly Vista Elementary School is kicking off this new school year with a free movie night.
The family event is being sponsored by Rodeo Realty Beverly Hills Realtor, Lori Goldsmith, who is part of the Executive Board of the PTA at Beverly Vista.
The Realtor has two children who attend Beverly Vista, Max (1st grade) and Sam (8th grade), and volunteered to sponsor the school's first movie night of the year.
Parents and children are invited to bring their blankets and enjoy a night outdoors under the stars watching "The Peanuts Movie" on the school's playground.
The event is scheduled for Saturday, September 10th at 7:30 p.m. Gates will open at 6 p.m. so children can play with their friends and enjoy pizza, popcorn, candy, and drinks that will be on sale. All proceeds will benefit Beverly Vista's PTA.
Aside from actively chairing as 3rd VP Community Service for the PTA, Lori Goldsmith is one of the three co-chairs for the 8th grade graduation committee and additionally one of the room mothers for Max's 1st grade class. Last year she dressed up as the school's mascot "The BV Bulldog" to encourage school spirit, which landed her the position of "Spirit Chair."
"Every Friday those little faces were beaming with School Spirit as the Bulldog hugged and high-fived the students," said Lori Goldsmith. "I am happy to help our wonderful school, Beverly Vista and do whatever I can for this tremendous community. These kids are only young once, let's leave a lasting impression and teach them community involvement."
Event flyer: