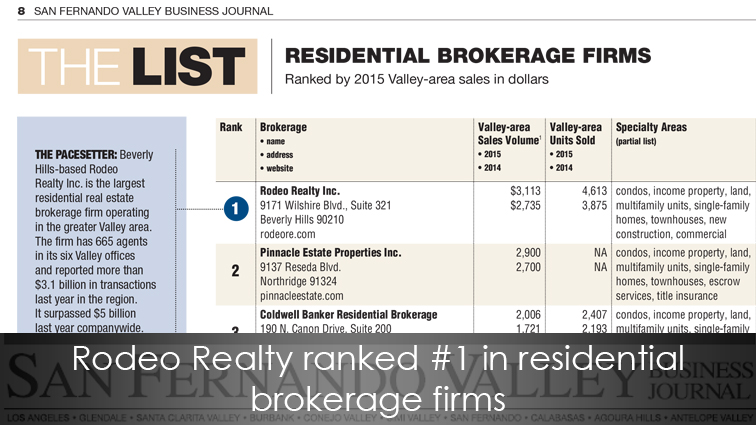 Rodeo Realty has been recognized as one of the largest residential real estate brokerage firms.
The San Fernando Valley Business Journal released The List 2016 and of more than 20 residential brokerage firms—Rodeo Realty "The Pacesetter" is at the top.
The List is ranked by 2015 Valley-area sales in dollars and includes brokerages that are both franchises of larger real estate companies and independent firms.
According to The List, Rodeo Realty reported more than $3.1 billion in transactions last year in the region.
"It surpassed $5 billion last year companywide," said The San Fernando Valley Business Journal.
Los Angeles Business Journal also recognized Rodeo Realty as one of the 2016 top residential brokerage firms. Rodeo Realty was named the 2nd largest in Los Angeles County, reporting more than $5 billion in sales last year.
[su_document url="https://rodeorealty.blog/wp-content/uploads/2016/03/2016-Residential-Brokerage-Firms-SFV.pdf"]
[su_document url="https://rodeorealty.blog/wp-content/uploads/2016/03/2016-Residential-Brokerage-Firms.pdf"]