At 104 years old, the Natural History Museum of Los Angeles County is due for a new look. That's exactly what it's getting from Los Angeles architecture firm Frederick Fisher and Partners, which released concept designs Wednesday to show their vision for updates to the museum's west and south sides.
The Natural History Museum's new "West/South Project" is intended to make the space more welcoming and accessible, Frederick Fisher & Partners noted in a Wednesday statement; preliminary concepts include smoothing out stairs and and adding new points of entry from Exposition Park to refashion the museum's southwester perimeter into a "front porch" complete with a new lobby and Welcome Center.
Additionally, the museum's existing Jean Delacour Auditorium wing, currently used for storage, will be replaced by a new, three-story rectangular glass structure; the L.A. Times points out that the Natural History Museum already has one glass-cube entry hall, the Otis Booth Pavilion added to the museum's north side in 2013, but this cube will distinguish itself with large-scale vitrines set into its façade to show off objects from the Museum's various collections. The museum will also be topped by a brand-new rooftop restaurant offering panoramic views, which L.A. could always use more of. The concepts are all still preliminary.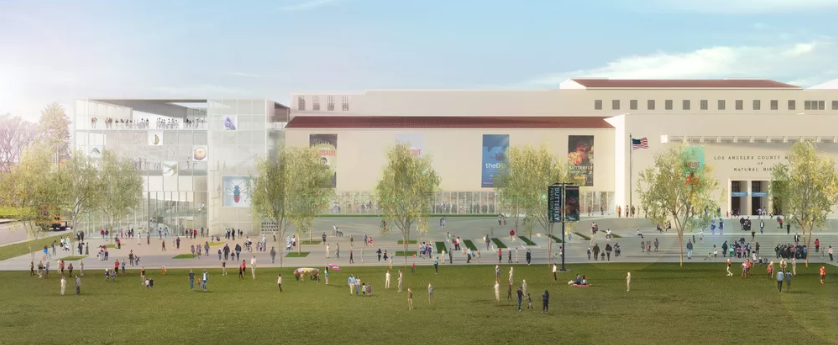 A projection of the Natural History Museum's new south façade, which will function as a "front porch" to welcome guests. (Photo courtesy of Frederick Fisher & Partners)
Los Angeles County is pumping $2.5 million into the Natural History Museum's expansion for further design drawings over the next 6 to 9 months. In a Wednesday statement, L.A. County Board Chairman Mark Ridley-Thomas Exposition Park called the museum "the anchor" of Exposition Park, which includes the California Science Center and the California African American Museum in addition to a host of other destinations—and will welcome the Lucas Museum of Narrative Art sometime in 2021. The west and south sides of the Natural History Museum being updated are the ones that will directly face the Lucas Museum, because here in L.A., even our county buildings know the importance of kissing up to celebrities.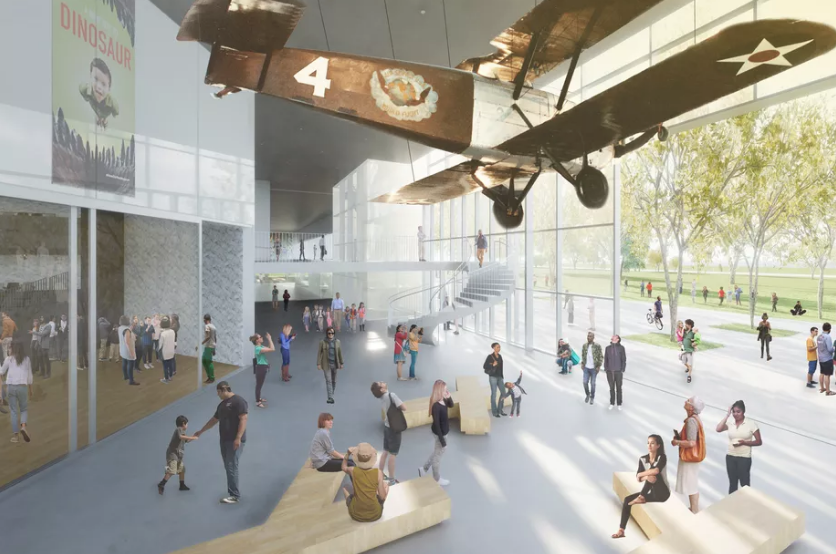 A projection of the museum's new lobby, welcome center and theater entrance. (Photo courtesy of Frederick Fisher & Partners)
The "West/South Project" is aimed at improving the aspects of the Exposition Park museum campus that were not addressed by the decade-long "NHM Next" remodeling program that was completed in 2013; to that end, Frederick Fisher & Partners also plans to bring a multi-purpose theater to the complex, intended to serve as a "vital gathering place for the community and neighborhoods around Exposition Park."
Article by LAist.