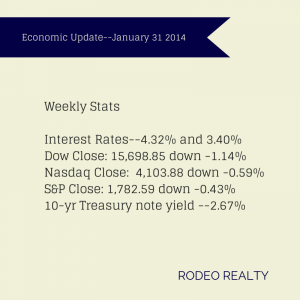 January saw some corrections in the stock market with the S&P 500 and the Dow posting their biggest monthly percentage decline since May 2012. This was the first January since 2010 with a decline.
The Dow closed out the month at 15,698.85  down -5.3% from last month's close of 16,576.60 and down -1.14% from last week's close of 15,879.11.
The Nasdaq fared a bit better, ended the month at 4,103.88 down -1.7% from last month's close of 4,166.66 and down -0.59% from last week's 4,128.17 close.
The S&P 500 ended the month at 1,782.59, a drop of -3.56% from last month's 1,848.36 close and down -0.43% from last week's 1,790.29 close.
Interest rates dropped during the month. The Freddie Mac Weekly Primary Mortgage Market Survey showed that the 30-year-fixed rate dropped to 4.32% from 4.39% last week and 4.53% at the start of the month.  The 15-year-fixed fell to 3.40% from last week's 3.44% and 3.55% at the start of the month. A year ago the 30-year fixed was at 3.53% and the 15-year was at 2.81%.
Over the course of January 10-year Treasury note yield rate fell after starting the month at 3.0%  It closed out the month at 2.67%  after ending last week at 2.75%. It was 2.02% a year ago.
Los Angeles County's unemployment rate fell to 9.2% in December down from 9.5% in November and 10.3% in December 2012. This is its lowest point in more than five years. The state rate is 8.3% and the national rate was 6.7% in December.
Consumer confidence has risen again. The Conference Board reported that the consumer confidence index increased to 80.7 this month from a downwardly revised 77.5 in December beating economists' estimates of a 79 reading. The index is now higher than it was in September before the confidence-eroding government shutdown and is at its highest level since August. However the consumer sentiment gauge from the University of Michigan and Thomson Reuters registered a final reading of 81.2 in January, down from December's 82.5. In December, consumer spending rose a seasonally adjusted 0.4% which was above analysts' expectations of a 0.2% gain. Economists are predicting consumer spending will rise at least 2% over the course of the year.
The Commerce Department reported that sales of new U.S. homes decreased -7% to a 414,000 annualized pace in December, lower than was predicted by economists who predicted a 455,000 pace last month. For all of 2013, demand was up 16.4% to 428,000. The median sales price of a new home rose 4.6%  from December 2012 to $270,200. New-housing demand has rebounded from a record-low 306,000 homes sold in 2011, the record peak was 1.28 million in 2005. I would attribute this to very low inventory which is also causing rapid price increases.
The latest S&P/Case-Shiller Home Price Index shows that the 20-city composite rose 13.7% year over year through November 2013 while declining -0.1% from the previous month. Nine out of 20 cities recorded positive  monthly returns  including Los Angeles which saw a 0.1% increase. It is predicted that while housing prices will continue to rise, the pace of the rise will be slower in 2014.
The National Association of Realtors reported that its Pending Home Sales Index dropped -8.7%last month to 92.4, the lowest level since October 2011. Contracts were down 8.8% from the December 2012 levels. It is believed that unusually harsh weather across the country caused the low numbers of potential buyers. The index in the West dropped 9.8%  in December to 85.7, and is 16.0%  below December 2012 and this is attributed to  the lack of inventory in the market.
As I wrote last week we are beginning to see another increase in prices and buyer demand. It appears that 2014 will be much like 2013. The question is: How high can prices go? That's not a new question. We recently sold a home in Beverly Hills for $15 million that the buyer bought for $475,000 in 1976! A valley home that just sold for $630,000 was purchased for $98,000 in 1980. All my life, with the exception of a few down years every 20 years or so, I have been hearing the question: How high can prices go? The answer is: Who knows! Definitely they are going up. The question is how long. I'd expect these gains to begin to level in a year or so. Anyone who doesn't buy now will wish in 6 months that they did!