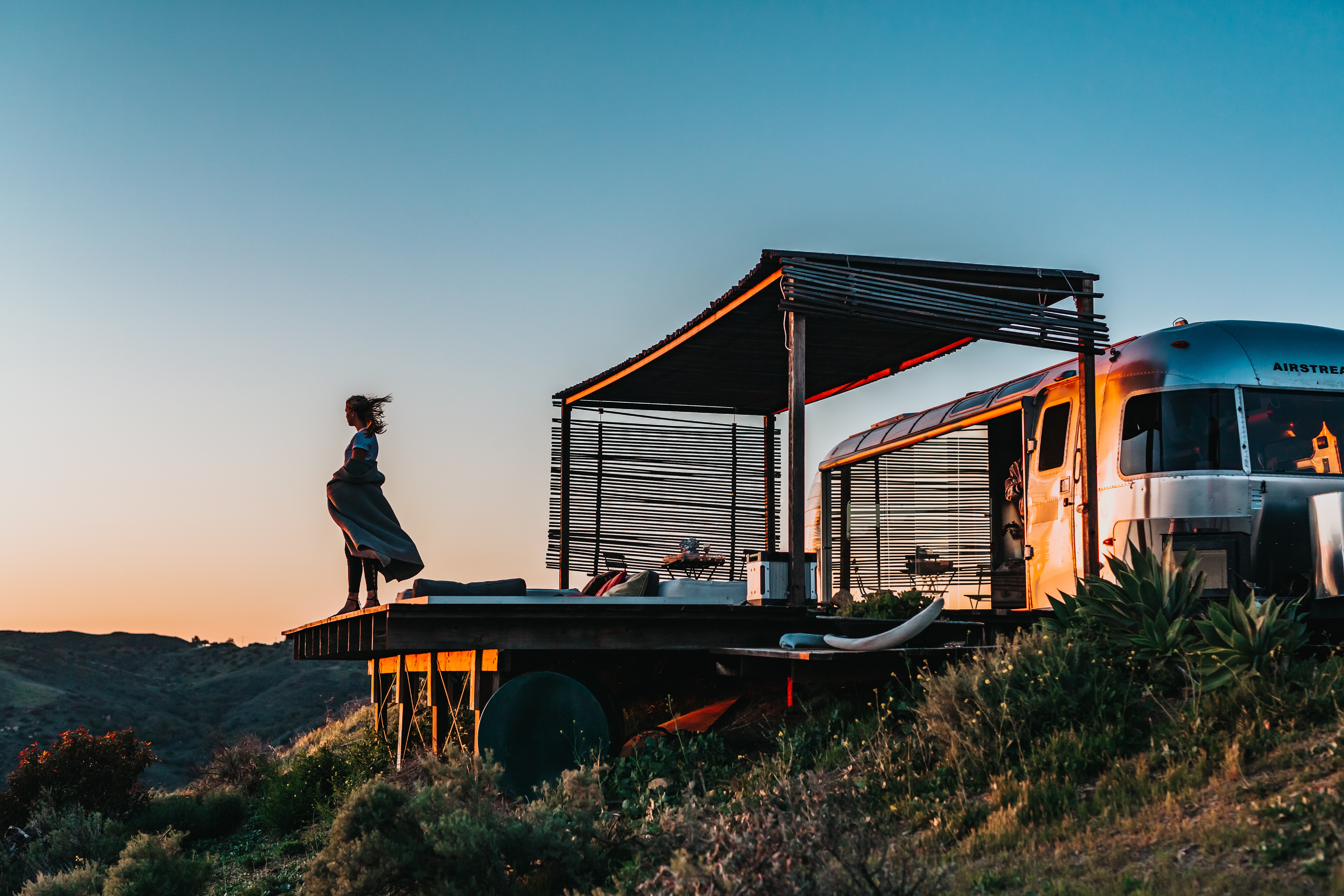 Glamping short for "glamour camping" gives you the best of both worlds of being out in nature but within the comfort for everyday life. It's where stunning nature meets modern luxury. A new way to experience the untamed and completely unique parts of the world, without having to go through the hassle of hauling loads of gear into the backcountry. You get the starry nights, being around the crackling campfire, a cozy sleeping bag, and all the best parts of camping in some of California's most beautiful settings.
Sky Valley Camp
74711 Dillon Rd,  Sky Valley,CA 92241
https://www.skyvalleyresort.com/joshua-tree
Sky Valley Camp the paradise for the strange and exotic. This spot is centrally located to hiking trails in Coachella Valley and local hot springs. At the end of your desert adventure, chill outside your airstream or in the outdoor clawfoot bathtub. Family owned since 1986. The Ranch is located in Sky Valley. An unincorporated rural community in Southern California's low desert. Along with the communities of Desert Edge and Indio Hills, Sky Valley occupies the valley between the Indio Hills and Joshua Tree National Park. This place has unobstructed views of the mountains and surrounding skyline make this place magical during the twilight hours and early mornings.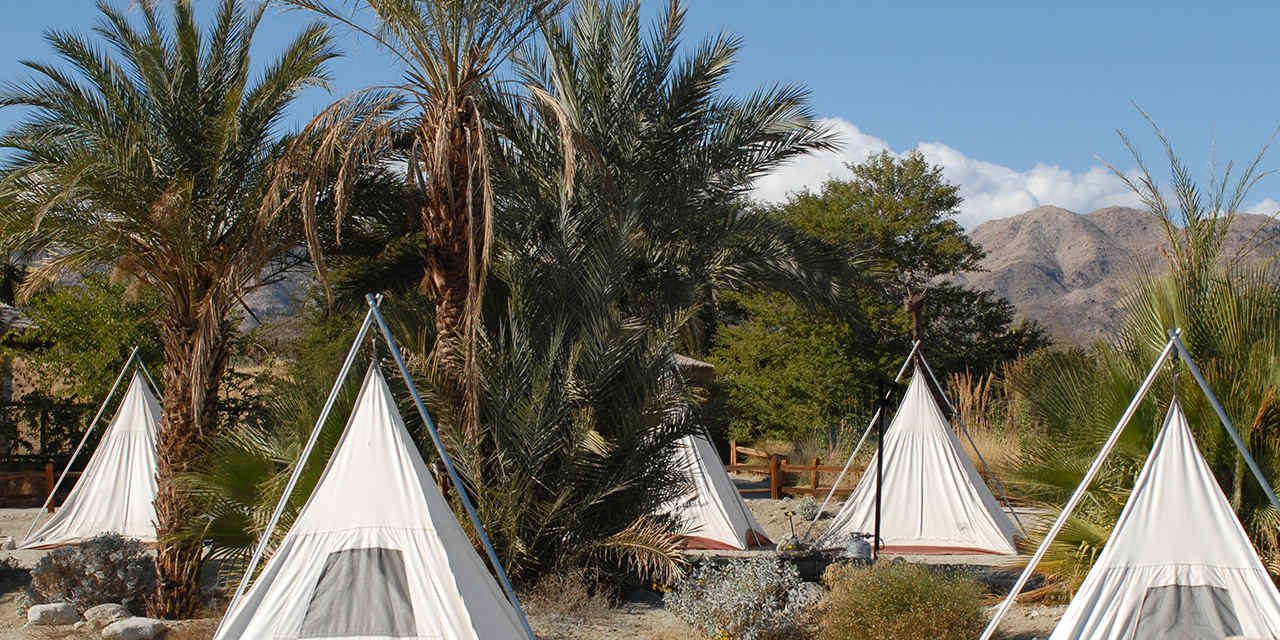 The Living Desert Zoo & Gardens
47900 Portola Ave, Palm Desert, CA 92260 
Go Glamping at the zoo, with Starry Safari at the The Living Desert, a nature preserve of more than 1,000 acres of Sonoran Desert showcases animals of the world's deserts. The collection of exhibits ranges from a tour of terrains representing and hosting North American and African desert wildlife, an authentic replica of a northeast African village, to Eagle Canyon, where golden eagles, mountain lions, bobcats, and badgers thrive.  After your exclusive night tour of the park, slumber under the stars in a roomy tent with all your gear provided.  Explore a network of paths that skirt the adjacent Santa Rosa Mountains before returning to check out the Discovery Center with its many exhibits on display.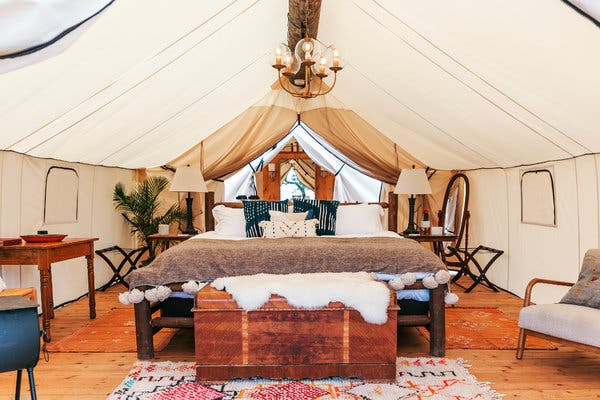 Sequoia High Sierra Camp
65745 Big Meadows Dr, Sequoia Natl Pk, CA 93262
https://www.sequoiahighsierracamp.com/
A wilderness site within Kings Canyon National Park where guests snuggle up in off-the-grid tent-cabins. It's a 1-mile hike from the nearest parking lot, but once you get to the compound of tents (elevation: 8,282 feet), it's nothing but glamping in truly exceptional California style. Three meals a day are served; dinners are five-course, open-air affairs prepared by a gourmet chef, and guests are served while seated at large communal tables. Canvas tents are outfitted with luxurious rugs and feather duvets and woolen blankets on cozy beds, propane lanterns, and of course, stunning views of the surrounding Sierra Nevada just outside your tent flaps. Hiking trails to mountain meadows, jewel-like alpine lakes, or high summits with commanding views.
Costanoa Lodge
2001 Rossi Rd, Pescadero, CA 94060
Costanoa Lodge is an eco-friendly glamping destination along the San Mateo Coast in Pescadero, roughly a 1.5 hour drive south from San Francisco. this peaceful retreat is surrounded by 30,000 acres of state parks from Big Basin to Año Nuevo State Reserve and Butano State Park. The grounds are heaven on earth for nature and wildlife lovers. Mountain bike through towering redwoods, horseback ride across coastal meadows, explore beaches and tide pools, then chill out in a fully outfitted safari-tent "bungalow".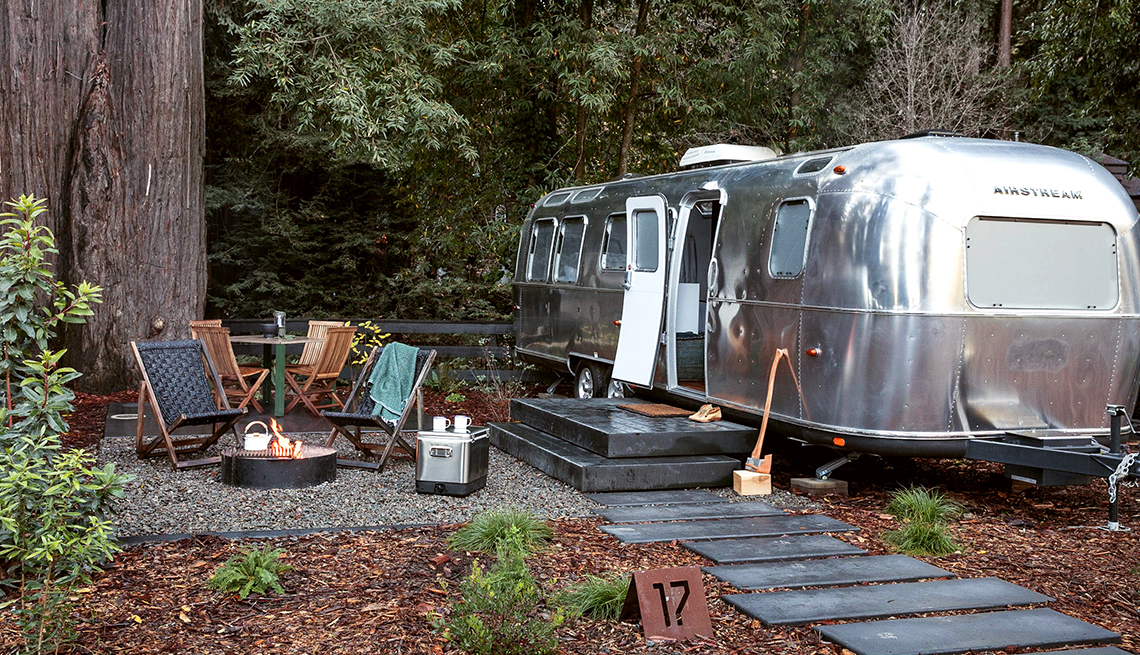 AutoCamp
Santa Barbara
2717 De La Vina St, Santa Barbara, CA 93105
Sleep in a shiny silver bullet Airstream outfitted for you and your family or friends, with a little deck and Adirondack chairs outside, a gadget-filled kitchen, cozy quilts for snuggling, and even toiletries. Each sleek trailer also includes two cruiser bikes—perfect to go explore such attractions in Santa Barbara as Stearns Wharf, the beach, and the bustling Santa Barbara Public Market.
Russian River in Sonoma County
14120 Old Cazadero Rd, Guerneville, CA 95446
The lodging options have expanded with 10 luxury safari tents in addition to 20 Airstreams. Activities include: Walk down to the Russian River to swim or canoe, play lawn games, or lounge by a fire pit inside or outside the mid-century-modern-style clubhouse. The 3,000-square-foot building also offers a store to stock up on snacks and local beer and wine.
Yosemite 
6323 CA-140, Midpines, CA 95345
Opened in 2019, is the largest and most remote site, near the historic mountain town of  Mariposa. Guests can enjoy many of the same amenities, plus a heated pool, mid-century modern clubhouse, and a pond with a paddleboat and canoe. Yosemite National Park is about 40 miles away and accessible via a daily shuttle.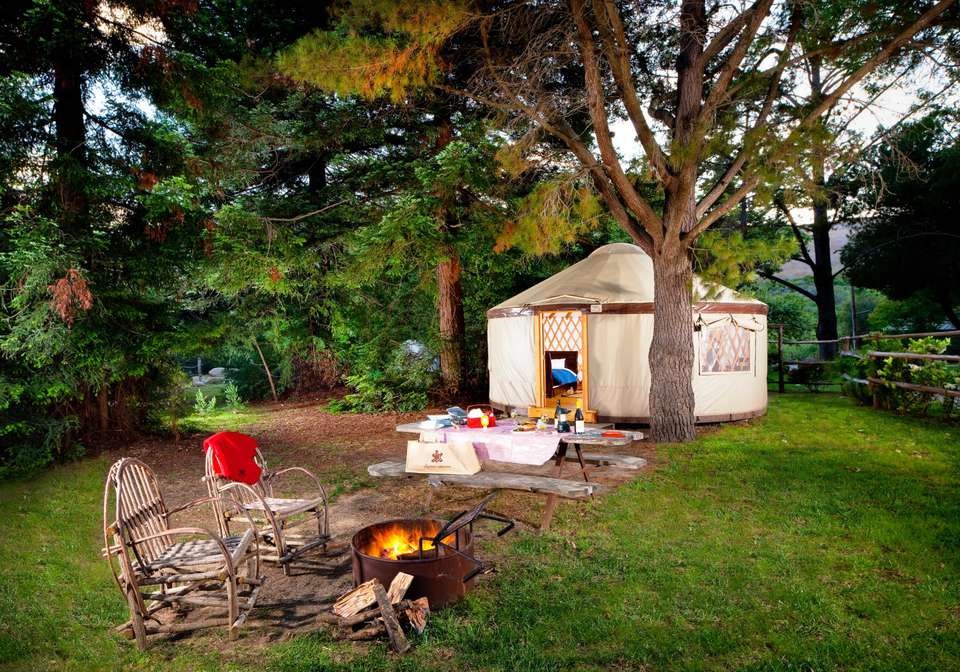 El Capitan Canyon
11560 Calle Real, Santa Barbara, CA 93117
http://www.elcapitancanyon.com/
With a reputation as one of the most enchanting glamping experiences in the state, nestled amidst the rolling coastal hills 30 minutes northwest of Santa Barbara—is a once in a lifetime getaway experience. The leafy compound is so secluded that it's hard to believe that more than 100 cabins and safari tents occupy the lush hillside landscape, surrounded on three sides by the oceanfront and backcountry of El Capitan State Beach.
Ventura Ranch KOA
7400 Pine Grove Road Santa Paula, CA 93060
https://koa.com/campgrounds/ventura-ranch/
Located below Ventura County's Topatopa mountain range just outside of Santa Paula, this delightful family retreat offers guests an outdoor experience with an activity-filled twist. Cozy rustic accommodations for glampers include tepees, glamour tents, and deluxe cabins which include a partial kitchen, private bedroom, and bath. Traditional KOA campsites are also available.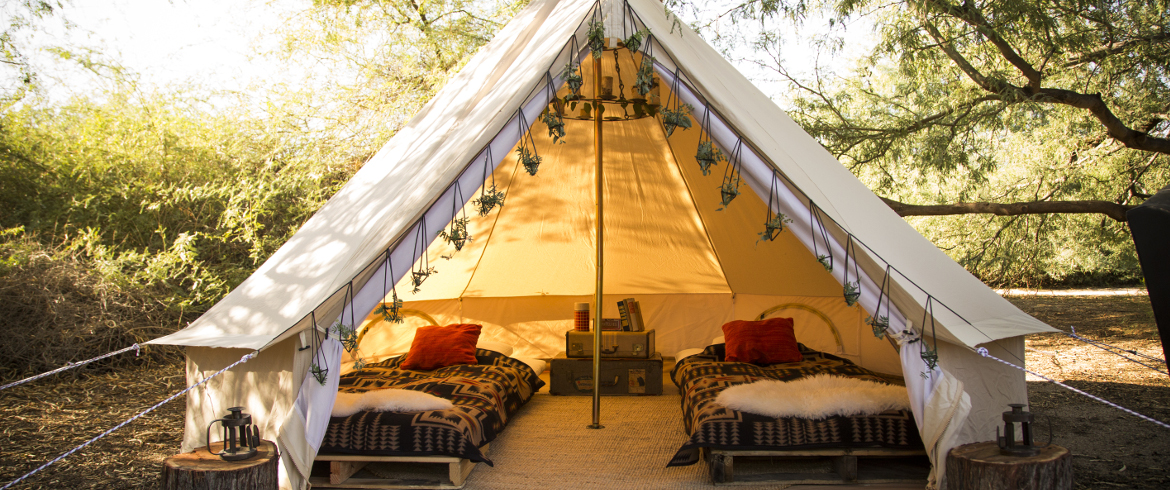 Mendocino Grove
9601 CA-1 Mendocino, California 95460
Mendocino Grove goes above and beyond to provide glampers and their families the comforts of a truly delightful, pleasure-filled camping trip. Tents come with comfortable beds and warm, comfy bedding, rustic redwood decks boast relaxing, leather butterfly-chairs to cradle you as you witness the awe-inspiring natural beauty of the area and the mammoth trees surrounding your campsite. A quarter of a mile from your campsite is the Big River Beach and trail, and a two-minute drive will get you to the quaint village of Mendocino where you'll find fantastic food options and shopping.