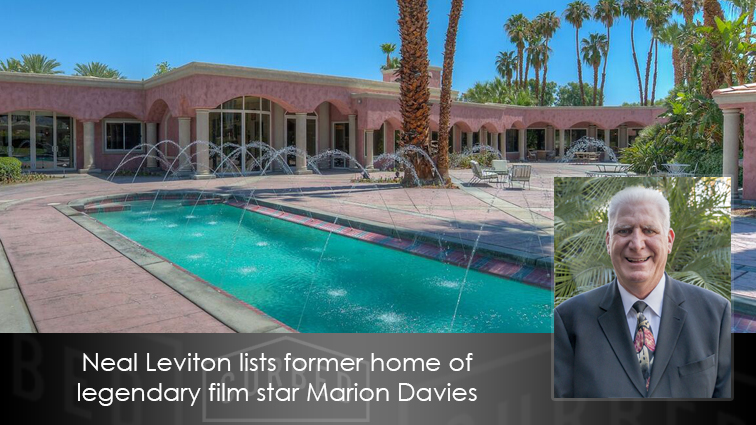 A spectacular compound originally built for American film actress Marion Davies is on the market for $3,399,999. Rodeo Realty's Neal Leviton is one of the listing agents to the property, which has headlined in the Los Angeles Times, Curbed and Realtor.com.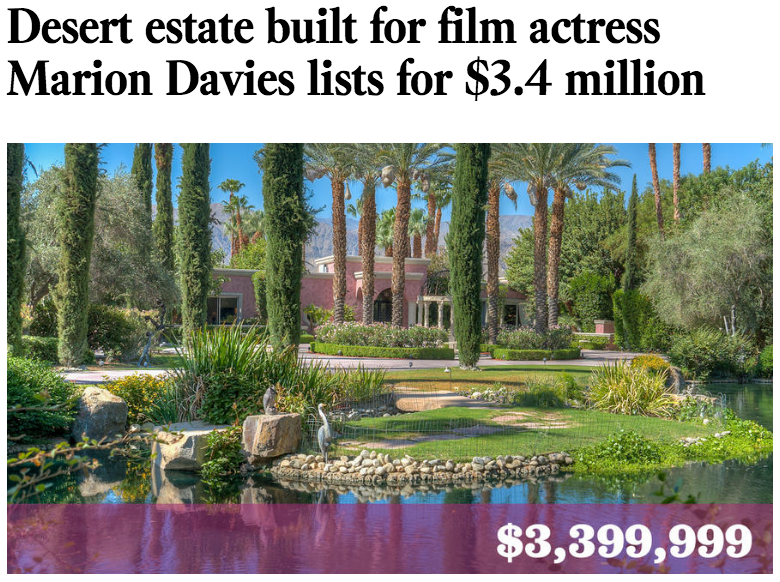 The 9 bedroom, 11 bathroom estate has nearly 14,000 sqft. of living space and sits on 2.77 acres. Outdoors, the property includes a pond with a waterfall, a tennis court and a pool/spa. The grounds are immaculate and the property is maintained by two full-time employees.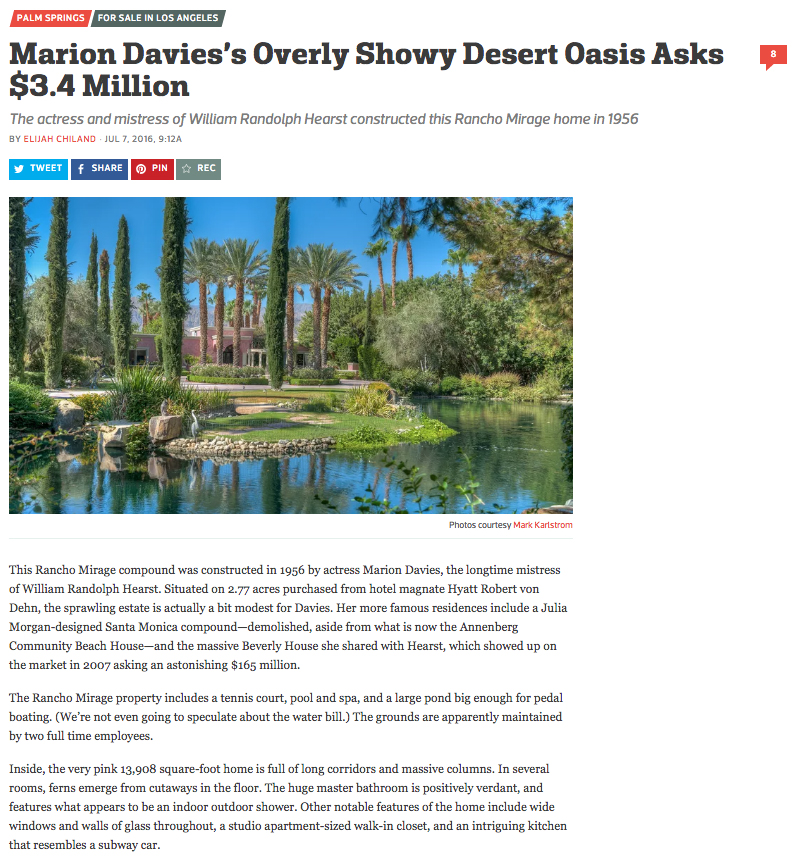 In 1956, Davies, who was William Randolph Heart's mistress and a legendary film star of the silver screen era in the 1930s, purchased a piece of land from the founder of Hyatt Hotels, Hyatt Robert von Dehn. She built a home on the property that is known as 1 Von Dehn Road in Rancho Mirage, CA.
[su_vimeo url="https://vimeo.com/173431252″ autoplay="yes"]
Hearst was a publishing magnet, best known for building the nation's largest newspaper chain and the magnificent and over the top Hearst Castle in San Simeon, CA. Hearst and Davies were publicly a couple for many years, as Hearst's wife would not grant him a divorce. They had a child together, Patricia Van Cleeve Lake, also an actress. Both kept Lake's true identity a secret for many years.
Upon Davies death in 1961 the property transferred to the man she married after Hearst passed away in 1951, Horace Brown (another well-known actor).
[su_youtube_advanced url="https://www.youtube.com/watch?v=YOymSa2G5p4″ width="740″ height="440″ responsive="no" controls="no" autohide="yes" showinfo="no" autoplay="no" loop="yes" rel="no" modestbranding="yes" theme="light"]
Brown eventually sold the property in 1972 to the family that owned Trader Vic's, a well-known restaurant chain. In 1996, the property was sold to a private family. The property was upgraded throughout the years to its present state today. The original structure still remains along with the upgraded portions of the home.
Los Angeles Times article, click HERE
Realtor.com story, click HERE
Yahoo Finance, HERE
New York Post Online/Page Six, HERE
[su_slider source="media: 17344,17343,17342,17341,17340,17339,17338,17337,17336,17334,17333,17332,17331,17330,17329,17328,17327,17326,17325,17324,17323,17322,17321,17320,17319,17318,17317,17316,17315,17314,17313,17312,17311,17310,17309,17308,17307,17306,17305,17304,17303,17302,17301,17300,17299,17298,17297,17296,17295,17294,17293,17292,17291,17290,17289″ limit="75″ width="1600″ height="500″ responsive="yes" title="no"]