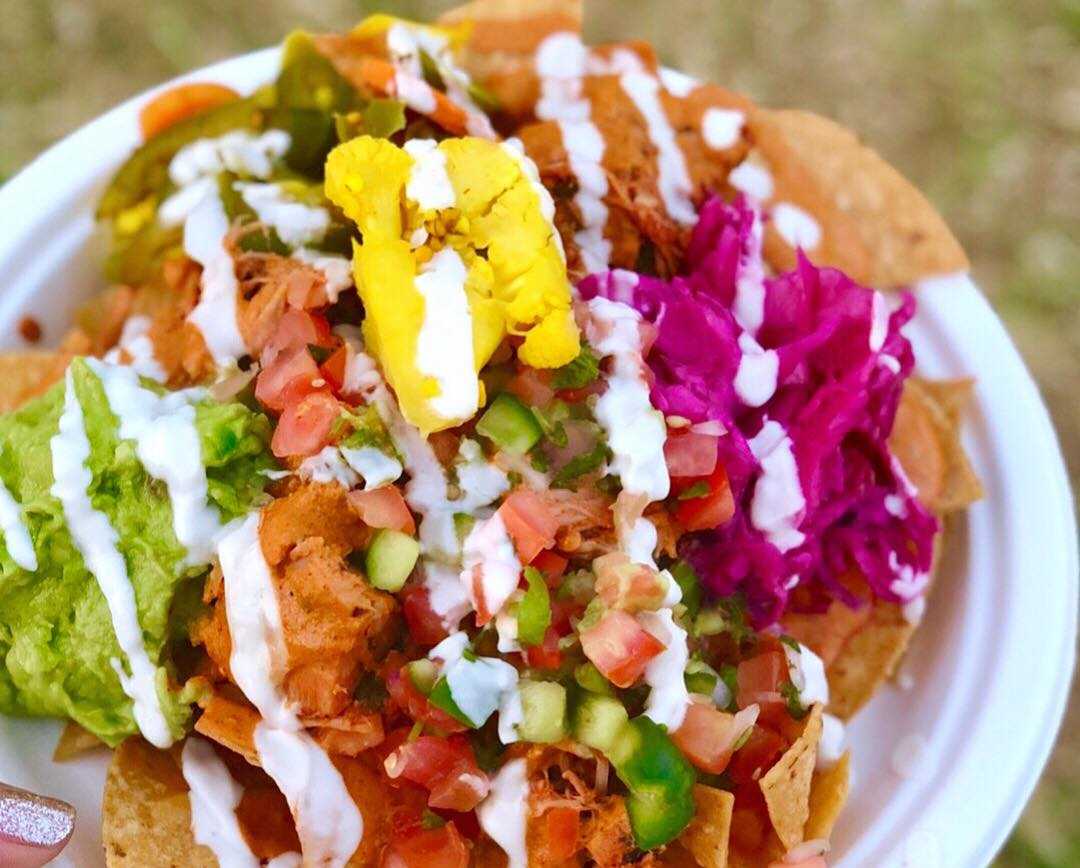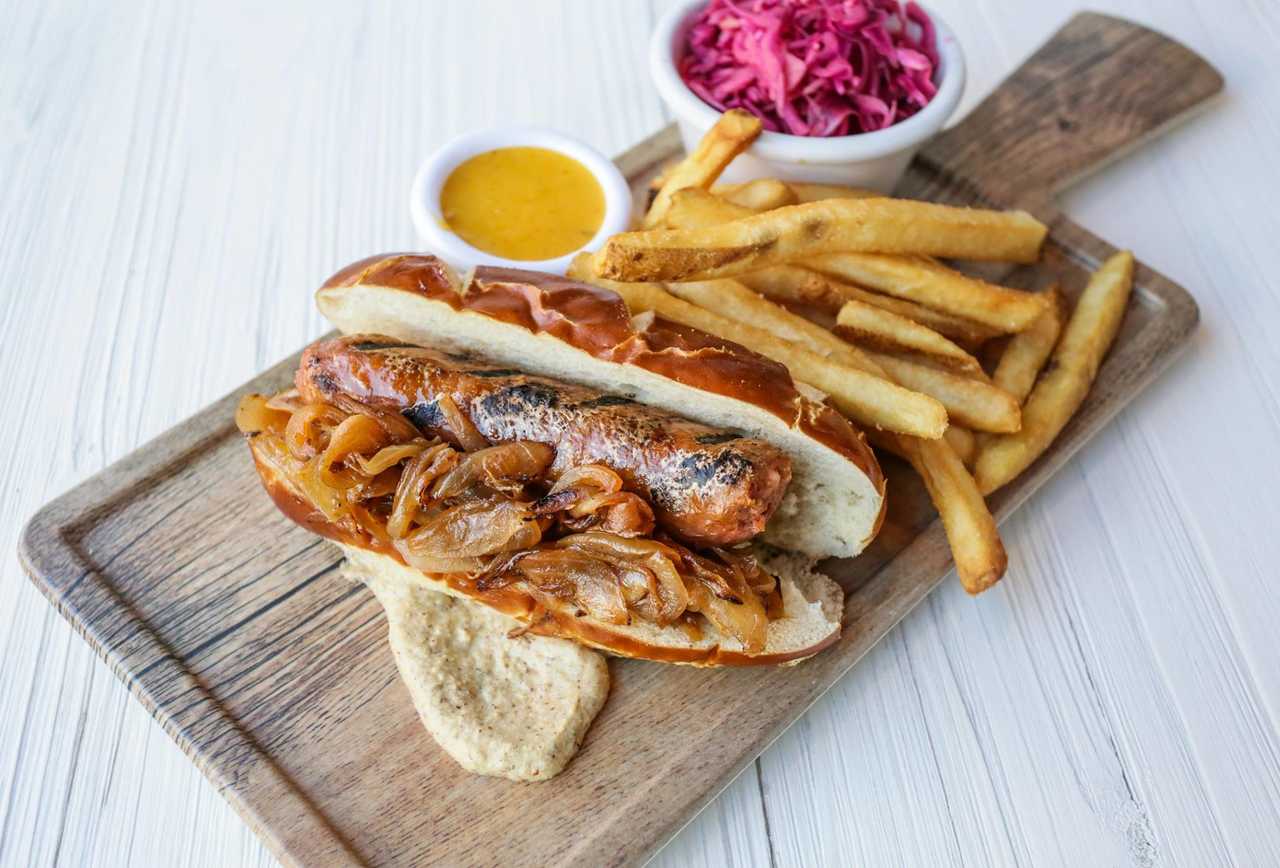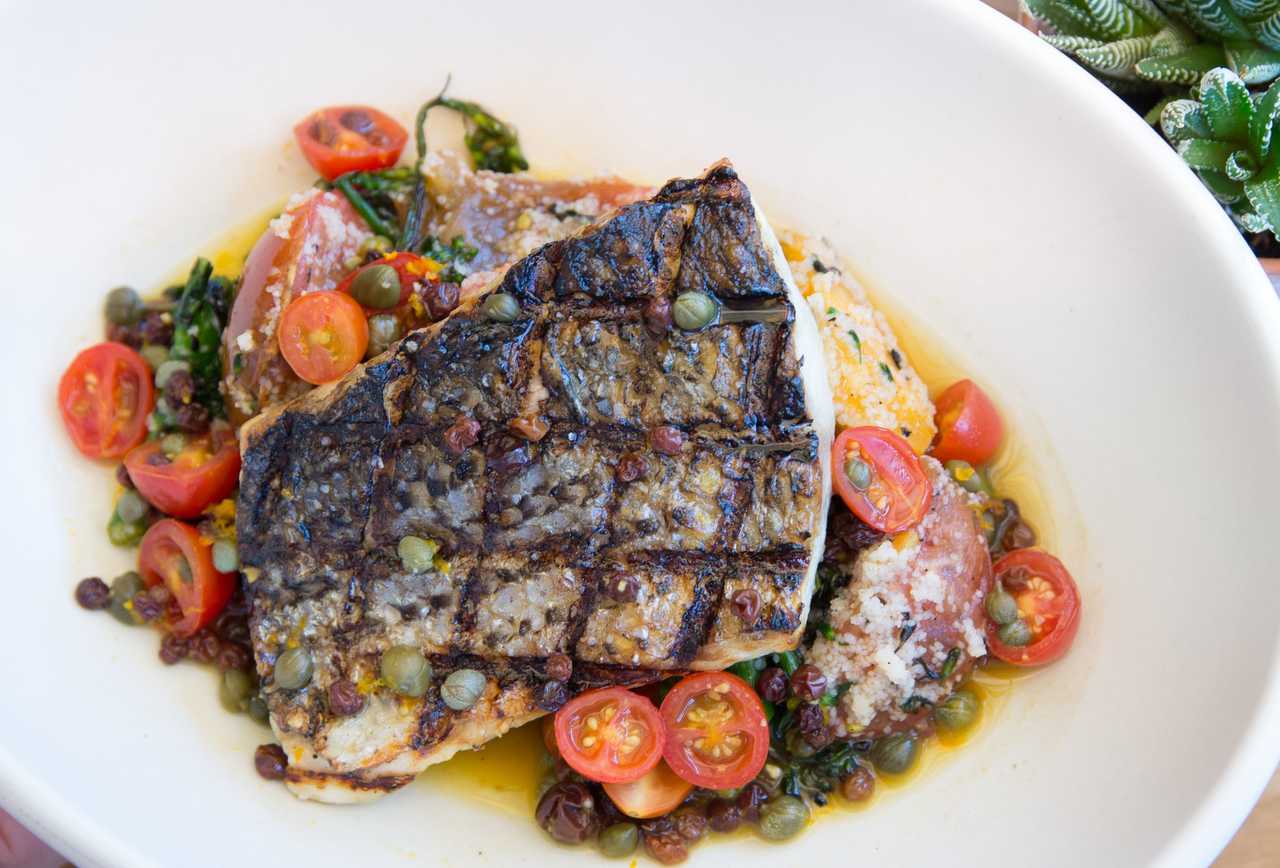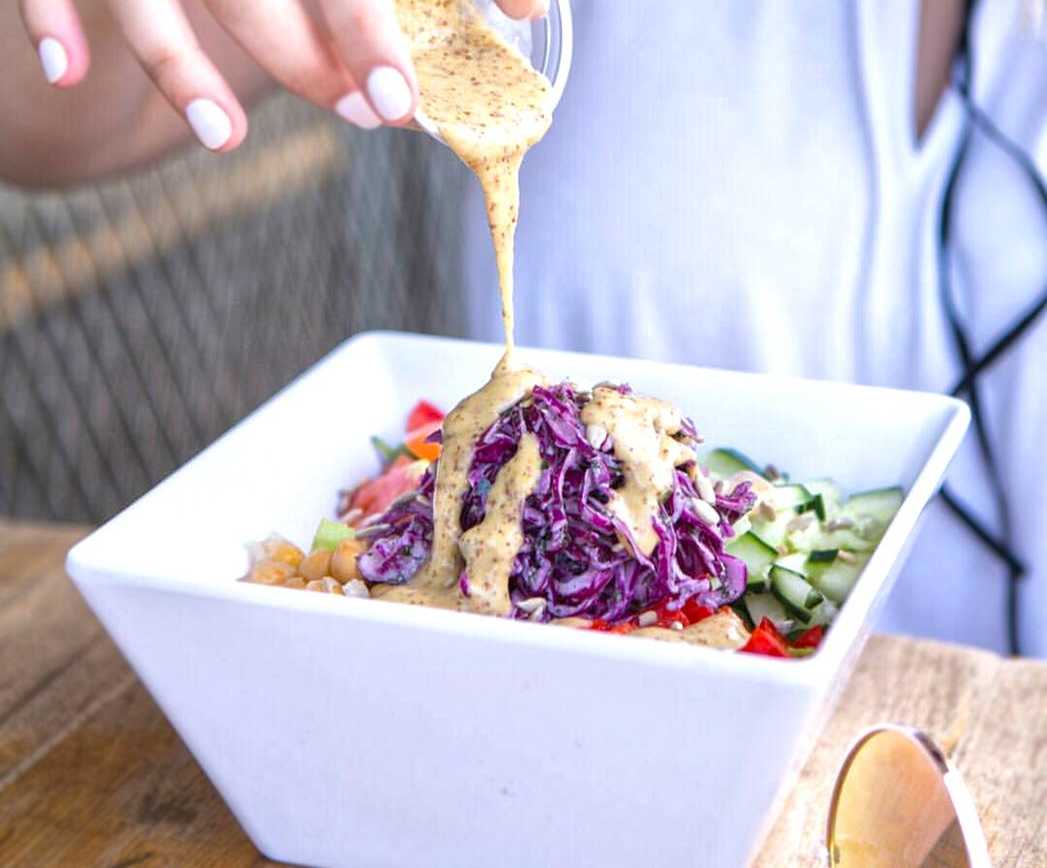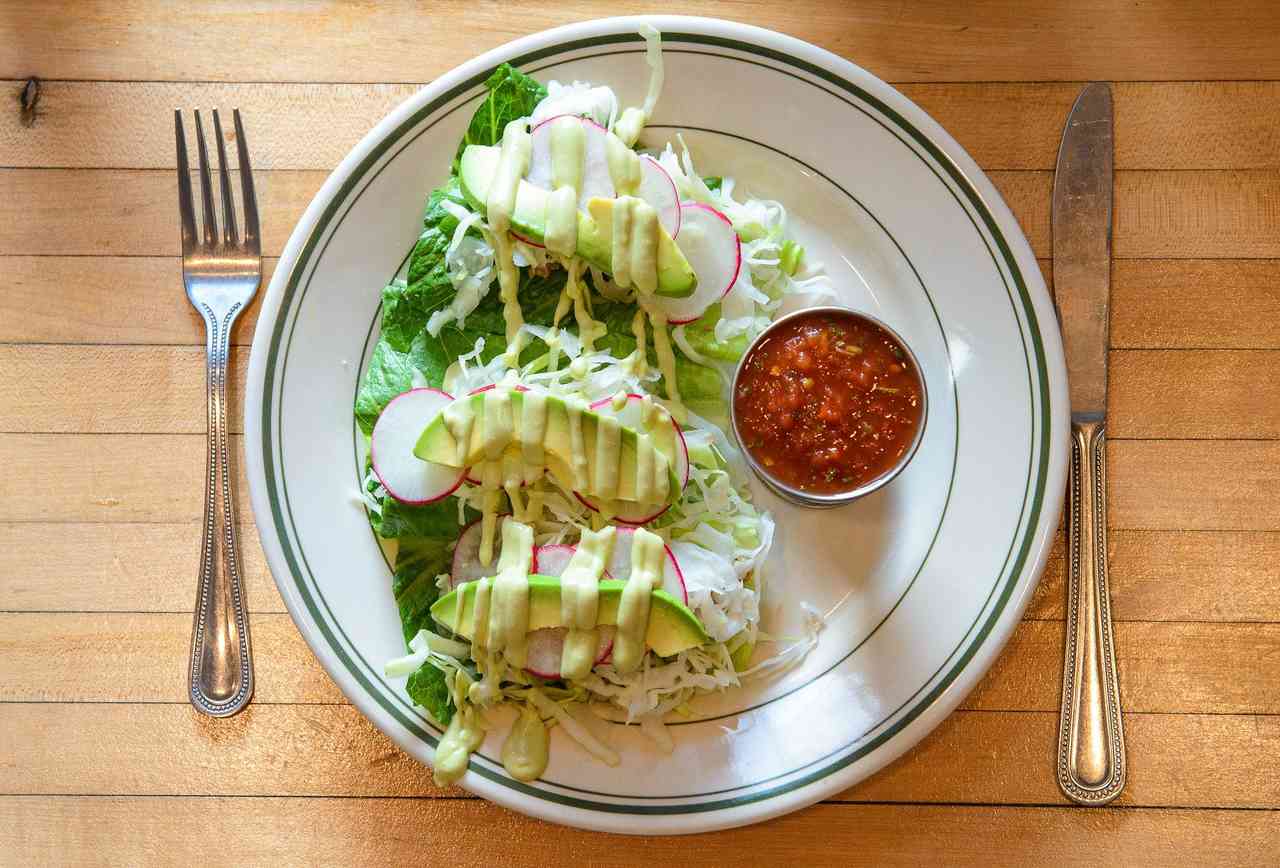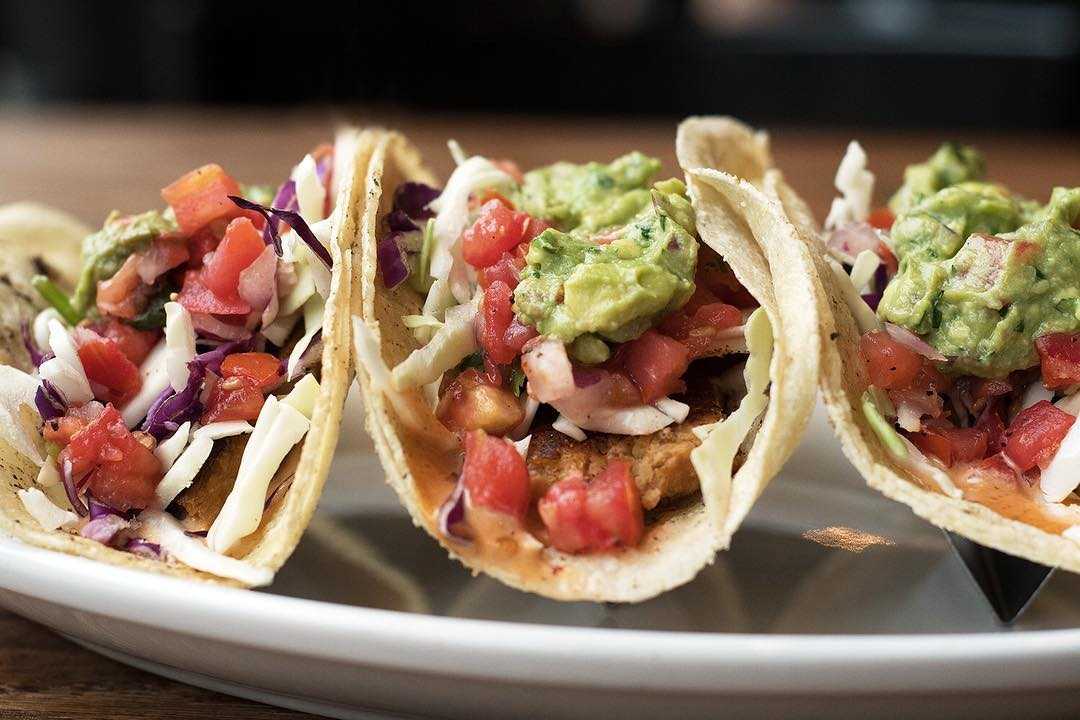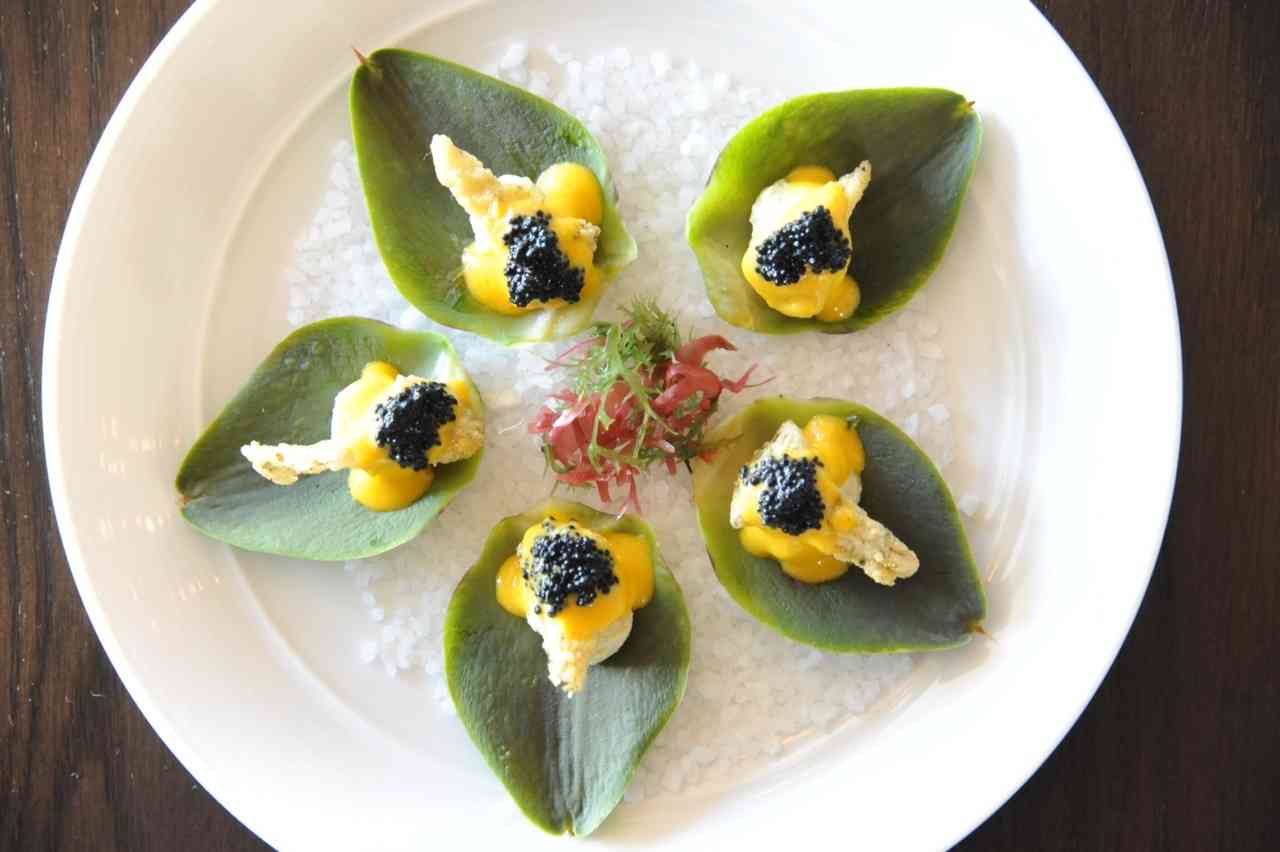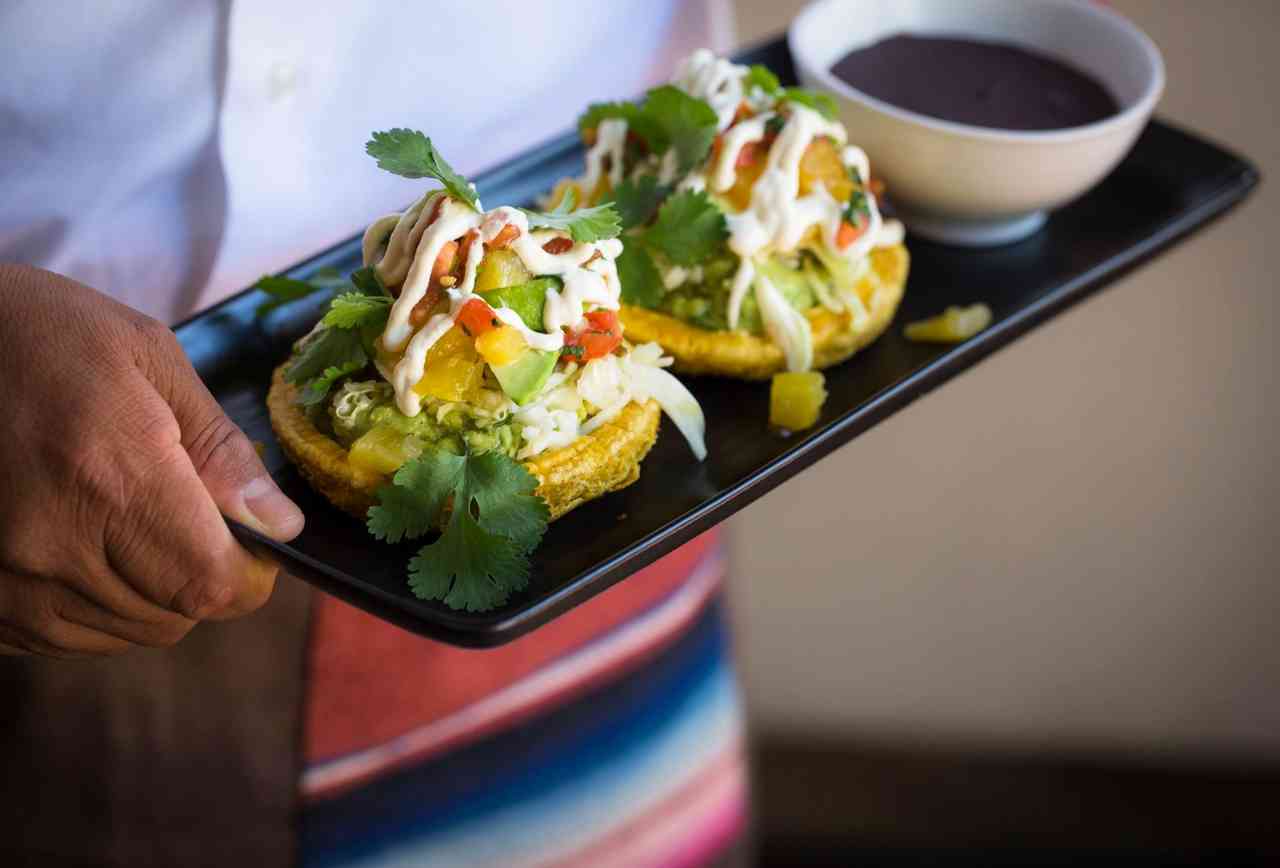 It's easy to mistake Manhattan Beach for a sleepy beach town (especially compared to its busier northern neighbors like Santa Monica or Venice), but don't be fooled: the dining scene here is full of diverse and legitimately great choices, from modern Southeast Asian to simple, homey American. Here are 20 local eateries you need to explore in MB.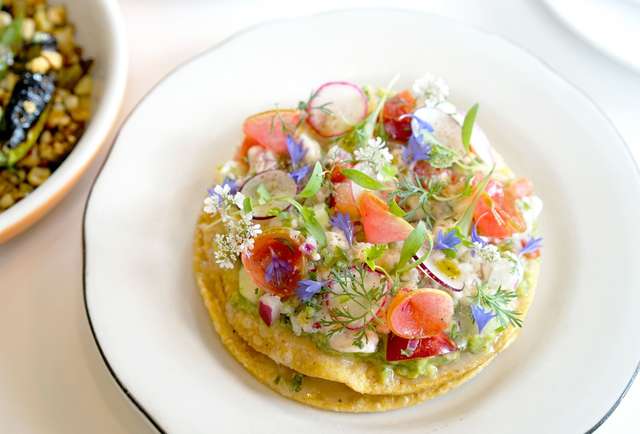 Seasonally focused, elegantly plated fare with dazzling ocean views
The Strand House could serve canned food and still command crowds for its sweeping Pacific Ocean panoramas — but thankfully, executive chef Austin Cobb's beautifully executed plates live up to the view. Though signature mainstays like Parker House rolls are still on the menu, Cobb's added a few eclectic dishes: chili-dusted avocado (influenced by a trip to Mexico City) with a crème fraîche-filled core served over crunchy jicama; fluffy Italian gnudi dumplings stuffed with silky ricotta (Cobb picked up many of his current techniques and seasonal approach to cooking via a stint working in Southern Italy); and tender Kurobuta pork chop accompanied by German-style spaetzle and braised cabbage. Save room for equally jaw-dropping desserts — like citrus-olive oil cake and a bubble waffle paired with cheesecake curd maple ice cream — on a list that leaves no room for unimaginative flourless chocolate cakes. While you're there, you might also get a sense of Cobb's warm hospitality; the chef grew up in the South Bay himself, but his family, naturally, hails from the South.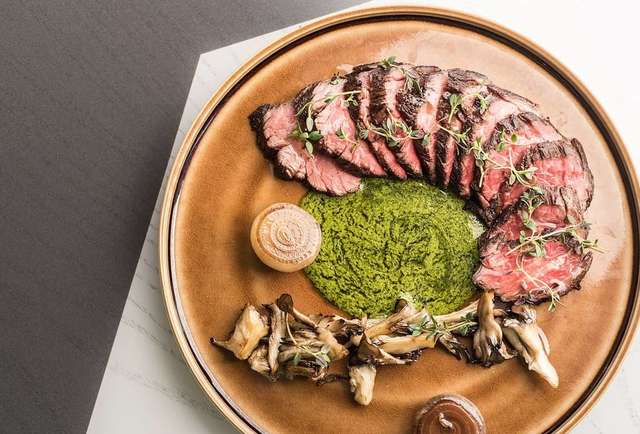 Tasteful, coastal-inspired hotel restaurant with shared-plates menu
Located inside a sleek, brand-new Marriott International Autograph Collection hotel called Westdrift, Jute is helmed by executive chef Octavio Sabado, who formerly worked at SLS Hotel's The Bazaar. The focus here is on shareable small and large plates made with worldly ingredients and seasonal produce, all served in an airy, sunlit space. Try the caviar-topped avocado toast for breakfast; sophisticated flatbreads and refreshing salads for lunch; and wagyu beef cheeks, kimchee ravioli, and lamb sliders for dinner. The cocktail menu nods to a bicoastal theme: Manhattan & A Side of Coffee (bourbon, nitro coffee, and black walnut bitters) sits on the East Coast side, while LA Women (vodka rose, mulberry gin, and fruity syrup) resides on the West.
Open-air, upbeat gastropub offering craft beers and burgs
On any given day of the week, the original Simmzy's — which has since expanded to Burbank, Venice, and other neighborhoods — is still one of the most fun, energetic joints on Manhattan Beach Boulevard. Come for the rotating selection of excellent craft beers (from Belgian-style tripels to American IPAs and sweeter stouts), and stay for bar-friendly bites like blue cheese fries, grilled corn served street-style, and substantial burgers.
Relaxed, family-friendly cafe serving all three meals
This casual spot had some big shoes to fill after moving into the space formerly occupied by Manhattan Beach's beloved Four Daughters Cafe, but so far it's done a solid job. With a menu that boasts eggs Benedict, seared ahi tuna salad, and a spicy fried chicken sandwich, they're not trying to reinvent the wheel, but (in this case at least) that isn't a bad thing. Bottomless mimosas during brunch certainly help.
All-day hotel restaurant and lounge with alfresco terrace
Inside the luxury boutique Shade Hotel, you'll find Zinc: an all-around crowdpleaser with a farm-to-table approach, an extensive beverage menu of California wines and craft cocktails, and a cool, beachy ambiance that comes alive in the evening (thanks to outdoor fire pits and DJs on Fridays and Saturdays). Some of the best dishes on the dinner menu are Asian-inspired, like the pork belly buns with mint sambal or the coconut curry shrimp, while weekend brunch includes classic items with clever twists, like vanilla bean brioche French toast and an Emmenthal cheese and mushroom omelet.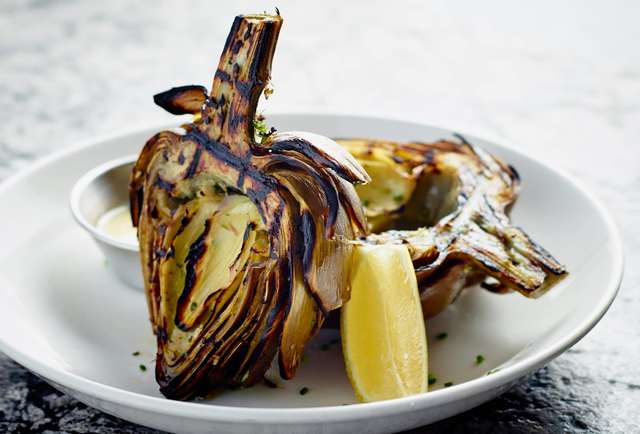 Popular bistro that's perfected flavor-packed American comfort food
Nick's is situated in a stylish outdoor shopping center, but the place is far from your standard mall restaurant. For one, its attractive space includes handsome leather booths and a sweet, sheltered patio. Secondly, the overall menu is classic but boasts a few made-you-think-twice touches, like deep-fried asparagus spears with a crisp Parmesan crust, and a fantastic sandwich of buttermilk-fried chicken, sweet slaw, and havarti nestled in a honey-mustard-and-mayo-smeared brioche bun.
One-stop shop for fresh juices and quick, healthy bowls
Since opening its Manhattan Beach outpost in 2016, SunLife Organics has fit right in with the beach crowd. This wellness-focused cafe serves up fresh-squeezed juices, superfood-enhanced shakes, bone broth, and more, but this isn't the kind of health food that leaves you hungry afterward: bowls are hearty and satiating, ingredient-packed smoothies are rich, and everything on the menu is delicious. Located a few blocks from the pier, this spot offers the perfect pre- or post-beach bite for surfers and sunbathers (although, if you're really lazy, they also offer takeout and delivery via the ChowNow app).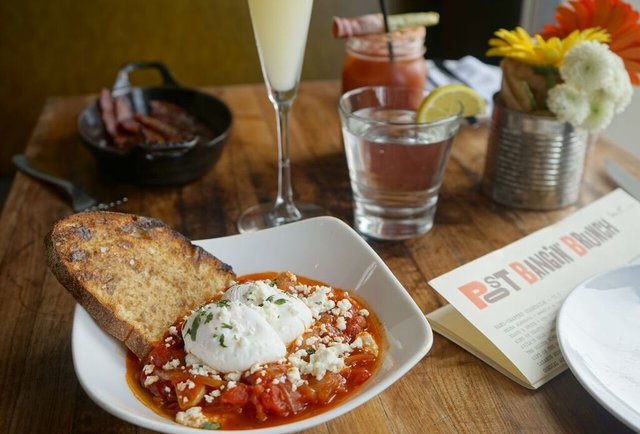 Farm-to-table shared plates served in a boisterous environment
Chef David LeFevre kick-started Manhattan Beach's restaurant renaissance by opening MB Post back in 2011, and while there's a lot more competition in the area now, locals still flock to this OG spot. Here's why: brunch is always reliably excellent, with a range of sweet and savory dishes (LeFevre's famously fluffy bacon-Cheddar biscuits are the perfect vehicle for an addictive maple butter spread), and the evening's small-plates-focused menu is perfect for people who like to graze on cured meats, mushroom mac & cheese, and seared diver scallops.
Beachside neighborhood dive slinging cheap drinks and bomb burgers
Beloved Ercoles isn't fancy, but you don't need a cloth napkin to sop up the juice from this dive bar's phenomenal burger. Expect a high-quality beef patty (from Manhattan Meats next door) loaded with toppings and tucked inside a small bun for a sloppy, satisfying experience. But don't just come for the food: stay for a game of pool with the old-timers and beach volleyball players dragging sand in on their flip-flops, or enjoy a cheap pitcher while sitting in one of the well-worn booths, which have been around since Ercoles first opened in 1927.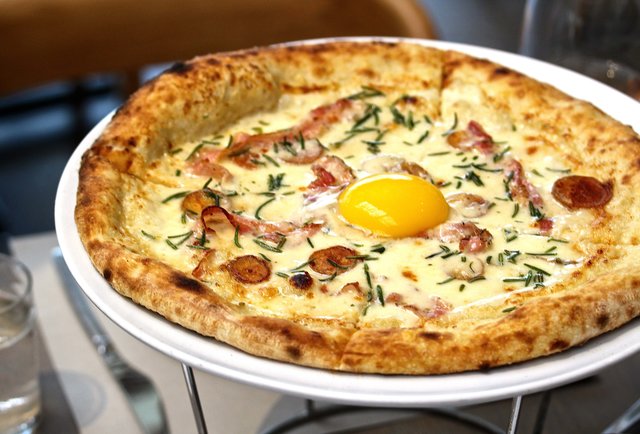 Lively Italian trattoria known for its wood-fired pizzas
Love & Salt is more than a pizza place, but it's hard not to feel laser-focused on the pies when you consider how they're made. The dough recipe requires only four ingredients (flour, water, yeast, and salt), but a minimum of 48 hours — involving a long, slow, cold-fermenting process that creates a crisp, crunchy, light-as-air crust. (According to chef Michael Fiorelli, that's why you can eat so many duck egg slices without keeling over.) The restaurant also just debuted its Early Bird Special; every Saturday, the first 15 guests get a chicken sausage sandwich on the house.
Sleek, upscale steakhouse with an impressive meat selection
When you need to close the deal — whether it's with your date's parents or a potential client — take them to LeFevre's first-class steakhouse. At a place like this, meat is the star of the menu: Japanese wagyu streaked with white marbling; prime, dry-aged steak, like the nutty-sweet bone-in tomahawk; and pot roast slow-cooked to a melt-in-your-mouth texture. But the sides are no afterthought. There are football-sized popovers filled with the sharp tang of Emmenthal cheese, crisped-up Brussels sprouts roasted with dates and red onions, and a creamed spinach that's, well, exceptionally creamy.
Elevated sports bar specializing in seafood and artisanal drinks
Like every sports bar worth its salt, FishBar has themed days like Monday Margarita Madness or Wine & Crab Wednesdays. But the differences end there, because this spot serves nothing like your typical bar fare. Instead, you'll find seafood-heavy items with a touch of sophistication, like mesquite-grilled scallop skewers laced with applewood smoked bacon, truffle crab mac & cheese, and smoked salmon chowder. There's also a popular weekday oyster hour from 2:30-5:30pm — $1.75 each, in increments of six — and a sizable selection of draft beers, wines by the glass, and handcrafted cocktails with marine-inspired names like The Mermaid.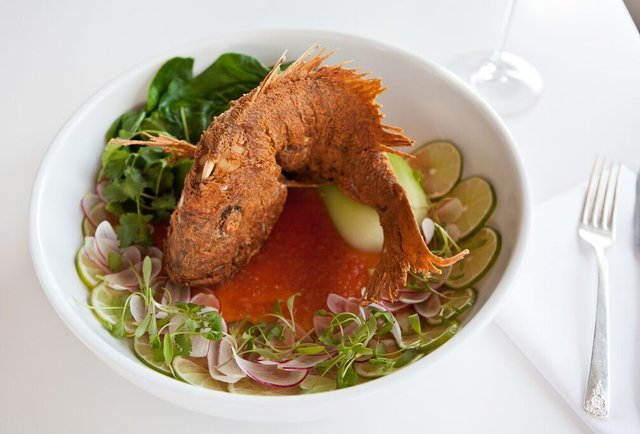 Local favorite with consistently spectacular seafood dishes
This LeFevre gem, which celebrated its fifth birthday on May 1 with a lobster boil, serves up some of South Bay's best seafood. That's no small feat, considering the area's full of fish-focused restaurants. LeFevre's chilled seafood platters are stunning arrangements of succulent shellfish and oysters on beds of crushed ice, while the raw bar boasts lobster, crab legs, and Peruvian scallops. But Fishing With Dynamite's more inventive dishes can't be missed either. Go for the yellowfin tuna crudo, which comes with interesting flavors like chili and hazelnut, and Koshihikari rice — a creamy, risotto-like puddle of blue crab, shrimp, uni, and egg yolk.
Bright, airy Greek/Cali restaurant with alfresco seating
Feel free to bring an obnoxiously large group of friends here: Petros's patio can accommodate bigger parties, and its various dips and appetizers make tapas-style dining easy. The distinctly Mediterranean dishes are a combination of fresh California produce and imported ingredients from Greece — like the karpouzi salad, which is watermelon and heirloom tomatoes tossed with Greek semi-soft manouri cheese, honey, and olive oil.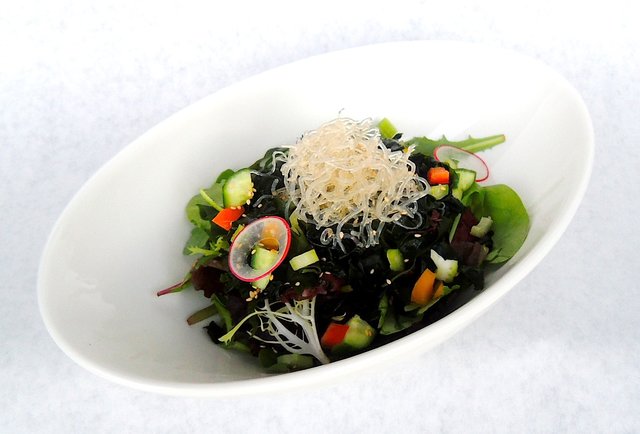 Vegan-friendly Japanese joint for rolls, ramen, and izakaya-style bites
Rice markets itself as vegan-friendly, but there's plenty of fish on the menu for non-vegans. This under-the-radar Japanese restaurant prepares mostly healthy-ish, organic, gluten-free food — which, against all stereotypes, is downright mouthwatering under the direction of chef Hiroyuki Igarashi. Nosh on spicy miso ramen made with tempeh, organic brown rice rolls, bluefin toro presented with crispy kale, and a variety of shareable veggie plates — ideally washed down with a sake/sangria fusion cocktail.
Homey, all-day spot known for hefty breakfast plates and sandwiches
Sure, it's tough to mess up a sandwich, but it's also difficult to come by a truly memorable one. The latter — freshly made, hearty, full of quality ingredients — is what North End boasts on its comprehensive sammie menu, which includes everything from the tasty Hermana (a hard-fried egg tucked in with brie, bacon, mashed avo, and green chilies) to the carnivore-friendly Guapo (layers of ham, bacon, sausage, Cheddar, and tomato).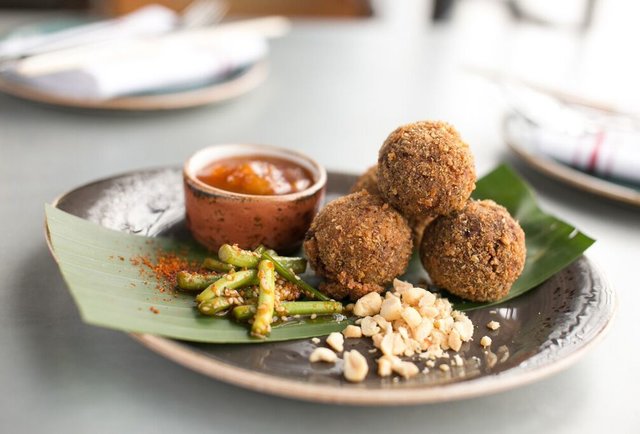 Modern Southeast Asian eats with a trendy vibe
There's never a quiet moment at this upscale Southeast Asian spot — in part due to its popularity since opening in 2013 and a hip-hop playlist. Influenced by a hodgepodge of cuisines — Vietnamese, Singaporean, Malaysian, colonial Dutch, and more — chef Tin Vuong prepares food that tastes both traditional and incredibly modern. Prepare for a flavor blowout: butter-drenched lobster dressed in salt, pepper, chilies, and garlic; shaky shaky beef, a favorite dish made with burnt butter soy and tomato-garlic fried rice; and ginger-scallion satay with a sweet soy sauce.
Reliably greasy and satisfying Mexican food
This hole in the wall has served up greasy, flavorful, easy-on-the-wallet Mexican food to locals for decades. Feel free to come here shirtless, shoeless, and starving straight from the beach — no one will blink an eye.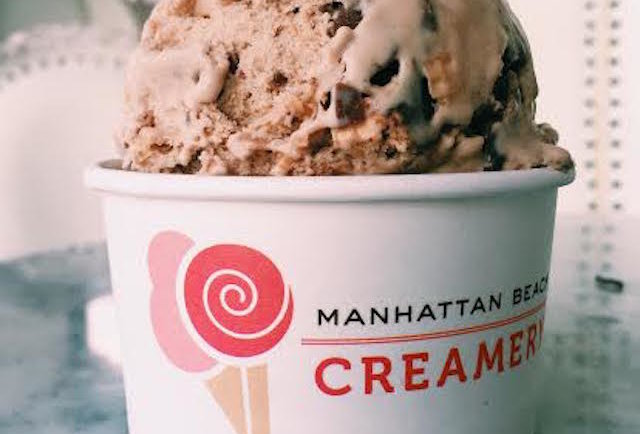 Beloved local ice creamery crafting small-batch flavors
Ice cream here comes in 28 made-from-scratch flavors, using 14% butterfat (an ingredient that helps lend a decadent, velvety mouthfeel) and only about 70% overrun. The latter refers to the amount of air whipped into the cream while it's made; a lower percentage creates a creamier, smoother, and richer consistency. All the usual suspects, like cookie dough and salted caramel, are here, but so are some out-of-the-box offerings, such as maple bacon crunch, red velvet, and sticky bun crunch.
24-hour restaurant perfect for late-night munchies
This landmark Manhattan Beach diner, which is open 24 hours a day, has something on the menu for everyone — and they mean it. You can customize any item to your liking, whether it's the crispy breakfast potato nachos, crab cake po' boy sandwich, or spicy chicken parmesan. No matter what you decide on, though, you have to try The Kettle's warm, homemade muffins (seriously, everyone talks about them), which they sometimes sample along with hot coffee during long wait times.
Story courtesy of Thrillist.