Want a Smooth Transaction? 
Michelle Garcia Sandoval of Encore Escrow, Inc. can help you Close Deals!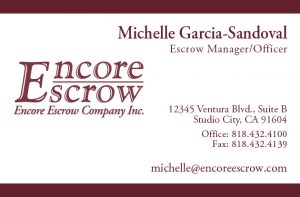 Testimonial for Michelle Garcia Sandoval of Encore Escrow, Inc. Studio City Branch
Candlewood Drive Escrow
Michelle, thank you for another outstanding job. There were some challenges with this transaction.  Nonetheless, you and your staff handled this transaction with your usual professional acumen.
Thanks again for a great job.  Looking forward to closing our next transactions.
Neal Adler
Associate Manager, Rodeo Realty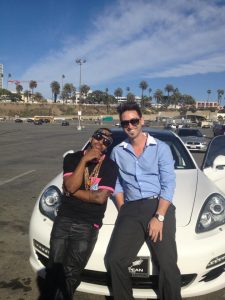 Omarion, best known as part of the R&B group B2K, has listed his Studio City home for lease with Rodeo Realty agent Tai Savet as reported by the realtor.com blog. The multi-level custom home was built in 2002 and has five bedrooms, hardwood floors, an elevator for three floors, and a huge master suite with a walk-in closet. The home also has two extra units on the lower level. Each has a private entrance and can be used as a recording studio or office. The home is not high in the hills but has views from the rooftop deck and yet is a short block from Coldwater and a quick drive into Hollywood. It is leasing for $6,750 per month.