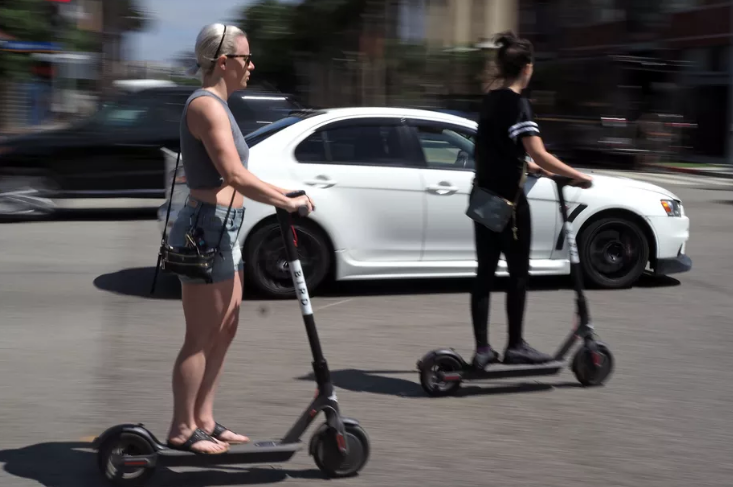 Dockless bikes! Smart bikes! Electric bikes! Scooters! Los Angeles is flooded with new options for getting around—they're part of a new breed of transportation called "micromobility."
These small vehicles are being touted as replacements for cars: They're shared, sometimes electric-powered, easier to park, and take up less space on roads.
As these new bikes, e-bikes, and scooters made their way onto LA streets starting in 2017, the debate about whether these modes are sidewalk nuisances or gridlock saviors has dominated the narrative. LA lawmakers recently passed regulations, and some Southern California cities, including Santa Monica, Long Beach, and Culver City, have introduced some forward-thinking policies that might portend a real shift in the way Angelenos get around.
Since the the availability of these micromobility services as well as the regulations vary widely from city to city—and change dramatically from week to week—it's important to learn what you're in for before you get scootin' or pedalin'. Here's our guide for how to ride, where to go, and what you need to know.
What's the difference between dockless and docked bike share?
In the past year, a half-dozen dockless companies have deployed their bikes and e-bikes on LA-area streets. While traditional "docked" bike-share systems require that bikes be parked in stations where riders can find them, "dockless" bikes use GPS technology and smartphone apps to help riders locate bikes. In the cities that allow them, they don't have to be locked to anything, and there are no designated pick-up spots or drop-off points.
Some cities in LA have "smart bikes," which are also located by app on a smartphone, but they can't just be left anywhere, they need to be locked. Riders can lock them to designated hubs for no extra cost, or to any public bike rack for a slightly higher fee.
Over the last few months, micromobility companies operating in the LA area have started offering electric bikes and electric scooters, which are dockless as well. These can also be found using apps, which display the location as well as the current battery life (the scooters and bikes get charged at night and put back on streets).
Where can I ride dockless scooters?
If you want to take a dockless scooter for a ride, a bike lane on the Westside is the place to be.
The greatest concentrations of scooter availability at the moment are in Santa Monica and Venice. You'll also have the best safety infrastructure for riding in Santa Monica, which plans to use funds from its scooter pilot to accelerate the construction of new bike lanes.
On September 17, Santa Monica will launch a new pilot program where four operators—Bird, Lime, Lyft, and Uber—will manage the city's e-bike and scooter share. In August, when the city's rankings of the applications were released, Bird and Lime shut down in protest for a day because the companies did not rank in the top four, but the final decision included both operators. Ride-hailing giants Uber and Lyft will both be debuting their scooters in Santa Monica as well.
You can also look for scooters in Culver City, which just launched a pilot program. Long Beach, which has great riding infrastructure, also has its own scooter pilot.
Although many scooters have been migrating eastward from the beach, the problem with riding most places in LA is that there just aren't enough protected lanes for riders to feel safe.
This is why many people choose to ride scooters on the sidewalk, even though you're not supposed to. But sidewalk-riding can be dangerous for you, other users of the sidewalk, and cars pulling out of driveways that don't expect to see someone whizzing by at 15 mph.
Where can't I ride dockless scooters?
On September 4, the city of LA passed regulations on dockless systems, but has yet to finalize the language of the policy. In the meantime, companies are supposed to apply for temporary permits to operate and will be limited to 3,000 vehicles citywide. Two council districts—District 15 and District 4—are already running pilot programs and have no vehicle caps until the end of 2018.
Previously, the City Council had asked LADOT to issue cease and desist letters to all dockless companies that don't have permission to operate in the city. But it's still not clear how the city will enforce the removal of vehicles, and riders are not being ticketed for using them—yet.
The city of Beverly Hills has made dockless electric scooters illegal—you can't even ride one through city limits, so steer clear. The no-ride zone is clearly marked in all the apps, and riders are being ticketed. West Hollywood has banned the parking of scooters within city limits, but you're allowed to ride through the city to get somewhere else.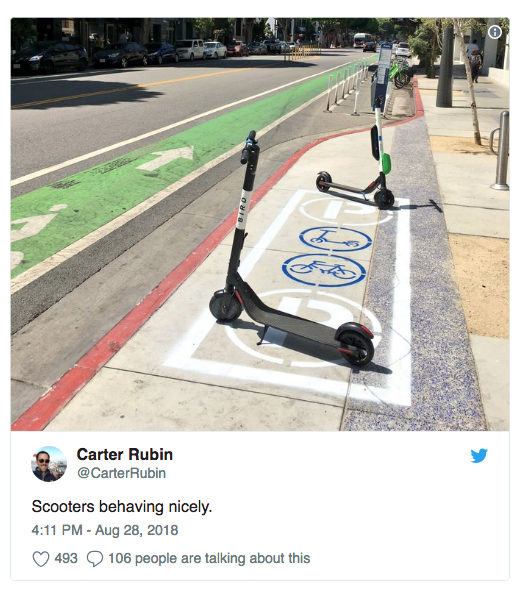 In Santa Monica, the city has put together a guide for riders. Avoid the beach path, where electric scooters of any type are not allowed. Riders are being ticketed and scooters impounded. Also, you cannot ride on the sidewalks anywhere in California, but in Santa Monica it's heavily enforced. In downtown Santa Monica there are now designated "drop zones" for scooters as well.
How far can I ride them?
As far as you want—kind of.
Technically you could ride Metro Bike anywhere you want as long as you dock it at a station when you're done. You'll just be charged for the time.
Similarly, the Bike Share Connect network, which encompasses much of the Westside, has very explicit boundaries outlined for where you can lock up its smart bikes. If you lock up a bike outside of the boundary, you'll be charged $20.
For electric scooters and electric bikes, you're limited to how long the battery lasts. Or until you reach the Santa Monica Mountains, whichever comes first.
Do I need to wear a helmet?
If you're riding a scooter—yes. State law requires operators of electric scooters to wear a helmet, however, a state bill that's awaiting the governor's signature would make helmet use on scooters optional for anyone over 18.
Helmet laws for scooters are being most heavily enforced in Santa Monica. If you register on Bird or Lime's app, they'll send you one for free.
If you're riding bike share or a shared e-bike, it's not required by law unless you're under 17, but it's not a bad idea, especially if you're riding on busy streets.
Do I need any other gear?
Not really. The great part about the design of these bikes and scooters is that they're designed to be used in regular clothes, even suits, skirts, and dresses. To minimize the potential of your toes getting scraped, you probably don't want to wear sandals or flip flops, although a lot of people do.
All the bike share bikes have big baskets on the front of them where you can stash your belongings so you don't even need a special type of bag or purse. Lime's bikes have a smartphone holder. Scooters, unfortunately, don't have any kind of storage.
What apps do I need to download?
For most of LA's micromobility options you'll need to download an app to locate, unlock, and pay for your rides. To make the most of what LA has to offer, we suggest downloading these apps that will give you a range of options across the region.
Lime: The most expansive of the dockless companies, Lime has pedal bikes, electric-assist bikes, and dockless scooters across a very wide geographic area. Besides the Westside, Lime has lots of bikes and scooters in the Port of LA and Wilmington area, and in Monrovia.
Bird: The Venice-based startup has the best scooter coverage on the Westside, and you can find them fairly regularly as far east as Fairfax.
Razor: Yes, the scooter of your youth now has dockless electric scooters to rent in Long Beach.
Metro Bike: LA's station-based system has hubs in Downtown, the Port of LA, and Venice. It's easily the best way to get around Downtown. You can't pay for rides on the app, but you can register your TAP card to pay for rides that way. You can also pay for walk-up rides at the station kiosks using a credit card.
Social Bicycles: Last year, Santa Monica, West Hollywood, Beverly Hills, and UCLAmerged their smart bike systems into the single Bike Share Connect network. Now you can use one bike booked through one app to ride from Hollywood to the beach and a fairly wide area in between. This app will give you access to the entire Bike Share Connect network, from Santa Monica to West Hollywood. You can also ride Long Beach's bike share using the Social Bicycles app.
Uber: Yes, Uber is best known as a way to book rides in cars. But now Lime-S scooters can be located and booked through Uber's app, which will also include nearby scooters as part of multimodal itineraries.
Transit: The trip-planning app can locate nearby dockless bikes and scooters, and provide a detailed multimodal itinerary as well as travel time estimates.
How much do bikes and scooters cost to rent?
Generally, all the systems cost $1 to $2 per ride, with additional fees based on the length—as in time—of your trip. There are also monthly and annual plans, and plans for students and employers.
Once you register for each service through an app, you'll link a credit card to your account, which bills you every time you complete a ride.
All the bike share and scooter companies also have options for subsidized passes. These require applications and eligibility is based on income restrictions. Some also have passes for people who don't use credit cards. Lime offers a local program where qualified members can get 100 pedal-bike rides for $5.
Can I use my Metro TAP card?
For Metro Bike and Bike Share Connect, yes! When you register your Metro Bike membership on your TAP card, it makes it especially easy to tap out a bike—you won't even have to use an app. Registered TAP cards also work for Bike Share Connect smart bikes.
The biggest news for Metro Bike is that fares have been slashed to $1.75 per trip, meaning rides are now the same cost as taking a Metro bus or train. Plus, since your Metro Bike account can be linked to your TAP card, you'll soon be able to "transfer" from bus or rail to a bike, and vice versa, saving you even more money.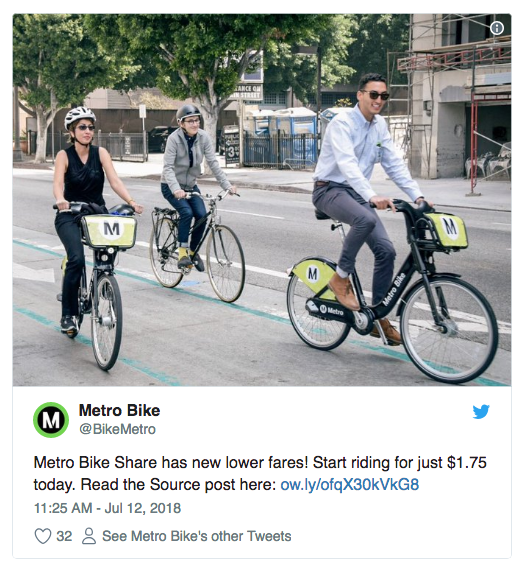 Can I ride my bike or scooter on the sidewalk?
If you're riding a bike, technically, yes—in some cities in LA County. Use this LADOT guide to see where sidewalk-riding is allowed.
Most people don't know this but riding a bike on the sidewalk is legal in the city of LA. The city acknowledges that sometimes the sidewalk is the safest place to ride on a busy street, and allows it, as long as bike riders do not endanger pedestrians.
California law says you can't ride an electric scooter on the sidewalk. A bill tried to change thatto make the law similar to bikes—but will likely only eliminate helmet requirements. But a lot of people do ride on the sidewalk because there aren't safe places to ride. When in doubt, walk the bike or scooter.
How do I find the safest place to ride?
Google Maps and the trip-planning apps Transitand Citymapper have decent bike and scooter directions, but the bigger challenge across the LA region is the lack of infrastructure—there are major gaps in the bike route network and few protected lanes.
A handful of LA-area cities like Santa Monica, West Hollywood, and Long Beach have better infrastructure for biking and scooting.
Also, be vigilant about potholes and uneven pavement. Bike share bikes are fairly sturdy and can handle a bumpy, unpredictable road. Scooters have tiny wheels and low clearance and you'll very likely bottom out. Do not ride the scooters downhill—you won't be able to stop.
Can I take a dockless bike or scooter on the train?
No, you're not supposed to. But along many lines, and especially on the Expo Line, most stations have a variety of micromobility options to choose from once you get off.
Can I ride at night?
Yes, you can ride bikes at night. All of the bike share bikes in LA have pedal-powered lights that activate as you ride. Some scooters do have lights but most are taken off the streets to charge them.
Why do I need a drivers' license to ride a scooter?
Good question. This is perhaps the most incongruous state law to govern what should be a smart alternative to driving, but, in the state of California you must have a valid drivers license to operate an electric scooter. The apps will make you check a box or scan your license before you ride.
For bike share, riders must be 16 and over. Scooter share riders must be 18 and over.
What's next for LA's micromobility scene?
Lots more electric bikes. LA's hills, mild climate, and long distances make it a perfect candidate for more e-bike share. In 2018, Uber bought Jump, which has smart e-bikes in several cities and will be bringing them to Southern California as part of Santa Monica's pilot program. Lyft, which recently acquired Motivate, the country's largest bike-share operator, will also be debuting an e-bike in Santa Monica.
Even traditional station-based systems are experimenting with options beyond pedal bikes. In certain parts of the city, Metro Bike plans to add smart bikes that won't need to be parked in hubs. There's also a possibility that e-bikes could get added to docked systems. In San Francisco, the Ford-operated station-based GoBike added station-based electric bikes this year.
Finally, many cities are looking at adding bikes that can serve a wide variety of users. In Detroit, MoGo bike share launched a fleet of adaptive bikes including recumbent bikes, tandems, and cargo bikes.
Article courtesy of Curbed.