As Angeleno's we know LA has no shortage of places to grab a bite from am to pm. On this holiday of love, our favorite spots will be raising the bar and prices for their Valentines Day offerings. Whether your preference is pre-fix or simply exquisite cuisine, we've rounded up the best places to dine with your special someone.
Inn of the Seventh Ray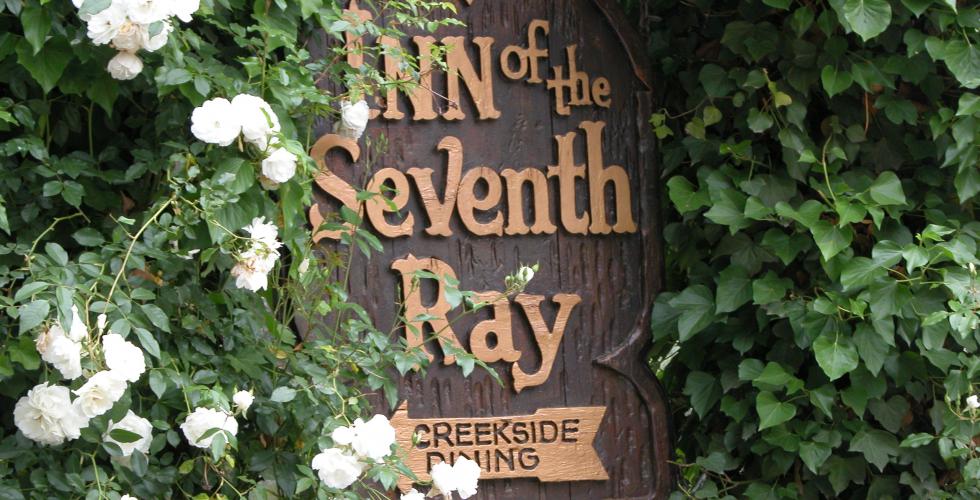 Location: Topanga
Forget the Topanga stereotypes of burning sage and healing crystals (OK, they sell those here, too). Off Old Topanga Road, love-stricken diners can enter a bucolic, wooded city escape: a multi-tiered outdoor dining space draped in lights, lilac and oak trees—and, yes, the wafting scent of incense that hits you on your way in. Take in the serene, creekside surroundings under heat lamps and twinkling stars. This idyllic setting will be offering both Brunch and Dinner for the Hallmark holiday of love. Menu's are pre-fix(with some a la carte dinner options) and can be viewed here.
One Pico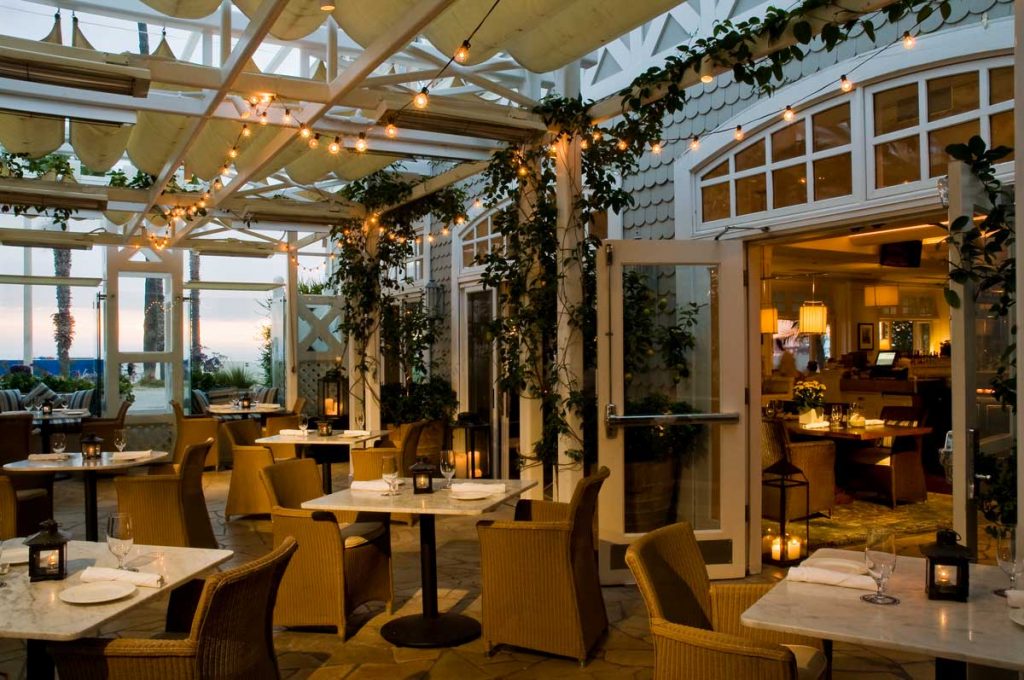 Location: Santa Monica
Escape to Nantucket at this beachside destination seducing lovers and landlubbers alike, where you can grab front-row seats overlooking the Pacific. If that's not enough to impress your sunset-discriminating friend, cozy up to the roaring fire over surf and turf plates such as fresh pasta with lobster, seared scallops with bok choi and soy caramel, 24-day–aged rib eye and Sunday-night prime rib dinner served table-side. The quiet dining room jazzes up, literally, come nightfall with live piano and jazz in the hotel's Living Room lounge, perfect for graduating on to cocktails and more fireside canoodling. View there Valentine's Day Dinner Menu here.
Cafe Pinot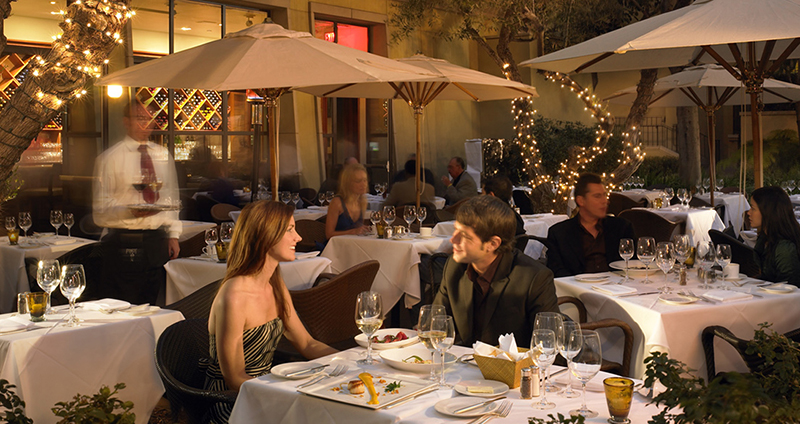 Location: DTLA
Transport yourself to another place and time at this Downtown bistro where it's all about the outdoor patio. Settle under olive trees decked in twinkling lights and a towering skyline overhead, with the Art Deco Central Library as your up-close-and-personal view. When it comes to the menu, expect an extensive wine list, eclectic flavors and elegantly-composed plates from this Patina-owned restaurant. Those seeking romance can pine over the lavish Valentine's Day pre-fixe menu which can be viewed here.
Chateau Hanare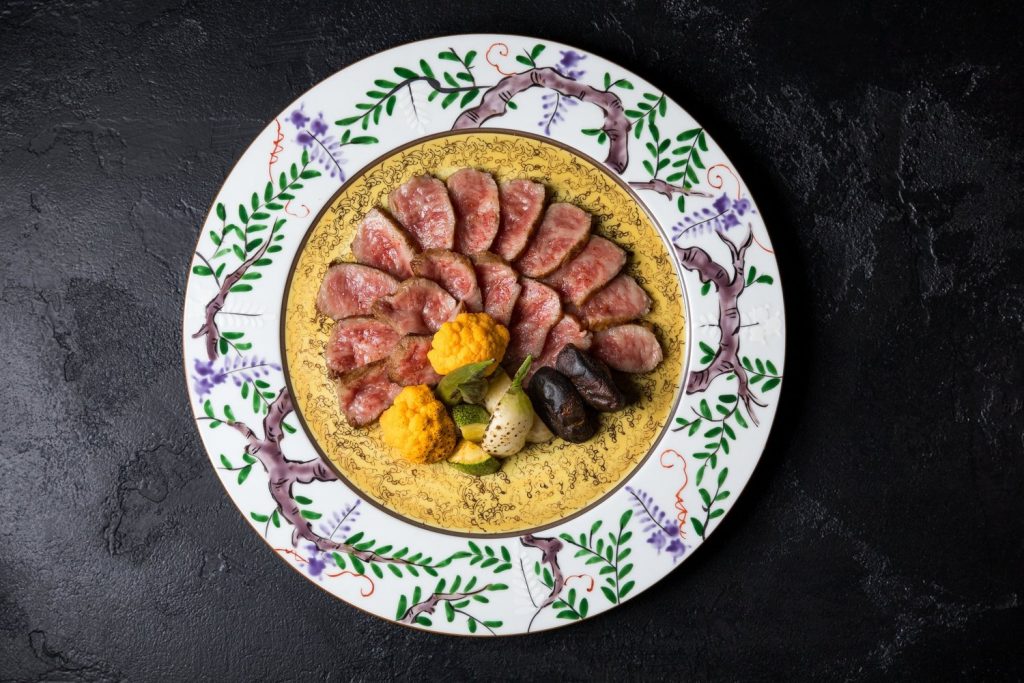 Location: West Hollywood
Soft, flattering lighting that bounces off the delicate gold wallpaper? Check. An artful, at times decadent, menu that's perfect for sharing bites with your date? Double check. Traditional Japanese technique meets California flavor at this intimate bungalow on the edge of Chateau Marmont. Pro tip: For an even more intimate experience, huddle over sake and cocktails at the front bar. For next Wednesday they're offering a stunning Valentines version of their Kaiseki menu. Click here for more information.
Little Beast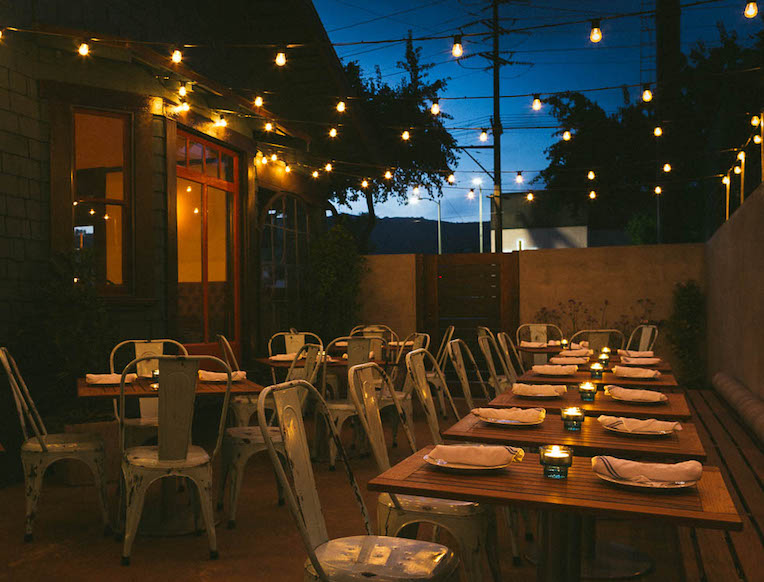 Location: Eagle Rock
There's romance even in the story of this Eagle Rock gem. The cozy Craftsman bungalow turned bistro is run by—of course—a husband-and-wife team. Chef Sean Lowenthal and Deborah Schwartz-Lowenthal cook up a hyper-seasonal New-American menu romance filled setting. Share your way through braised meatballs, duck liver mousse with sherry gastrique, and charred flat iron steak. Outdoors, the lights flip on when the sun goes down, providing an intimate patio that glows as much as your date will. For more information click here.
The Bazaar by Jose Andres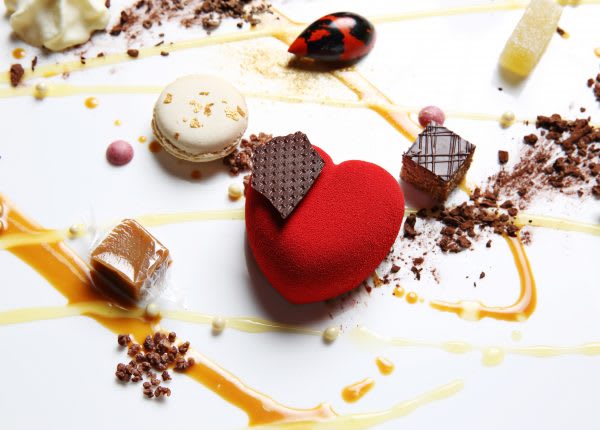 Location: Central LA
This Valentine's Day, plan a night as unique as your romance. With three outstanding José Andrés experiences to chose from, the way to the heart begins with a feast for the senses. There are multiple dining rooms, each with a different menu focus and ambience. Dine dangerously in the more masculine, matador-themed banquettes or opt for comfy-yet-modern seating. For more information on their menu options click here.
Wolfgang Puck at Hotel Bel-Air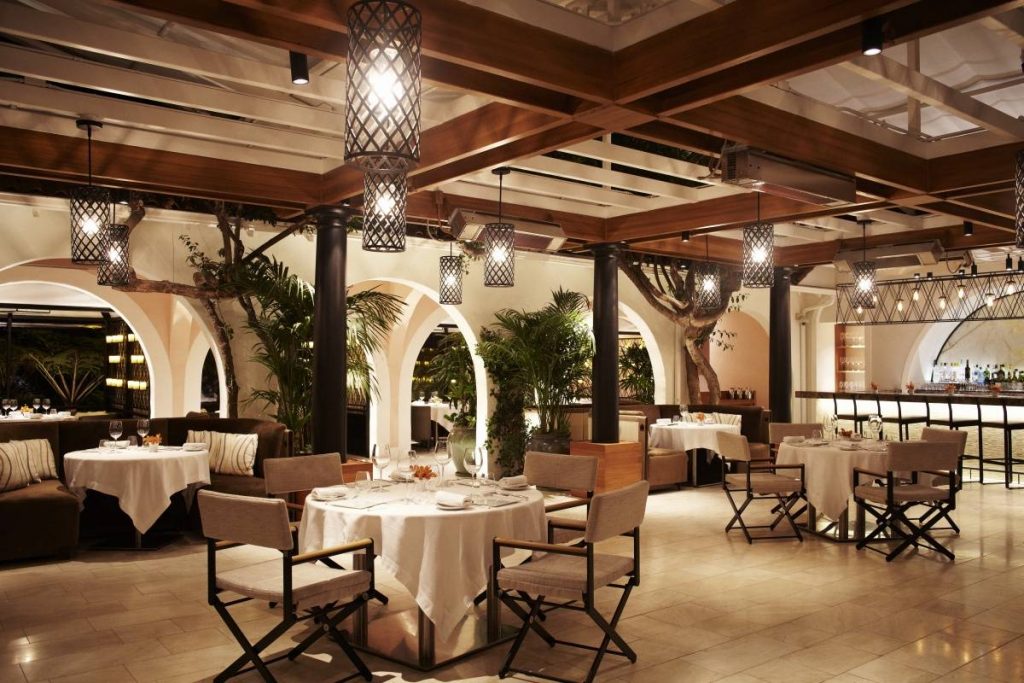 Location: Bel Air
Since opening its doors in 1946, Hotel Bel-Air has been the site of Old Hollywood's (then-new) city escapes. From honeymoons to camping out in the secluded hills away from the lights. The Mediterranean-influenced menu sees glimpses of old and new with updated Puck favorites. Finish with a stroll by the fabled Swan Lake for a fairy-tale ending. Click here to view their Valentine's Day menu offerings.
Scopa Italian Roots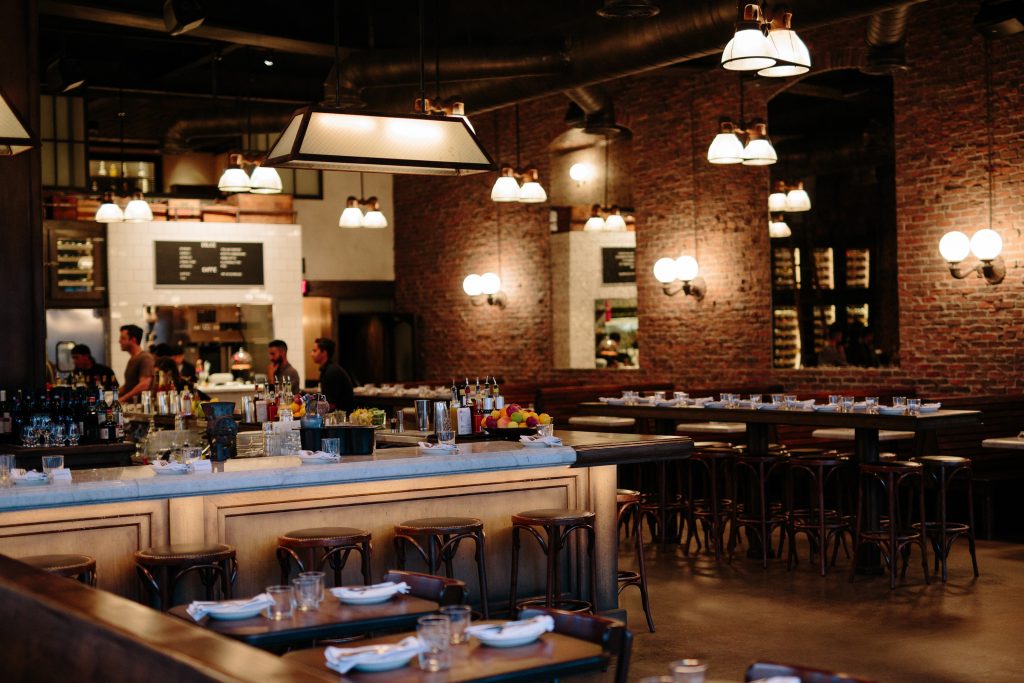 Location: Venice
Oh, Scopa, what are you doing to us? Those crispy squash blossoms and house-made meatballs are making our hearts melt. Not to mention the intoxicating glow of the fully-stocked liquor bar that lights up the restaurant. Couples canoodle in dark booths, sharing plates of rigatoni in vodka sauce and fusilli tossed with capers, olives and anchovies. Chef Antonia Lofaso has a knack for churning out quality comfort food in a date-worthy atmosphere. End the night with a fried fluffernutter (trust us). To view their menu click here.
Melisse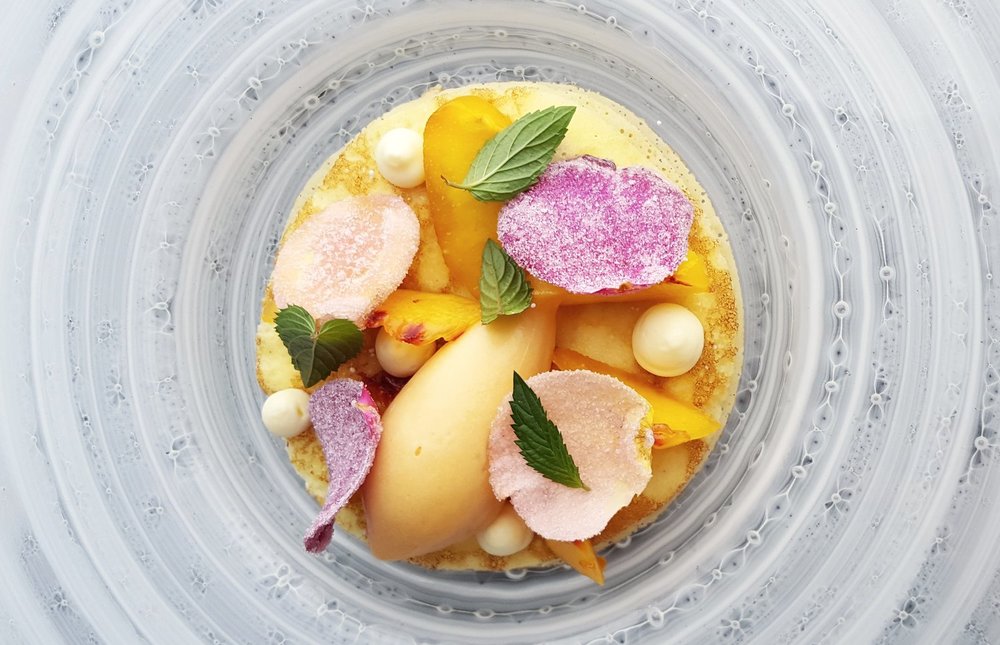 Location: Santa Monica
Ask anyone in L.A. what the best fine-dining spot is, and Mélisse always comes out toward the top of the list. Serving dinner only, suited waiters bring course after course. You can opt for the basic four, seven or 10 courses, plus caviar service—of artfully-composed plates of pure decadence. (If that doesn't seduce you, we don't know what will.) While two private dining rooms offer a more intimate setting, the main dining room hosts couples, who should request a booth. To view their pre-fixe menu options click here.
Elf Cafe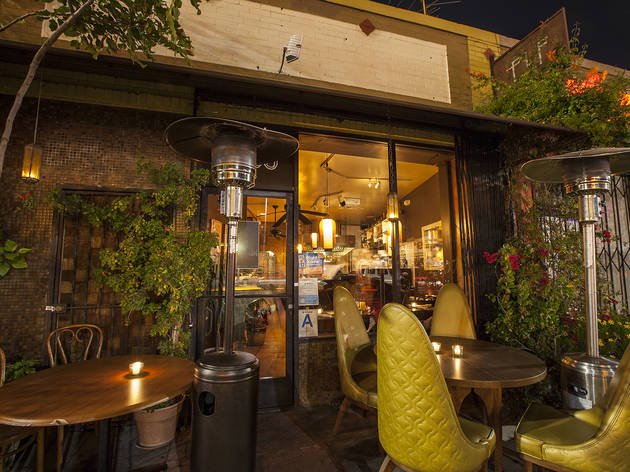 Location: Echo Park
Because vegetarians are lovers, too. This Echo Park haunt is a date night go-to for vegetarians and omnivores alike. Fall for the Middle Eastern and Mediterranean menu that changes with the season. Call ahead to claim a spot with your date inside the cozy, matchbox-size dining room. Sip on any number of wines—all natural wine, of course—and toast over vegetarian, vegan and gluten-free options. Click here to view their menu options.
Firefly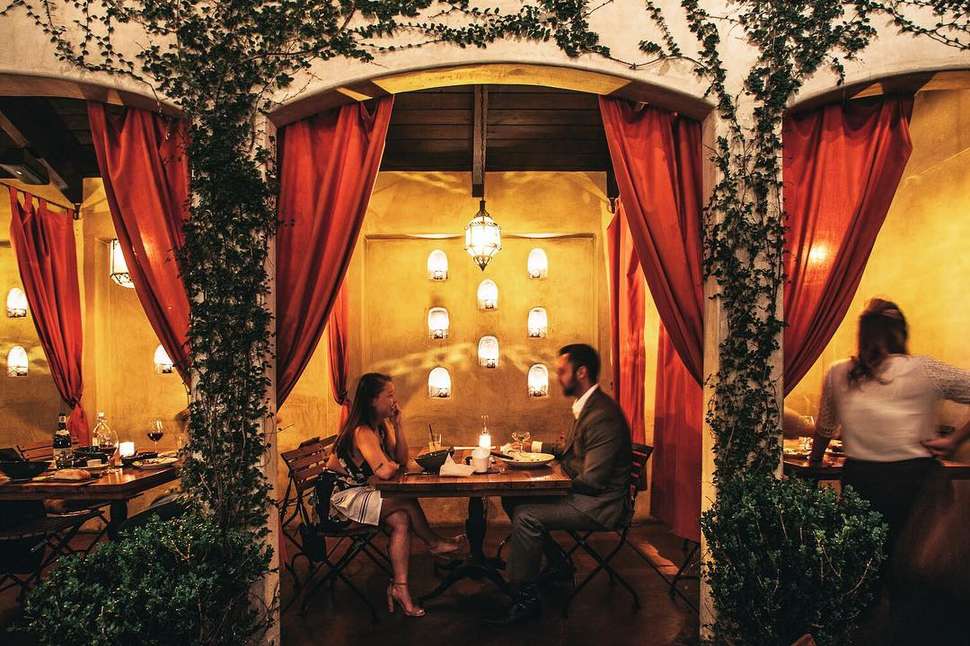 Location: Studio City
Firefly may be the closest thing to a modern-day secret garden in L.A., walls of tangled ivy included. The fine-dining restaurant offers Modern-American cuisine in a romantic, cozy setting. Their heated, fire-lit patio is decorated in candles and twinkling lights, while the library-like bar area offers an ideal date-night vibe. In this secret garden, you'll be fed exquisitely constructed dishes off their pre-fix Valentine's Day menu which can be viewed here.
mar'sel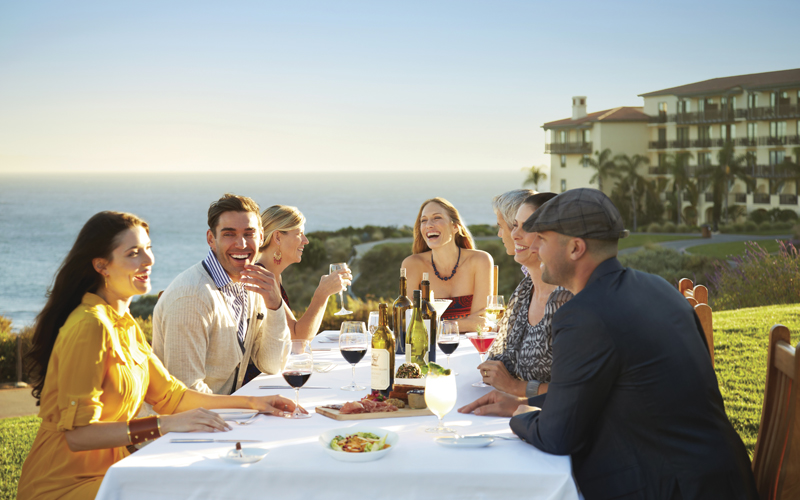 Location: Rancho Palos Verdes/Rolling Hills Estates
When the parsley sprinkled over the house-made pasta you're eating has come from a garden right outside the restaurant's doors, you know you're eating fresh. Such is the case at the picture-perfect mar'sel, where an onsite herb-and-vegetable garden is mere steps from the kitchen, its goods incorporated throughout the menu. Overlooking the beautiful Pacific Ocean, mar'sel is the perfect place to impress your date. Their menu options can be viewed here.
Il Cielo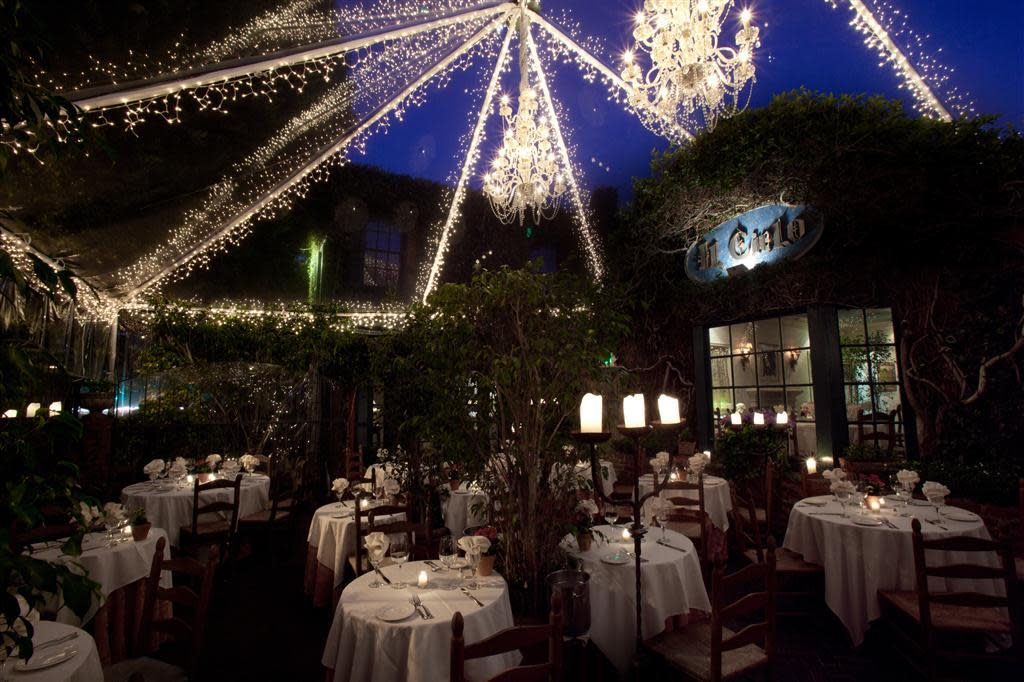 Location: Beverly Hills
If a restaurant could make you weak at the knees, Il Cielo would have diners dropping left and right. Serving dinner under a canopy of twinkling lights, the romantic Italian eatery aims to be a "country restaurant in the city". Bubbling fountains and white tablecloths create a darling ambiance to rival a Tuscan trattoria. Their decadent Valentine's Day menu is sure to rival other as well and can be viewed here.
Cliff's Edge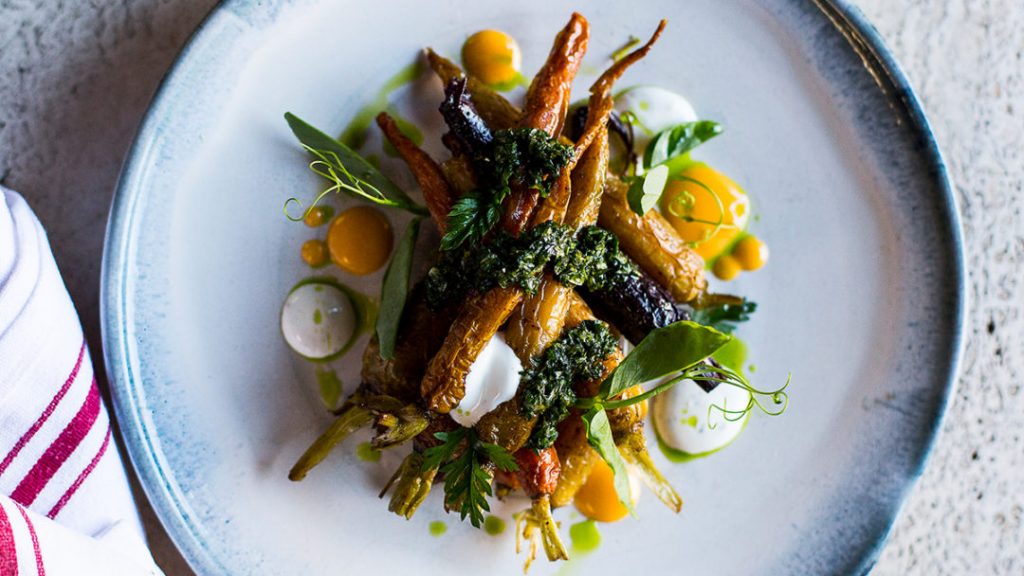 Location: Silver Lake
This hidden gem's patio is one of the prettiest on the east end of the city. An open structure that's outfitted in hanging lights and a fireplace under a huge banyan-like tree. The menu reads like an exotic escape—to the Mediterranean or Asia, perhaps—with a California influence. Enjoy menu items like French butter lettuce with radish, quinoa, or whole branzino with papaya salad and nuoc cham. To view their full menu click here.
Lucques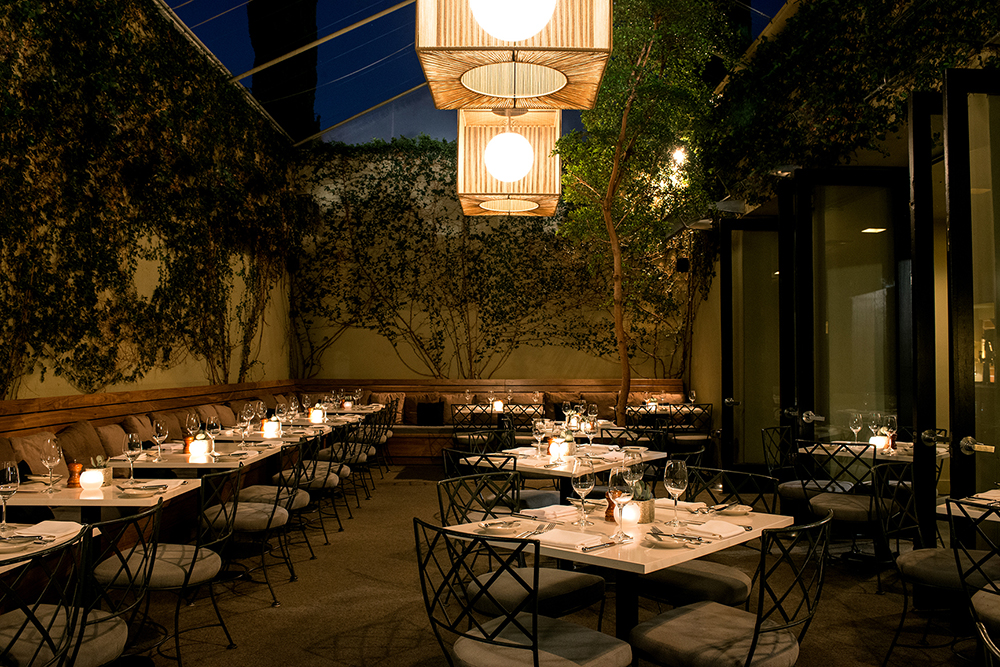 Location: West Hollywood
Long heralded as one of the top restaurants in the city, Melrose Avenue's Lucques continues to draw foodies and the fashionable set. The menu takes cues from the season with local farmers' market ingredients highlighted on the plate. While the bar menu features a separate selection of eats and seasonal concoctions, another experience and reason to visit. Indulge by flickering candlelight over a bottle—the well-curated wine selection features worlds both old and new—and don't skimp on desserts. View their seasonal menu here.
Courtesy of: Time Out LA