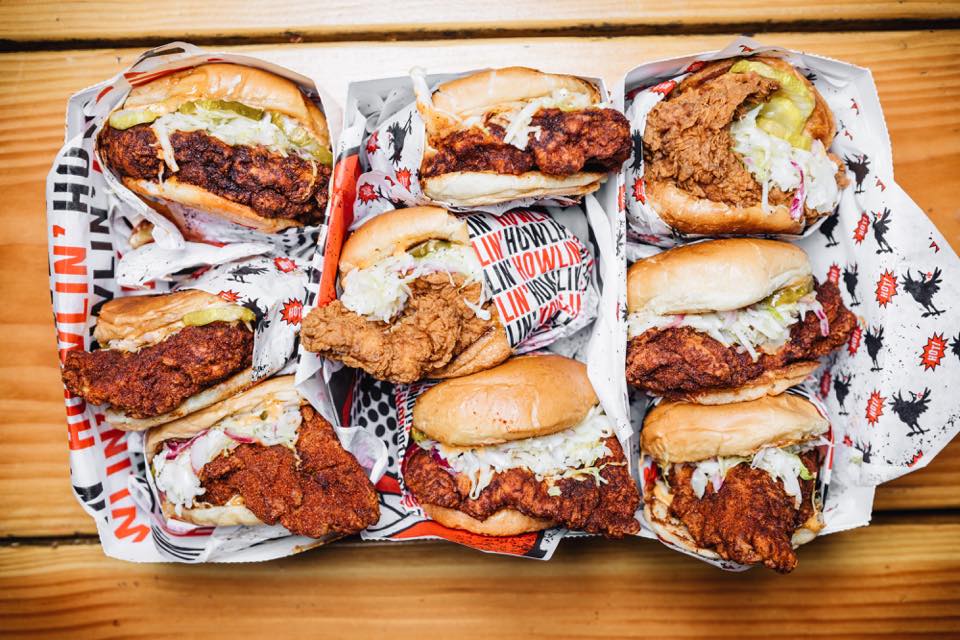 Fried chicken is having its moment in Los Angeles. New joints dedicated to battered, deep-fried versions of the bird seem like they're springing up all over the place. Although the practice of breading fowl and submerging it in hot oil might have come from the Scots, the dish became an American tradition when African slaves incorporated spices like paprika and chili pepper into the process. Chefs with Japanese, Singaporean, Korean, Indian and other culinary backgrounds have put their spin on the dish, turning a staple of Southern plantations into a multicultural culinary exchange.
The beauty lies in the differences between every method. Even Johnny Ray Zone, the chef-owner of Howlin' Rays, the hottest (literally and metaphorically) fried chicken restaurant in town, has trouble ranking them. "Every bird and every chicken shack does things differently," he says. "It's hard for me to say one is better. It's all a celebration of fried bird." Fortunately, we've got our pick. From SoCal classics to nouveau options, they could only come together in a place like L.A.
Tokyo Fried Chicken Co.
In a green, Monterey Park strip mall with a faux-Chinese glazed tile roof, you'll find Tokyo Fried Chicken's flavorful hybrid of Japanese karaage and Southern fried chicken. Each bird is marinated overnight in soy, garlic and ginger before it's dredged, fried to a delicate crisp in rice bran oil then dusted with the house seasoning. Prepare to feast with a plastic glove on one hand and chopsticks in the other — it's just what you do here. Sweet, spicy ponzu sauce (in adorable honey bear bottles) makes a great dipping sauce. Curry creamed corn, tempura-battered potato chips and fried brussels sprouts with goat cheese round out the meal.
122 S. Atlantic Blvd., Monterey Park. 626-282-9829.
https://www.instagram.com/p/BXozQZWniVY/?utm_source=ig_embed&utm_campaign=embed_loading_state_control
Honey's Kettle
Vincent William offers casual Southern comfort at Honey's Kettle, a Culver City staple since 2005. Fried in peanut oil, his technique produces drumsticks, wings and thighs with a supremely crunchy exterior and supple meat. Hot sauce and, of course, honey are available for drizzling and dipping. The buttery biscuits are a must. They're so good, you can buy the batter and bake them at home.
9537 Culver Blvd., Culver City. 310-202-5453.
Gus's World Famous Fried Chicken
A top contender for Best Memphis Import To Los Angeles, Gus's chicken has just enough cayenne to pack a tingle in every bite. The golden breading is the perfect thickness and the birds are always succulent. Plus, the prices are great and there's no wait time to get seated — something that almost never happens at the non-L.A. locations. Fried okra is the only standout side. That's fine because it leaves room for a slice of the fine chess pie.
1262 Crenshaw Blvd., Los Angeles. 323-402-0232.
509 S Glenoaks Blvd., Burbank. 747-231-3990.
https://www.instagram.com/p/Bm1ZLZFlHbZ/?utm_source=ig_embed&utm_campaign=embed_loading_state_control
Howlin' Rays
It's hard to know what Howlin' Rays is more famous for: Their insanely long lines or their insanely delicious fried chicken. This is one of the very few places where the former is worth the latter. (Stay abreast of the wait times via Twitter.) That's because they serve the best version of Nashville hot chicken in Los Angeles. Heed the descriptions of their six levels of heat. The hottest, Howlin', comes with a pair of rubber gloves to prevent the spices from seeping into your skin. The chicken isn't just hot, it's damn tasty with the perfect, just-oily-enough crunch protecting the ultra juicy, brined flesh. No matter the level of heat, don't accidentally rub your eyes or spread any of that garlicky, peppery seasoning on your extremities because the only place where it hurts so good is your mouth.
727 N. Broadway #128, Chinatown. 213-935-8399.
https://www.instagram.com/p/BFrT7NvQDw9/?utm_source=ig_embed&utm_campaign=embed_loading_state_control
Jim Dandy Fried Chicken
The birds at Jim Dandy's are beyond crisp and and served from behind a bulletproof glass window — and they're absolutely worth it. Each bite into a crisp, spicy piece reveals tender insides with a no-nonsense flavor. No secret brine or hyped up batter here. Just simple, flavorful fried chicken. We recommend the spicy, which is manageable, and a side of fried corn fritters dusted in powdered sugar. Make sure you bring cash to this stand, one of the last two remnants of a popular 1970s chain.
11328 Vermont Ave., Westmont. 323-779-5567.
The Prince
It's easy to see why this vintage bar, with its circular, red leather booths and fading glamour, still attracts crowds. Located in the base of a Tudor Revival-style apartment building in Koreatown,The Prince has been around since the 1920s, when it was a French restaurant. You might've seen it as a backdrop in Mad Men, Chinatown, Thank You For Smoking or a number of other productions. It's also home to Heo Ja-hwa's twice-fried, salt-and-pepper seasoned chicken. Juicy on the inside and with a heat that expands the more you eat it, the chicken comes with coleslaw, pickled radish and hot sauce. Order a plate of kimchi fried rice or dukbokki (spicy rice cakes) to go with it. Half-price drinks during happy hour (from 4 to 8 p.m.) are the perfect liquid pairing.
3198 7th St., Koreatown. 213-389-1586.
Karayama
The Japanese chain has more than 50 outposts around Asia but the first United States location just landed, in Little Tokyo, two weeks ago. That's a reason to celebrate. Why? Chicken karaage, those nuggets of fried, boneless glory. The menu offers distractions, like the chicken sandwich, but it's all about the karaage at Karayama. You can thank the secret, fermented marinade and potato starch batter for the flavor and texture. If you don't want it straight, try a donburi bowl with egg, onion and a light soy broth. Dipping options include goku-dare with garlic and sesame, sweet and salty shio-goku-dare, wasabi mayo, sweet chili and a red hot sauce.
136 S. Central Ave., downtown L.A. 213-265-7358.
https://www.instagram.com/p/Bm_JMKpBbLo/?utm_source=ig_embed&utm_campaign=embed_loading_state_control
Lucky Bird
Chef-owner Chris Dane, a Providence and Connie & Ted's alumn, has opened a small, 12-seat fried chicken stand in Grand Central Market. The outside layer of his fried bird is fluffy yet crunchy, giving way to a tender, citrus-brined center. Saddle up with savory sweet and sour coleslaw, fried chicken skins and buttermilk biscuits served with whipped honey butter. The best way to start a meal at Lucky Bird? Order one of the craft beers on tap.
317 S. Broadway, downtown L.A.
https://www.instagram.com/p/BnCBnxyl0vf/?utm_source=ig_embed&utm_campaign=embed_loading_state_control
The Crack Shack
Westfield Mall in Century City just welcomed the fourth location of chef Richard Blais's San Diego fried chicken chain. The menu features no less than eight fried chicken sandwiches as well as five and ten-piece chicken dinners, for the purists. The chicken, always Jidori, yields succulent meat with a crunchy coating. The twist comes courtesy of eight dippers including Baja hot sauce and curry mustard. Craft beer taps and a lots of patio space make this a great gathering spot for groups. Another Crack Shack will opens this fall, in Pasadena.
10250 Santa Monica Blvd., Century City. 424-320-0046.
https://www.instagram.com/p/BmCLyYOADM-/?utm_source=ig_embed&utm_campaign=embed_loading_state_control
A.O.C.
Suzanne Goin has effectively made her Spanish fried chicken an L.A. icon, which is no small feat — but neither is a 16-year run of successful restaurants. Dusted with aleppo pepper, paprika, coriander and cumin, her garlic-marinated masterpieces are available for brunches, power lunches and candle-lit dinners on A.O.C's patio. Romesco aioli adds a creamy touch and a bit more spice to the butter-basted fried chicken, which is served on a cast iron skillet. Pair it with one of the restaurants wines, chosen by Caroline Styne, for a perfect meal.
8700 W. 3rd St., Mid-City West. 310-859-9859.
---
Article courtesy of LAist.