Looking for something fun to do for all ages? One place to consider is Universal Studios Hollywood. This film studio and theme park is one of the most popular theme parks in California! If you're planning on visiting Universal Studios Hollywood soon, a little planning and preparation can go a long way! Take a look at the tips below. Hopefully this will help you navigate Universal Studios Hollywood like a pro.
Ticket options
1. Order you tickets in advance. Online general admission tickets are typically cheaper and range between $99 – $129.
2. If you're not really sure on what day you're planning on visiting, you can purchase their Anytime Admission tickets online. You can visit Universal on any date you choose.
3. Get Early Park Admission to The Wizarding World of Harry Potter when you purchase online tickets. The Early Park Admission allows you to enter the park one hour before it opens and is subject to availability. Check out their calendar for availability.
4. Get in front of the line to all attractions and shows when you purchase the Universal Express Pass. This will cut your wait time in half and helps during busy days like weekends and holidays. Prices typically run $169 and up.
5. Children two years of age and younger get to enter the park for free. Just keep in mind that there's a height requirement to various rides.
6. Want to get the VIP experience? The Universal Studios Hollywood VIP Experience package gives you valet parking, unlimited access to shows and rides, a personal tour of the park, breakfast in the VIP lounge, access to sound stages, prop warehouse, and other restricted areas, an all-you-can-eat lunch at the Moulin Rouge dining room. Children under the age of 5 are not allowed for this package. Prices are currently around $349 and up.
7. Planning on going with a big group? Universal offers discounts for group of 10 or more. For more information and to reserve tickets, call 1-800-959-9688.
8. Stay away from third party resellers and buy directly from the park.
Best time to go to the Park
9. If you can help it, avoid going to the park when children are out of school.
10. Fall and spring are the least congested. The busiest season is the summer.
11. Want to see a celebrity? Check out the Universal Studios Hollywood calendar to see which celeb will be at the park.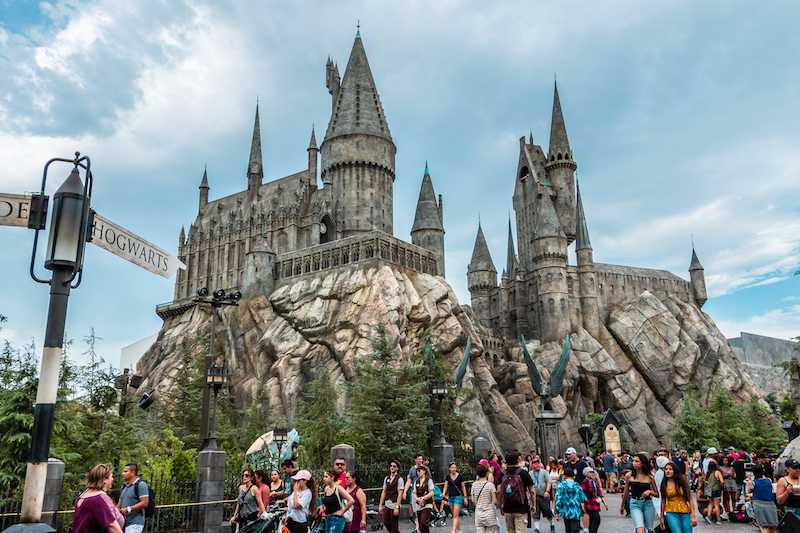 Tips on the Park
12. Get to the park early to beat the crowd.
13. Try visiting the Wizarding World of Harry Potter first, which is located at the front. This area can get extremely packed later in the day.
14. The park has two lots, the Upper and the Lower lot. Build out your day so you're not going back and forth between lots. Also, the Lower lot (the smaller of the two) is usually less buy and is near some of the most exciting rides; Revenge of The Mummy The Ride, Transformers: The Ride 3D, and soon, Jurassic World, which is set to open next year in 2019.
15. Download the Universal Studios Hollywood app. The app gives you information on upcoming shows, ride wait times, restaurant and shop locations, as well as character meet and greets.
16. Free WiFi is available at the park. While at the park, use it to view wait times HERE.
17. Make sure to bring an empty water bottle into Universal Studios Hollywood and fill it up at one of the fountains inside the park. The theme park can leave you dehydrated with all the excitement and walking.
18. Non-english speakers can visit Guest Relations for tour times. Studio Tours are offered in Mandarin and Spanish.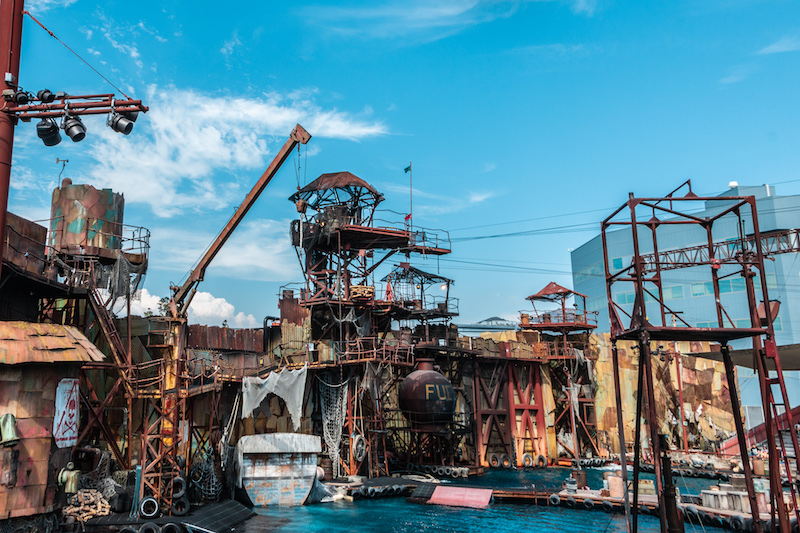 Tips on Rides and Shows
19. Don't care to split up from your group? Single Riders Line is a great option for you and one of the fastest ways to get on a ride.
20. Also, did you know the park offers a "child switch" program? If a child isn't old enough or tall enough to ride—one or two adults can wait with the child in the Child Switch room while the rest of their party enjoys the attraction. When the party returns, the adults can switch with the ones waiting, without having to wait in line all over again.
21. Express passes are not accepted at Ollivanders Wand Shop. This line is the longest in the mornings when children and adults are buying their wand for the day. Wands allow you to perform magical spells at most of the Harry Potter world.
22. If you're a die-hard Potter fan, The Wizarding World of Harry Potter is the place you have to visit! Here you'll be transported into a magical world the moment you step in.
23. Consider taking the Studio Tour if you decide to visit the park. Guests will get to see some of the most iconic movies that have been filmed like JAWS and Psycho. In addition to that, you'll also get to experience King Kong 360-3D and a ride along tour with the cast of Fast & The Furious, a hyper-realistic journey with  a crazy car chase adventure.
24. Looking to attend one of the most popular shows in the park? Make sure to see WaterWorld. Run time for this show is 20 minutes, so head on over when you need a break or are tired of standing.
25. The old Jurassic Park closed earlier this year. Universal Studios Hollywood plans to update the ride as Jurassic World in 2019.
26. Looking for a perfect cool down option for the little ones? The Wet Zone area known as Super Silly Fun Lands, offers more than 80 water play features.
Tips during Holiday Time
27. Enjoy a dazzling light show by Night Time Lights at Hogwarts Castle. This is available during the summer and in the winter time as well.
28. From November 17, 2018 to January 6, 2019, enjoy holiday themed everything at The Wizarding World of Harry Potter. Expect Christmas décor, and holiday themed food and drinks.
29. During the holidays, enjoy the return of "Grinchmas". This annual event will take place weekends on December 1 and 2, 8 and 9, and daily from December 14 – 30. Here you can catch performances by Martha May Who-vier and the Who-liday Singers, as well as see a 60-foot tall "Grinchmas" tree.
30. Don't have plans for New Year's Eve yet? Universal Studios Hollywood will have various party areas filled with drinks, music, and dancing. At midnight, enjoy a countdown and fireworks!
31. Another fun time to visit Universal Studios Hollywood is during the Lunar New Year. For 2019 the park plans to have a Dragon Warriors Kung Fun training show, live performances, and Mr. Ping's Noodle Shop.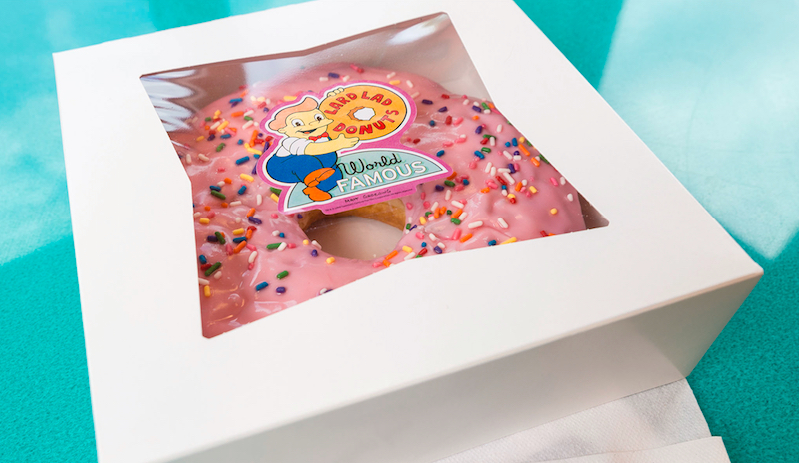 Eating Options
32. Feast on Hogwarts approved British fare at the Three Broomsticks in Wizarding World. This rustic tavern has a menu that includes Fish & Chips, Beef Sunday Roast, and Shepherd's Pie. For a group of five, consider "The Great Feast" which includes roasted chicken, ribs, roasted potatoes, corn on the cob, and steamed vegetables.
33. Harry Potter fans can enjoy a taste of Butterbeer inside Hogs Head Pub. Here you can order the exclusive Hog's head Brew or the Pumpkin Juice, wine, spirits, and other beer selections.
34. For a variety of food options, consider Springfield U.S.A. This place has many eateries, bars, and items from the show.
35. Also, CityWalk has many food options such as Karl Strauss, Margaritaville, and Voodoo Doughnut.
36. So, remember you can go in and out of the park. Hold on to your ticket and get your hand stamped.