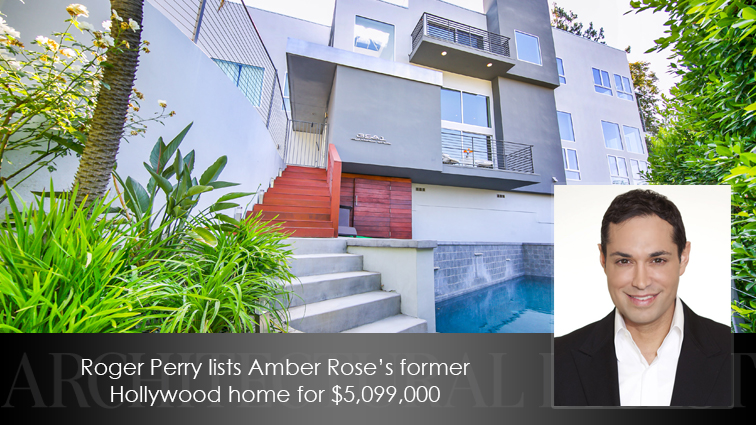 A home once occupied by model, author, and now TV talk show host Amber Rose is on the market for $5,099,000. Rodeo Realty's Beverly Hills agent Roger Perry has the listing, which has been featured in Architectural Digest and Pursuitist.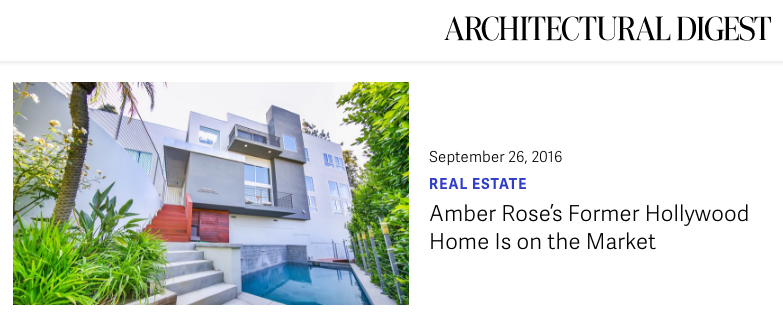 Rose lived in the 9,300+ sq. ft. contemporary home for about a year before purchasing a house in Tarzana. The also feminist activist and fashion designer gave People magazine a tour of her pad during her stay there. During her at-home interview, Rose showed off her shoe closet, her son's room and her massive theater room.
[su_youtube_advanced url="https://www.youtube.com/watch?v=8X1iBZMxh3Y" width="740″ height="440″ responsive="no" controls="no" autohide="yes" showinfo="no" autoplay="no" loop="yes" rel="no" modestbranding="yes" theme="light"]
Since moving out, the Los Angeles compound has been remodeled. The 6 bedroom, 7 bathroom property has an enormous living room that connects to an informal area and a dining room. The chef's kitchen boasts European finishes, Caesarstone countertops, and all Miele appliances including a built-in fridge and a wine tower. The east wing of the home includes the theater room, two bedrooms, and a junior master suite that opens up to an outdoor patio area and connects to the gym. The vast master suite has an endless closet and dual, luxurious baths. On the west wing, there's another bedroom with an en-suite bathroom, plus an office/lounge areas. The home also includes an attached one-bedroom guesthouse that has a bathroom, a kitchen and a living room. Other additional features of the home include a pool and spa, a private gazebo, 8 security cameras, and parking for 8 cars.
[su_vimeo url="https://vimeo.com/178815467″ autoplay="yes"]
Rose, 32, is best known for her high-profile romances with Kanye West and Whiz Khalifa, whom she married in July 2013 and divorced in 2014. "Muva Rose" as she's known to her fans, also has a non-profit organization, the Amber Rose Foundation, which is dedicated to female empowerment and equality.
Currently, MUVA is the Executive Producer and host to her own VH1 show, The Amber Rose Show. She is also a cast member of Dancing with the Stars season 23.
The home is also available for lease at $25,000 a month. For more information on the property, click HERE.
To read the Architectural Digest article on this home, click HERE.
Pursuitist, HERE.
[su_slider source="media: 18690,18691,18693,18694,18697,18692,18696,18700,18695,18698,18703,18707,18708,18701,18702,18709,18704,18706,18705,18699″ limit="15″ width="1600″ height="500″ title="no"]