Transforming your home into an autumnal oasis could be as simple as focusing on the small accents you're bringing into each room of your home. When it comes to the changing of seasons, there is nothing more exciting than when summer fades into fall. The leaves are changing, the weather is cooling down, and your coffee order changes from iced to hot. Fall is a time to put your beach towels back in storage, and get back into regular routines. Thus, making it the ideal opportunity to return to your crafting room with these 10 Fall DIY crafts in mind.
1. Fabric Pumpkins
Fabric pumpkins are a fresh way to display seasonal gourds. You can pair sewn faux pumpkins among real ones (some of which you can spray or sponge paint) during this fall season. Imagine — spare branches, scattered leaves, and these pumpkins displayed in your home. Autumnal oasis dreams.
Home Décor Craft: Sew linen, silk, and velvet into adorable faux pumpkins that can be displayed and reused every year.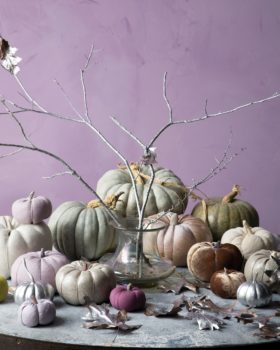 2. Wheat Cluster
For an easy, lightweight decoration that still evokes the glorious fall harvest, try these dried wheat bundles.
Home Décor Craft: Begin by bundling together three to ten stalks of wheat. Then, wrap the stalks of wheat together in twine. Leave about three feet of twine hanging off the bunch in a tail. Next, cut the stalks to approximately three-inches in length. Repeat for as many bundles as desired. Then, push the separate tails on the twines through a chosen bead, loop all at the end, and tie it into a knot. Hang it upside down on your front door as a creative way to say hello to the fall season!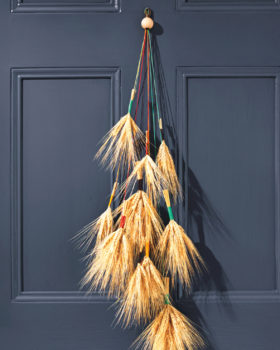 3. Rustic Woven Lanterns
Thinking of dressing your dinner table with fresh center pieces this holiday season? Look no further with this eco-friendly and chic way to upgrade your dinner table.
Home Décor Craft: Upcycle old mesh placemats by cutting & rolling them into tubes and stitching them along the seams. Place cylinder shaped votives around candles. Wax, soy, or electric candles – your guests won't be able to spy the difference! Candlelight will gracefully flicker through the loose weave of the hurricane lanterns as you entertain over dinner.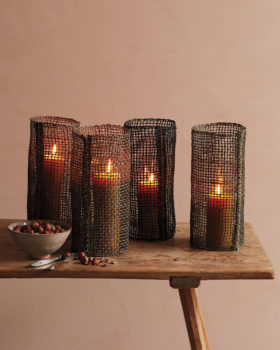 4. Soft Seats
With this DIY craft, dinner isn't going to be the only warm thing at your table. With these simple slipcovers, you can instantly reinvent dining chairs at your formal dining table over the holidays.
Home Décor Craft: To start, simply drape a finished sheepskin over the back of the chair before securing it with Ultrasuede-tape or cord. Extra fall points for choosing a contrasting cord color. Next, finish securing them to the chair by threading the tie through the sheepskin on each side with a tapestry needle (that will help you create a cuff over the chair's top). Knot the ends and let them hang loose. Voila!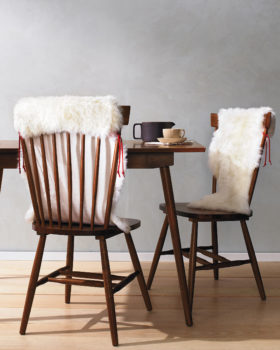 5. Gingham Knit Blanket
Believe it or not, you don't need to be an expert knitter to tackle this DIY project; you can make this cozy throw blanket with quick-to-knit strips.
Home Décor Craft: Gather scarves in the colors you want, and sew them together. That's it! Below, scarves of alternating stripes are sewn together to create a unique gingham pattern.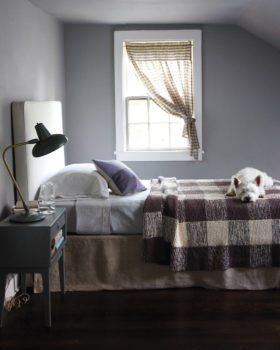 6. Harvest Branches
We love how easy these fleeced branches are to put together. Specifically how they have the power to add a touch of warm color to any setting you place them in.
Home Décor Craft: Simply pull a bit of fleece roving off a ball, and then press the end of the fiber against the branch. Start wrapping tightly, gently pulling the fleece apart (without tearing it) as you go. Wrap the branches until the piece of fleece runs out. Add more fleece as needed to cover the branch. When adding, wrap over the last inch of wrapped fleece with e.
The friction of your fingers on the fibers and the natural oils form your skin help the fleece stay on the branch and adhere to itself.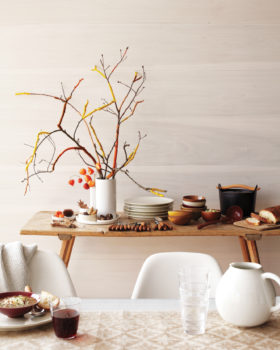 7. Pumpkin Spice Scented Candles
If you're among the camp that counts down the days until you can sip a classic pumpkin spice latte once again, these homemade candles are for you. Poured into orange-tinted mason jars, they throw off an especially autumnal glow in any area you might have in mind.
Home Décor Craft: Hot glue candle wick to bottom of festive colored jar. Bring water to a boil in a pot (filled half way). Reduce to a simmer. Place a different jar with broken up candle wax inside into the pot of simmering water. Water should be about 1/2 way up the side of the jar. When the wax becomes liquid add a heaping tablespoon of pumpkin pie spice. Mix. Carefully pour the liquid wax into the festive colored jar. If the candle wick starts to tilt, secure the wick between two sticks or pencils. Set aside to cool overnight. Trim the wick. Light it up!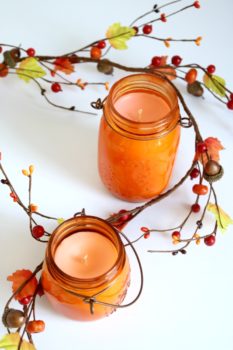 8. Nut Wreath
Celebrate fall's abundance of almonds, hazelnuts, pecans and walnuts with this festive decoration. Use any hard-shelled nuts, including acorns you gather from your own backyard.
Home Décor Craft: Gather all your nuts, small and large. Begin hot gluing the large ones together to form the shape of your wreath. Add in the small nuts as you go to fill in the spaces. Let cool, and hang on door. Ta da!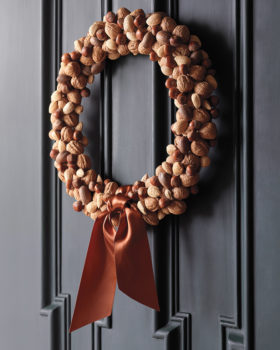 9. Embroidered Throw Pillows
Upgrade a pair of store-bought wide-weave cushions by tricking them out with bright neutral yarns sewn directly into the weave.
Home Décor Craft: Grab some of your favorite colored yarn and sew in fun patterns and fringe with a tapestry needle. That's it. Truly.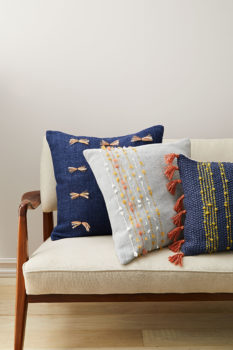 10. Block-Printed Linens
Block-printed linens are costly to buy, but surprisingly simple to make. With some textile paint, muslin fabric, and woodblock stamps, you can create linens that are exclusive and unique.
Home Décor Craft: Begin by layering a paper towel on top of a foam sheet; lay pre-washed muslin fabric on top, and smooth out any wrinkles. Then, pour your choice of textile paint on a plate. Next, dab a sponge in the paint and smooth it evenly onto a wooden printing block with a unique pattern. Stamp it on the muslin fabric. Let dry. Pictured are indigo shades, but you can substitue for any color of your choosing.