The plant is having a moment. From the Impossible Burger to Beyond Meat, plant-based protein is sweeping menus and diets alike – a trend expected to only grow in 2020. Fortunately for locals, Los Angeles, the Westside and the Valleys offer no shortage of delicious culinary options for long-time vegans and the vegan-curious alike.
Los Angeles and Westside
Un Solo Sol

1818 E 1st Street, Los Angeles, CA 
This plant-based spot sits across from Mariachi Plaza in Boyle Heights. The atmosphere and downtown location are as flavorful as the food, which ranges from nopales salad and potato or chicken taquitos to the Mushroom and Cheese Pupusa Plate and fajitas with organic tofu. Plus, don't forget the black beans and rice!
Green Table Cafe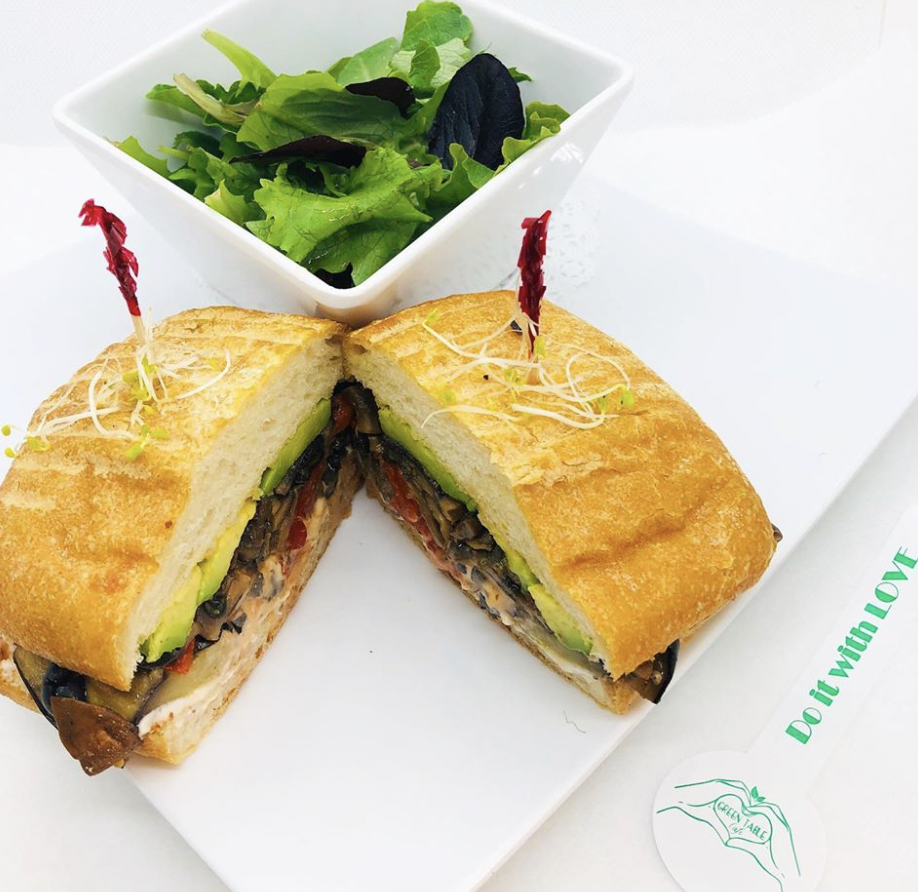 5998 W. Pico Boulevard, Los Angeles, CA 
Formerly known as Real Raw Vegan, this eatery specializes in vegan Italian dishes. Start off with one of their signature juices such as the Bella Vespa (orange, carrot, ginger, cayenne, lemon and aloe vera). Then bite into their B…Special Panini (sautéed baby mushrooms, red bell pepper, eggplant, olives, sliced avocado with in-house almond cream cheese and Thousand Island sauce) or a Spinach Artichoke Melt (vegan sausage, marinated artichoke hearts, vegan cream cheese, spinach, garlic and olive oil on a toasted garlic bun). In the mood for pasta? Lasagna options are eggplant, zucchini, cauliflower or polenta. Lastly, their plant-based dessert list includes banana nut muffins and oatmeal cranberry cookies.
Monty's Good Burger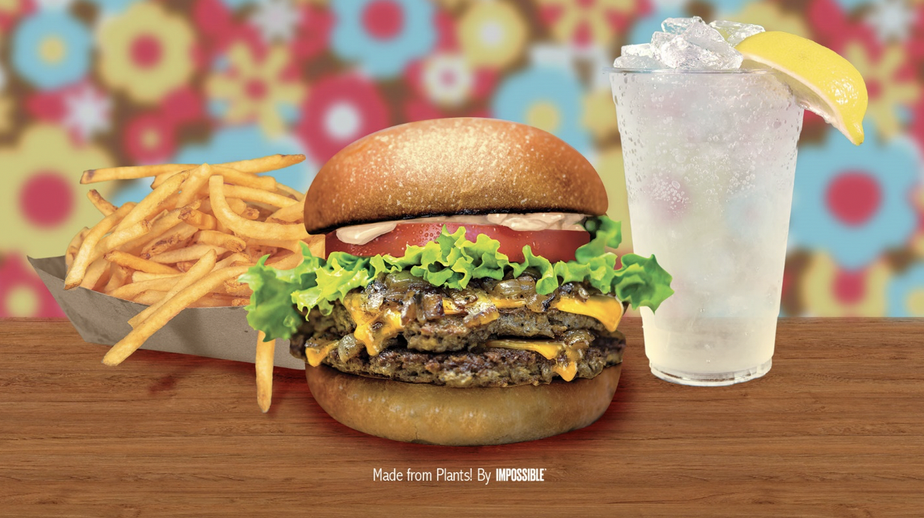 516 S Western Avenue, Los Angeles, CA 
Describing itself as "for carnivores who care about the environment," Monty's has locations in Echo Park (1533 W Sunset Blvd), Riverside (3605 Market St.) and this spot in Koreatown. Have your burger, featuring the plant-based Impossible patty, with shoestring fries or a chopped kale Caesar salad, then wash it down with an organic craft soda.
Seabirds Kitchen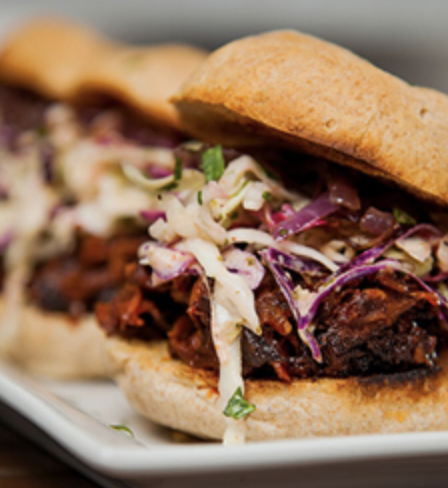 975 E 4th Street, Long Beach, CA 
In 10 years, Seabirds has expanded from a food truck to three spots, including this Long Beach location. Sample a beer-battered avo taco (fried avocado, Seabirds sauce, cabbage, red onion, lime) before moving onto a Beets Me Burger (house-made shiitake, beet and chia patty) or the Jackfruit Nachos.
Pura Vita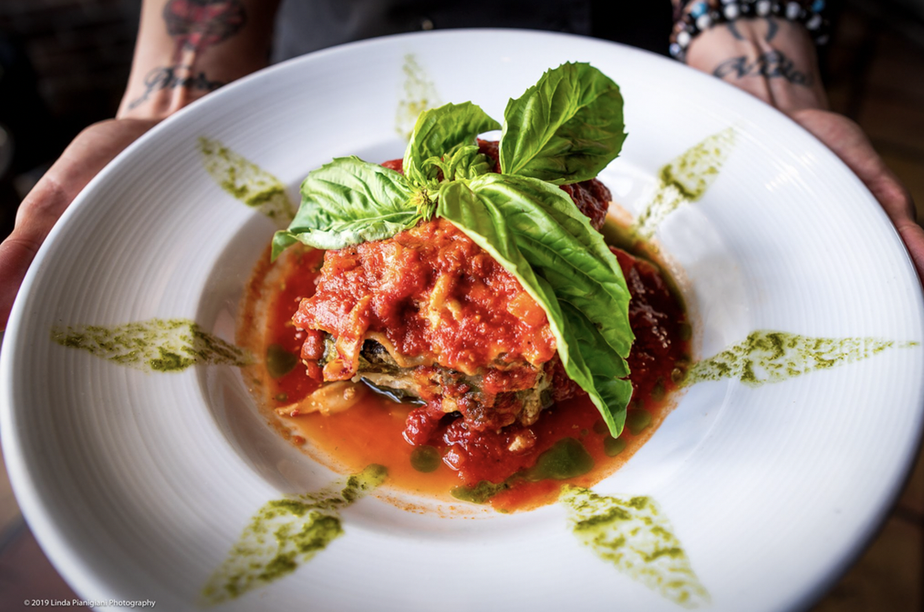 8274 Santa Monica Boulevard, West Hollywood, CA 
The first completely plant-based Italian restaurant in the country, Pura Vita marries New York City wine bar atmosphere with Southern Italian cuisine. Plant-based dishes range from the Giambotta (Calabrian vegetable stew, macadamia Parmigiano and grilled ciabatta) to the Caprese (house-made cashew mozzarella, heirloom tomato, basil, and balsamic reduction) to the Linguine di Mare (garlic white wine sauce, king oyster mushroom scallops, and toasted breadcrumbs).
San Fernando Valley
Vinh Loi Tofu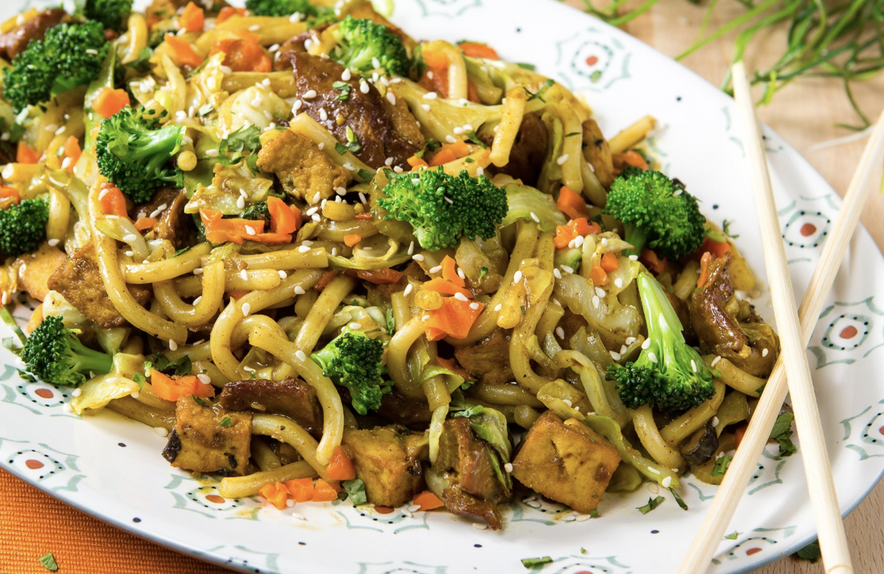 18625 Sherman Way, Reseda, CA 
We could tell you what's on the menu of this Vietnamese vegan eatery, but as customers know, owner Kevin Tran might as easily cook up something especially for you. Just tell him what you're craving. For folks with trust issues, the menu offers such favorites as the Tofu Robot Soup.
Sun Cafe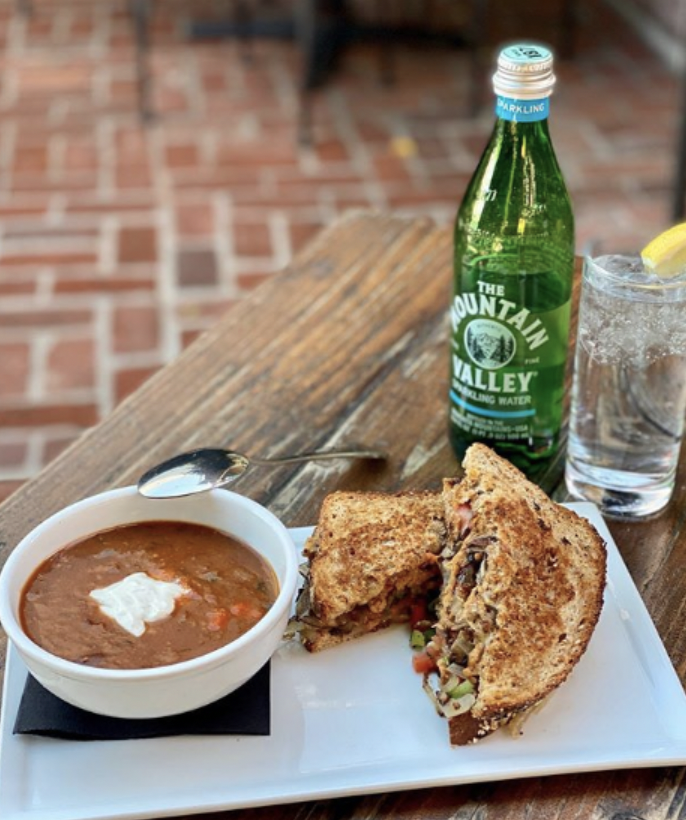 10820 Ventura Boulevard, Studio City, CA 
They don't just serve vegan dishes like the Zucchini Lasagna (zucchini slices layered with walnut pesto, spinach, cashew ricotta, SunChorizo, marinara, and cashew cheese) or the Tempeh Stir Fry (cauliflower, zucchini, bok choy, and carrots, in pineapple chili, teriyaki tempeh and lime juice), but they'll teach you how to cook it yourself. A 90-minute vegan cooking class happens every Saturday morning at 9 a.m., except on some holidays. Cost is $40 at the door.
Follow Your Heart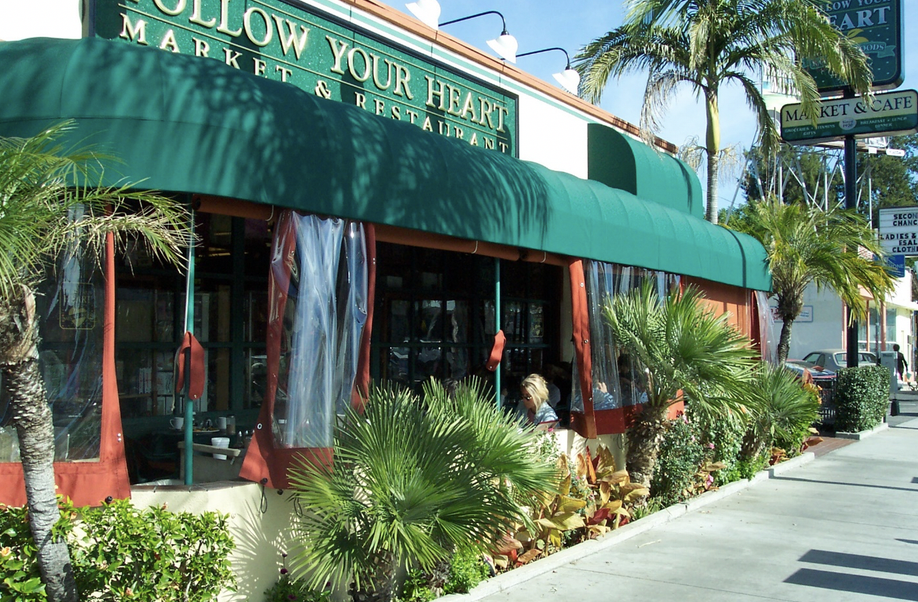 21825 Sherman Way, Canoga Park, CA
What began in 1970 as a seven-seat, vegetarian food bar now offers both a full vegan menu and an SOS menu, which means "no Salt, no Oil, and no Sugar." SOS selections range from the White Bean Kale Burger (patty made from kale, brown rice, white beans and oats) to the Super Green Pasta (zucchini noodles, served with steamed kale, spinach, broccoli, and white beans).
Conejo Valley
Norte-Sur Mexican Grill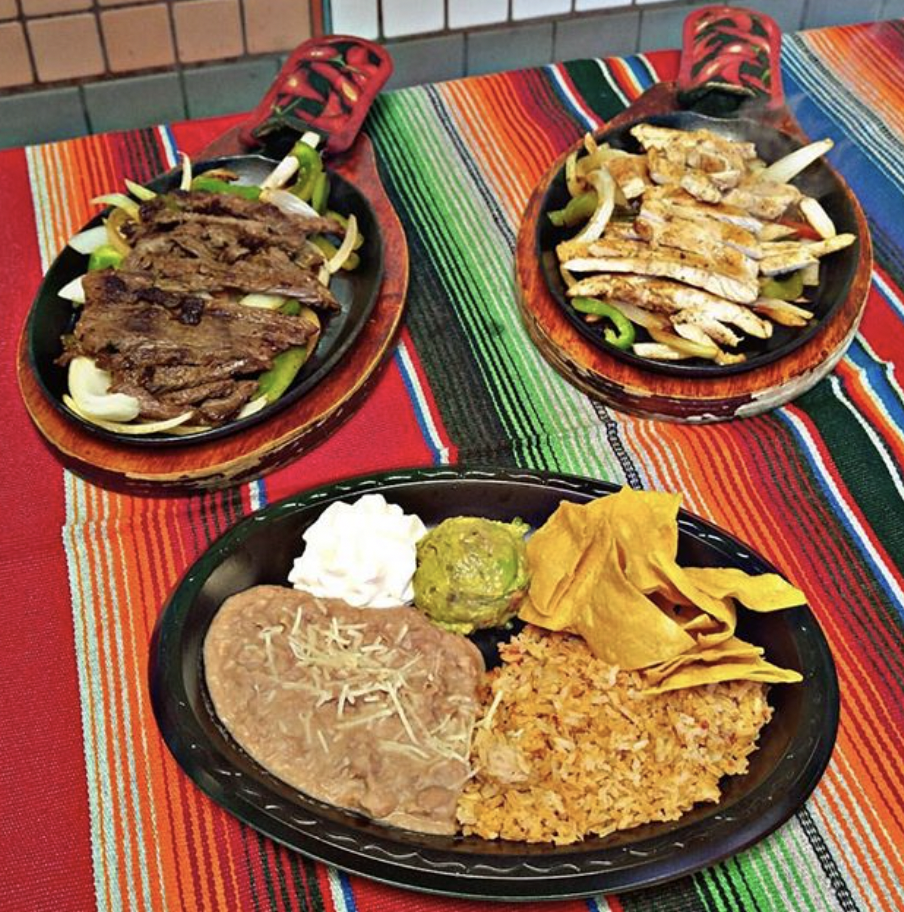 2950 Johnson Drive, Ventura County, CA 
Located just off the 101 freeway in Ventura, Norte-Sur's owners are as proud of their home-made salsas and Aguas Frescas as they are their Mexican vegan cuisine. Have a soft taco or sizzling fajita with their gluten-free vegan soyrizo, for example. Or order their vegan mole taquitos, rolled with mole-mashed potatoes, cabbage, and pico.
Hip Vegan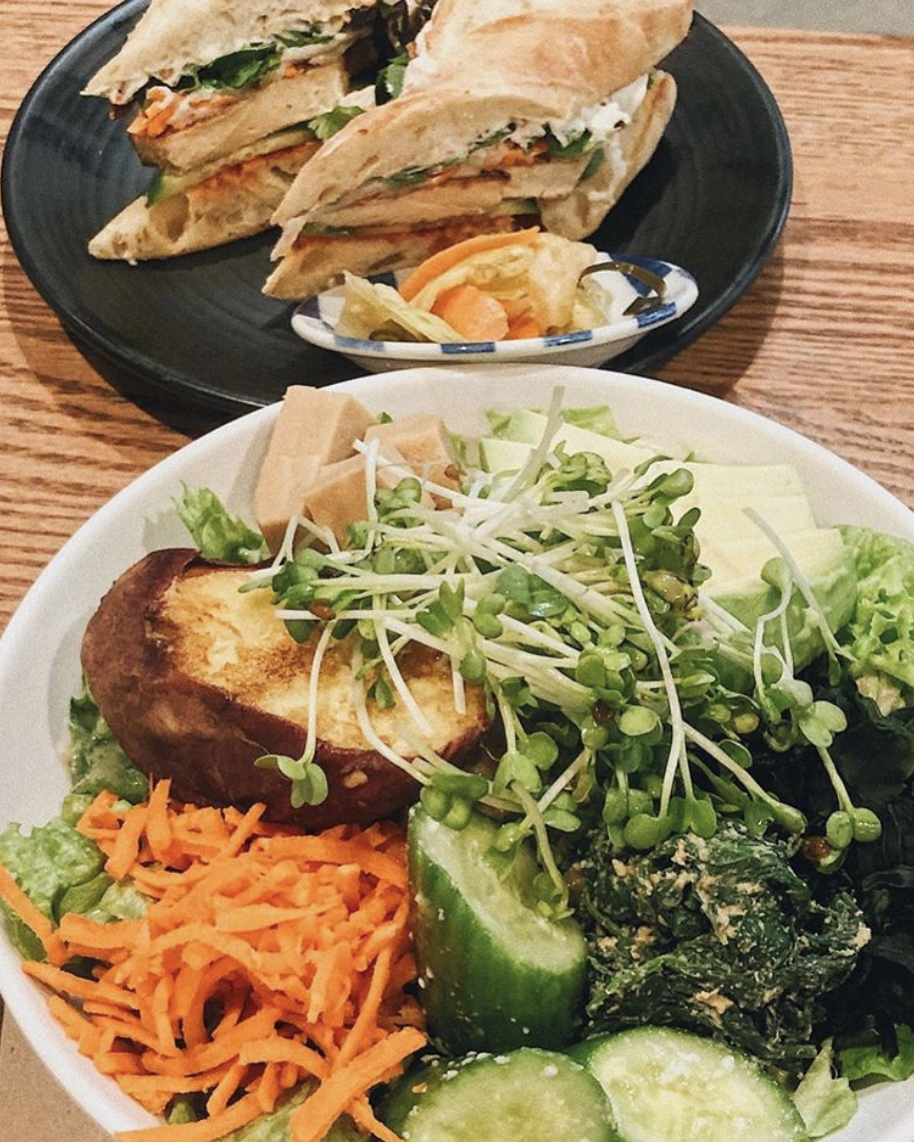 201 N. Montgomery Street, Ojai, CA
Expect fresh vegan cuisine and a laid-back atmosphere befitting Ojai. If you're feeling like something light, there are wraps, sandwiches, bowls and salads. If you're hungry for food that's more filling, try the veggie pasta with garbanzo bean meatballs.
Karma Baker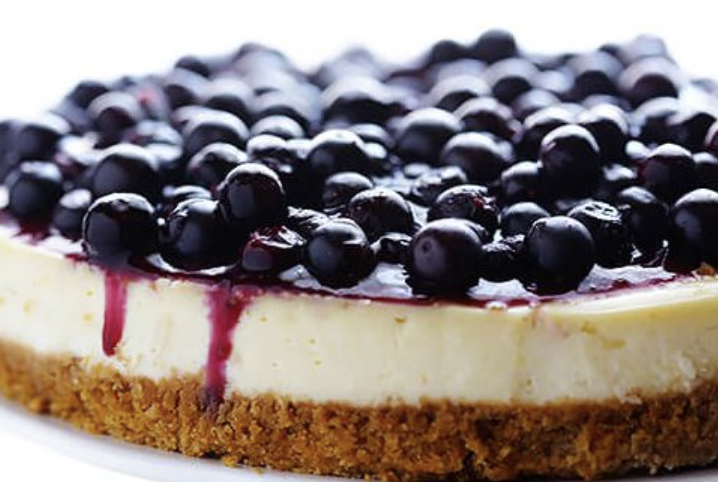 1145 Lindero Canyon Road, Ste D3, Westlake Village, CA 
Skip the meal and go straight to organic, kosher, vegan and gluten-free desserts. Their not-so-guilty pleasures range from pastries and custom-made cakes to hot pockets and hand pies.
Santa Clarita 
Thai Chefs Restaurant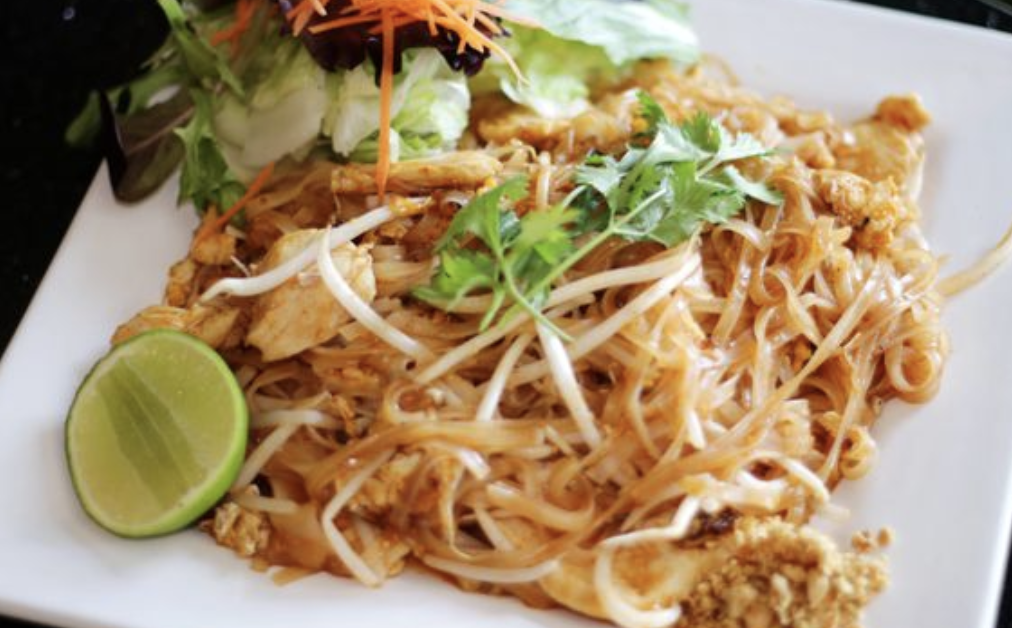 28014 Seco Canyon Road, Santa Clarita, CA
Thai Chefs owner has cooked traditional Thai cuisine for more than two decades, first at a restaurant in Thailand. This family-restaurant offers several vegan options for some of its most popular dishes, including the stir-fried chicken and yellow curry with coconut milk, potatoes, carrot, and onion.
Manoushee Mediterranean Restaurant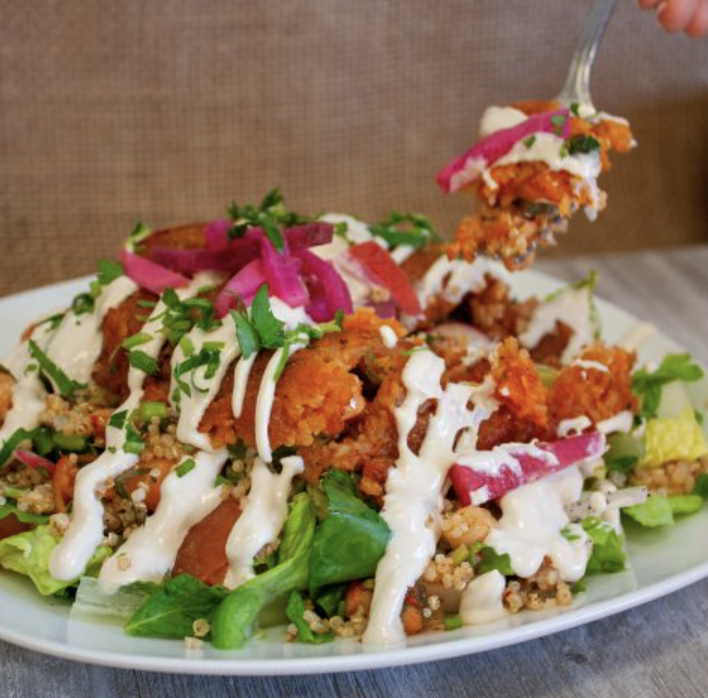 27131 Sierra Hwy #100, Santa Clarita, CA 
Among such traditional Mediterranean plates as shawarma are several vegan options. The Lebanese Hash Falafel, for example, features patata harra (or spicy potatoes) on lettuce and tomato, and your choice of protein. An extra portion of falafel can be substituted for the fried egg that usually tops the dish. If you have stew in mind, they have an Egyptian Fava Bean Stew served with lemon juice, garlic, and olive oil. And for dessert, try the vegan carrot cake.
Tomato Joe's Pizza Express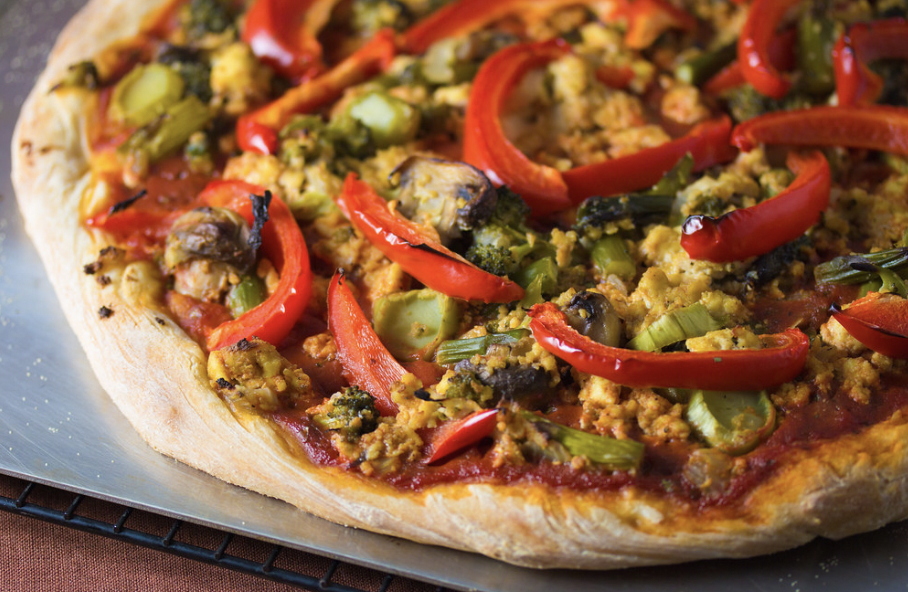 27732 McBean Pkwy, Valencia, CA 
Hankering for a vegan pizza with a beer-battered crust? Tomato Joe's provides no shortage of mix-and-match options. And if you're not hungry for a slice, sample their vegan meatballs, with melted vegan mozzarella, and served with vegan garlic bread. Tomato Joe's also has a second Santa Clarita location at 19167 Golden Valley Rd.