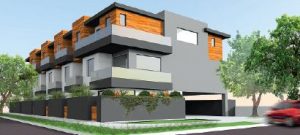 Rodeo Realty's Ben Salem was recently featured in the San Fernando Busisness Journal for breaking ground on what will be the first of three upscale multi-family projects. The Weddington Villas is a a seven-unit townhome complex on Sepulveda Boulevard near the Sherman
Oaks Galleria that will have 2,000-square-foot units with the latest amenities. Ben was quoted in the article describing the units saying that he wanted to do something that has never been done in the Valley before.  "This is going to be super sexy and sort of New York," he told the Journal. "Elevators going directly into the buildings, terraces on the roof, a lot of exposed steel – something very young and hip."
The project should be completed in November and units will be priced between $700,000 and $800,000. Ben and his partners have two other projects in the works:  Hermitage Town Homes, a five-unit development of 2,000-square-foot townhomes in Valley Village; and
the Coldwater Villas in Studio City, an eight-unit complex of 1,600-square-foot condos.