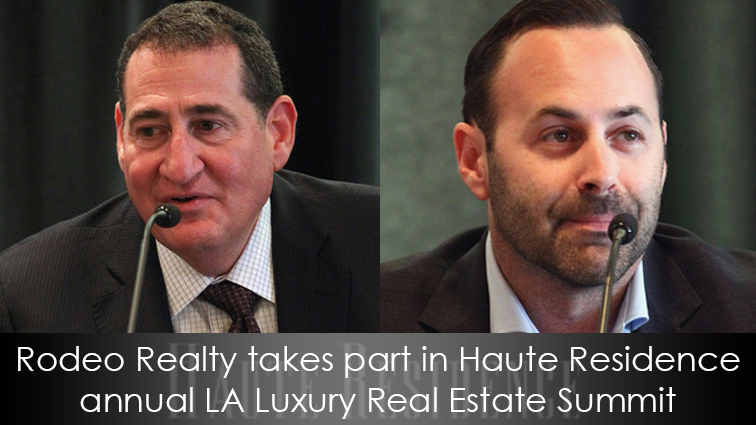 On Wednesday, March 16, Haute Residence hosted its third annual Los Angeles Luxury Real Estate Summit in the Kensington Ballroom at The London West Hollywood. The yearly event gives many the opportunity to learn and network from LA's top real estate agents, brokers and developers.
This year's selected lineup of expert panelists included President of Rodeo Realty Syd Leibovitch and Rodeo Realty Beverly Hills agent Ben Bacal. The biggest names in luxury real estate discussed what's next for California's real estate market.
[su_slider source="media: 15000,14999,14998,14997,14996,14995,14989,14991,14992,14993,14994,14987,14984″ responsive="yes" title="no"]
The summit, held from 10 a.m. – 4 p.m., featured three panels; "Power Women", "SoCal Power Brokers" and "$100 Million Club".
Leibovitch spoke on several topics including effective marketing techniques, qualities he looks for when recruiting new agents and the future of the real estate market. He was part of this year's "SoCal Power Brokers" panel, which also included Stephen Kotler, Myra Nourmand, Kurt Rappaport, Stan Richman, Frank Symons and Billy Rose.
The event concluded with the "$100 Million Club" panel. Bacal and several other expert panelists spoke on the current state and trends of luxury real estate in Los Angeles. This year's "$100 Million Club" panel also included Josh Altman, Matt Altman, Aaron Kirman, Joyce Rey, Randy Solakian, and Branden Williams and Rayni Romito Williams.
[su_slider source="media: 15029,15016,14985,15028,15027″ height="600″ responsive="no" title="no"]