REAL Trends, the trusted source for news, research and information about the real estate brokerage industry, has announced the results of the 2018 REAL Trends 500, an independently verified compilation of the nation's leading residential real estate companies.
According to a recent research report produced by REAL Trends, a record 1,752 firms qualified this year.
Included in the REAL Trends 500 this year is Rodeo Realty once again. The company ranked number 26 in the REAL Trends 500 with a 2017 closed sales volume of $5,209,455,330.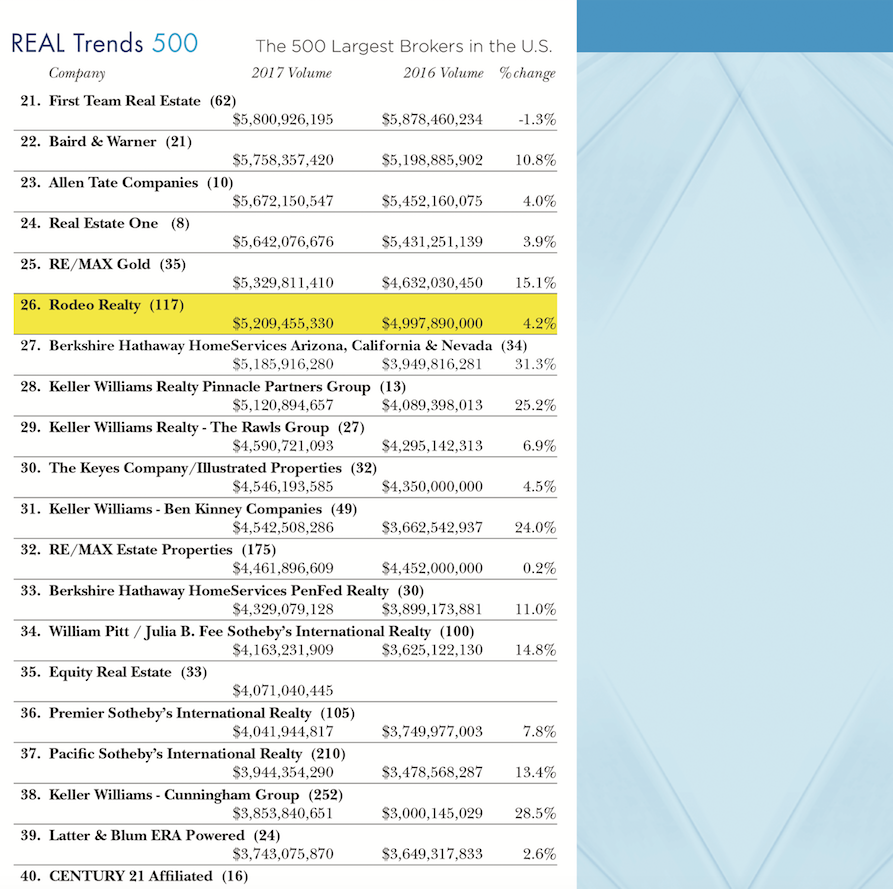 Rodeo Realty also ranked 117 on the closed transaction sides with 5,648 residential transaction sides closed last year. In addition to that, the company made the 2018 Billionaires' Club, ranking 26 out of 274 entries.
"The results—turned in by the firms on this year's REAL Trends 500—showed that the nation's leading realty firms outperformed the market, proving that size and leadership do matter," said The REAL Trends. "The REAL Trends 500, now in its 31st year, remains the undisputed leader in ranking the performance of residential real estate services firms. Due to the requirement of independent verification, the REAL Trends 500 is The Trusted Source for information about the performance of these firms."
To view all the rankings, click HERE.