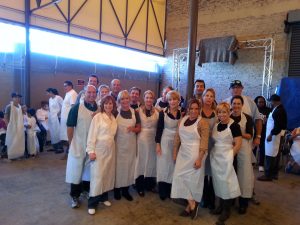 Rodeo Realty agents were hard at work over the Thanksgiving holiday and they weren't just selling houses (although there was plenty of that as well). Rodeo Realty helped Hope of the Valley Rescue Mission serve over 1,000 Thanksgiving Meals last week! Many of the agents in our Valley offices volunteered their time to help serve and prepare meals.
Agents from the Sunset Strip office were also busy on Thanksgiving, giving of their time and money so that young adults at the Youth Center on Highland could have the joy of a real Thanksgiving dinner.
This time of year can be tough for so many people, Rodeo Realty agents are happy to help out across the Southland with toy drives, clothing drives, donations, and volunteering–it's all part of being involved in local communities.