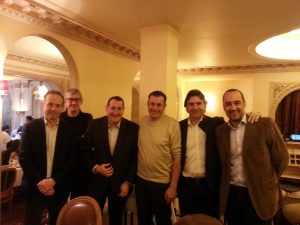 Real estate is in many ways a universal language and luxury real estate even more so. Rodeo Realty President Syd Leibovitch spent the last week in Europe, meeting with directors of some of the top real estate agencies in both Paris and Vienna. It was important to Syd to connect with these influential leaders face-to-face. Often we talk to people online, through email, or over the phone but there is still nothing like a meeting in person, preferably over a good meal, to create a real working relationship. 

In Paris, in a meeting arranged by Prestige MLS, Syd met with Hugues de la Morandiere of Agence Varenne, Richard Bellanger of Haussman Prestige, Joseph Arida of Odgamm Prime Realty, and Thierry Tocaier of Ternes Elysees Immobilier. In Vienna, Syd met with Thilo Boerner of Boerner.at and other Viennese agents.
The meetings paved the way for future collaborations between Rodeo Realty and leading international agents. We can't wait to welcome members of Prestige MLS when they visit Los Angeles for a tour of luxury real estate in May.