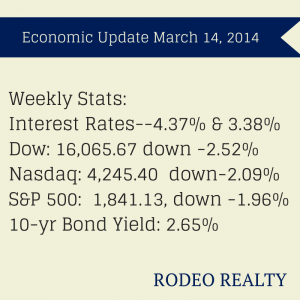 For the first time in nearly six years the Los Angeles County jobless rate is below 9%.The county unemployment rate for January was 8.9% the lowest level since November 2008 and a dip below December's rate of 9.2%.  The state Employment Development Department also reported that the county lost nearly 63,000 jobs between December and January mostly due to post-holiday layoffs in retail. An annual revision resulted in 200,000 more jobs showing up on employer payrolls in the county than previously estimated. In the past 12 months, the county added 91,000 jobs a growth rate of 2.3% with the biggest gains coming in professional and business services, which were up 27,000 jobs, and health care/social assistance, which were up 19,000 jobs. The statewide unemployment rate for January was 8.1% still above the national rate for January of 6.6%. On a national level this week, the number of Americans filing new claims for unemployment benefits unexpectedly fell hitting the lowest level since November.
Stock markets were lower this week as concerns over  a slowdown in China and the tensions between Ukraine and Russia dominate the news. Russia continues to advance into the Crimea and has been threatening to enter other parts of Ukraine despite demands from the West to pull back. The Crimean Peninsula is holding a referendum this weekend on whether or not it should secede from Ukraine and join Russia. Also this week it was reported that U.S. wholesale prices fell for the first time in three months. Consumer sentiment as measured by the University of Michigan and Thomson Reuters  index dropped to 79.9 this month down from a February final level of 81.6. Rising gas prices and larger geopolitical worries are believed to have played a major role. The Dow fell this week to 16,065.67 down -2.52% from last week's close of 16,452.72. The Nasdaq  was also down this week closing at 4,245.40  down-2.09% from last week's close of 4,336.22. The S&P 500 ended the week at 1,841.13, down -1.96% from last week's 1,878.04 close. Markets in Europe and Asia showed much larger drops, average drops were about 5% for the week.
The 10 year treasury note yield rate fell to 2.65% after closing at 2.80% last week. Most of this drop in yield took effect on Thursday and Friday. This has caused mortgage loan interest rates to drop in the last couple of days!
The Freddie Mac Weekly Primary Mortgage Market Survey showed that the 30-year-fixed rate was back up to 4.37%, the rate it was two weeks ago. The rate was 4.28% last week. The 15-year-fixed rose to 3.38% from last week's 3.32%.   A year ago the 30-year fixed was at 3.63% and the 15-year was at 2.79%. Once again the survey is done in the beginning of the week. Rates are actually lower. We are seeing loans $417,000 and under at the 4,25% level for 30 year terms, and 3.375% for 15 year loans. Jumbo 30 year are closer to 4.5% and 15 year loans are about 3.625%.
The February numbers from DataQuick show that sales for the six-county Southland area dropped to the lowest level for a February in six years however prices continue to rise in many mid-level and high-end areas. A total of 14,027 new and resale houses and condos sold in Los Angeles, Riverside, San Diego, Ventura, San Bernardino and Orange counties last month, down -3.1% from 14,471 in January, and down -12%  from 15,945 sales in February 2013. Since 1988, when DataQuick's statistics begin, February sales have ranged from a low of 10,777 in 2008 to a high of 26,587 in 2004.Last month's Southland sales were -20.1% below the average number of sales – 17,560 – for February since 1988. The median price paid for all new and resale houses and condos sold in the six-county region last month was $383,000, up 0.8%  from $380,000 in January and up 19.7% from $320,000 in February 2013. The median sale price has risen on a year-over-year basis for 23 consecutive months. In Los Angeles County alone, the sales volume of 4,595 was down -16.2% from last February's 5,481. The median price rose 21.7% year over year up to $426,000 from $350,000.
DataQuick also reported that the number of homes sold in the mid and upper ranges continue to rise. The number of homes that sold from $300,000 through $799,999 rose 2.1%  year-over-year, the  number that sold for $500,000 or more increased 12.2%    from one year earlier, while $800,000-plus sales rose 4.9%.In February, 32.6%  of all Southland home sales were for $500,000 or more, up from a revised 32.2 % the month before and up from 24.4 % a year earlier. Foreclosure resales continue to be smaller part of the market, 6.8% of the Southland resale market in February compared with 16.2% a year ago. We continue to see an above-average amount of cash buyers, cash buyers were 30.9% of home sales in February which was down from a record 36.9% last year but still far above the monthly average of 16.4% of all sales.
What we need is more inventory. It seems like there is two types of inventory: drastically overpriced homes that are sitting and well priced homes that are selling quickly with multiple offers! Unfortunately, the number of drastically overpriced homes that have no chance of selling are making the inventory numbers appear to be higher than it is,  but we, on the ground, know that the real inventory of properly priced homes are at very low levels. It's odd. We have seen a good number of new listings in some areas and very few in others. There is no consistency yet. I would expect new listings to pick up drastically as we head into spring! With more inventory we will see more sales. It is low inventory that is causing lower sales numbers, and driving prices up!
Have a nice weekend!