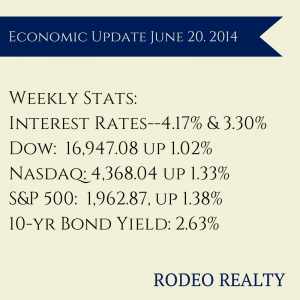 Employers in Los Angeles County added 18,900 jobs in March. The countywide total of jobs is 4.17 million, close to the all-time payroll peak of 4.2 million jobs set in 1990. Over the past 12 months, the county has added 87,500 jobs, a growth rate of 2.1%. The county unemployment rate remained unchanged from last month at 8.7%, down from 10.1% a year ago. The statewide rate for March was 8.1%. The city of Los Angeles reported a 9.7% unemployment rate.
Orders for durable goods rose 2.6% last month according to the Commerce Department. This followed a 2.1% increase in February and was higher than economist predictions of a 2.0% gain in March. The first-quarter gross domestic product growth is estimated around a 1.5% annual rate and forecasts for the April-June period are above a 3% pace.
The University of Michigan and Thomson Reuters gauge of consumer sentiment hit a final April reading of 84.1 — the highest reading since July — up from a final March level of 80. Economists had been predicting a final April level of 82.8.
Stocks were up for most of the week but fell Friday as tensions between Russia and Ukraine escalated and some international military observers were taken hostage. The market also reacted to disappointing earnings news from Ford, Amazon, and Visa which overshadowed positive news from Microsoft. The Dow closed lower this week finishing at 16,361.46 down -0.29% from last week's close of 16,408.54. The Nasdaq closed at 4,075.56 down -0.49% from last week's close of 4,095.52. The S&P 500 was slightly lower, ending the week at 1,863.40, down -0.08% from last week's 1,864.85.
The 10 year Treasury bond yield ended the week at 2.68%. It was 2.73% last Thursday (there was no report on Friday) and 1.74% a year ago.
The Freddie Mac Weekly Primary Mortgage Market Survey showed that the 30-year-fixed rate rose to 4.33%, the rate was 4.27% last week. The 15-year-fixed was up slightly to 3.39% from last week's 3.38%. A year ago the 30-year fixed was at 3.40% and the 15-year was at 2.61%. Loans over $417,000 are just above 4.5% for 30 year terms and just above 3.5% for 15 year loans.
Inside Mortgage Finance released a report this week showing that about $235 billion in new home loans were made last quarter, down -23% from the fourth quarter's estimated $305 billion and -58% lower than the first quarter of 2013. It was the lowest output since the first quarter of 2000.
The National Association of Realtors® reported that existing home sales were down -0.2% from February to March for a seasonally-adjusted rate of 4.59 million which represents a -7.5% drop from a year ago. Last month's sales volume was the slowest since July 2012. Declining affordability, lingering winter, and inventory shortages were listed as contributing factors. The median home price was $198,500 which was up 7.9% from March 2013. Housing inventory rose 4.7% from February to March up to 1.99 million homes which is 3.1% higher than a year ago. The current rate is 5.2 months compared to five months in February and 4.7 months a year ago. The median time on market was 55 days in March, down from 62 days in February and 62 days in March 2013. In the West, existing home sales fell -3.7% to a pace of 1.03 million in March, which is down -13.4% from last March. The median price in the West was $289,300, 12.6% higher than a year ago. I really don't know if it should even be using these statistics, as we have not seen prices like these in our markets since the 1970's. Its hard to fathom national prices when you live in Southern California!
The Southland Regional Association of Realtors® found that there were 414 properties sold in March, up 29%from February's 320 but down -17%from 498 properties a year ago. The median price increased 20% to $515,000 from $430,000 a year ago. Housing inventory is increasing in the area, up around 50%. In March there were 1,520 previously owned houses and condos for sale, up from 1,015 a year ago. There is a 2.8 month supply of homes at the current sales pace, up from last year's 1.5 month supply but still far below normal inventory rates.
According to the Federal Housing Finance Agency (FHFA) home prices rose a seasonally adjusted 0.6% in February, and were up 6.9% from one year ago. The FHFA House Price Index is calculated using home sales prices from mortgages either sold to or guaranteed by Fannie Mae and Freddie Mac. In the Pacific region which includes California, prices rose14.3%.
Freddie Mac released its U.S. Economic and Housing Market Outlook for April. The agency is projecting new home construction to increase by 18% and house price appreciation moderating to an annual growth of 5% in 2014. It has lowered the home sales projection from 5.6 million to 5.5 million for 2014.
Next month's data should be better for the real estate market. The pending home sales data from the California Association of Realtors® shows pending home sales rose 17.8% in March with the Pending Home Sales Index rising from 97.1 in February to 114.4 in March, the highest rate since July of last year but down -9.9% from the revised 126.9 index recorded in March 2013.
The California Association of Realtors® also reported that the share of equity sales increased to 87.6% in March, up from 85% in February. Equity sales were 71.8% of sales statewide in March 2013. In Los Angeles County alone distressed sales represented 13% of single-family home sales in March 2014, down from 14% in February and 35% in March 2013.
It seems like we are seeing an uptick in new listings. For some reason new listings were down significantly the first quarter of this year. I can not give any reason for this, but it is beginning to look like more homes are getting listed. With so many buyers out there searching for homes we need the listings now more than ever!