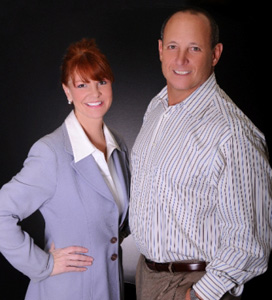 Dear prospective home buyer/seller:
Deciding to sell our home of 10 years to move closer to work and family was a difficult decision. Partly because of all the memories we had in our home and partly because of the challenging housing market. But selecting a realty team to sell our home was a simple decision. The Gold Team had represented the seller when we purchased the home 10 years prior. We were so impressed with them then, that we were confident they were the perfect team for us.
Steve and Teri proved to be very knowledgeable, hard-working and always accessible. Whenever a critical question arose, we knew that we could trust Steve and Teri to give us an honest assessment thus allowing us to make a well-informed decision. In the end, we sold the home for more than we had initially anticipated.
The process of finding and purchasing our dream home was equally smooth. Here again, we benefited from the many strengths of the Gold Team. Our jobs tend to keep us very busy at work, but Teri was always accessible and accommodating of our schedules. Steve is so knowledgeable and it proved invaluable during the various inspections. In the end, we ended up with hour dream home in an ideal location and for less than list price.
The Gold Team is truly an outstanding team. Steve and Teri are very knowledgeable, hard-working, and always accessible. We would highly recommend them to anyone looking to buy or sell a home.
Sincerely,
Joy and Jose Saavedra