[su_youtube_advanced url="https://www.youtube.com/watch?v=ttV9vai-RWs" width="740″ height="440″ responsive="no" controls="no" autohide="yes" showinfo="no" autoplay="yes" loop="yes" rel="no" modestbranding="yes" theme="light"]
Rodeo Realty's Ben Bacal is back with not one, but two elaborate short films that showcase the homes he is selling.
The real estate agent has made news again with his not-so-ordinary listing videos.
"Real estate agent Ben Bacal is known for giving his listings the Hollywood treatment," said Curbed LA.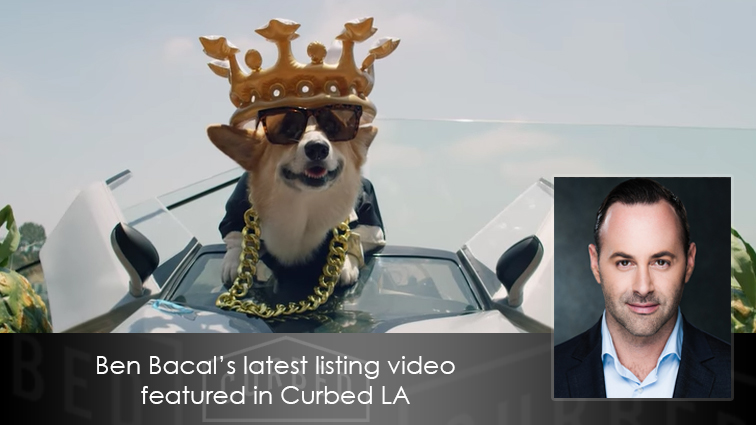 Curbed featured one of Bacal's latest videos—a small dog living it up in an $18.5 million mansion.
In the short film, "Sherlock Bones" inherits the Hollywood Hills mansion and is seen enjoying the lavish lifestyle. In the end, it turns out it was all a dream. The Instagram famous corgi still lives at 1895 Rising Glen Road, but he is not the owner.
The listing video has also been featured in The Real Deal Los Angeles and Mansion Global.
"Never underestimate the appeal of cuteness when selling a house," said the online site.
Bacal's other property video involves action and suspense. The short film for 9233 Shallow Drive has a woman breaking into a $16,495,000 home and receiving a little help once she's on the inside. Watch the video below.
[su_youtube_advanced url="https://www.youtube.com/watch?v=XSoPPJH7i44″ width="740″ height="440″ responsive="no" controls="no" autohide="yes" showinfo="no" autoplay="no" loop="yes" rel="no" modestbranding="yes" theme="light"]
To read the Curbed LA article, click HERE
To read The Real Deal's story, click HERE
Mansion Global's story, click HERE