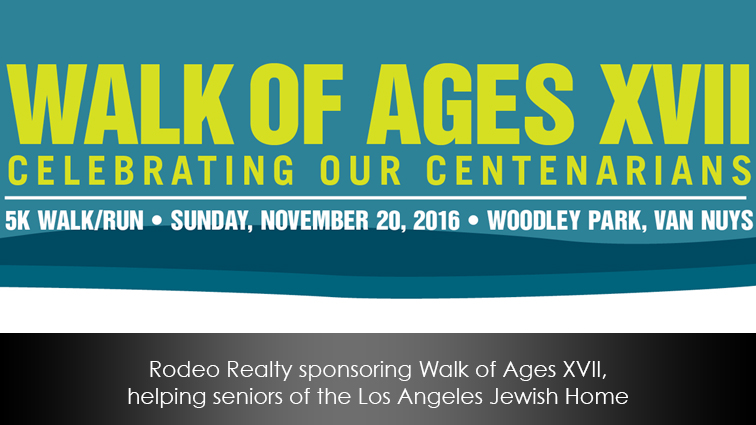 The annual Walk of Ages is Sunday, November 20 at the Woodley Park in Van Nuys.
The family-oriented 5K Walk/Run raises much-needed funds for the Los Angeles Jewish Home.
This year, Rodeo Realty is not only participating in the walk/run, but also sponsoring the event. The company has donated $8,000 and is an Angel Sponsor for the Walk of Ages XVII.
Rodeo Realty has also set up a fundraising page through the event's website where agents in the company have been donating and raising money for the non-profit organization.
Thanks to Rodeo Realty's support, seniors of the Los Angeles Jewish Home will be cared for in a warm, nurturing environment for generations to come.
To make a donation through Rodeo Realty's fundraising page, click HERE.
Registration Information:
Adult registration is $36 (day of race increases to $45), children are $18 (day of race increases to $25) and seniors over 80 are free. All registered participants receive a Walk of Ages t-shirt, goodie bag and enjoy a free pancake breakfast following the race. Medals are awarded to the top competitive finishers in all age divisions. You can WALK FOR FREE by raising $100 or more.