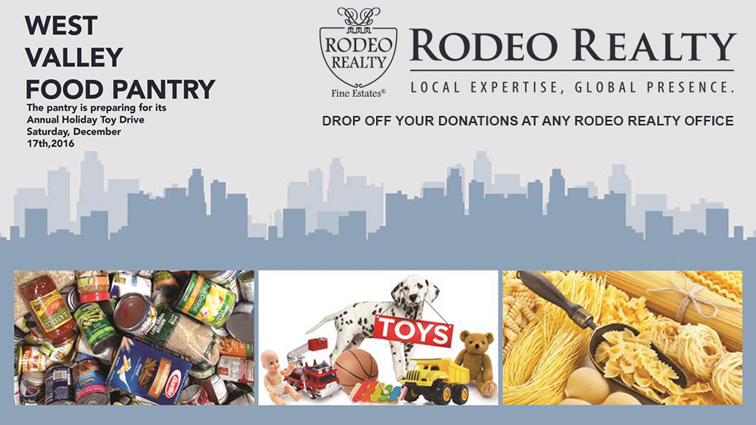 The West Valley Food Pantry is preparing for its annual Holiday Toy Drive. This year's drive will be Saturday, December 17.
To help with donations, all Rodeo Realty offices have become drop off locations. From now until December 14, donations to help the Pantry can be dropped off at any Rodeo Realty office.
The Pantry is asking for donations of gift cards, toys, board games, electronics, sports equipment and bags, cologne, makeup, costume jewelry, perfume, face/body lotions, nail products, clothing, etc.
Donations of unwrapped, new gifts can also be dropped off at the Pantry (5700 Rudnick Ave in Woodland Hills) before December 15. The organization receives many toys for young children, but few are received for older boys and girls. Please consider bringing a gift for a teenage child. Gift cards of $20-$30 amounts are especially popular with this age.
Rodeo Realty is also helping the Pantry with food donations. The organization feeds the hungry, helps unemployed residents, the working poor, the homeless, and those living on fixed incomes. In order to continue their work of feeding almost 3,000 people per month, the Pantry also needs food donations. To view preferred and needed food items, view the flyer below.
For information on the Pantry, you can visit their website at westvalleyfoodpantry.org.
Toy and food donations can be dropped off at the following Rodeo Realty locations:
Encino
17501 Ventura Blvd.
Encino, CA 91316
Northridge
9338 Reseda Blvd., Suite 102
Northridge, CA 91324
Woodland Hills
21031 Ventura Blvd., Suite 100
Woodland Hills, CA 91364
Calabasas
23901 Calabasas Rd., Suite 1050
Calabasas, CA 91302
Beverly Hills
202 N. Canon Dr.
Beverly Hills, CA 90210
Brentwood
11940 San Vicente Blvd., Suite 100
Los Angeles, CA 90049
Pacific Palisades
839 Via De La Paz
Pacific Palisades, CA 90272
Sherman Oaks
15300 Ventura Blvd. #101
Sherman Oaks, CA 91403
Studio City
12345 Ventura Blvd., #A
Studio City, CA 91604
West Hollywood
9200 Sunset Blvd., #200
West Hollywood, CA 90069
Westlake Village
100 N. Westlake Blvd., #100A
Westlake Village, CA 91362