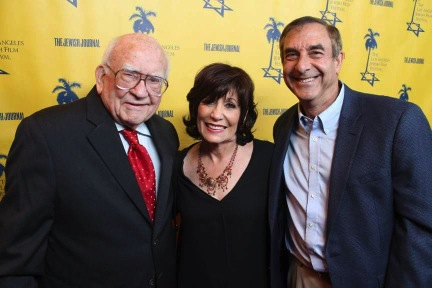 The annual Los Angeles Jewish Film Festival kicked off April 26. Now in its twelfth year, the festival ran through May 3.
The 2017 festival would not be possible without the tireless work of sponsors and volunteers, such as Marge Chirchick of Rodeo Realty Beverly Hills. Marge has proudly been the Festival Co-Chair now for several years, and is an integral part of the festival family, with an emphasis on fundraising, event managing, film introductions, and on-going planning for festival week and the many special screenings year-round.
Rodeo Realty also contributed to the festival and donated items for their gift bags.
The Los Angeles Jewish Film Festival (LAJFF) builds community awareness, appreciation and pride in the diversity of the Jewish people through film.
The 2017 festival brought 28 films from around the world to eager audiences and attracted major celebrities, as well as World Premiere and Los Angeles Premiere screening events. Legendary actor, Ed Asner was honored at the Opening Night with two films shown, "Super Sex" and "My Friend Ed." World famous indie-film director, Henry Jaglom had a sold out screening for his new film, "Train To Zakopane". Rama Burshtein, famous Israeli director, arrived in person to talk about her latest film, "The Wedding Plan" – another sold out show for this LA Premiere. The festival continued award-winning films such as "Menashe" and "Bye Bye Germany", two films that came to Los Angeles as Premieres following their debuts at the prestigious Berlinale and Sundance Film Festivals. LAJFF closed with a historical look at Los Angeles when the documentary "Restoring Tomorrow" was screened on May 3rd as the festival's closing film.