Walking is easy to do and one of the best things you can do for your health. Getting your steps in can help you lose weight, lower your blood pressure, and even reduce your risk of several chronic diseases.
It's an excellent form of exercise and a great way to stay active! With that being said, Los Angeles has many options for those who want to get out and get their walk on.
Here are a few suggestions:
1. The Hollywood Bowl
Many may not know this, but The Hollywood Bowl is a public park during the day. Visitors can explore, learn more about the Bowl and take a beautiful walk along the way. -> Learn more.
2. Lake Hollywood Trail
You can get about 7,000 steps out of the Lake Hollywood Trail. The 3.3 mile loop takes you around the Hollywood Reservoir. -> Check out the trail here.
3. Echo Park Lake
One loop around the Echo Park Lake will give you around 2,000 steps. The loop is under a mile and offers steppers the opportunity to enjoy the beautiful lotus plants and blossoms during the spring months. -> Walk the lake.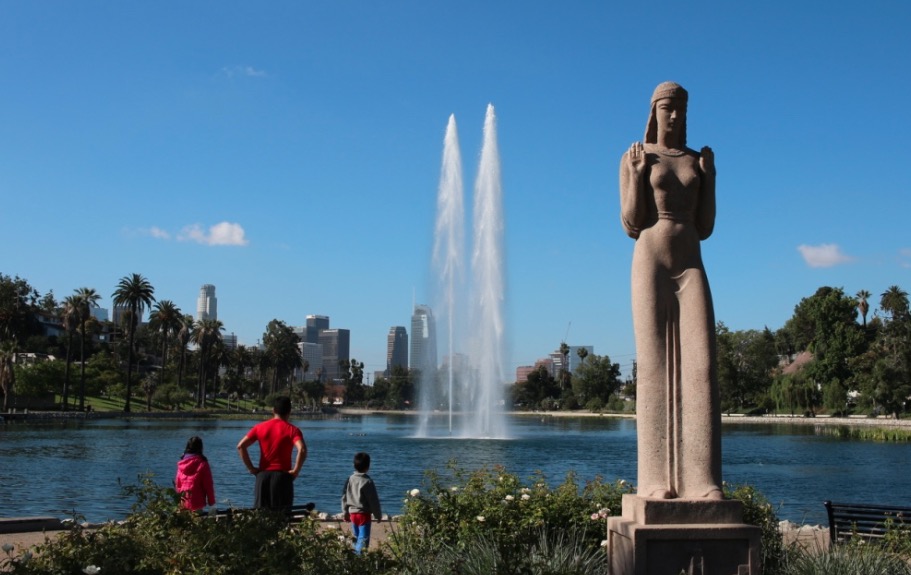 4. Exposition Park Rose Garden
One loop around the Exposition Park Rose Garden and you're looking at around 5,000 steps. Here you can enjoy more than 200,000 rose bushes along your walk. Go here.
5. Encino Golf Loop
Encino Golf loop is almost 5 miles long and takes you round the Valley golf course. You can get about 10,000 steps on this loop. -> Walk the Encino Golf loop.
6. Venice Beach
Venice Beach is a well-known beach-walking area in L.A. Beginning and ending at Ocean Front Walk, you will get about 4,000 steps on the trail. -> Walk here.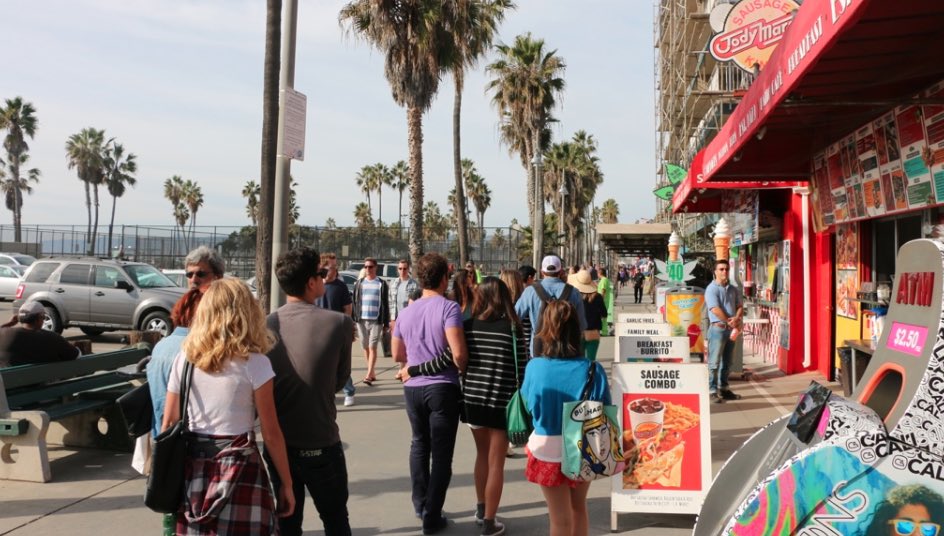 7. Veterans Parkway
Veterans Parkway, referred to by locals as the "greenbelt," runs through Manhattan Beach and Hermosa Beach. You can get about 15,000 steps in if you walk back and forth from both communities–that's about 7 miles. Go here.
8. The Music Box Steps
The Music Box Steps are located in Silver Lake and will not disappoint your step tracker! If you plan on doing all the staircases, you will get about 5,500 steps in–it's a total of 2.5 miles and 705 stairs.  -> Details.
9. Descanso Gardens
The museum has many natural displays. Visitors can count their steps while also enjoying the rose garden, the Japanese garden and several other collections at the Descanso Gardens. -> Walk the garden here.
10. Ikea in Burbank
You can get approximately 2,000 steps in just by walking through The new Burbank Ikea. Make sure to take some comfortable shoes and enjoy the furniture displays and the food. -> Walk and shop at Ikea Burbank.
11. The Rose Bowl
The Rose Bowl is a popular spot to exercise. The loop is about a 90 minute walk and 6,500 steps. Visitors are here daily to get their exercise in.  -> Walk the Rose Bowl.
12. UCLA Drake Stadium
Four times around this 9-lane track equals one mile, which is about 2,000 steps. The Drake Stadium is a great place to get your collegiate spirit on and to work out. -> Get on track.
13. Baldwin Hills Scenic Overlook
You can get more than 2,400 steps in just by hiking the Baldwin Hills Scenic Overlook. Whether you take the 282 stairs or the trail, you'll get a workout and also enjoy a great view. -> Climb the Baldwin Hills Scenic Overlook.
14. Mandeville Canyon Trail
Mandeville Canyon is a 7.2 mile hike. You can get almost 16,000 steps at this trail. Located within the Santa Monica Mountains, the trail gives you an amazing view of Los Angeles once you reach its highest point of elevation. -> Take the hike.