The International Olympic Committee voted unanimously on Wednesday to name Los Angeles as host for the 2028 Summer Olympics. L.A. Mayor Eric Garcetti signed the host city contract in Lima, Peru shortly thereafter, officially locking in L.A.'s plans to host the Olympics for a third time. L.A. previously hosted the games in 1984 and 1932. The city of Paris was awarded the 2024 games, which L.A. had previously been vying for.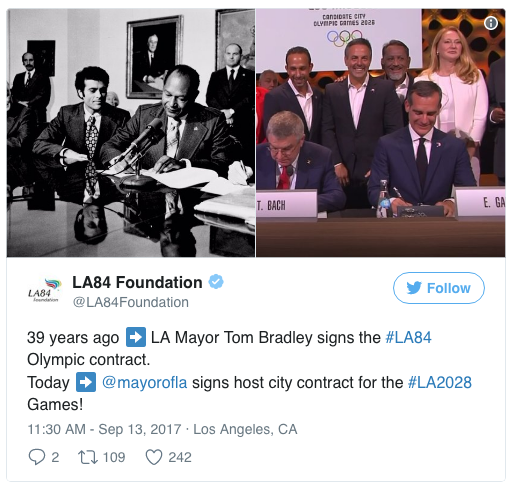 The success of L.A.'s bid had been all but a done deal since July 31, when L.A. reached an agreement with the IOC after weeks of negotiations. "It has been certainly a roller coaster," L.A. bid chairman Casey Wasserman told the L.A. Times at the time.
"This is a momentous day for the people of Los Angeles and the United States. For the first time in a generation, we are bringing the Games back to the City of Angels," Garcetti said Wednesday, according to City News Service. "L.A. loves the Olympics because the Games have lifted up our city twice before. But to us, the Games have always represented an even brighter future and the chance to harness the power of sport and the Olympic Movement again to inspire the next generation—for the next 11 years and beyond."
L.A. City Council approved bringing the Olympics to L.A. in 2028 in a unanimous vote last month, despite not yet having an approved budget for the new bid. Meanwhile, a growing coalition of local activists known as NOlympics LA has been protesting the forthcoming games, which they argue will bring increased displacement and police militarization to the city. "Despite the fact that the IOC has awarded LA the bid to host the 2028 Summer Olympics, the fight isn't over," NOlympics organizers said in a statement released late Tuesday night.
Article by LAist.