Transforming your home into an autumnal oasis could be as simple as focusing on the small accents you're bringing into each room of your home. When it comes to the changing of seasons, there is nothing more exciting than when summer fades into fall. The leaves are changing, the weather is cooling down, and your coffee order changes from iced to hot. Fall is a time to put your beach towels back in storage and get back into regular routines. Thus, making it the ideal opportunity to return to your crafting room with these Fall DIY crafts in mind.
Wheat Cluster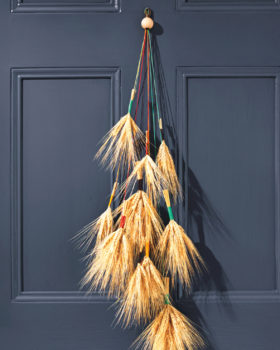 For an easy, lightweight decoration that still evokes the glorious fall harvest, try these dried wheat bundles.
Home Décor Craft: Begin by bundling together three to ten stalks of wheat. Then, wrap the stalks of wheat together in twine. Leave about three feet of twine hanging off the bunch in a tail. Next, cut the stalks to approximately three-inches in length. Repeat for as many bundles as desired. Then, push the separate tails on the twines through a chosen bead, loop all at the end, and tie it into a knot. Hang it upside down on your front door as a creative way to say hello to the fall season!
Rustic Woven Lanterns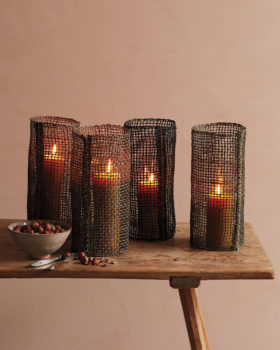 Thinking of dressing your dinner table with fresh centerpieces this holiday season? Look no further with this eco-friendly and chic way to upgrade your dinner table.
Home Décor Craft: Upcycle old mesh placemats by cutting & rolling them into tubes and stitching them along the seams. Place cylinder-shaped votives around candles. Wax, soy, or electric candles – your guests won't be able to spy the difference! Candlelight will gracefully flicker through the loose weave of the hurricane lanterns as you entertain over dinner.
Soft Seats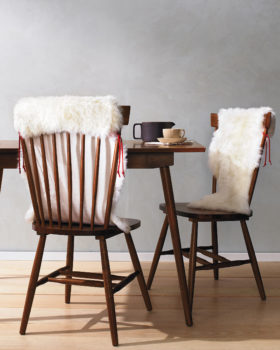 With this DIY craft, dinner isn't going to be the only warm thing at your table. With these simple slipcovers, you can instantly reinvent dining chairs at your formal dining table over the holidays.
Home Décor Craft: To start, simply drape a finished sheepskin over the back of the chair before securing it with Ultrasuede-tape or cord. Extra fall points for choosing a contrasting cord color. Next, finish securing them to the chair by threading the tie through the sheepskin on each side with a tapestry needle (that will help you create a cuff over the chair's top). Knot the ends and let them hang loose. Voila!
Harvest Branches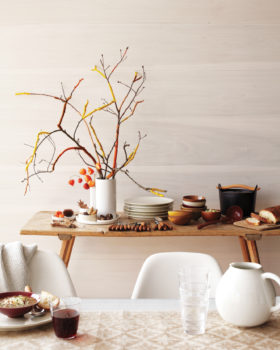 We love how easy these fleeced branches are to put together. Specifically, how they have the power to add a touch of warm color to any setting you place them in.
Home Décor Craft: Simply pull a bit of fleece roving off a ball, and then press the end of the fiber against the branch. Start wrapping tightly, gently pulling the fleece apart (without tearing it) as you go. Wrap the branches until the piece of fleece runs out. Add more fleece as needed to cover the branch. When adding, wrap over the last inch of wrapped fleece with e.
The friction of your fingers on the fibers and the natural oils from your skin helps the fleece stay on the branch and adhere to itself.