Refresh your decor and boost productivity with these impressive home office improvements.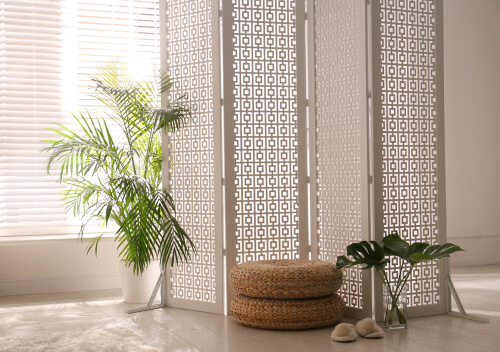 Tip #1: Divide your Space
Consider a folding style room divider that you can easily pack up and store if your home office converts to a living space when the workday ends. Room dividers are an easy way to separate a workspace from a larger room, hide clutter, and present a less distracting background for virtual meetings.

Tip #2: Utilize wall space for planning
Sometimes a hands-on approach is a way to stay organized and motivated. Instead of doing everything on a computer, try using your wall space as inspiration. Combine sheet metal and a picture frame to create an inexpensive hanging magnetic board perfect for updating to-do lists, keeping project details at hand, and displaying inspiring imagery. 

Tip #3: Reduce stress with house plants
Just one small plant at your desk can help alleviate stress and even encourage you to keep your surface clutter-free. If that's not reason enough to make room for a botanical friend or three, studies also suggest plants improve productivity in an office setting. Decorate your home office today with houseplants for fresh texture and color.