Rodeo Realty agents Brandon Kramer, Ryan Trefry, and Kyle Eisenhart know the importance of being a part of their community. Not only are these real estate agents selling homes, but they are also finding ways of giving back.
The three agents recently closed on a Santa Monica property and decided to donate part of their commission check to CRE Outreach.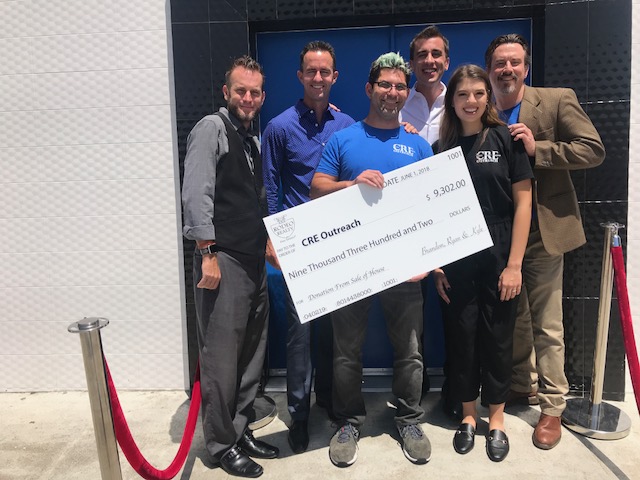 This month, the agents presented a check of $9,302 to the non-profit organization.
"CRE Outreach is such an amazing cause, they are truly changing lives," said Brandon, Ryan, and Kyle. " We have been to many of their productions and we have witnessed first-hand the difference CRE Outreach is making in people's lives. We are emotionally moved each and every time we see a production."
Rodeo Realty is honored to have agents such as Brandon, Ryan, and Kyle, who take the time to give back to their communities. What a great way to give back!
More on CRE Outreach:
CRE Outreach is a non-profit performing arts organization dedicated to empowering underserved individuals from low-income populations in greater Los Angeles.
The organization actively engages three core groups of participants: at-risk youth, people with disabilities, and military veterans, helping them overcome challenges and successfully contribute in today's society.
Here is more information on some of their programs:
Theatre by the Blind, the country's only theatre troupe composed entirely of blind actors.
Creative Youth Theatre (CYT) educates Los Angeles based elementary and middle school aged youth through the exploration of classic story telling elements and the creation of original artistic works
Veterans Empowerment Theatre (VET) features a variety of performing arts workshops and opportunities that give our nation's brave service members a safe environment to voice their own heroic stories, personal tragedies, triumphs, and experiences through theatre.
Rex & Friends is a program that provides support and training in musical abilities, and performance opportunities for individuals in Southern California who are blind or autistic.