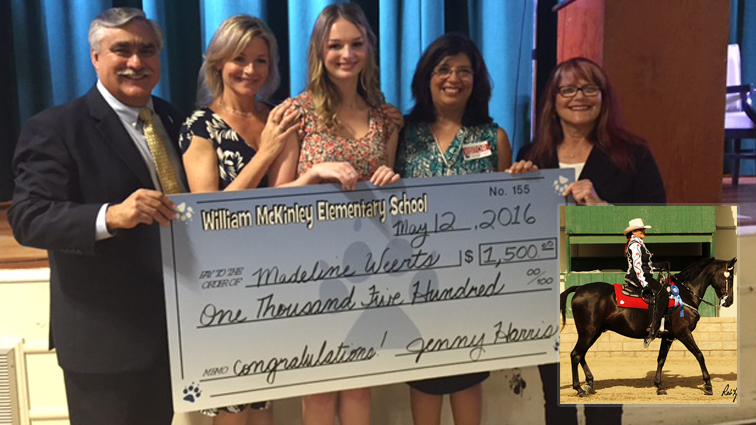 Thanks to a scholarship and a generous donation made by Rodeo Realty's Jay Geisenheimer, one former William McKinley Elementary School student is now a step closer in achieving her dreams of higher education.
On May 12, John Burroughs High School student Maddy Weerts was awarded the McKinley Alumni Scholarship in front of several 5th grade students who attend McKinley Elementary School. Also in attendance were Scholarship Chair and mother of this year's recipient Suzanne Weerts, Mayor of Burbank Jess Talamantes, former Mayor Marsha Ramos, and Jay Geisenheimer.
"This is full circle for me as Suzanne brought me in as a donor 6 years ago," said Geisenheimer. "Maddy well deserved this award as she is beautiful, intelligent, composed and cool."
The scholarship, created in 2007, is meant to help a McKinley Alumni student and inspire current McKinley students to aim high in their own educational efforts. This year's McKinley Alumni Scholarship was for $1500. The money was raised partly by students at McKinley and donations contributed by Alumni and Geisenheimer.
The Burbank Rancho Resident has been a major contributor to the McKinley Alumni Scholarship for the past six years. She's helped Weerts and several other students continue their educations with her generous donations.