"The Real Estate Guys" step out to show support for client and friend Jeff Apoloff at gala benefiting Autism Research and Awareness.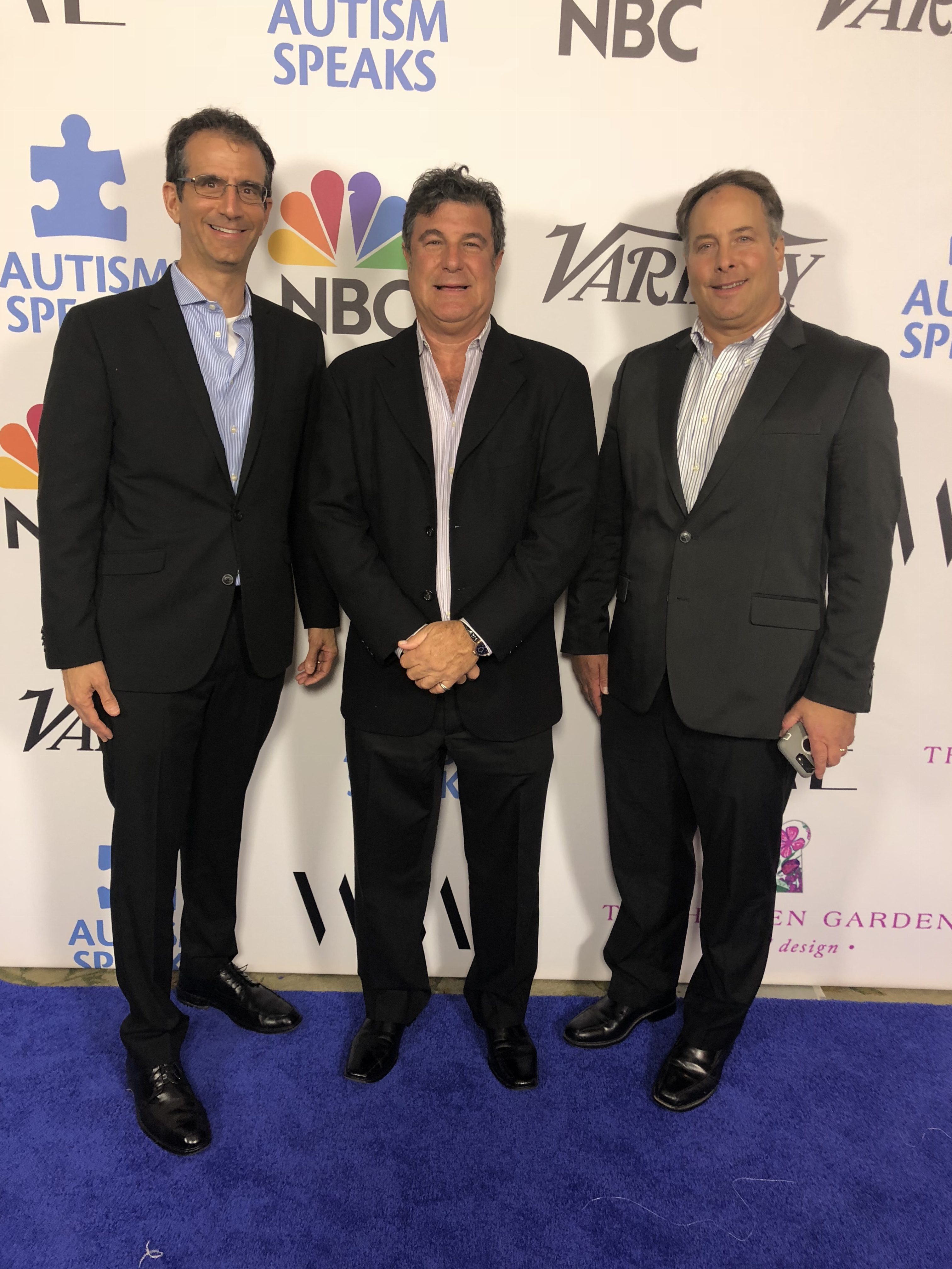 BEVERLY HILLS, Calif. (October 10, 2018)-The Real Estate Guys are taking time to give back. This was showcased last week when Rodeo Realty's Ken Marker, Corey Brown and Ed Dolce attended Autism Speaks Into the Blue Gala in support of client and friend Jeff Apoloff.
Apoloff, an Executive Producer for Apoloff Entertainment, Inc. and creator of  Fox's "Beat Shazam" was this years Honoree of the annual philanthropic gala.
Held on October 4, 2018 at the iconic Beverly Hills Hotel, Jeff received the distinguished Honoree of the Year Award, for his dedication and service to the incredible cause that helps those affected by Autism.
Hosted by Corinne Foxx, attendees of the "Into The Blue" gala helped to raise thousands of dollars for Autism Speaks. Pink, Carey Hart, and Anna Lynn McCord were among some of the special guest in attendance along with a slew of other celebrities and philanthropists.
Past celebrity participants have been Freddie Highmore, Sarah McLachlan, Conan O'Brien, Diane Kruger, Molly Sims, Raphael Saadiq, JK Simmons, Rick Springfield, Kevin Frazier, Nikki Reed, Maria Menounos and Cirque de Soleil, among others.
One of the event highlights included a special performance by the Foo Fighter's David Grohl. The Grammy Winning artist stepped in as the featured performer for the evening when it's original musical guest Jaime Foxx had to bow out due to scheduling conflicts. This was not the first time that Grohl lended his musical talents to Autism Speaks. In 2013 he headlined the non-profit groups Blue Jean Ball and has been a longtime supporter of the organization.
The evening also featured music by DJ Irie, a live performance by the glow-in-the-dark dance sensation iLuminate, an exciting dinner program and an exclusive celebrity fashion experience.
The event received sponsorship from  NBC, WME, Netflix and Variety among other known brands and industry leaders.
"Into the Blue" raises funds to support the mission of Autism Speaks. The event draws in over 250-300 attendees each year from across the entertainment, corporate and legal industries. 
Into the Blue Gala is one of the many ways in which Autism Speaks raises awareness. Throughout the year the non-profit organization host and participate in events that shed a blue light on their important cause.
"Together, there's no limit to what we can do. With every step you take and every dollar you raise, you help enhance lives today and accelerate a spectrum of solutions for tomorrow."
About Autism:
Autism affects an estimated 1 in 59 children. Autism spectrum disorder ("ASD") refers to a broad range of conditions characterized by challenges with social skills, repetitive behaviors, speech and nonverbal communication. We now know that there is not one autism but many subtypes, and each person with autism can have unique strengths and challenges. A combination of genetic and environmental factors influence the development of autism, and autism often is accompanied by medical issues such as GI disorders, seizures and sleep disturbances.
About Autism Speaks:
Autism Speaks was founded in February 2005 by Bob and Suzanne Wright, grandparents of a child with autism. Recognizing the need for a powerful voice Bernie Marcus donated $25 million to help financially launch the organization. Autism Speaks is dedicated to promoting solutions, across the spectrum and throughout the life span, for the needs of individuals with autism and their families. They do this through advocacy and support; increasing understanding and acceptance of people with autism spectrum disorder; and advancing research into causes and better interventions for autism spectrum disorder and related conditions. Since 2012, Autism Speaks has provided more than 18 million people with programs and resources such as the Autism Treatment Network, which includes Children's Hospital of Los Angeles and the Center for Autism and Neurodevelopment Disorders at UC Irvine. Autism Speaks also provides free tool kits to help manage a wide range of challenges, at every stage of life.
For additional information, visit www.AutismSpeaks.org.
---
For media inquiries regarding Rodeo Realty, please contact:
Samira Murphy
Public Relations-Rodeo Realty
(310)471-2600 ext. 145
mediarelations@rodeore.com