Los Angeles is full of bold history and unparalleled attractions. The home of Tinseltown. A pinnacle point of the Gilded Age. All synonymous with Downtown Los Angeles – a creative mix of the times, both new and old. Take an Angels Flight on LA's only Funicular. Hear masterpieces at Disney's Concert Hall. Spend a day in DTLA and enjoy a true piece of quintessential California. Keeping in mind the many areas of DTLA to explore, we will focus on the highlight reel of day to night activities in this Out and About: DTLA Edition.
Breakfast in the morning…
Start your morning off the Parisian way with a trip to DTLA's beloved Bottega Louie.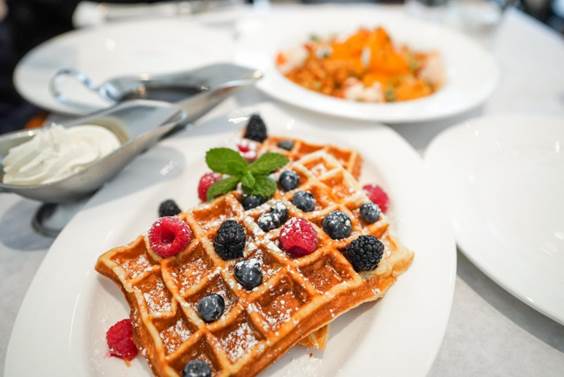 Before Laduree was kind enough to make it's long overdue west-coast appearance, Bottega Louie was the only place one could get a luxury Macaron collection whilst enjoying a french style brasserie. While there are more than a few shops that offer that perfect Parisian treat in Los Angeles, Bottega Louie will always hold a special place in our Angeleno hearts. Try the delectable Beignets served with Raspberry compote or the Tuscan Farro and Eggs tossed in Rainbow Carrots, Fresh Kale, and Mushrooms.
ART to see…
After you finish your trip down french cuisine lane, your not too far to have your pick of art on display at The Broad or MOCA.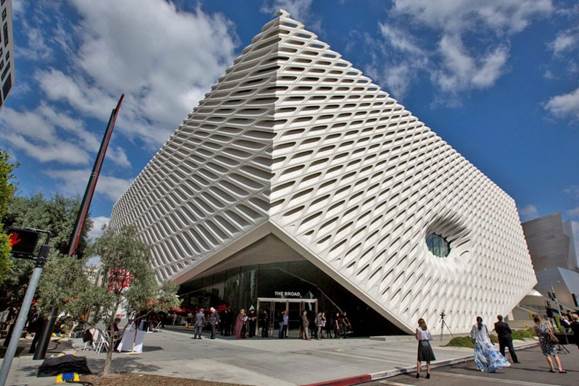 While both museums offer their own range of Modern Contemporary Art, each will provide you a unique experience and proper dose of culture.
Needing a literary fix? The Los Angeles Central Library boasts stunning architecture and rare books.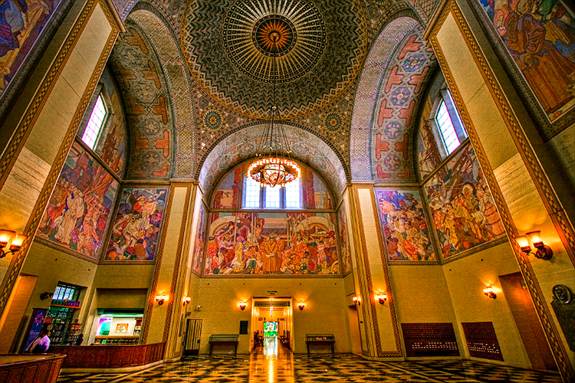 Satisfy your inner book worm then head over to the Grammy Museum for a different collection of art with one of a kind pieces to gander at from musics biggest legends.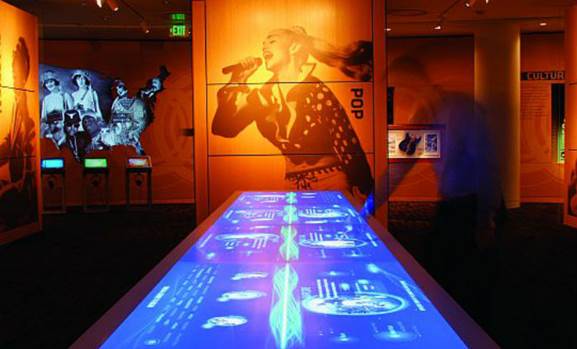 structural wonders to see…
For those who have an admiration for the great architecture of LA, the Los Angeles Conservancy Walking Tours is here to assist. As they guide you through and by DTLA's iconic facades, you'll have your choice of style. Choose between tours of modern skyscrapers or the Historic Core, Art Deco icons or Victorian mansions. A true display of LA's most beautiful building.
On the chance you opt out of the walking tour, you should at least add the Bradbury Building and Spring Arcade Building to your list of sites to see.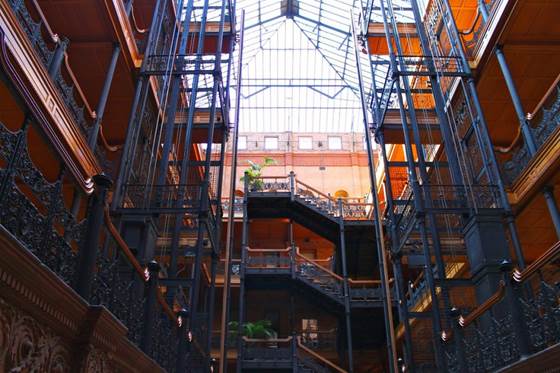 The two are unlike one another as the Bradbury is DTLA's oldest commercial building established in 1893. While much of the space is utilized for private office use,  movie buffs may recognize its iconic iron staircases from the climax of Bladerunner.
After this historical stop, save sometime to venture to the next one, if not only to at least pick up a mid morning reprieve. The Spring Arcade building still brims with the beauty of its 1924 structure.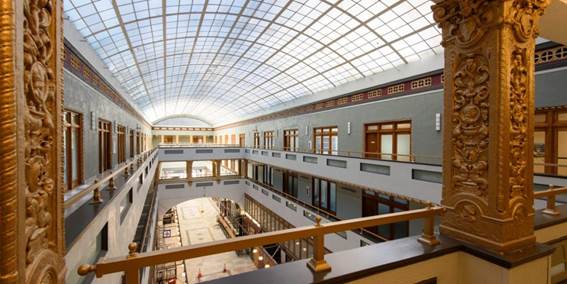 Enter the terra cotta archway as you walk through a glass-roofed alleyway of dining options.  Stop by the Green Grotto Juice Bar and pick up a tasty beverage to go before your afternoon begins!
Up Noon…
By this point your thinking, "I've done enough walking today". Well venture over to Grand Park, not for the cardio but to take in the bright urban oasis.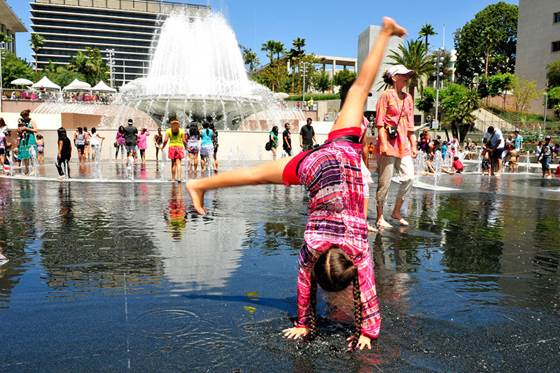 Refurbished in 2012, the park has 12 acres of sprawling space to lounge and people watch other than the performances and gatherings it plays host to throughout the year.
If your starving Grand Central Market is the only ideal destination to appease your midday cravings.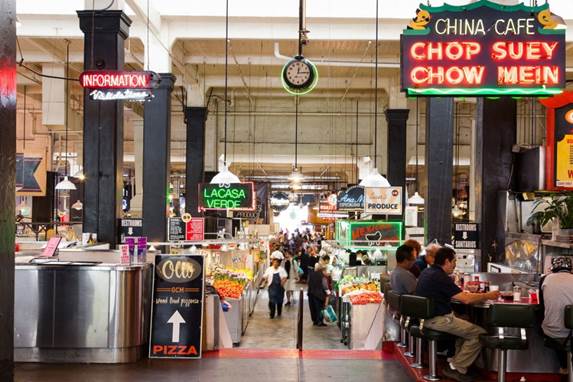 A downtown landmark since 1917, the food hall boasts over 30 different vendors ranging in international cuisine.
Once you've chosen and chased away those hunger pains, Angels Flight-the worlds shortest railway is mere steps away.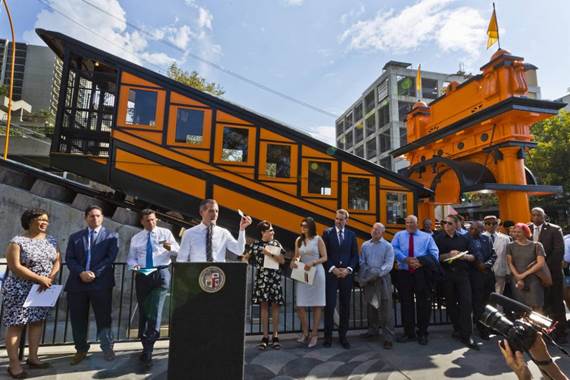 Thanks to the success of the Hollywood hit film Lalaland in which it was featured and enough community demand, the once stalled hillside attraction was reopened in 2017.
SHOPPING ESSENTIALS…
We are sure by now your wondering when you will get to splurge a little. Figat7th is the next destination which offers all of your favorite fashion finds like Zara and Mac(for unique pieces the Art District does not disappoint).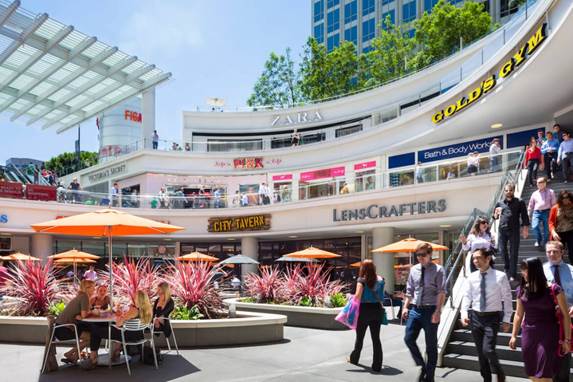 After you've picked up the items you'll quote as "necessary" brace yourself for unparalleled views at our next stop.
Taking the day to new heights…
Que Skyspace, locate din the US Bank building is a high-rise experience to be had for all.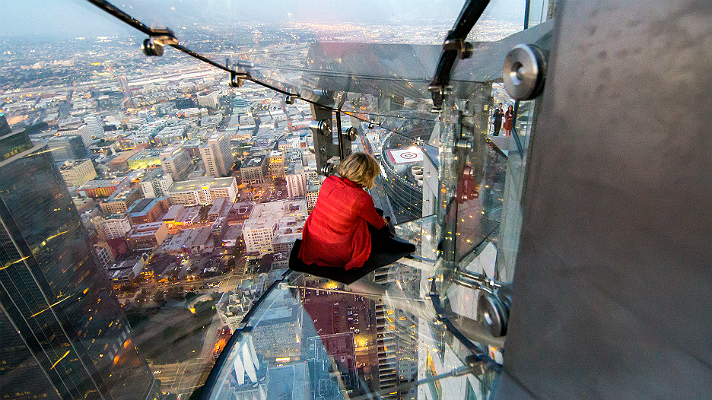 Glide your way down on the 45ft glass Skyslide suspended 1000 feet in the air  to their observation deck for unobstructed views of the city of stars. A site seeing experience like no other.
Taking it to Old town…
The oldest section of the city, El Pueblo and Olvera Street were established in 1781 as a farming community.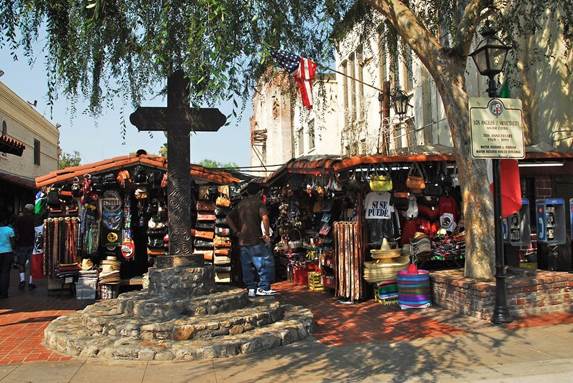 Brimming with authentic Spanish style, the area boast 11 historical structures and a range of independent street vendors.
Once you've explored enough here make your last afternoon stop Union Station(pun intended).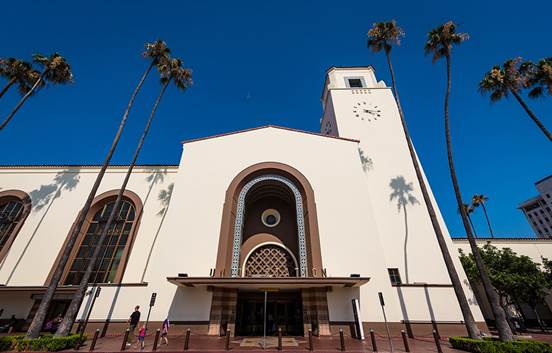 The last of the great American rail stations is just as handsome as the day it opened, with its mission style exterior and grand art deco interior touches.
When night falls…
As the evening sets in there are a few options to keep your DTLA outing going well into the night. Stop by LA Live to catch a game at the Staples Center or experience the only 4D entertainment in LA at Regal Cinemas.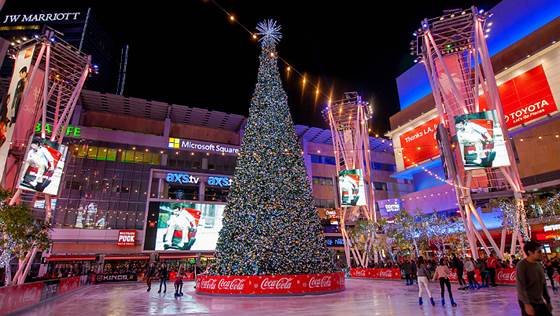 Seeking a bit more of a stage based experience? Both the Music Center and Disney Concert Hall boost world-renowned performing arts engagements.
Set the stage…
At the Music Center much of the shows put on are courtesy of the Centre Theatre Group.
At the north end, the Ahmanson Theatre presents pre- or post-Broadway fare, while the smaller Mark Taper Forum stages a wide range of new plays. Also part of the Music Center, the grand Dorothy Chandler Pavilion is the home base for LA Opera, as well as occasional concerts and dance events.
The Disney Concert Hall is not only a marvel of modern architecture but home to LA's award-winning Philharmonic.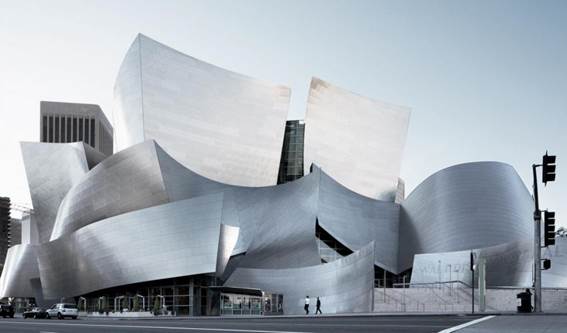 Hosting a plethora of concerts and shows throughout the year, it is an experience not to be missed.
Dinner time…
If you want a bit more high-flying views along with your evening feast, 71 Above is literal in its name of providing you just that.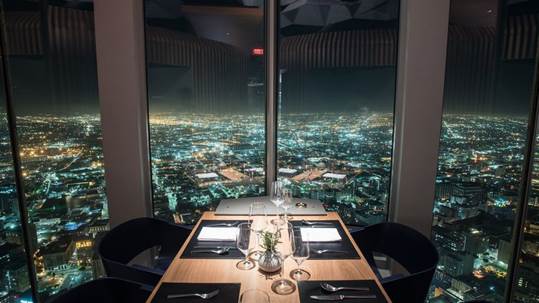 Set 950 feet from the ground level, 71 Above offers elevated modern American Cuisine with elevated views.
If you didn't make it to the Arts District for your shopping spree, it is worthy of ending your night there. Providing some of the most unique restaurants and bars in the city of Los Angeles, the Arts District is a culinary and cultural haven.
If you know anything LA's iconic dining scene, you'll Bestia falls right to the top of the list. We recommend the the Spaghetti Rustichella—a small pyramid of noodles under Dungeness crab.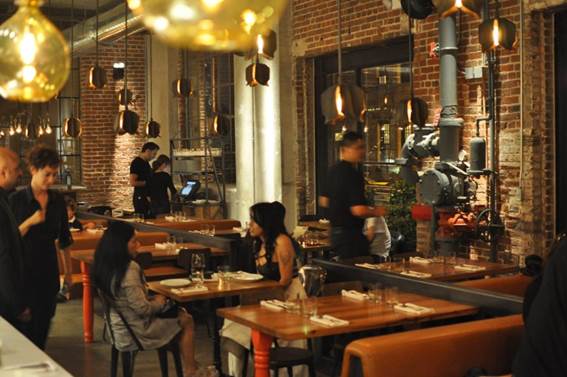 Italian not quite your flavor? No fret! For savory steak frites try Church & State  a marvel of french cuisine. After dinner finish your night Everson Royce Bar-a hidden neighborhood gem.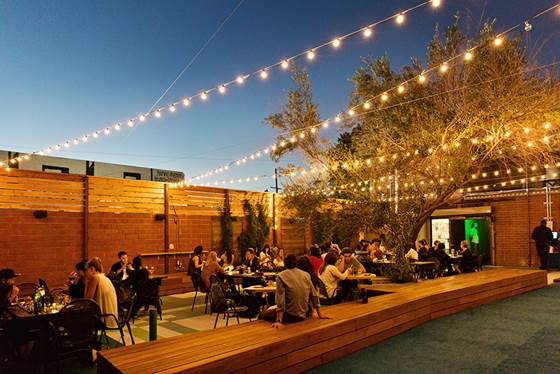 The end… We hope you enjoyed OUR GUIDE TO A day in DTLA!