Halloween is right around the corner and we've got the perfect recipes for your holiday get together! Whether you are having a gathering for the kiddos, friends over for some cocktails, or a more formal three-course meal. With these mouthwatering recipes your guests will leave with a full belly and a smile on their face! We put together a list of appetizers, entrees, drinks, and desserts! Pick and choose or mix and match for a Halloween feast!
Appetizers:
7-Layer Spider Web Dip:
Start your Halloween fiesta with a flavorful chip dip. Perfect for everyone, including the kids! The black olives and sour cream give it that spooky Halloween look.
 Ingredients:
1 can (15 ounces) refried beans
A single packet of taco seasoning mix
1 cup mild or medium chunky salsa (make sure it's not watery)
3-4 green onions, diced
1 cup freshly grated sharp cheddar or colby jack cheese
1/2 cup cherry tomatoes, halved
1 cup sour cream, separated
1/2 can drained olives, separated
1 cup prepared guacamole
Tortilla Chips
1 (10-12 inch) round plate, pie tin, or tart dish 
Instructions:  
1 cup mild or medium chunky salsa (make sure it's not watery)
A single packet of taco seasoning mix
1 cup freshly grated sharp cheddar or Colby jack cheese
1/2 cup cherry tomatoes, halved
1 can (15 ounces) refried beans
3-4 green onions, diced
1/2 can drained olives, separated
1 cup prepared guacamole
Tortilla Chips
1 cup sour cream, separated
A (10-12 inch) round plate, pie tin, or tart dish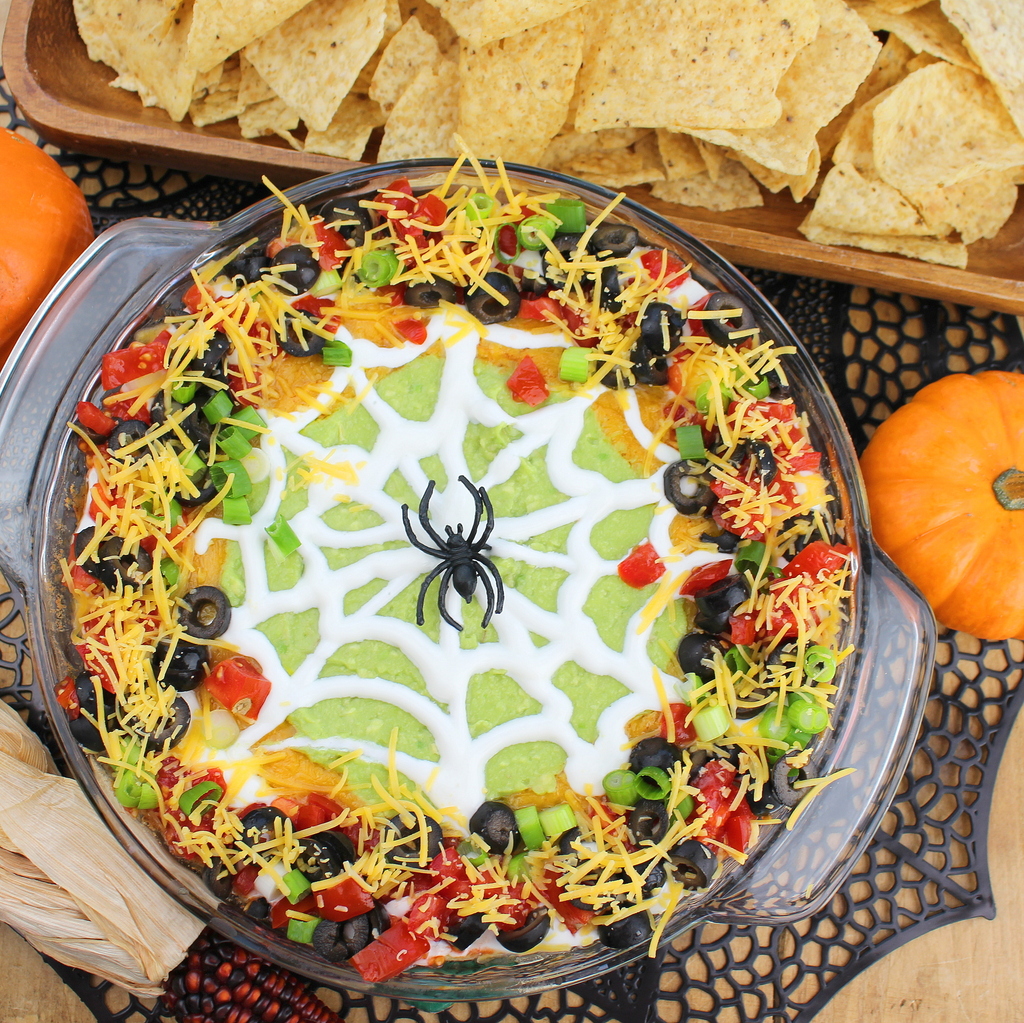 Charcuterie Board:
Give your guests plenty of options to snack on while dinner is finishing up with a charcuterie board. Make it a colorful autumn mix with cheddar cheese, black grapes, red pepperoni slices, green celery, red meat slices, and a little pumpkin to give it that Halloween pop.
 Ingredients 
8 oz Italian dry salami sliced
4 oz uncured Salame di Parma
6 oz smoked prosciutto
4 oz sliced prosciutto
8 oz Apricot Cherry Cranberry Goat's Milk Cheese
4 oz pepper jack cheese sliced
8 oz traditional French Brie
11 oz fig butter
8 oz 1000 day hard gouda cheese
5 oz sweet and spicy pecans
4 oz pumpkin spice pumpkin seeds
8 oz sharp cheddar cheese
2 Granny Smith apples sliced
2 Honey Crisp apples sliced
1 bunch Concord grapes
1 bunch Champagne grapes
6 fresh figs sliced in half
10 oz Stone Ground Wheat Crackers
2 11 oz French baguettes sliced
11 oz naturally flavored candy corn
fresh lemon juice as needed
Instructions:
 Assemble on a 20 inch round platter.
If assembling ahead of time, brush apples lightly with lemon juice to avoid browning.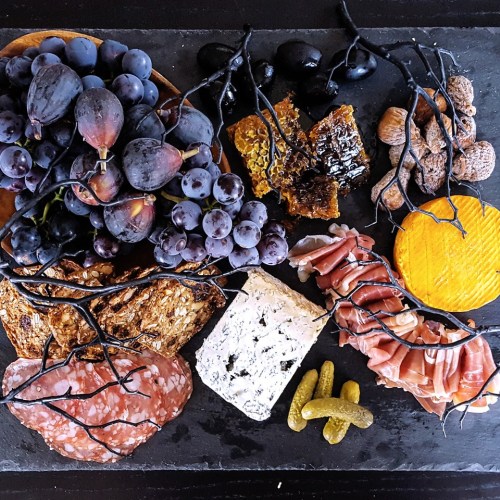 Pumpkin Soup:
The perfect way to warm up on a chilly autumn night is with of course, soup! Soups are the perfect appetizer, they are light and fill your tummy up just enough to save your big appetite for the main dish.
Ingredients
3 tbsp. extra-virgin olive oil
2 leeks
3 large Garlic cloves
2 medium bell peppers
2 1/4 lb. pumpkin
1 1/2 tsp. chopped fresh majoram
1/4 tsp. crushed red pepper
2 bay leaves
1/4 tsp. salt
1/4 tsp. Freshly ground black pepper
1 1/4 c. frozen corn
6 c. vegetable broth 
Instructions:
Heat olive oil in a large pot or Dutch oven over medium heat. Add leeks and cook until very soft, about 5 minutes. Add garlic and cook for about 2 minutes. Stir in green peppers, reduce heat to medium-low, and cook until peppers soften, about 8 more minutes. Add the remaining ingredients and cook until pumpkin is tender, about 30 minutes.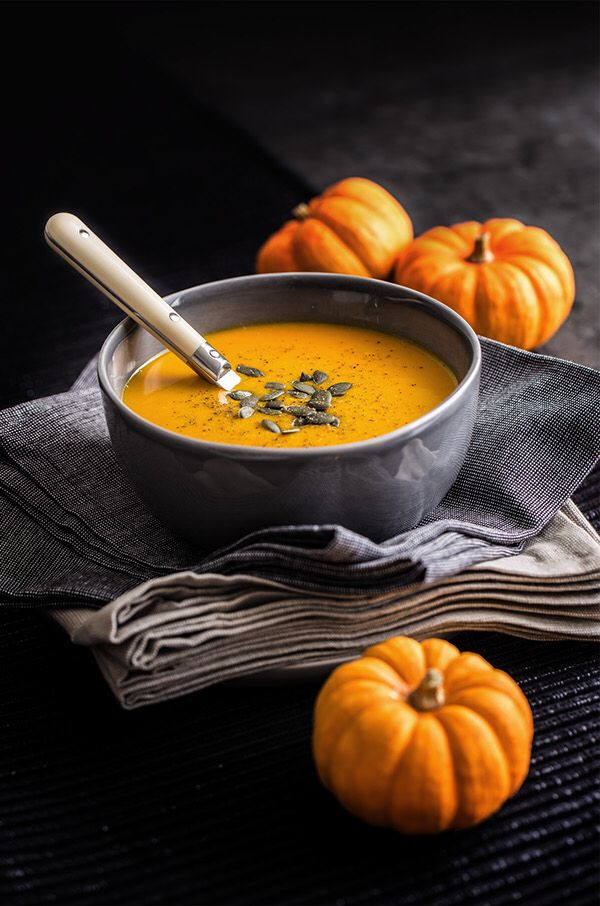 Main Course:
Cider Scalloped Potatoes with Smoked Gouda:
Potatoes are the perfect comfort food. Take one scoop and place it on your plate, take a bite and enjoy the crispy outside and moist inside of the potato, the apple cider adds just the right amount of kick!
Ingredients:
2 tbsp. unbleached all-purpose flour
1 c. milk
1 c. apple cider
1/2 c. chicken broth
1/2 tsp. salt
1/4 tsp. ground black pepper
tsp. ground nutmeg
1/2 c. shredded smoked Gouda cheese
1/2 c. shredded Jarlsberg cheese
2 lb. Yukon Gold or Yellow Finn potatoes
Instructions:  
Adjust an oven rack to the center position and heat oven to 425 degrees F. Lightly butter a 10- by 2-inch round baking dish or a 8- by 12-inch rectangular baking pan; set aside.
Place flour in a medium-heavy saucepan; gradually add milk, whisking until smooth. Whisk in cider, chicken broth, salt, pepper, and nutmeg. Bring mixture to a boil over high heat, whisking constantly. Cook for 1 minute more and remove saucepan from heat; set aside.
In a small bowl, combine Gouda and Jarlsberg cheeses. Arrange half of the sliced potatoes, slightly overlapping, in prepared baking dish. Sprinkle with half of the cheese mixture. Arrange remaining potatoes on top. Pour cider mixture over potatoes.
Bake 25 minutes. Remove baking dish from oven. Using a metal spatula, press down on potatoes. Sprinkle with remaining cheese mixture; return to oven. Bake until potatoes are fork-tender and the top is crusted and lightly browned — about 20 minutes more. Let stand 20 minutes before serving.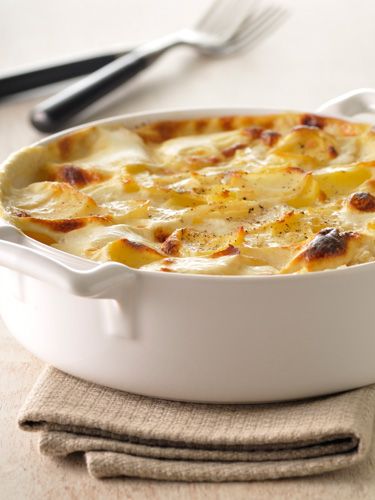 Pumpkin Baked Ziti With Sausage:
Ziti noodles, and baked? Sounds like a mouth watering combination. What's more, sautéed in garlic, bay leaf, safe leaves, nutmeg, pumpkin puree, and red pepper flakes. Hungry yet? This rich medley of flavors is pretty amazing! Add sausage or go vegetarian!
Ingredients:
1 pound ziti or rigatoni noodles, cooked to al dente
1 pound sage sausage (can substitute for sweet Italian)
1/2 onion, diced
2 cloves garlic, minced
1 bay leaf
4 sage leaves, chopped
1/2 teaspoon nutmeg
1/4 teaspoon red pepper flakes
pinch of cinnamon
1/2 cup dry white wine (like chardonnay)
1 cup vegetable stock
15 oz can pumpkin puree
salt and pepper to taste
1/4 cup finely grated Parmesan cheese
Instructions:
Preheat the oven to 350
Brown the sausage in a skillet (preferably cast iron) over medium high heat until the fat is rendered and the sausage is no longer pink. Transfer to a bowl and reserve.
In the same skillet, add the onion, garlic, and bay leaf. Cook until the onion is translucent, about 3 minutes. Add the sage leaves, red pepper flakes, cinnamon, nutmeg, and salt / pepper to taste. Cook one more minute.
Add the wine and cook until reduced by half. The heat should remain to medium high. Add the stock and stir in the pumpkin puree. Mix until everything is incorporated. The pumpkin will thicken the sauce.
Stir in the sausage and transfer to a large bowl with the pasta. Mix until combined.
Transfer back to your cast iron skillet (or a baking dish) and top with Parmesan cheese. Bake for 25-35 minutes until bubbly.
Garnish with sage and parsley. Fried sage is good too! Enjoy this with a nice glass of white wine, preferably the one you used earlier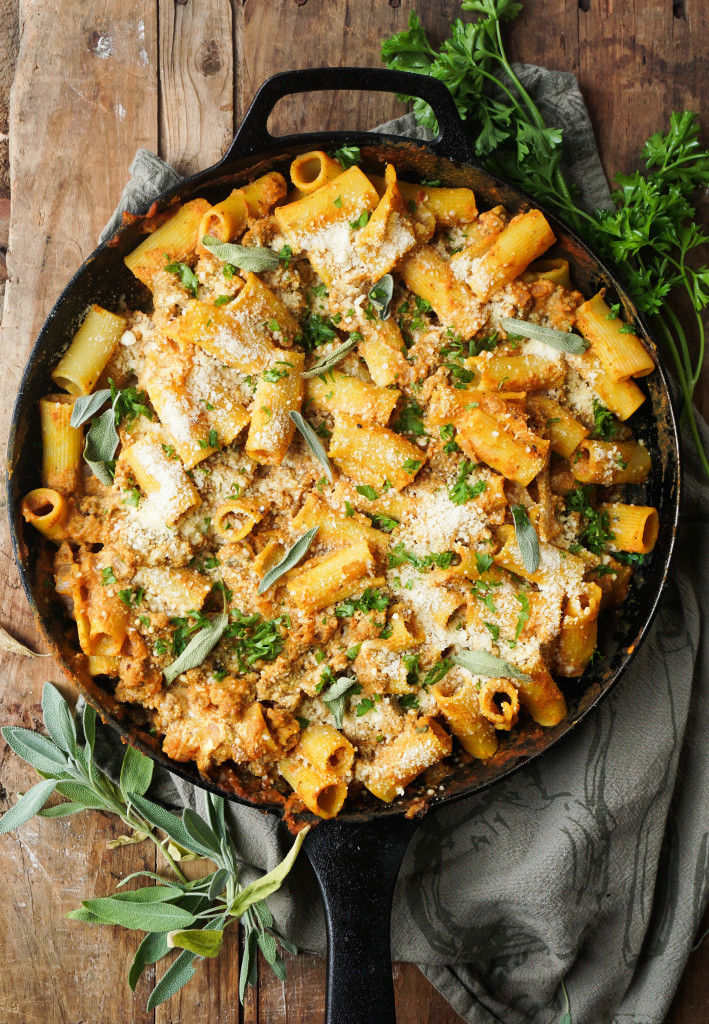 Tex-Mex Lasagna:
 This tasty entrée is a great follow up meal to the chip dip appetizer; following the same flow of flavors, this lasagna will send your tastebuds on a savory ride!
 Ingredients:
 1 pound of lean ground beef/chicken/vegetarian meat
A 1 cup of frozen diced onion red and green bell pepper, and celery
1 tablespoon chili powder
3 garlic cloves, minced
1 teaspoon salt-free chipotle seasoning blend 1 (24-oz.) jar mild salsa
1 (15-oz.) can dark red kidney beans, drained 1 (10-oz.) can enchilada sauce
4 cups (16 oz.) shredded Mexican four-cheese blend Toppings: sour cream, chopped tomatoes
1 (10-oz.) package frozen whole kernel corn, thawed 16 (6-inch) fajita-size corn tortillas
Instructions:
Cook first 5 ingredients in a large nonstick skillet over medium-high heat, stirring often, 10 to 12 minutes or until vegetables are tender and beef crumbles and is no longer pink.
Stir in salsa and next 3 ingredients. Cook 5 to 10 minutes or until thoroughly heated.
Layer 1 cup beef mixture, 2 tortillas (overlapping edges), and 1/2 cup cheese in a lightly greased 7- x 5- x 1 1/2-inch baking dish. Repeat layers once. Repeat procedure with 3 additional 7- x 5- x 1 1/2-inch baking dishes. Cover dishes with nonstick aluminum foil.
Bake, covered, at 350° for 30 minutes; uncover and bake 5 more minutes or until bubbly. Let stand 10 minutes before serving. Serve with desired toppings.
Note: To use a lightly greased 13- x 9-inch baking dish, prepare recipe through Step Omit 4 corn tortillas. Layer one-third beef mixture, 6 tortillas (overlapping edges), and 2 cups cheese. Repeat layers with one-third beef mixture, remaining 6 tortillas, remaining beef mixture, and ending with remaining 2 cups cheese. Bake, covered, at 350° for 40 minutes; uncover and bake 10 more minutes or until bubbly. Let stand 10 minutes before serving.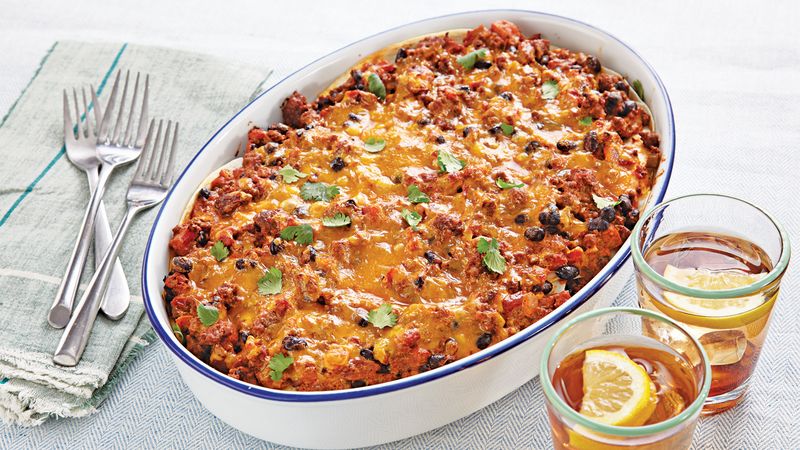 Drinks:
Blood Orange Blackberry Rum Punch:
This delicious treat can serve as a dessert, with a tangy kick to finish off your meal if you don't have much of a sweet tooth. The ruby red blood orange juice, and blackberries give it that dark spooky Halloween feel.
Ingredients:
1 cup chilled blood orange juice
4 (12 ounce) chilled natural blackberry sodas
1 cup rum
¼ cup fresh lime juice
1 cup fresh blackberries
1 blood orange thinly sliced
pansies to garnish (optional)
Instructions:
In a large pitcher filled with ice combine all of the ingredients. Stir gently to combine.
Add several blackberries and an orange slice to each glass and pour the punch into the glasses. Garnish with a pans if desired and serve immediately.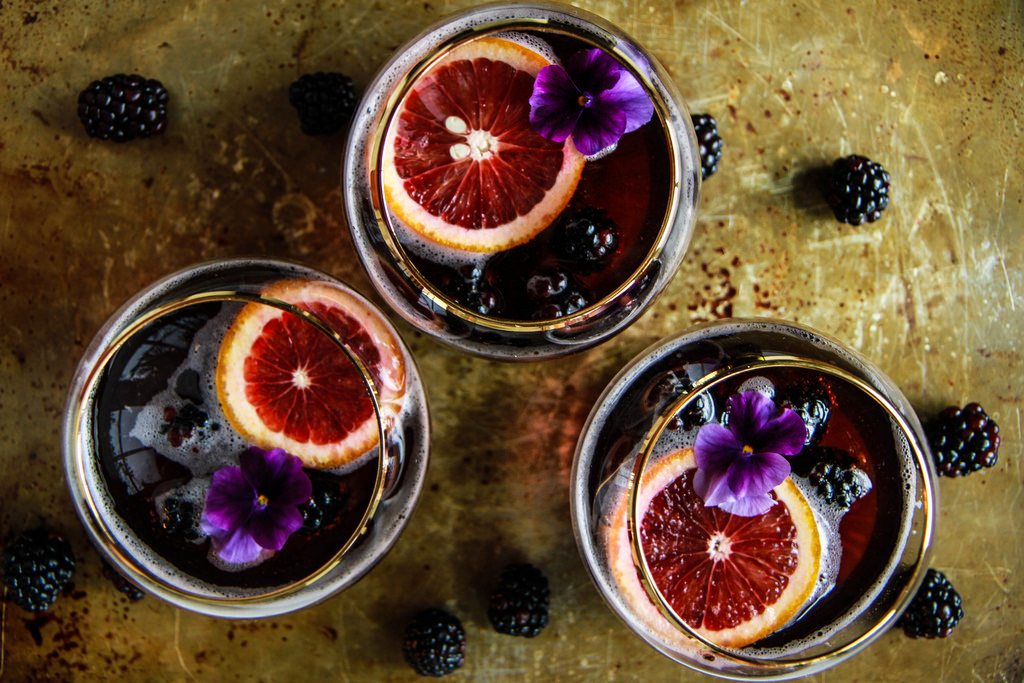 Spiced Warm Cider
What better way to ring in the holidays than with some warm cider on a cold evening? Garnish your drinks with an apple slice and a cinnamon stick.
 Ingredients:
64 oz. apple cider
6 chai tea bags
2 Cinnamon sticks
1 vanilla bean, split
1/4 c. lemon juice
Apple sticks, for serving
Cinnamon sticks for serving
Instructions:
Combine apple cider, chai tea bags, cinnamon sticks, and vanilla bean in slow cooker. Cook on low 3 to 4 hours. Discard tea bags; stir in lemon juice. Serve warm with apple slices and cinnamon stick.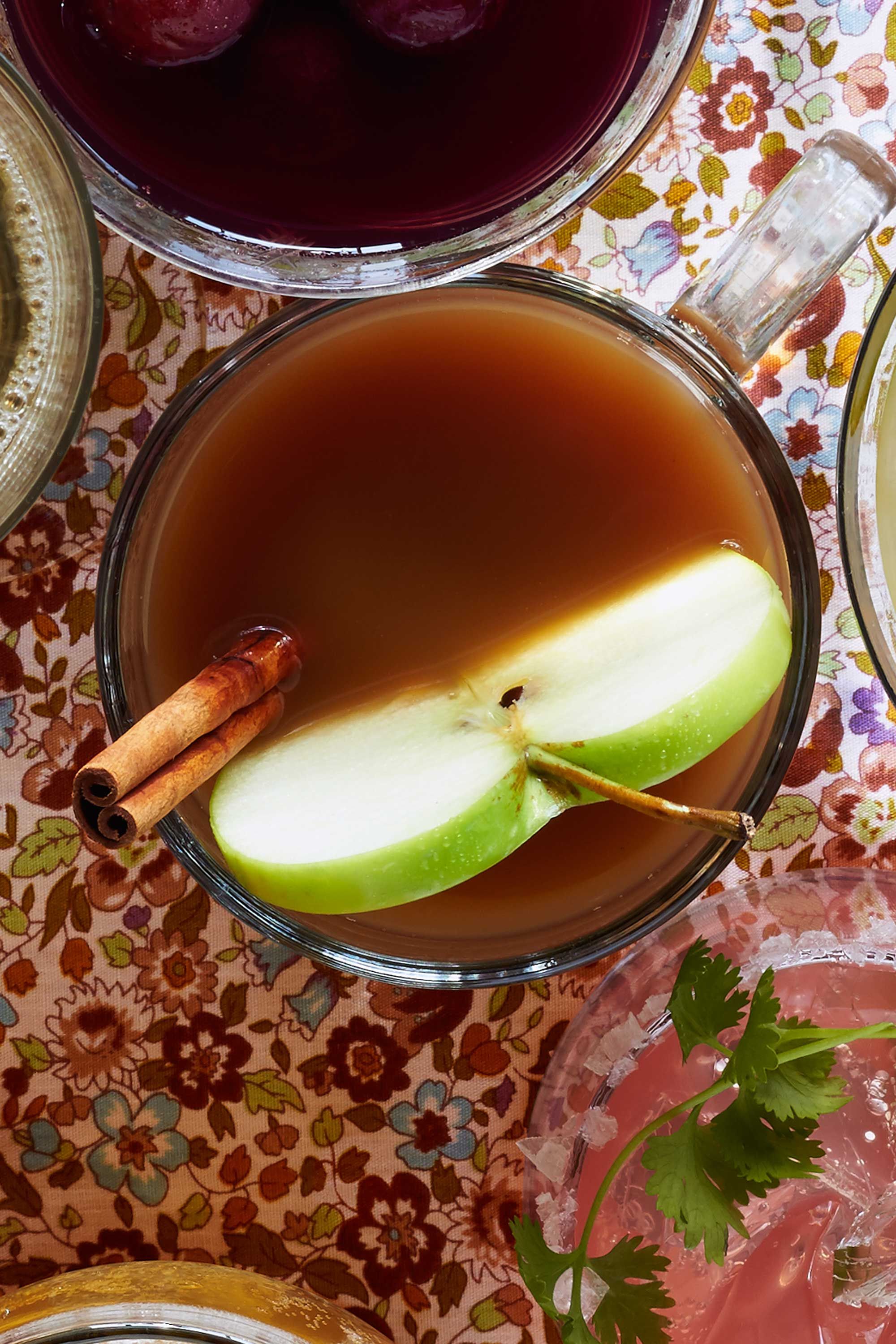 Good and Evil Potion
 If you're in the mood for something cold, go with the good and evil potion. This cocktail is just as pretty as it is delicious!
Ingredients:
1 oz. vodka
1 oz. ApplePucker
1 oz. Midori
1 oz. triple sec
1 handful ice
pineapple juice
Sierra Mist
lemon slice, for garnish
Instructions:
Combine vodka, ApplePucker, Midori, and Triple Sec in a cocktail shaker filled with ice. Shake.
Pour the mixture into a cocktail glass, then top with pineapple juice and Sierra Mist. Garnish with a slice of lemon (optional).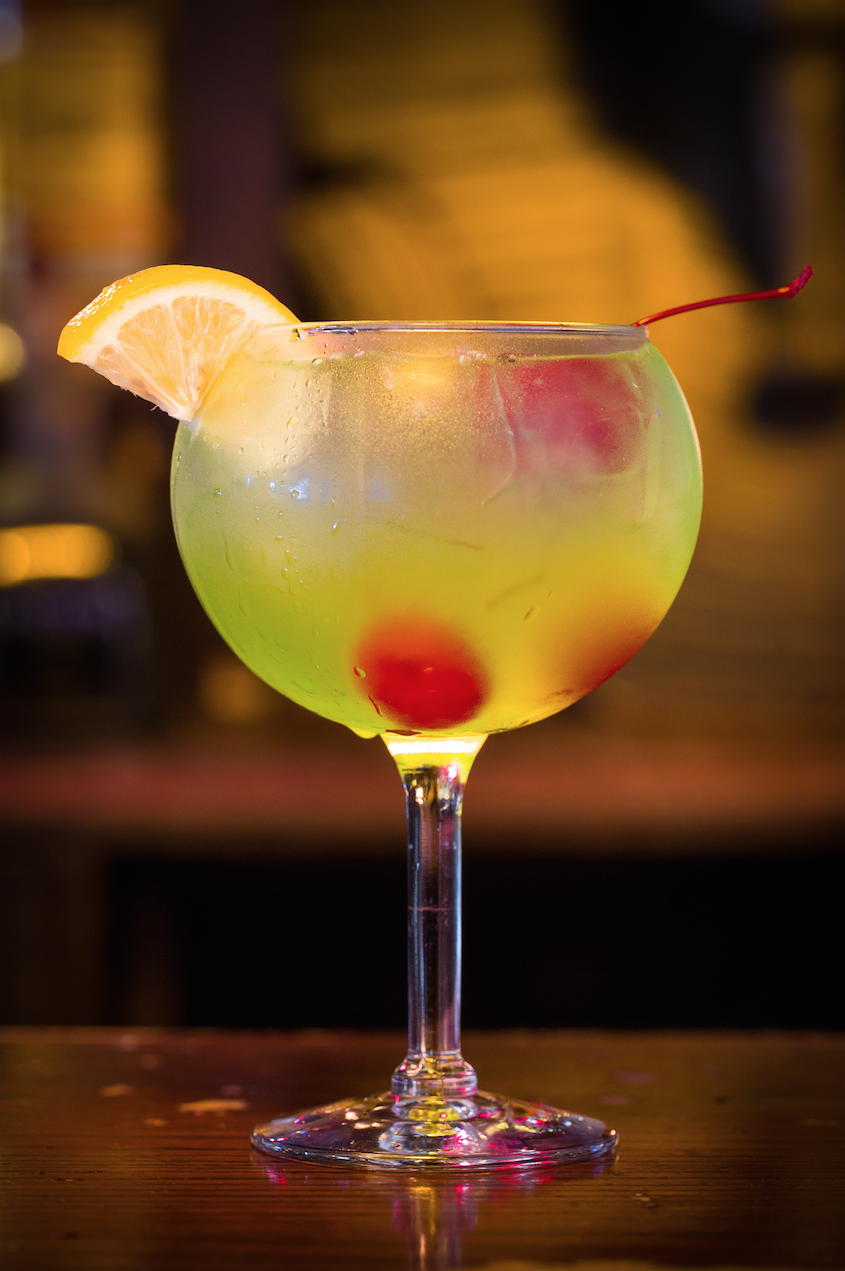 Dessert:
Strawberry Ghosts:
Our most adorable treat on the list are these strawberry ghosts! This treat is as easy to bake as it is to eat! The kiddos will definitely have fun with these precious little treats!
Ingredients:
2 c. strawberries
1 1/2 c. white chocolate, melted
1 tsp. coconut oil
1/4 c. mini chocolate chips
1 c. chocolate chips, melted
Instructions:
Line a small baking sheet with parchment paper.
In a large bowl, combine melted white chocolate and coconut oil and stir until combined. Dip strawberries into white chocolate and place two mini chocolate chips on the top half of the strawberries for eyes. Place strawberries on prepared baking sheet and place in the refrigerator to harden, about 10 minutes.
Place melted chocolate chips in a ziploc bag and pipe mouths on the strawberries.
Let cool again in the refrigerator, 5 minutes. Serve.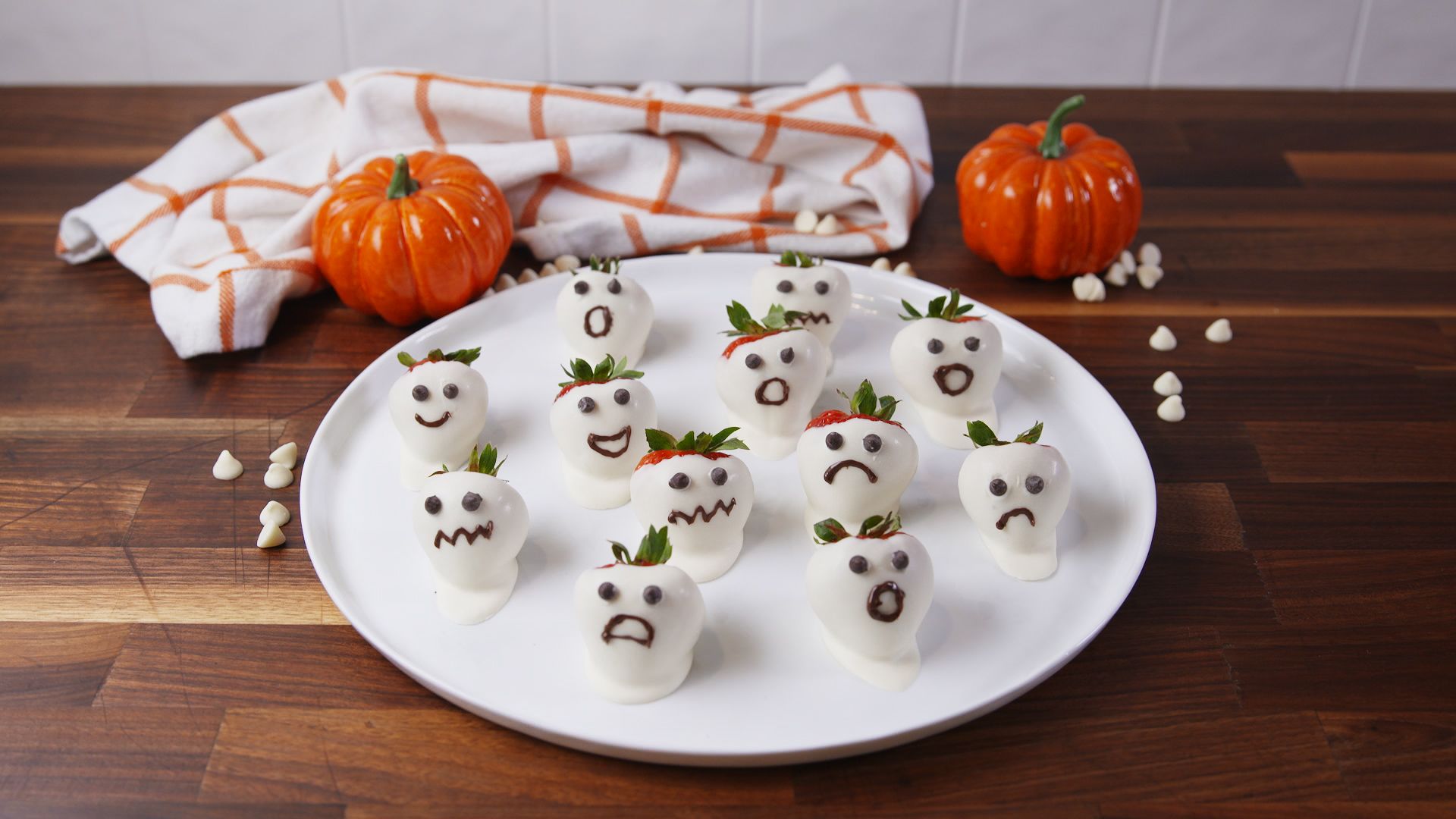 Pumpkin Spice Cake:
 Nothing screams Halloween more than pumpkin spice, and in a cake?  Yes you read that correctly, a pumpkin spice cake! Alas, your wildest dreams have come to life!
Ingredients
Cake:
1 and 1/2 cups granulated sugar
4 eggs
1 cup vegetable oil
2 cups all-purpose flour
1 15 oz. can pumpkin NOT pumpkin pie filling
2 tsp baking powder
1 tsp baking soda
1 and 3/4 tsp cinnamon
3/4 tsp nutmeg
1/4 tsp cloves
1/8 tsp ginger
1/8 tsp salt
1 tbsp real maple syrup
Frosting:
6 ounces cream cheese
1 stick (1/2 cup) salted butter
2 tsp vanilla
3 cups powdered sugar
3 tbsp real maple syrup
Instructions:
Prep: Preheat oven to 350 degrees. Line a 9×13 or 10 x 15 pan with parchment paper or spray with nonstick spray.
Make the cake: In a large mixing bowl, mix eggs, sugar, oil, and pumpkin with electric mixer until just combined. In a medium bowl, whisk together the flour, baking powder, baking soda, spices and salt. Add dry mixture to the wet ingredients in 2 additions, mixing well after each. Add the TBSP of maple syrup and mix.
Pour batter into prepared pan. Bake 25-30 minutes, or until a toothpick inserted into the center of the cake comes out clean. (It may have some moist crumbs on it – but shouldn't have wet batter). Let the cake cool completely before frosting.
Make the frosting: While the cake bakes, make the frosting. Soften cream cheese and butter together in the microwave for 20-30 seconds. (See note if browning the butter). Cream well with mixer. Add vanilla, powdered sugar, and maple syrup and mix until combined.
Serve + Store: Frost the cake when cool. Use the back of a dinner spoon to make swirls in the frosting, if desired. Store leftovers, covered tightly, in the fridge for up to 4 days.
Make ahead tips: The cake can be made a day in advance. Bake as directed, and let it cool completely. Cover well with plastic wrap/foil and leave at room temp. Frosting can be made a day ahead too – cover well and store in the fridge. Let frosting sit out for 10 minutes before frosting so it's pliable. If the top of the cake tears a little when you try frosting it, cover it and chill in fridge for 15 minutes.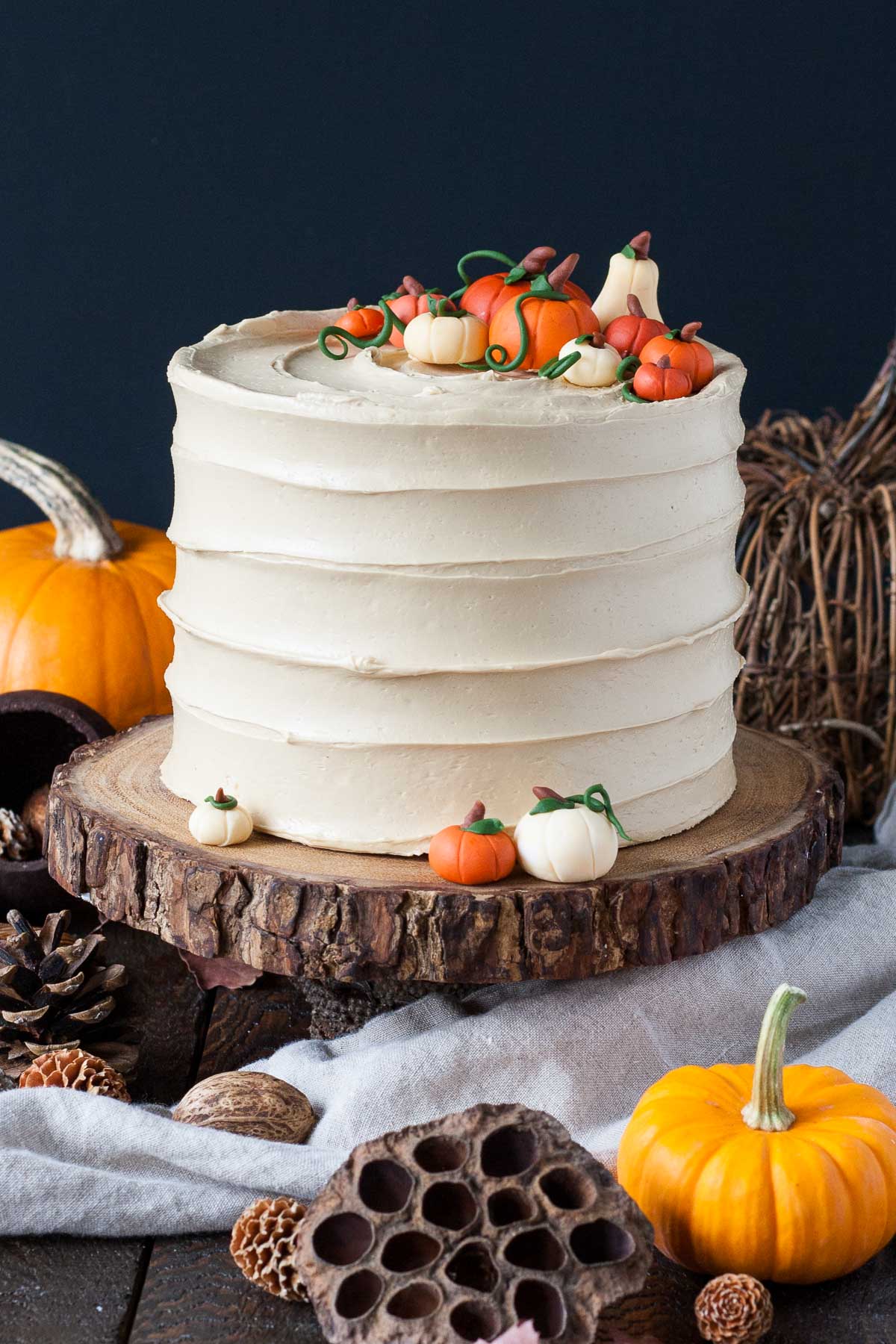 Spider Pumpkin Cake:
This delicious dessert could very well serve as your center piece as it could a delicious finish to your meal.
Ingredients:
2 1/2 c. all-purpose flour
2 tbsp. all-purpose flour
1 c. good-quality cocoa
2 tbsp. good-quality cocoa
1 tbsp. baking powder
1 1/2 tsp. baking soda
2 1/4 tsp. ground cinnamon
3/4 tsp. fresh-grated nutmeg
3/4 c. buttermilk
1 1/2 c. pumpkin purée
1 1/2 tsp. vanilla extract
stick unsalted butter
1 1/2 c. dark brown sugar
1 1/2 c. granulated sugar
5 large eggs
Orange Cream-Cheese Frosting
Instructions:
Heat oven to 350 degrees F. Lightly butter three 8-inch cake pans and fit each bottom with an 8-inch circle of parchment paper. Lightly butter the parchment paper. Set aside.
Sift the flour, cocoa, baking powder, baking soda, cinnamon, and nutmeg in a large bowl and set aside. Combine the buttermilk, pumpkin, and vanilla in a medium bowl and set aside. Beat the butter and sugar together in a large bowl, with an electric mixer set on medium speed, until fluffy. Add the eggs, one at a time, beating well after each addition, until the mixture is smooth and light. Alternately add the flour mixture and buttermilk mixture, blending well after each addition.
Divide the batter among the pans and bake until a wooden skewer inserted into the middle comes out clean — about 35 minutes. Cool the cakes in the pan for 20 minutes. Remove cakes and cool. (For cupcakes: Heat oven to 375 degrees F. Place cupcake liners in standard cupcake tins and fill each with 1/4 cup of batter. Bake for 22 minutes.)
Trim each of the layers. Place one layer on a cake plate and top with one third of the frosting. Repeat with the second and third layers. (To ensure that the cake layers do not shift, cut three skewers to 1/4 inch shorter than the full height of the cake and insert them before icing the top layer.) Refrigerate until ready to serve.