Designing pumpkins is one of the many ways to decorate for this Halloween season. What should your pumpkin decorating kit contain? You'll want to have a set of assorted craft paints, adhesive tape, gliding liquid, decoupage medium, glitter, foam figures and other miscellaneous materials that can be used to accent your pumpkin. What's left is your imaginative ingenuity.
Stained Glass Window Pumpkin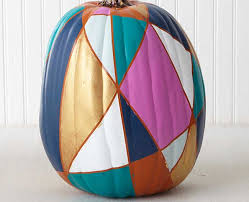 It's a jewel-toned, geometric masterpiece inspired by stained glass windows! To paint this pumpkin, use stenciling tape to cover an all-over overlapping pattern on its rounded surface. Paint inside each taped area with in contrasting colors, being careful not to cross over the lines. Let your paint dry, then slowly peel back the tape to reveal the fun pattern and orange lines underneath.
Chalk-Painted Pumpkins
The chalk paint trend is ever strong, having inspired us to create a set of these elegant floral pumpkins. We love the combination of a matte chalk finish and these large stencil designs! Thy match any fall décor perfectly.
Glittered Pumpkins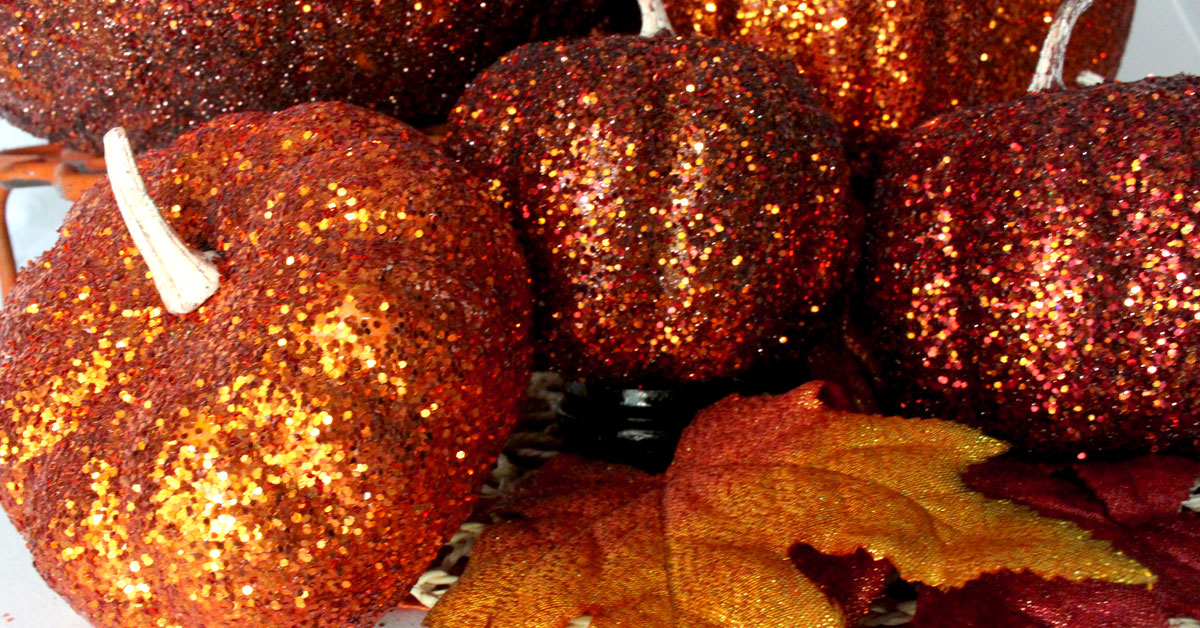 There's no denying it – everything is better with glitter. Both pumpkins are coated in a fine sprinkling of shimmer – gold and copper, respectively – and one is polka-dotted while the other is crafted with the visual effect of dripping in luxury.
Falling Leaves Pumpkin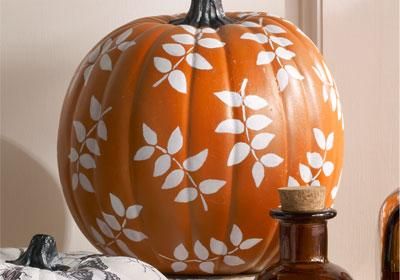 Autumn-inspired silhouettes add simple charm. To paint this pumpkin, adhere the leaf stencil to the pumpkin and pounce the inside of the stencil with white craft paint. Slowly, peel off the stencil and re-adhere it to a new spot on the pumpkin. Repeat this method until the pumpkin's entire rounded surface is covered in leaves.
Chalkboard Menu Pumpkin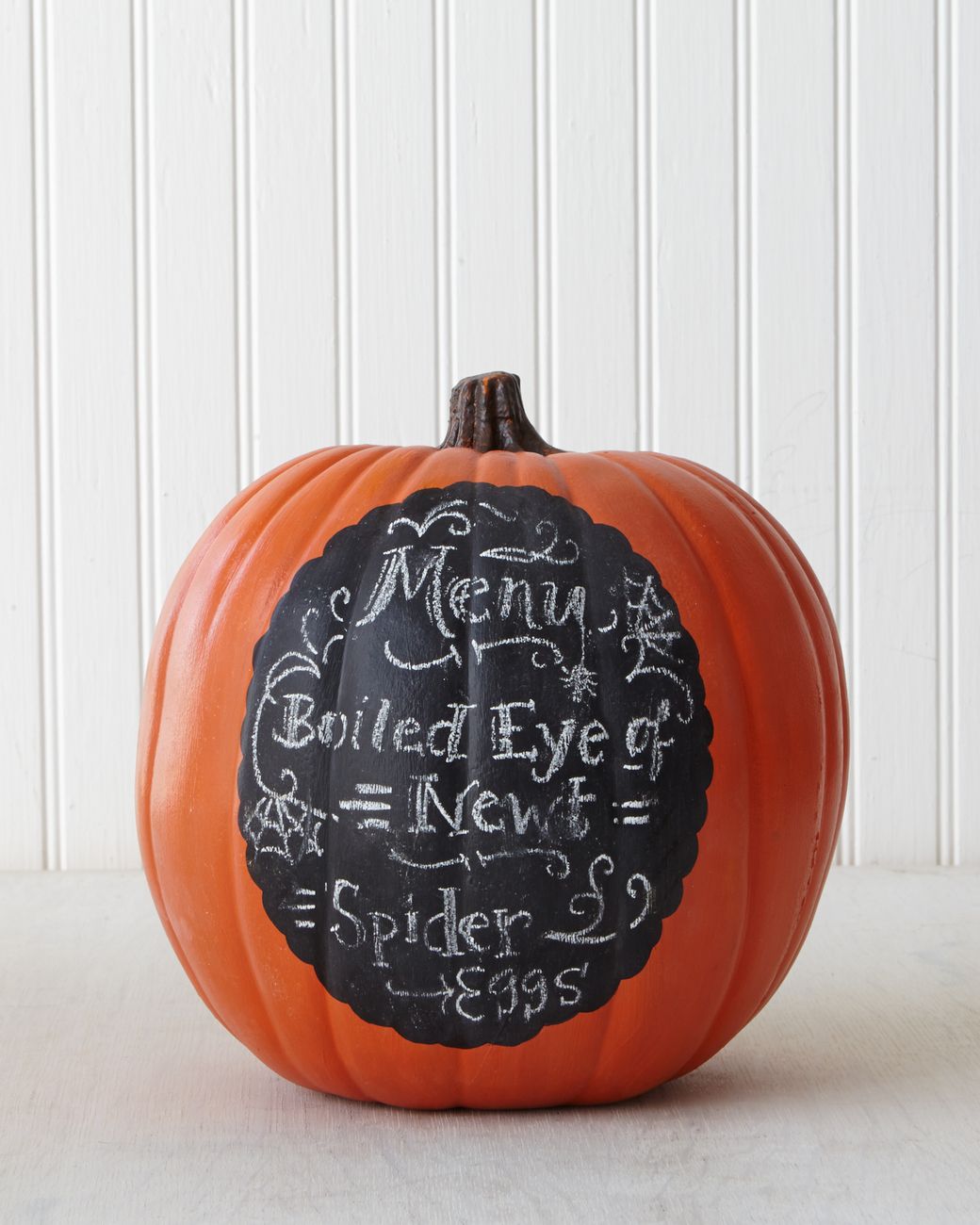 If you're a hostess, you're bound to throw at least one dinner party sometime this season. As for your décor? Turn your plain pumpkin into a chalkboard menu for the guests. Because a coat of chalkboard paint turns it into a writing surface, the sign can be written on, wiped clean and written on again to cover every event from Halloween trick-or-treating to your Thanksgiving feast.
Typography Pumpkin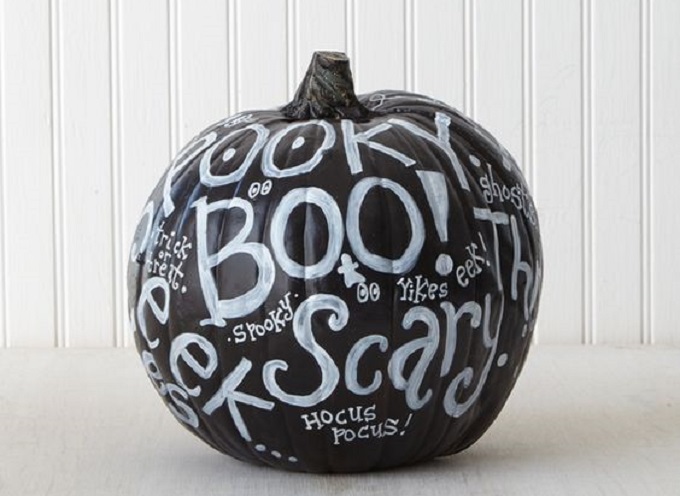 We love the art of typography, and what better words to use than the wonderful, spooky phrases of Halloween? This pumpkin is dark and spooky – just how we like out Halloween celebrations.
Abstract Expressionist Art Pumpkins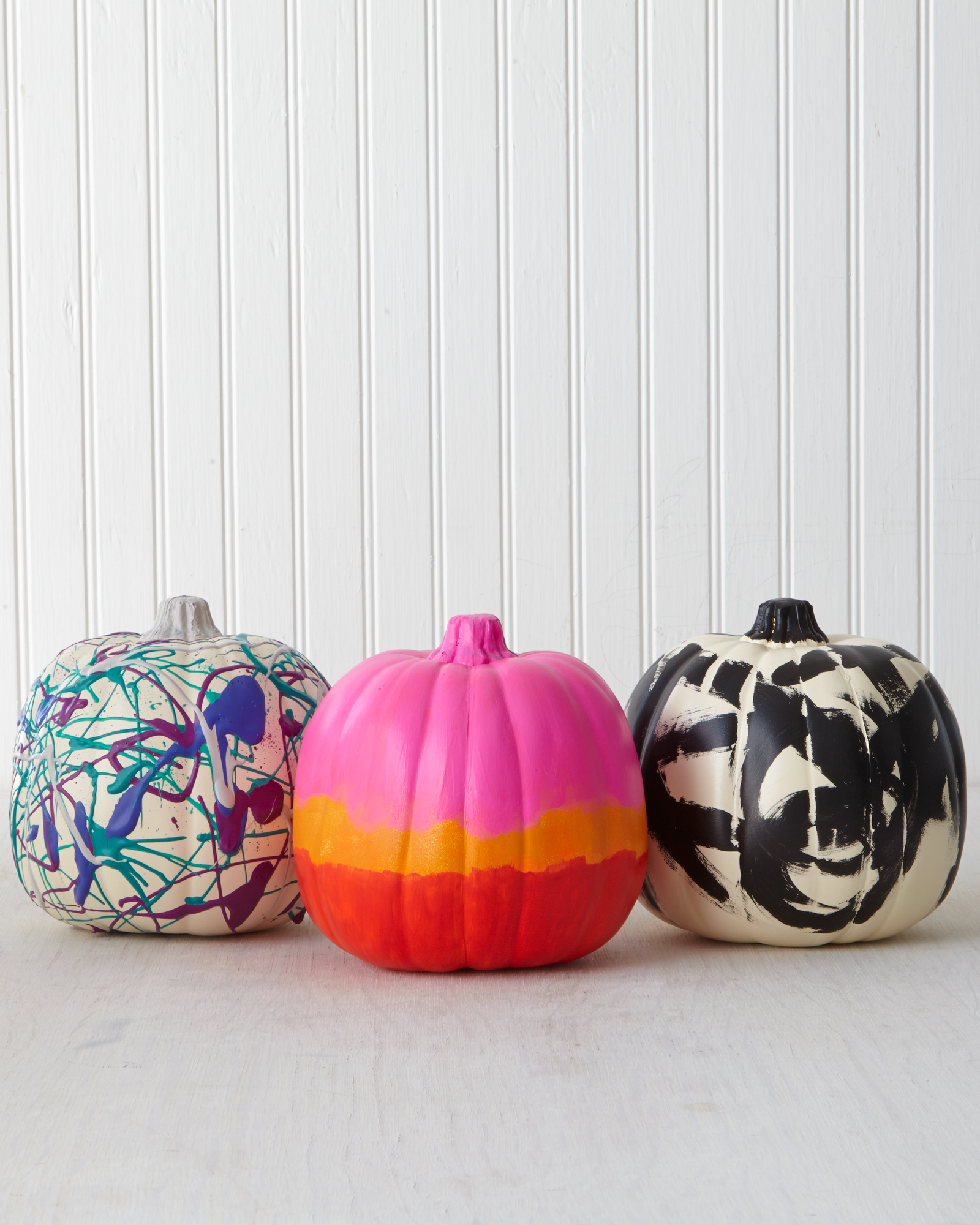 Abstract Expressionist artists – Pollock, Rothko and Franz Kline – all use sophisticated designs. Similarly, the trio of pumpkins pictured here are inspired by some of the greatest artists of our time.
Glamorous Spider Pumpkin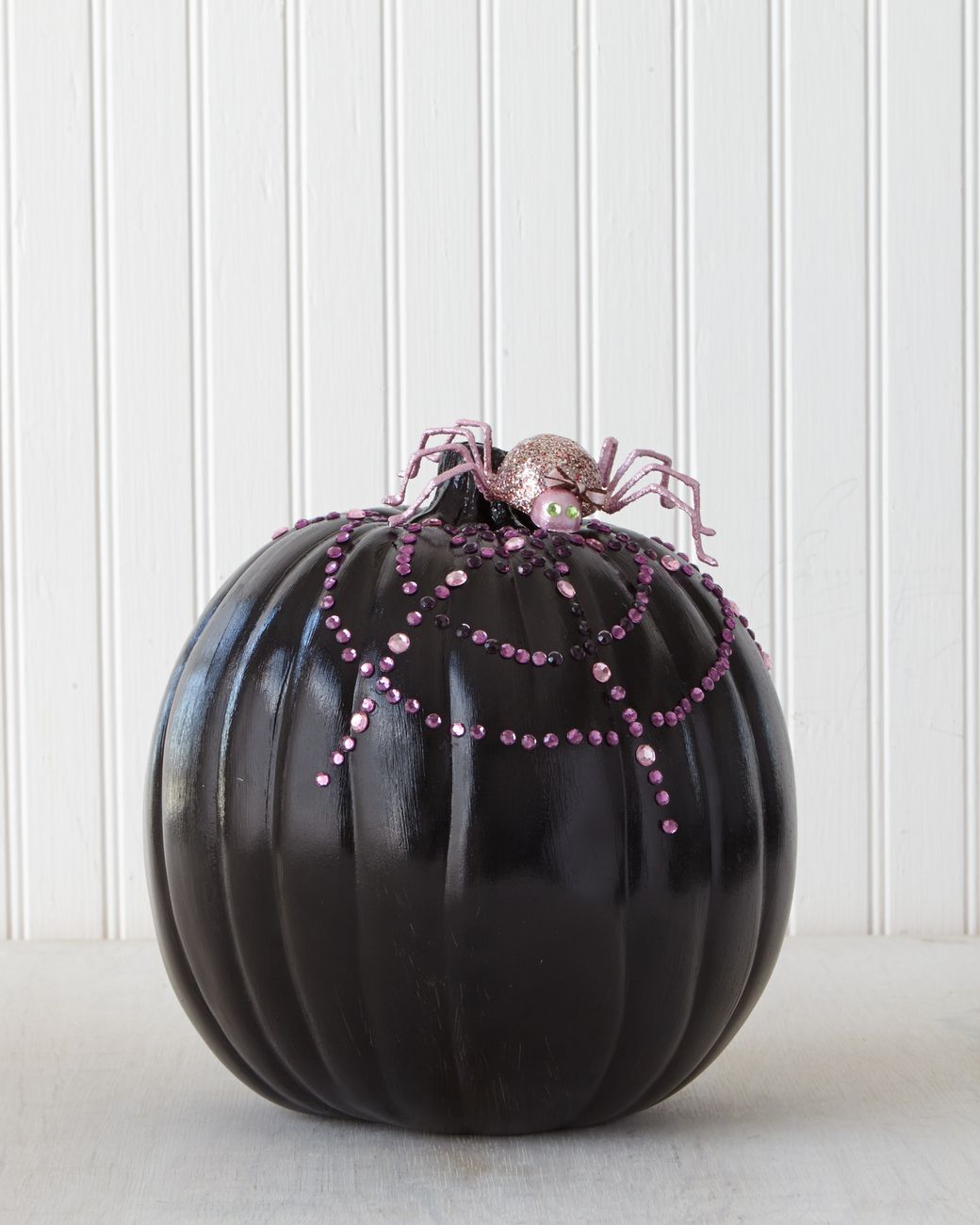 The glamorous pumpkin dons a blinged-out spider that's too chic to be scary. To paint this pumpkin, coat the entire surface in a high-gloss black. Let dry, and then map out a spiderweb using adhesive gems. As the finishing touch, a faux spider can be painted, glittered and given a pair of stick-on gem eyes.
Skeleton Pumpkin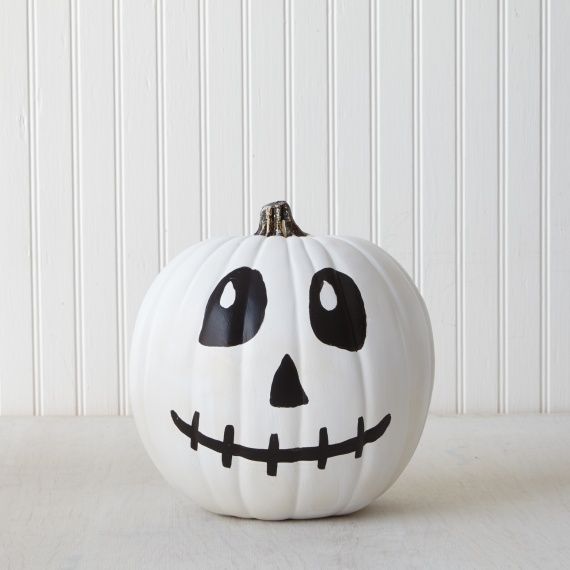 A skeleton with a devilish grin like this is just the thing your front porch needs this Halloween. Kids will love to help come up with their own spooky, silly, up-to-no good expressions.
Cheshire Cat from "Alice in Wonderland" Pumpkin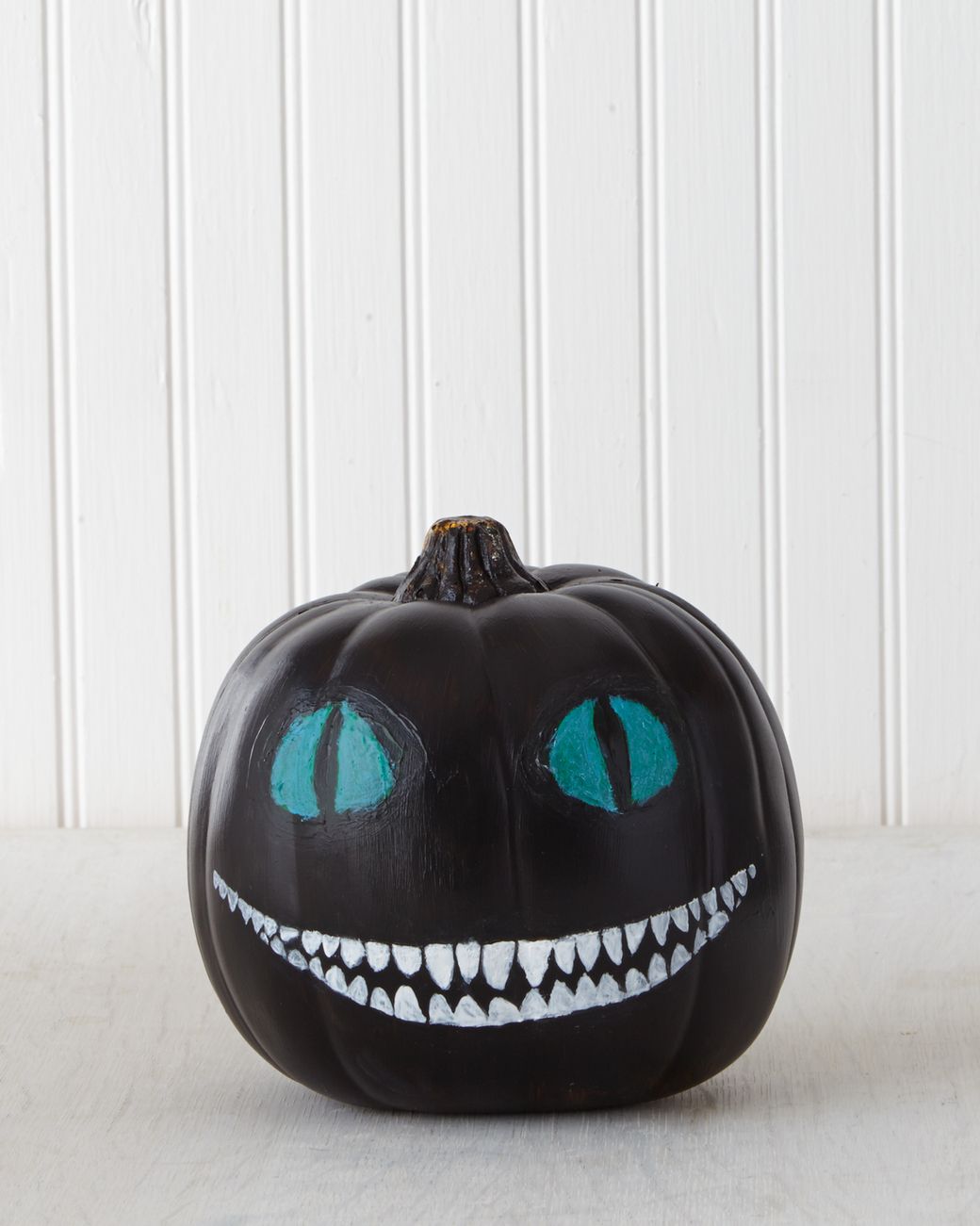 Oh, that grin. It's unmistakably the Cheshire Cat from Alice in Wonderland. This modified take on a classic children's book character is painted on a pumpkin freehand style and the result is just purr-fect.
Content Sourced from: Martha Stewart Living