Now that the days are getting colder, a delicious cup of coffee to warm you up sounds really nice. The ambiance of the coffee shop is just as important as your cup of joe. We selected 10 coffee bars in the Los Angeles area that we feel will not only get you the best coffee in town but also that homey autumn vibe that makes us all feel warm and snug this time of year!
1. Coffee Commissary
Location: 3121 W Olive Ave, Burbank, CA 91505 (& six others)
The Burbank location is the only branch that has a full kitchen, meaning you can find fried chicken sandwiches, breakfast burritos and impressive house-baked goods on a daily basis! The growing chain now keeps studio workers well-caffeinated throughout TV, film, and radio production. It roasts mostly West Coast roasters and serves all cups with foamy panache.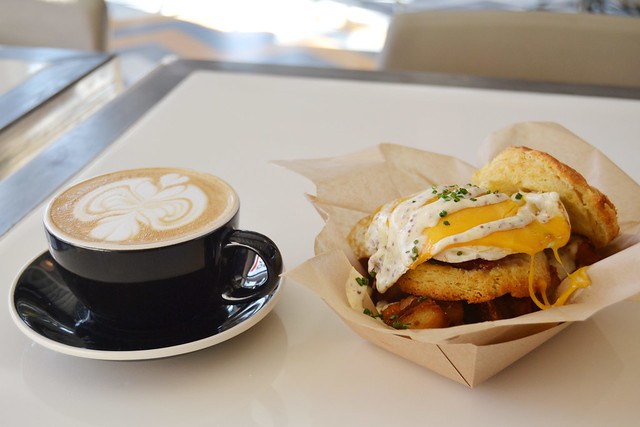 2. Eightfold Coffee
Location: 1294 Sunset Blvd, Los Angeles, CA 90026
This coffee bar looks like it is was made to appear on lifestyle blogs. The kind you just want to cozy up in with a book and a cup of joe, especially on these cold autumn days! The airy space, sports white walls (including white brick), a tile-backed marble bar, and wood-bench seating. Baristas brew Heart Coffee in vac spots, with a La Marzocco espresso machine. The cold brews are served in glasses big enough to keep you awake for two days straight!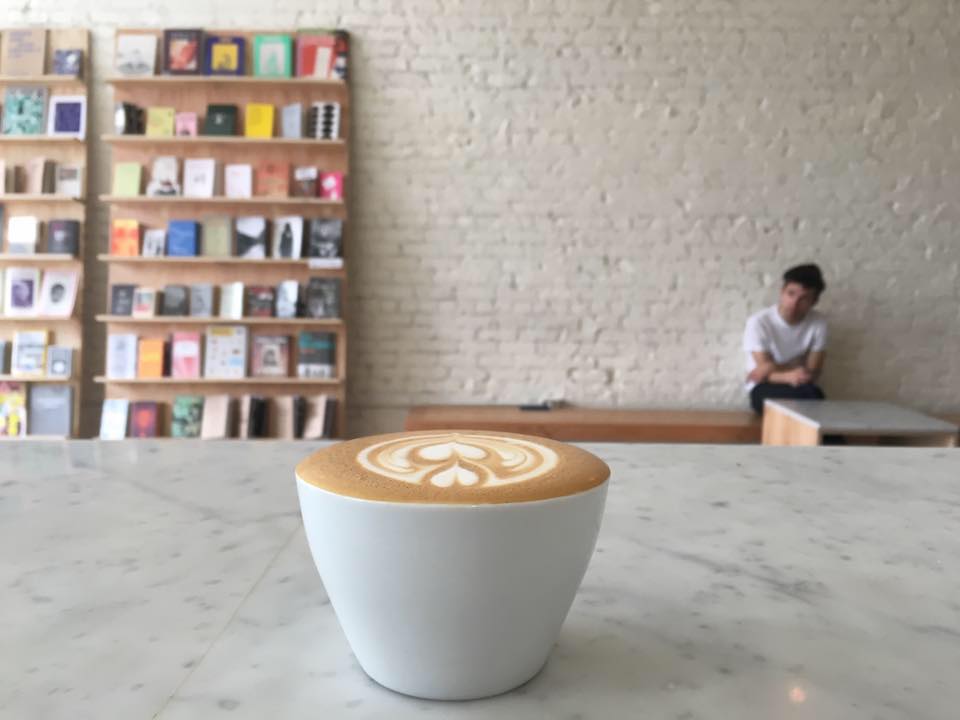 3. Espresso Cielo
Location: 1431 2nd St, Santa Monica, CA 90401
Espresso Cielo has two locations, each just a few blocks from the beach. With an antique clock, marble countertops and sky blue styling this will quickly become your new coffee oasis.
4. Intelligentsia
Location: 3922 Sunset Blvd, Los Angeles, CA 90029
The coffee is roasted in nearby Glassell Park, the quality remains good given the high volume, and the signature Angeleno beverage is as popular as ever, featuring a quadruple shot of espresso shaken with milk, agave, and ice.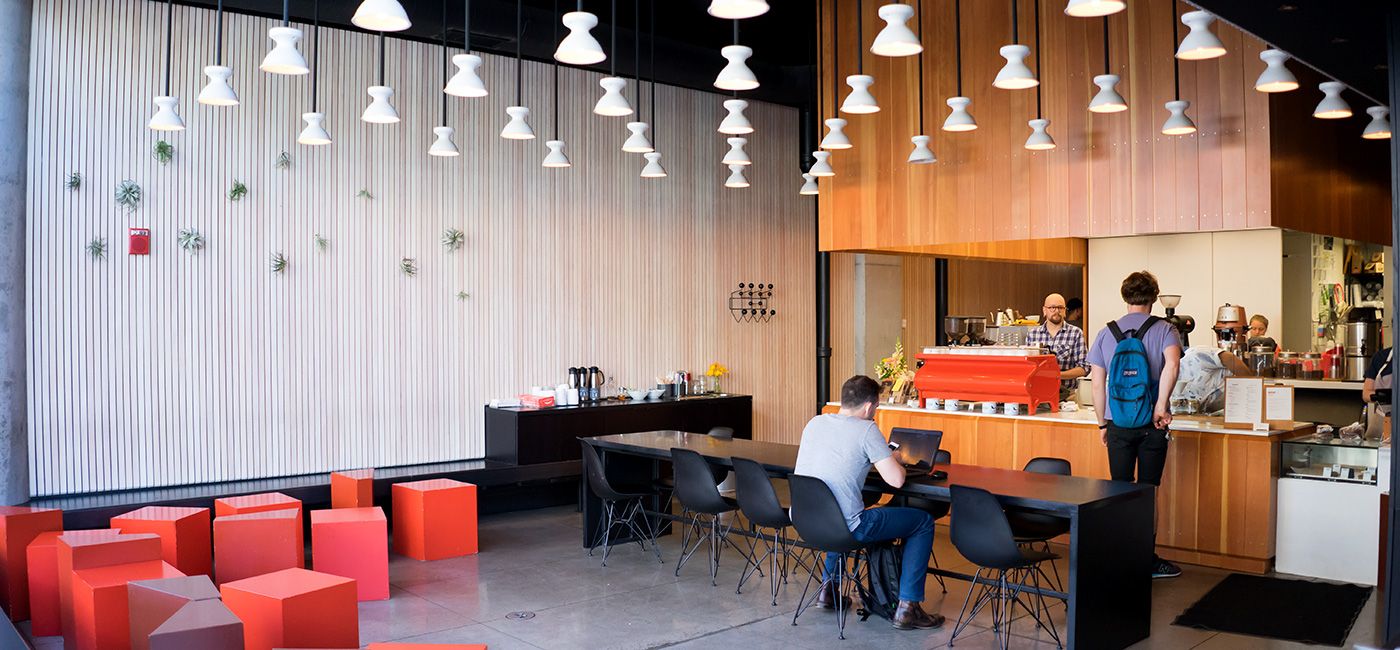 5. Rubies & Diamonds
Location: 6115 Sunset Blvd #150, Los Angeles, CA 90028
LAMILL co-founder Jean Shim went solo in 2015, debuting her fashionable coffee bar in Hollywood's Columbia Square complex, in a space that features blue-grey and red walls lined with art and two elaborate chandeliers, including one crystal and another that resembles spaghetti. This coffee bar promotes BKON vacuum processed RAIN technology for coffee and tea, and they have nitro drinks!
6. Verve Coffee Roasters
Location: 8051 W. 3rd Street Los Angeles, CA 90048 (& two others)
This Santa Cruz import made a great first impression, with its first LA shop brightening an emerging part of downtown, and others popping around the city. The mid-city outpost on Third Street is the most ambitious to date, with a round copper and marble bar, exposed wood rafters and a Farm-level Bar in the back featuring rare coffees that showcase "ethics & excellence".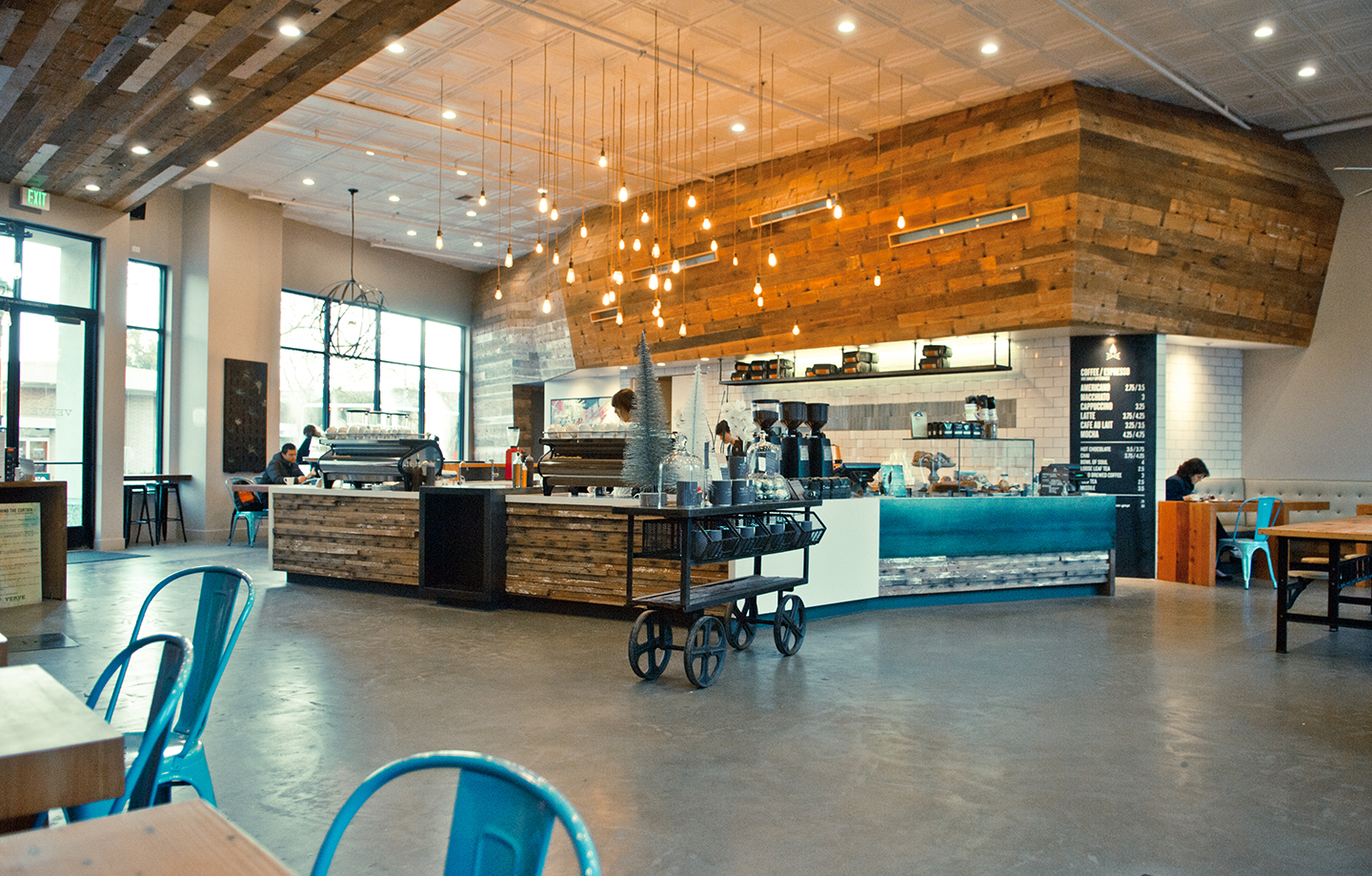 7. Woodcat Coffee Bar
Location: 1532 Sunset Blvd, Los Angeles, CA 90026
Reclaimed wood, box seating, and red walls give life to this neighborhood favorite. It also helps that this place brews expertly roasted beans from San Francisco's Wrecking Ball Coffee Roasters on their sleek Faema espresso machine.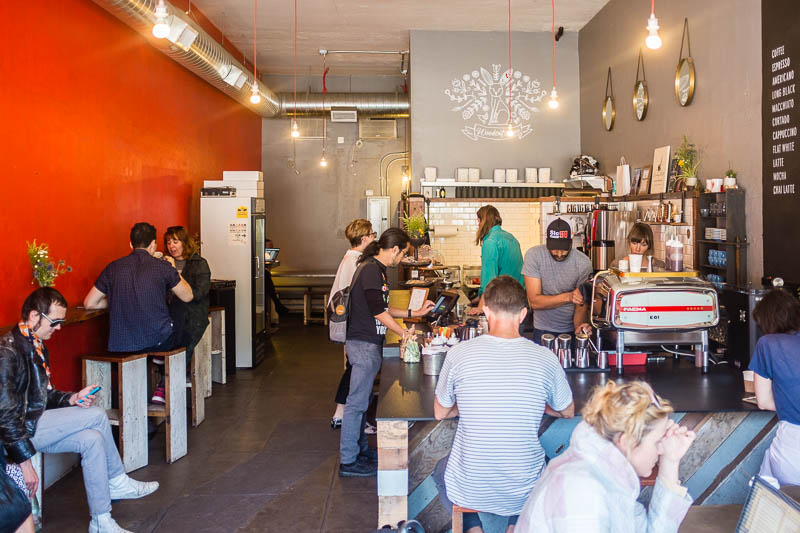 8. Bar Nine
Location: 3515 Helms Ave, Culver City, CA 90232
The owners of this coffee joint work with Ninety Plus Coffee Agents to source coffee beans from Panama and Ethiopia, and then roasts them in house. Bar Nine's baristas use the shop's high-tech Modbar system with Chemex coffeemakers to get the precise cup of joe. It's all about the little details, too. You can't help but "aww" at the adorable to-go glass jars with lids. Try the creamy hazelnut milk latte, and don't forget about breakfast!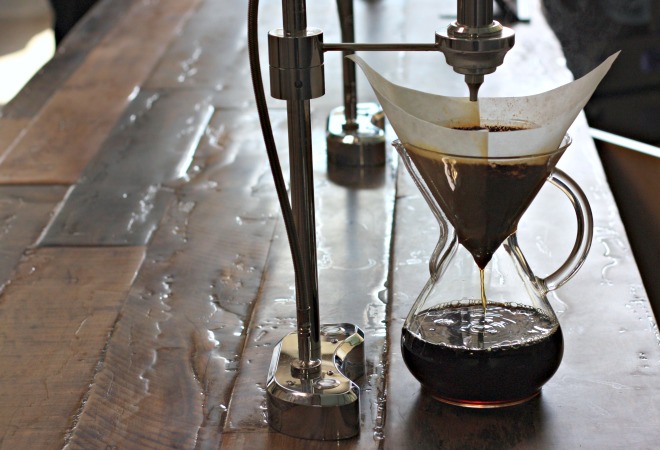 9. Paramount Coffee Project
Location: 456 N Fairfax Ave, Los Angeles, CA 90036
The concrete and wood space features a multi-roaster lineup that rotates beans from American coffee powers like Heart and George Howell, plus coffee from roasters back home. The food program is more ambitious than most coffee bars, featuring plates like a burrata that's accompanied by pistachio dukkah, kale, and eggs; and a Superfood Bowl that comes with quinoa, candied beets, lebni, blueberry, and cocoa.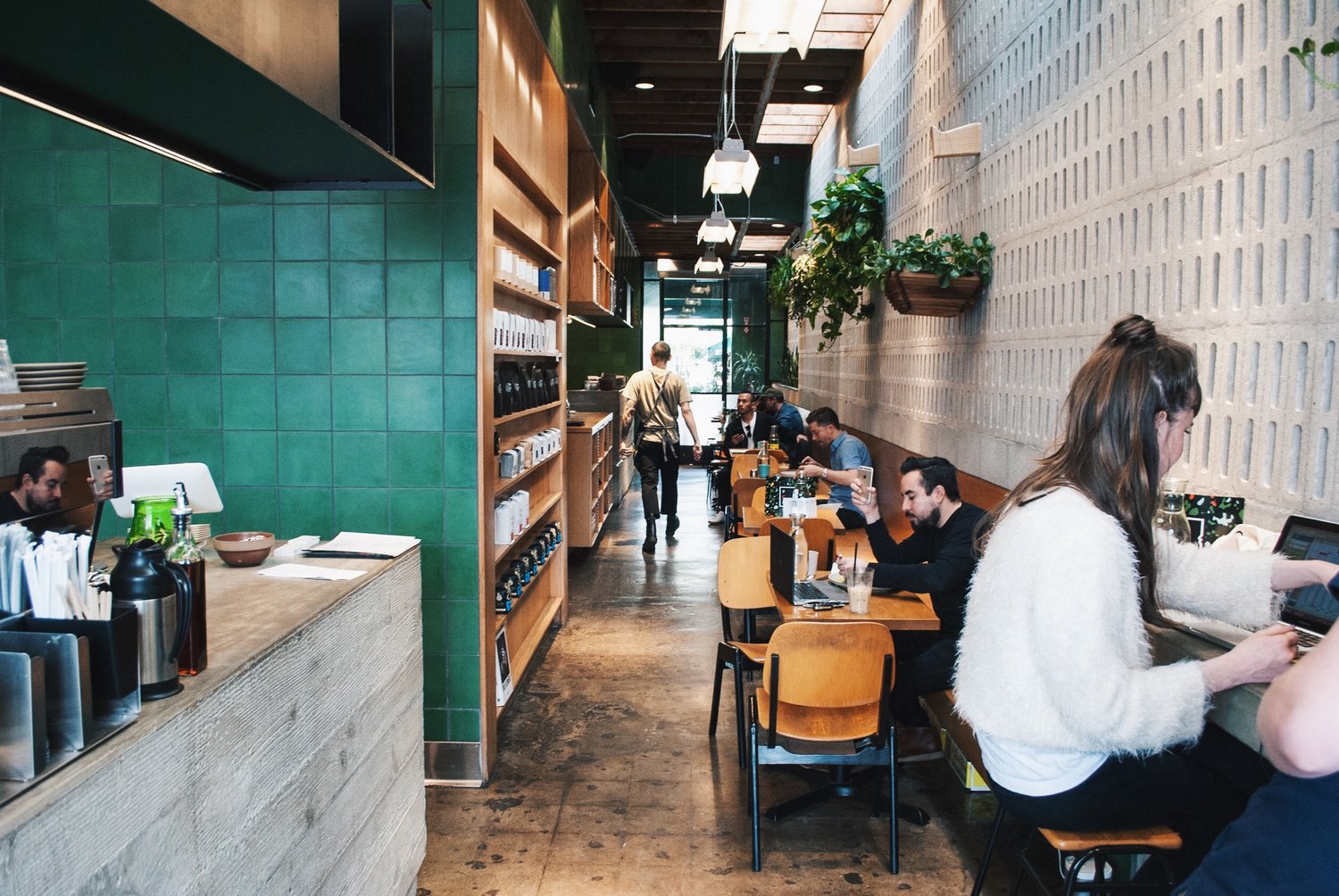 10. Alfred Coffee & Kitchen
Location: Beverly Grove (& other locations)
Alfred's iconic sign "but first, coffee" is Instagram post-worthy and reinforces the shop's core focus: pumping out plenty of espresso drinks and cold-brew coffees, all using Stumptown beans.