When trying to come up with ideas for a group Halloween costume, it is best to start with a theme! Costumes that have things in common can also work well together. The good thing is that they can be modified to fit your family size. You can easily and quickly put together a family costume with these ideas.
Sloth and Tree Costumes
There's no trick-or-treater too small for Halloween. The trick to this duo? We used a baby wrap carrier to disguise a smiling little one as a sloth slinging from a tree branch. To create this costume, print the template onto 8 ½ by 11 inch paper and cut out. Use the template to cut out felt shapes, then glues the pieces together and pin them to baby's wrap and hat. Mom can wear brown and tuck leaves in her hair.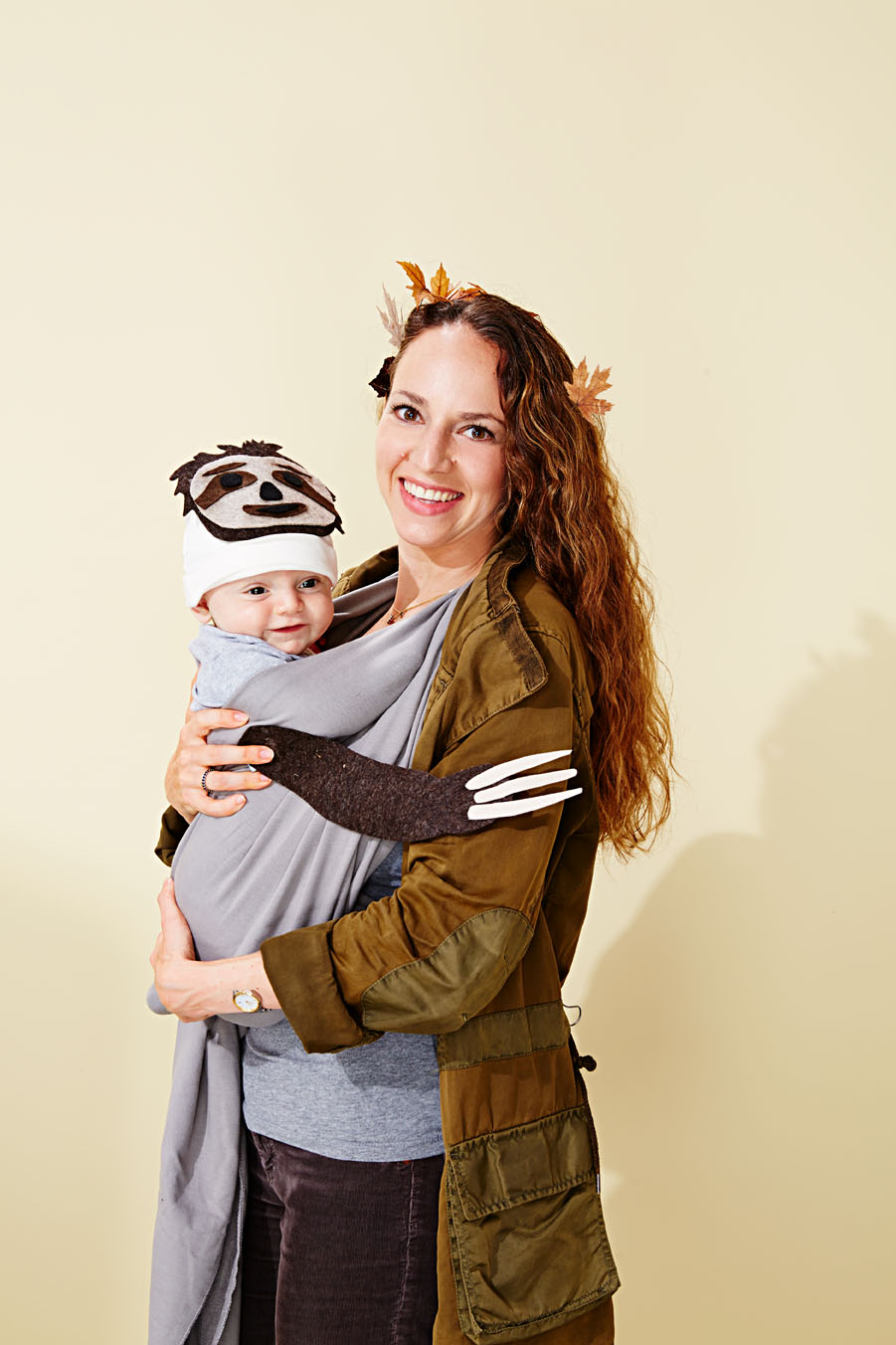 Bluebird and Birdwatcher Costumes
As an avid birdwatcher, your little bird is never far from sight with a pair of binoculars. Other than the hat and a canteen (available at camping-suppl stores), this costume can be assembled entirely from clothes from your closet. Choose an outfit that consists of neutral, outdoorsy pieces, such as the safari-style jacket and brown pants shown, and don't forget a pair of sensible shoes. For the bluebird costume, use our pattern and basic sewing supplies to create a pair of detachable wings.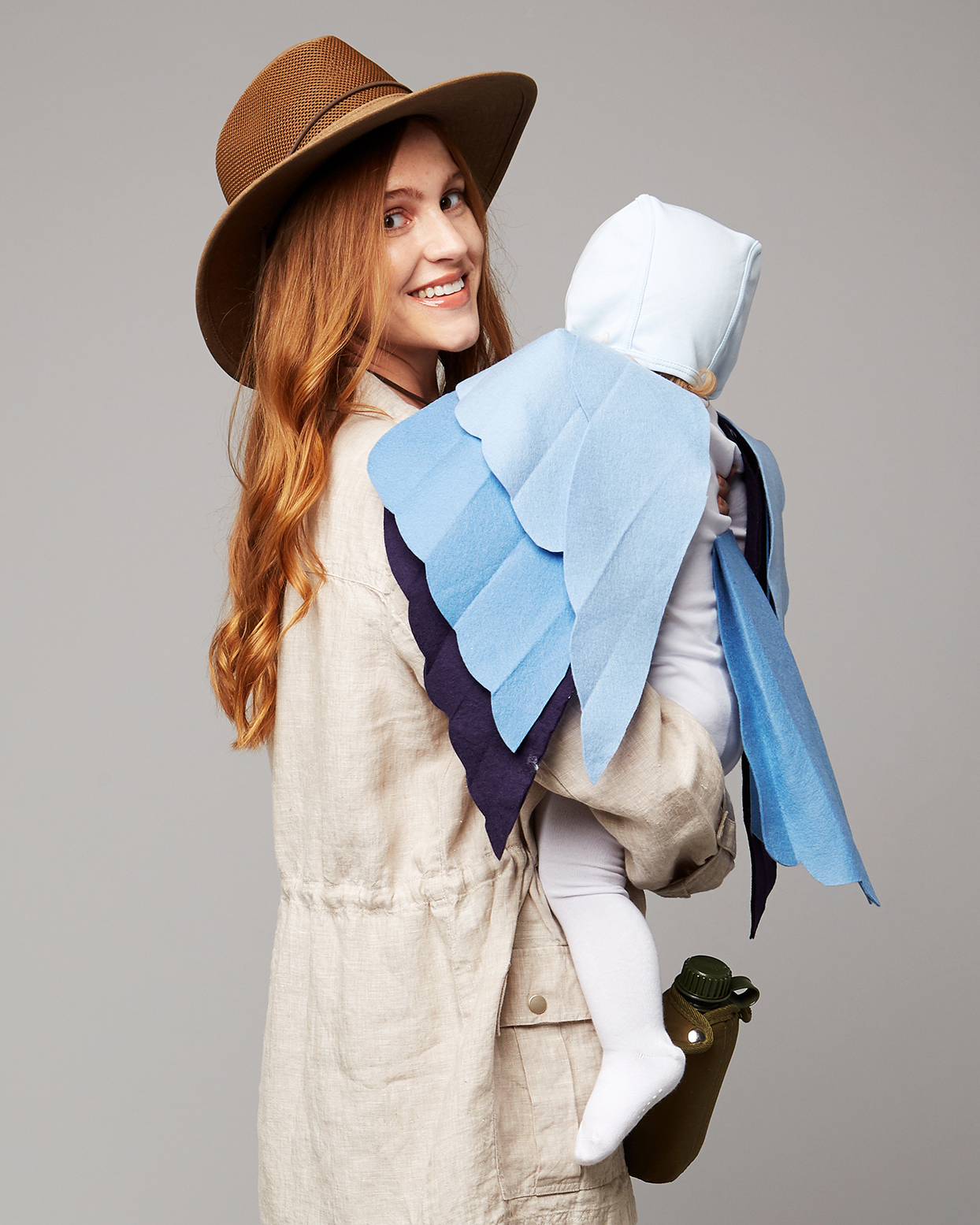 Under-the-Sea Costumes
For a family of little ones, the ocean still holds a depth of mystery and awe. Designate one of your kids as the Mermaid, encouraging her to make her own whimsical accessories like a seashell crown and a tail of satin, tulle and metallic trim. Meanwhile, the rest of the kids can dress up as their favorite undersea creatures: a goldfish, a snappy Lobster, an eight-legged Octopus or a Jellyfish. You can even join in the fun as a scuba diver or an ever-watchful lifeguard at the shore.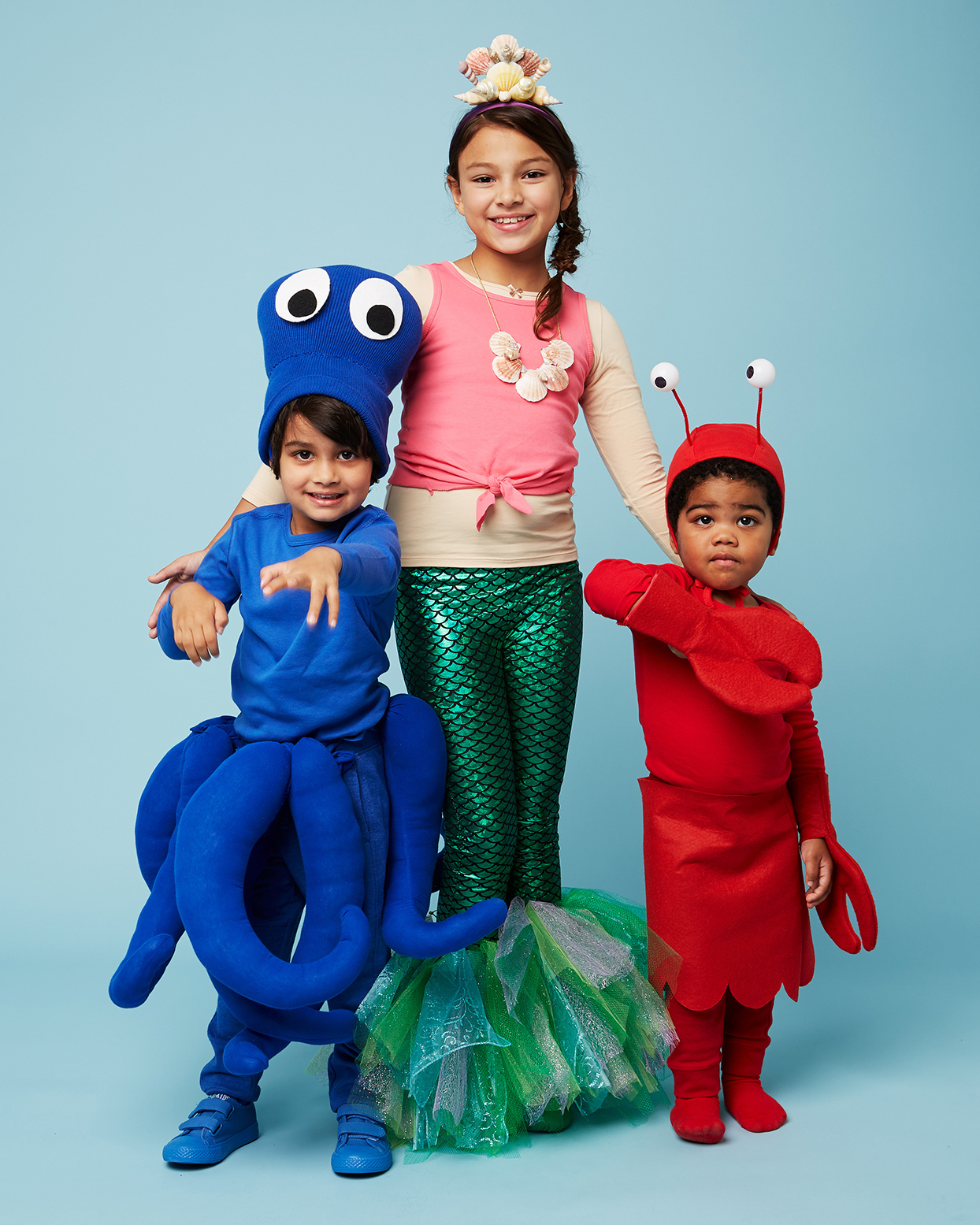 Three Musketeers Costume
All for fun, fun for all! A night of trick-or-treating awaits the dashing Three Musketeers. If you're a family of three- or have three little ones – then why not embody the legendary literary trio? Give everyone a pullover vest, a collared cape, and a Fleur-de-lis insignia – and the evening will be full of swashbuckling adventure and candy treasures.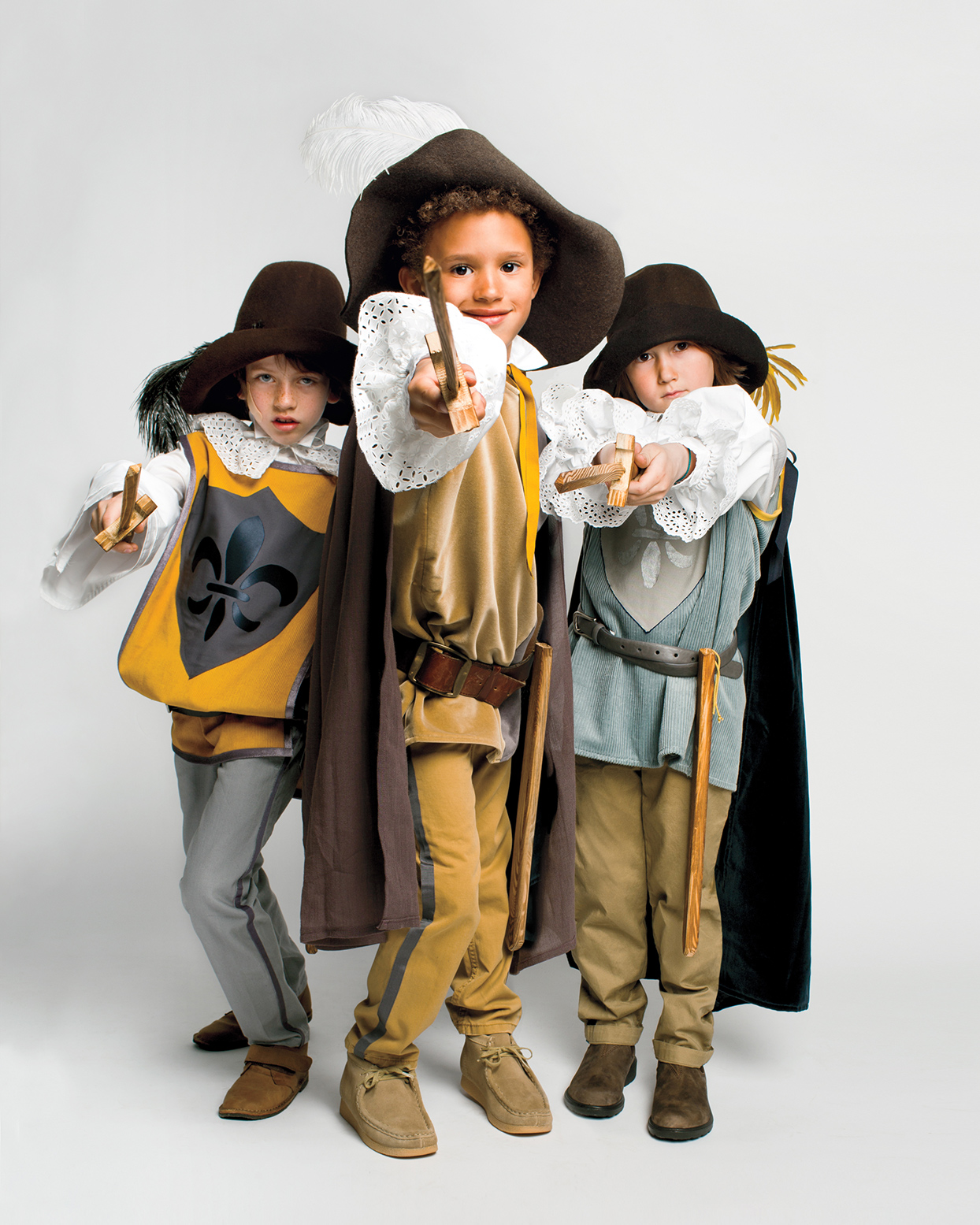 Little Red Riding Hood and the Big Bad Wolf Costumes
Embrace the charm of classic storybook characters with these easy-to-make costumes for Mom and Dad or son and daughter. For her, a gown and namesake hood are cut and sewn from a length of crimson jersey and tied with a wide ribbon at the waist. For him, the dapper wolf wears a suit with a red cravat, and his fur is styled from two shaggy wigs. (To make the wolf head, cut 2 large triangular sections – as ears – from one wig and hot-glue them in place to the second wig.) Faux fangs are the only sign of his true nature.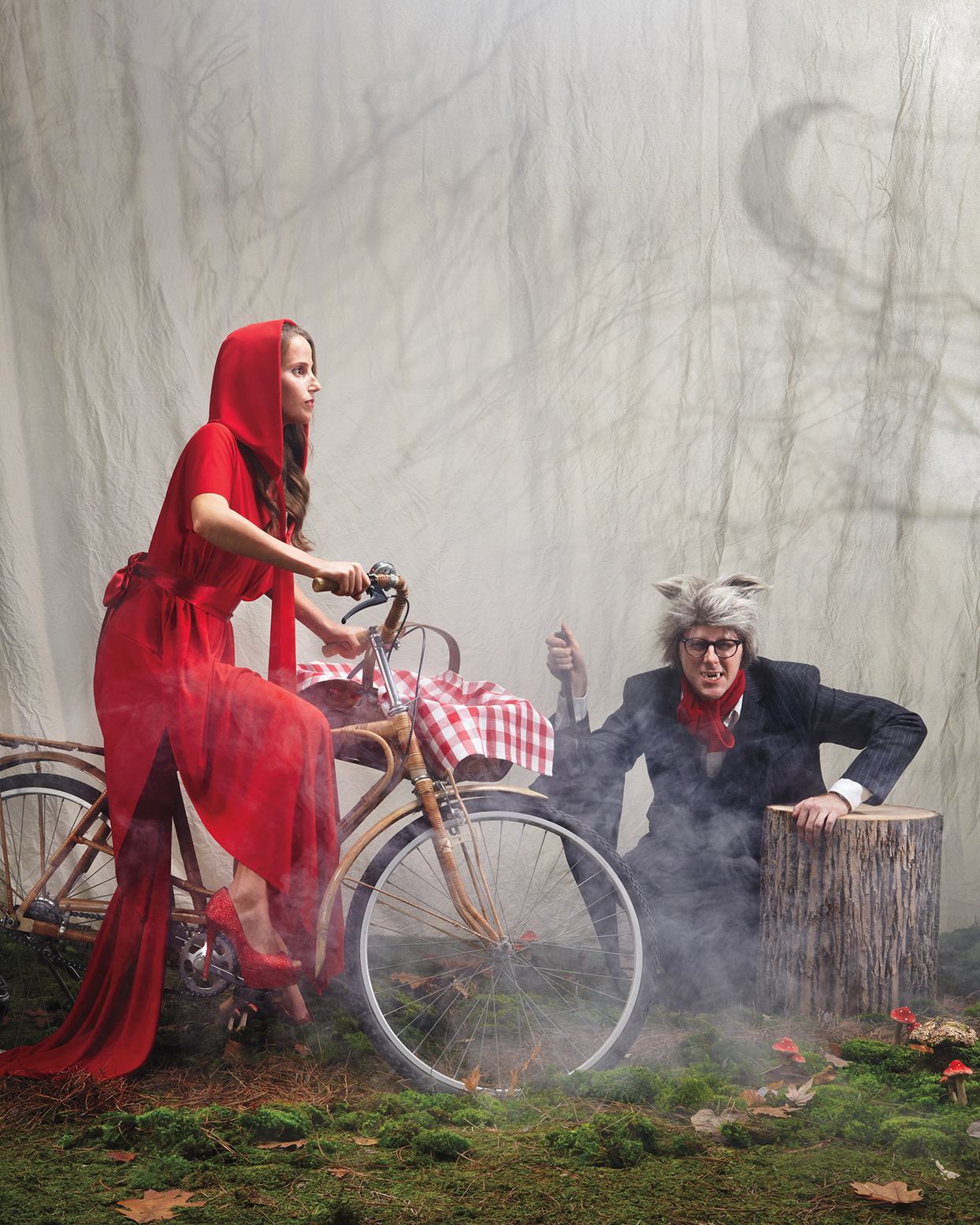 Storm Chaser and Tornado Costumes
As siblings, they can have an admittedly stormy relationship at times, but they complement each other well as a storm chaser and tornado. A younger sister can be a great storm chaser with some hair gel and a flipped umbrella. All you need is a tornado and that's easy enough to create with a tomato cage and tulle.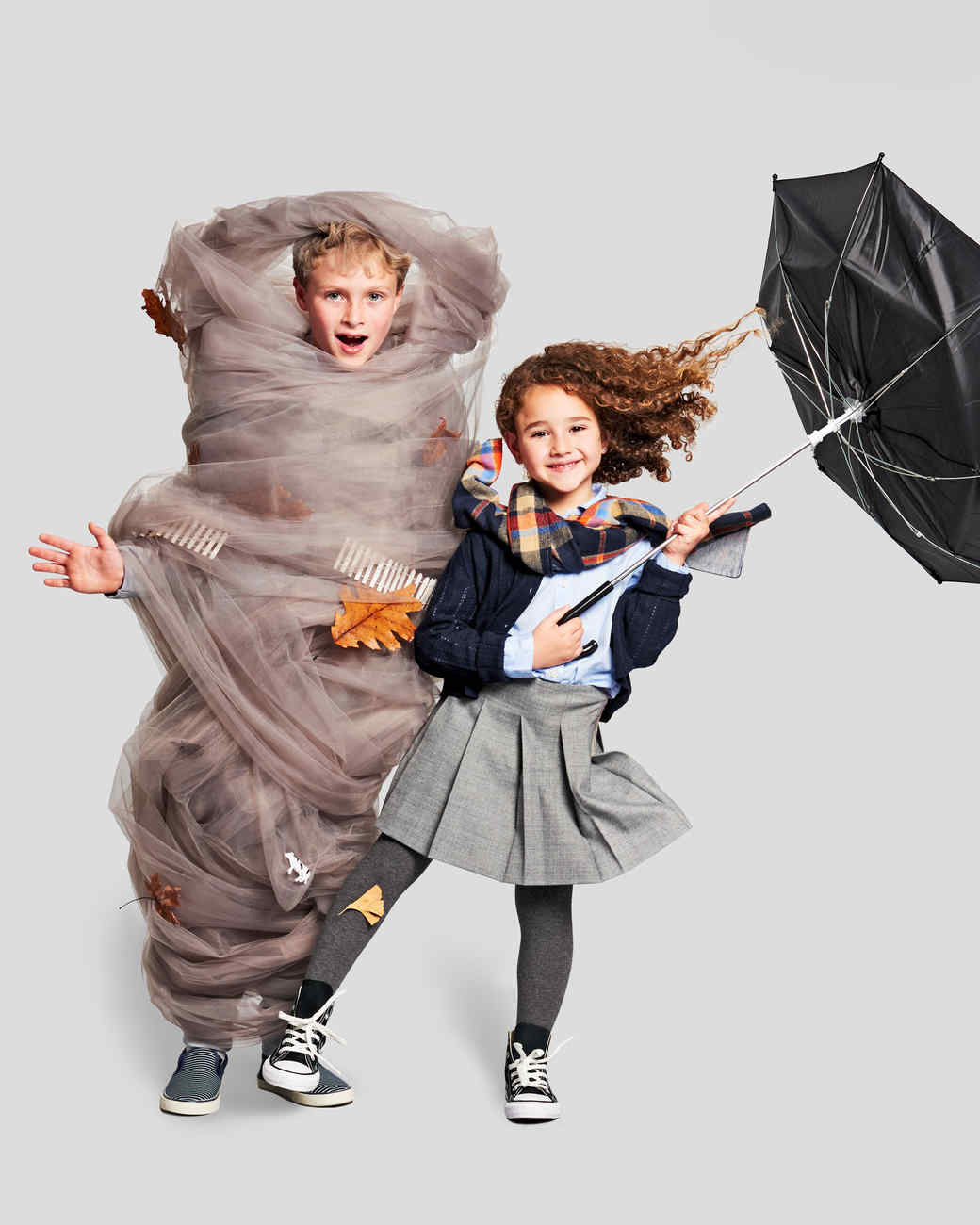 Lion and Gladiator Costumes
They tussle in roughhouse play as it is, so why not personify their sibling rivalry? Dress one as the stalwart gladiator and the other as a courageous lion. Construct the gladiator's costume using hardware store supplies: museum board, a window shade, and prong fasteners. Similarly, the lion's costume is a clever assembly of fringe garlands and a hoodie. For both, there are no sewing skills required.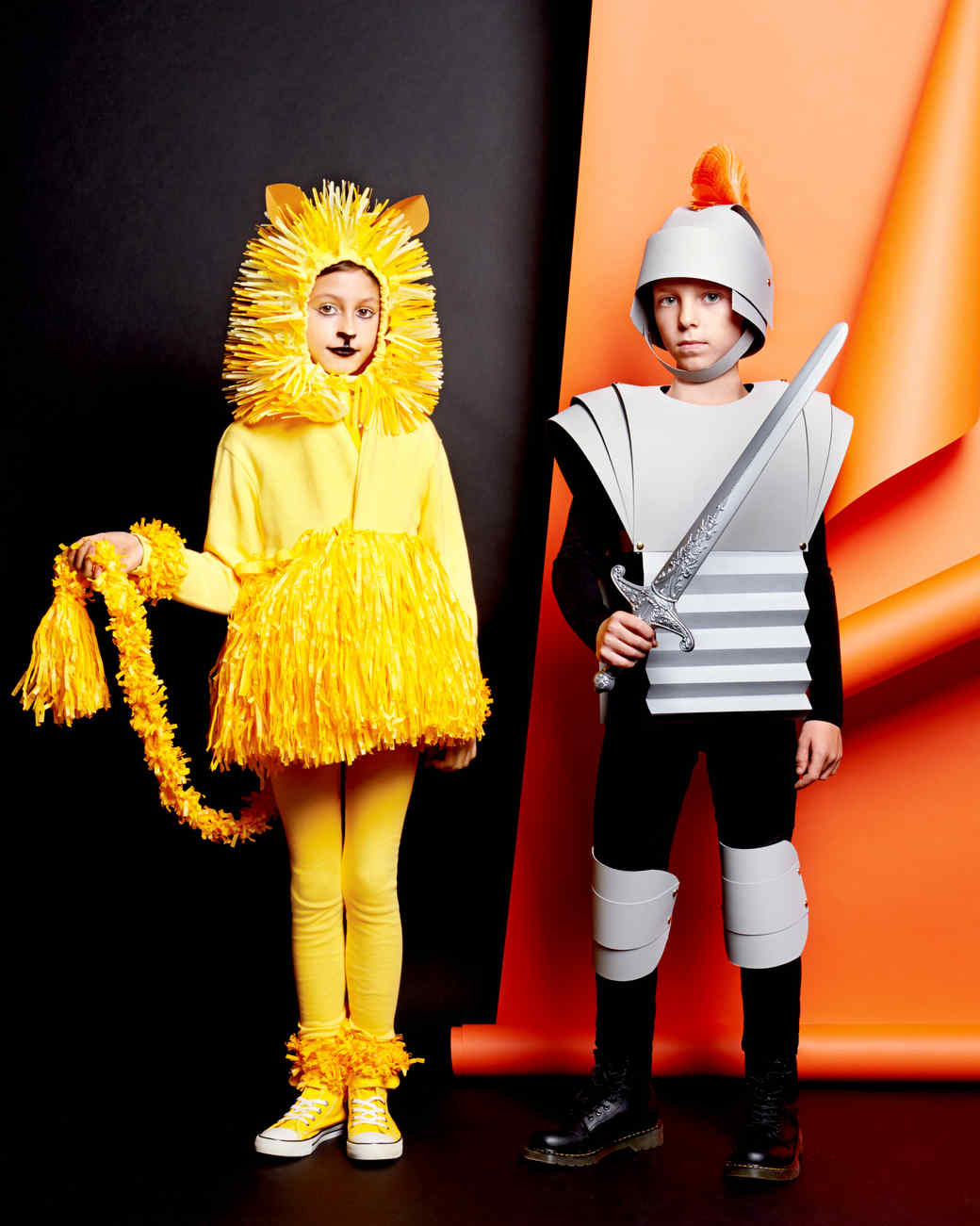 Napoleon and Josephine Costumes
For a sibling costume that is simple, as the French say, "incroyable", pair brother and sister together as Napoleon and Josephine. He may not have learned his French history yet, but a boy would love dressing up in Napoleon's regalia nevertheless. And, similarly, a girl will love dressing up in Josephine's glamorous Empire-style gown with period jewelry and a fancy updo.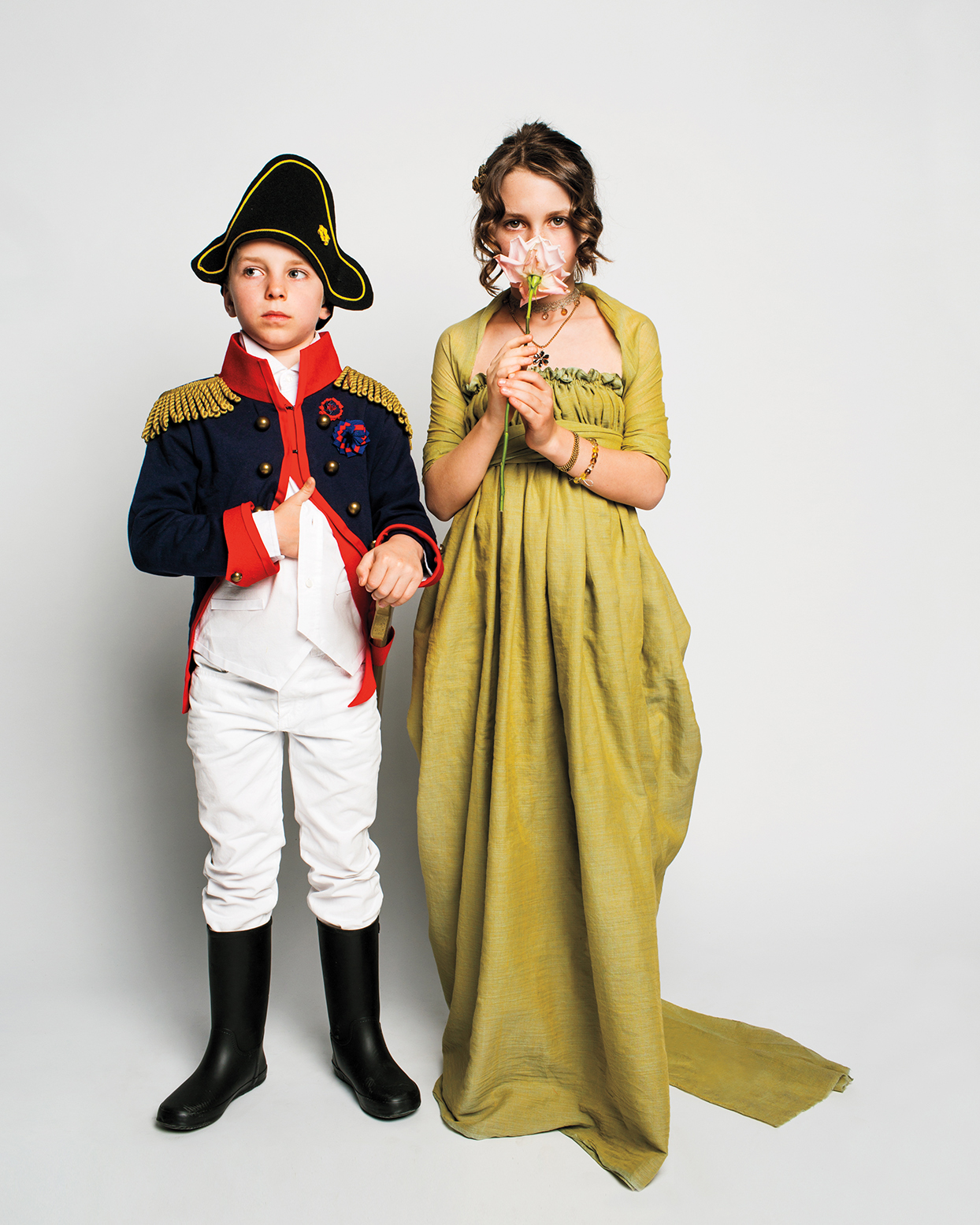 Lamb and Chicken Costumes
This funny farm duo – a chicken and a lamb – pair up together in the cutest costume idea for siblings, cousins or even best friends. Both costumes use wearable patterns in simple soft materials to ensure that the kids feel comfortable for a night of trick-or-treating. A parent can keep a close watch over the flock as they make their rounds through the neighborhood as Old MacDonald.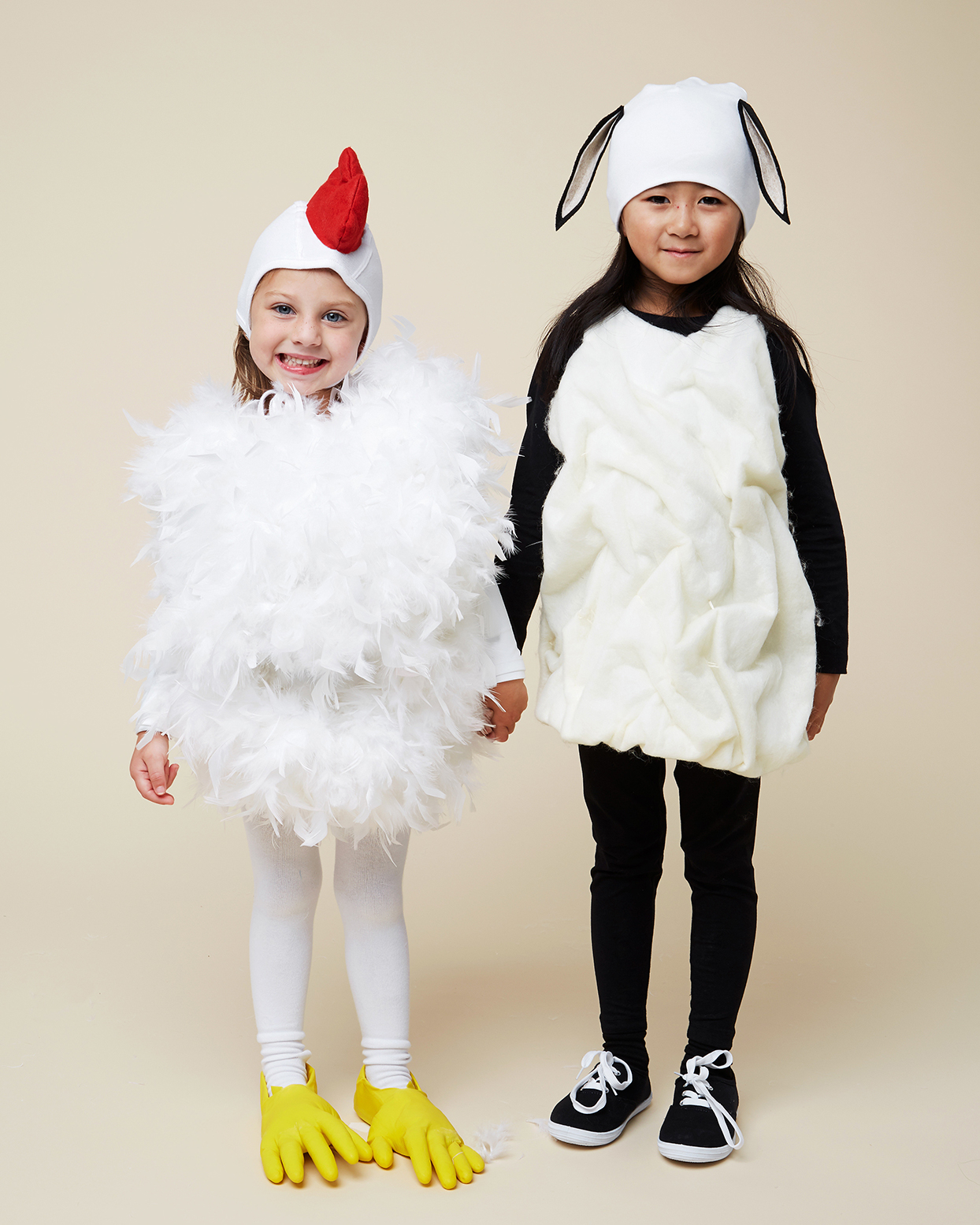 Tulip and Rose Flower Costumes
A blooming crepe-paper tulip cap and rosebud headband – each in pastel hues turn a mother-daughter dup into a sprightly pair.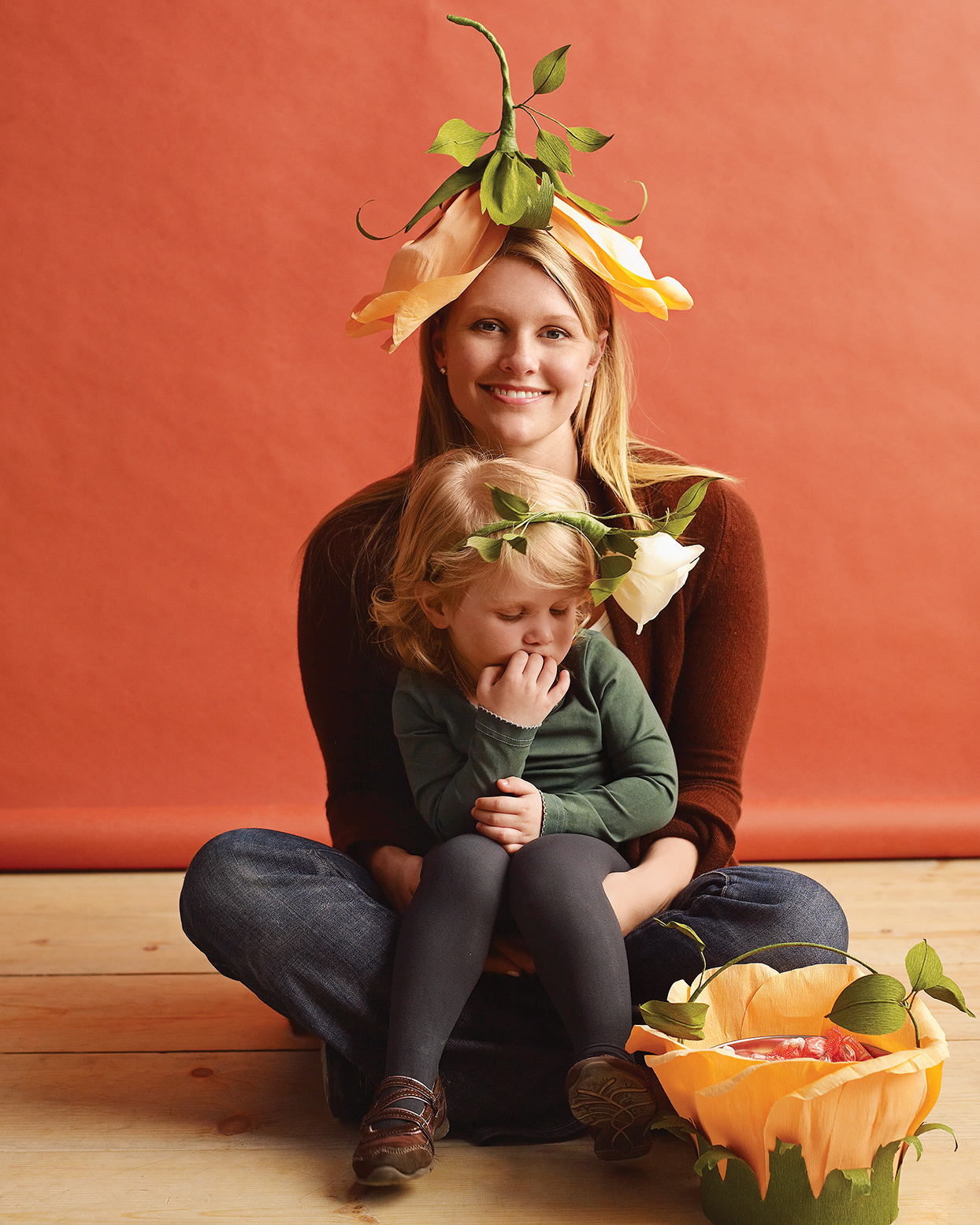 Superhero Costumes
Every kid is a superhero and parents can join in as well. Start with t-shirts and leggings as the base for the costume. Then add headbands and belts and other accessories to make your own unique superhero.