When you stop and think about it, Thanksgiving is a time for holiday inspiration. It is the holiday that kicks off the rest of the holiday season. As with any day of the year, kids find inspiration in all sorts of arts and crafts. Keep your younger guests happily occupied ahead of the family feast with these challenging, fun, and entertaining arts and crafts.
1. Cornhusk Dolls
As harvest-time icons go, we much prefer the simple beauty of corn-husk dolls. They're understated, easy to make (even for children), and truly ingenious – requiring not much more than some husks, twine, glue, and felt.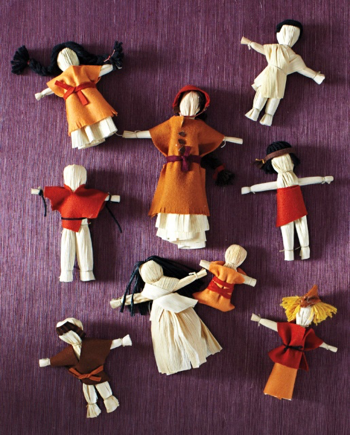 2. Leaf Leis
Give "aloha!" an autumnal twist: embellish string necklaces with paper leaves (cut out a big pile with a craft punch) and colorful organic pasta. Cut leaves out of butcher paper with punches. Show kids how to sandwich twine between two leaves with glue, thread twine through pasta, and secure it with knots to create necklaces.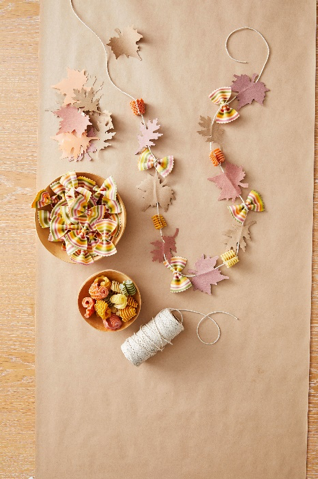 3. Mini Mayflower
Tip your hat to the Pilgrims with a ship constructed using a simple origami boat fold and stocked with tools for decorating the butcher paper "tablecloth" that you set on the kid's table.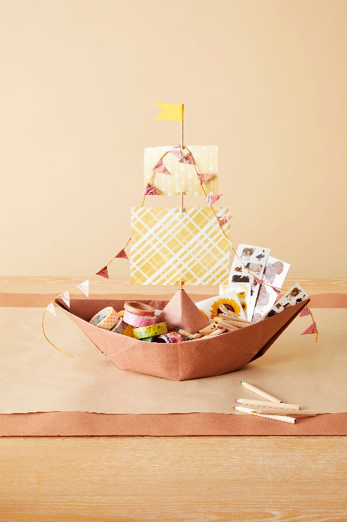 4. Pop-Cornucopias
Kids' hands and mouths will be occupied until the turkey's sliced by creating these amazing snack-filled cones from two different colors of butcher paper. Cut two sheets of butcher paper in different colors into fan shapes, one larger than the other. Trim edges with pinking shears. Roll each fan shape into a cone, sealing with a glue stick. Nest long cone inside short cone, bending horn up at the tip. Fill with popcorn and let the kid crafters munch to their heart's content.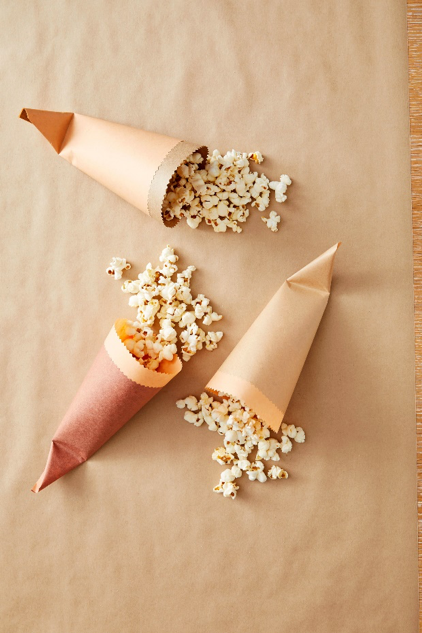 5. Coloring Place Mats
The clock is always ticking when kids are expected to sit down for a holiday meal. Eke out a little peace with these clip-art placemats! Trim craft paper to 11 by 17 inches and run the sheets through your printer like regular paper. Set the placemats out on the table with some cups of crayons and encourage the kids to have at it.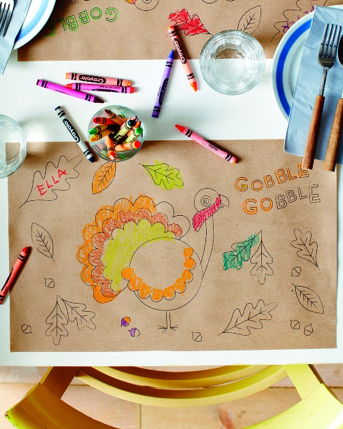 6. Acorn Dolls
A little craft project can keep the kids who opt out of helping cook the holiday meal entertained.  This acorn family is fun to decorate and customize – also, just as fun to play with. To make, collect a bunch of acorns in a variety of sizes. You can turn mini acorns into babies and bigger ones into adults. Pop off each cupule "hat" and hot-glue it to a wooden ball. Then, hot-glue the ball to the nut. Have the children use colored pencils or markers to draw on facial features and hair.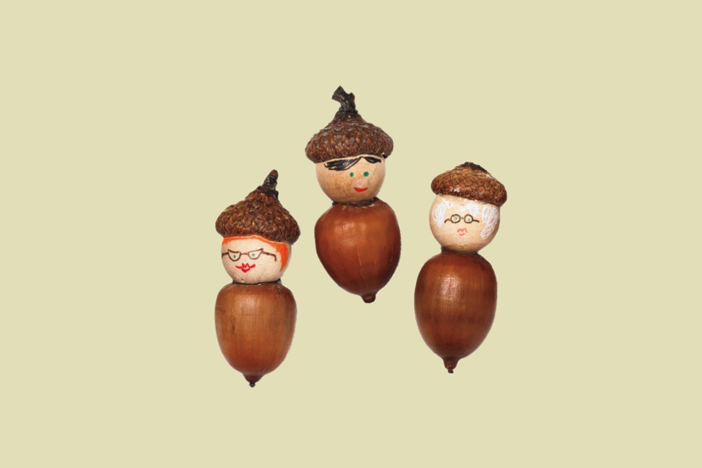 7. Kiddie Cups
This year decorate the kids' table with pilgrim-hat serving cups and Mayflower-sail straws. Start with nine-ounce paper cups in black and gold. For the sails, cut them out and punch holes as indicated. Write a name on each and slide it onto a straw. For the hat, use a craft knife to cut away the bottom of a black cup. To add detail, cut a brim, trace it onto black paper, and cut it out. With glue, attach it to the cup rim. Voila!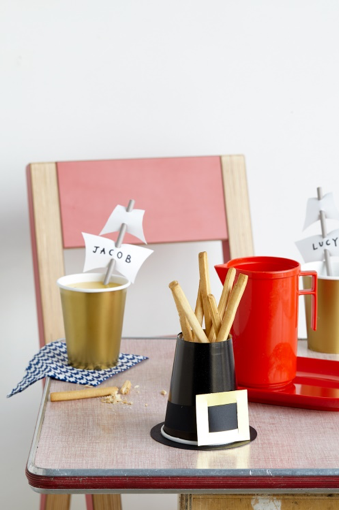 8. Paper Turkey Hats
This festive hat features a turkey plume fit for the holiday spirit. Print out a handful of template copies and they'll be ready to "gobble-gobble" around the house!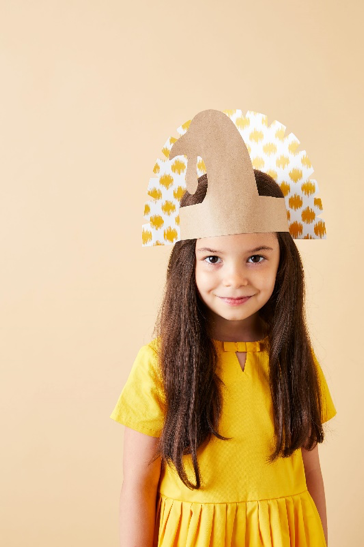 9. Colorful Paper Turkey Place Cards
Your kids can help you set the Thanksgiving table with these simple and adorable colorful turkey-shaped place cards. Attached an accordion-folded piece of colored construction paper to a cut-out turkey template. Add your guests' names on the body of the turkey and arrange them on your table.
10. Pilgrim Hats
Easily crafted with a few folds, these paper hats and bonnets get kids into character as Pilgrims. To make the hat, download our template from the internet for the hat front and buckle, and trace them onto drawing paper. Cut out the silhouette of the hat, then fold up the brim. Cut out the headband; rest it inside the fold of the brim, and secure with a dot of glue. Note that cutting the gold buckle can be tricky; it's best done by an elder of the settlement (aka an adult). Glue buckle onto hat, above brim. Wrap headband around head, and secure with a dot of glue (or tape).