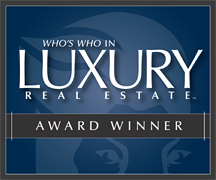 Rodeo Realty founder and President Syd Leibovitch attended the Luxury Real Estate conference in Atlanta last week as a member of the Board of Regents. Syd spoke at the Regents conference on his strategy for international marketing. Because Los Angeles is one of the most popular cities for foreign buyers, Rodeo Realty has developed a top notch strategy for attracting and catering to these valuable clients.
The conference also features the Luxury Real Estate Awards. At this event Rodeo Realty picked up the award for Best Brand Integration for 2013. Congratulations to all the winners and we look forward to the next conference. The full press release is below:
Rodeo Realty Honored with Prestigious Award
at the 18th Annual Luxury Real Estate Fall Conference
SEATTLE – (October 17th 2013) – Who's Who in Luxury Real Estate hosted the 18th Annual Luxury Real Estate Fall Conference in Atlanta, GA, USA October 6th-9th at the Ritz-Carlton, Buckhead. The conference is a meeting of international luxury real estate brokers who come together several times per year to network, share their collective business insight and discuss the state of the global real estate market. Awards, a key part of the event, are given in recognition for the successes of the network.
Rodeo Realty was honored with the 'Best Brand Integration' award which is given to the Luxury Real Estate member or company that consistently displays the Board of Regents and/or Luxury Real Estate logo and brand in conjunction with their own brand. As a member of the Board of Regents, Rodeo Realty utilizes an array of powerful marketing solutions for growing and promoting their already successful real estate business.
Discussions at the conference covered multiple topics of great interest to those who serve the high net-worth demographic, with a particular emphasis on market trends, technology solutions and recent innovations in the industry. Syd Leibovitch of Rodeo Realty discussed 'Working in an International Market'. Other sessions included topics such as 'What do Buyers & Sellers Want Now?', 'Creative Strategies for Real Estate Lead Generation', 'Business in China', and 'Digital Marketing: Selling your properties, yourself, your lifestyle'. Featured Speakers included Jeff Hoffman, Entrepreneur and Founder of Priceline.com as well as Jim "Murph" Murphy, Founder of Afterburner Inc.
Other award winners include the Lifetime Achievement Award: Jenny Pruitt, Atlanta Fine Homes Sotheby's International Realty; Best App: Lawrence Realty; Best Digital Marketing: Gardner Realtors; Best Industry Networking: Todd & Scott Cutter, 2Costa Rica Real Estate; Best Overall Marketing Package: Harry Norman Realtors; Best Print Marketing: Daniel Gale Sotheby's International Realty; Best Website: Stribling & Associates; Billionaires Club: John Daugherty, Diane Turton, Audrey Ross, Carrie Wells, Rob Kildow; Extraordinary Philanthropist: Sheryl Chinowth; Master Networker: Tim Murray, Denise Pruitt, Brian Hazen, John Stough, Elizabeth Ann Stribling-Kivlan, Rob Thomson; Most Valued Partner: Wall Street Journal; Outstanding Social Media Savvy: Stephen Udoff, Pritchett-Rapf Realtors; Outstanding Rookie: Bonneau Ansley, Harry Norman, Realtors; Significant Sales Award: Brian Hazen, Andrew Arreola, Ann Chiasson and Rob Kildow.
About LuxuryRealEstate.com
LuxuryRealEstate.com, a Webby Award Honoree, has been voted 'Best of the Web' by Forbes magazine multiple times, praised by the International Herald Tribune, Town & Country, the Wall Street Journal and has been ranked 'Best Website' by consumer surveys. Since its debut in1995, LuxuryRealEstate.com has remained the #1 portal for luxury properties on the internet and has several times more $1,000,000+ content of any near-peer.
Known in the industry since 1986 as the Who's Who in Luxury Real Estate network, a global collection of the finest luxury real estate brokers in the world, this group of more than 70,000 professionals in more than 85 countries collectively sells in excess of $190 billion of real estate annually. Members are selected by Chairman/Publisher John Brian Losh, one of REALTOR Magazine's 25 Most Influential People in Real Estate and broker of fine properties and estates through his Seattle-based brokerage firm, Ewing & Clark, Inc. Luxury Real Estate has been recognized by the Webby Awards, has received "Best of the Web" by Forbes Magazine, honored with an ADDY Award for Excellence in Web Design, deemed "Best Website" by consumer surveys, ranked in the Inc. 5000 List, noted as one of the 100 Fastest Growing Private Companies by Puget Sound Business Journal, and recognized by the Maggie Awards.