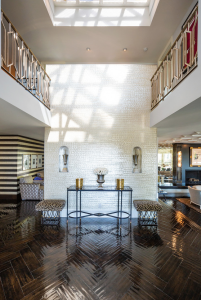 Benny Medina, the producer and talent manager who inspired the television series "The Fresh Prince of Bel-Air," said he is selling his midcentury-modern home in Los Angeles for $12.995 million.
Mr. Medina, 57, who has worked with celebrities like Sean "Puff Daddy" Combs and Will Smith, bought the property for $3.5 million in 2003 from entertainment executive Randy Phillips, the CEO of Global Entertainment , according to public records. Mr. Medina said he then spent five years thoroughly renovating the two-story home, located in Doheny Estates and built in 1963. The renovation expanded the three-bedroom home to its current size of 5,500 square feet and added a stone fireplace in the sunken living room and an expanded outdoor kitchen with a pizza oven. There is also a 50-foot pool and spa area.
"Everything in the house is a vintage piece," Mr. Medina said, adding that he drew inspiration from designers like James Mont and Jacques Adnet. New details include dark oak wood floors and diamond-patterned coffered ceilings. Floor-to-ceiling windows overlook city views. Mr. Medina said he undertook most of the design work himself, and went through three contractors before completing the project.
"I made very good decisions, and I made very bad decisions, and I paid the price for it," he said, adding that he won't give the renovation cost "because I would be embarrassed."
Mr. Medina said he is selling the home because he is spending half the year in New York and would like to take on another renovation project. He is currently serving as executive producer for the NBC series "Shades of Blue," a police drama starring Jennifer Lopez. Mr. Medina is the longtime manager of Ms. Lopez.
Starting at the age of 16, Mr. Medina worked as a live-in groundskeeper for Berry Gordy, the founder of Motown Records, he said. He parlayed that experience into a career in the music business, followed by a pitch for a TV show about his unconventional youth. It became the basis for "The Fresh Prince of Bel-Air," the sitcom that launched the acting career of Mr. Smith. Mr. Medina was an executive producer for the show.
The home is listed with Ben Bacal of Rodeo Realty Fine Estates in Beverly Hills.
Article written by Stefanos Chen and courtesy of the WSJ