A Sherwood Forest estate, once owned by American comedic legend Richard Pryor, has went on the market and is listed for sale at $2,999,000. Jason Peteler and Ben Bacal of Rodeo Realty Beverly Hills have the listing, which has headlined in The Hollywood Reporter, The Real Deal LA and Curbed LA.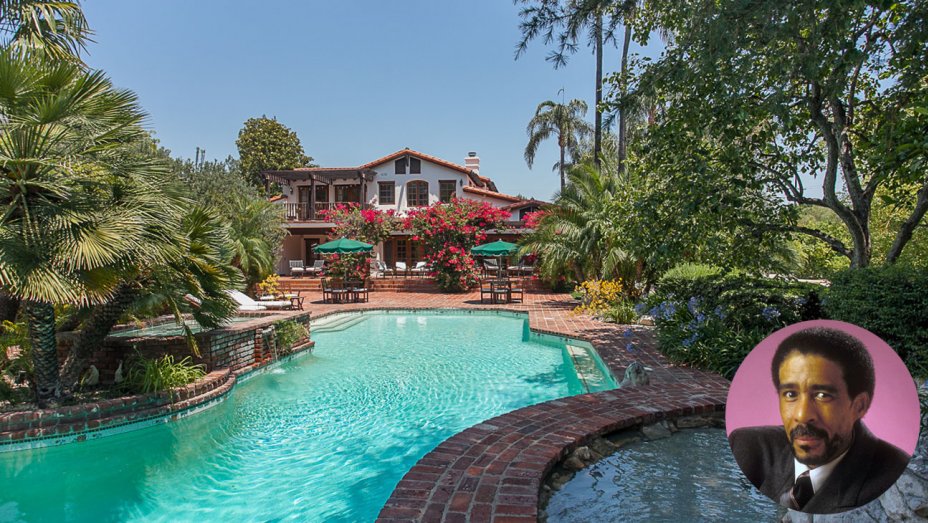 The meticulously maintained 2.2-acre compound, referred to as the "Wrigley chewing gum estate" by American broadcast journalist Barbara Walters and Jet magazine, offers 9,000+ sqft. of resort living space.
The estate located on Parthenia Street has six buildings: a main house, a guest home, a pool house, a gym/professional dance studio, an office and a children's playhouse. The property also comes with a 3-car garage and kennel. The main house has 4 bedrooms, 4 baths, a formal living and dining room, gourmet kitchen, breakfast nook, library, a family room with sunken bar, a billiard, game rooms, and a wine closet. The guesthouse includes a living room, two bathrooms, sauna, kitchen and a bedroom. The pool house offers his and her changing rooms with baths, full kitchen and a "man cave."
Additional amenities include a 65' pool with spa, waterfall and slide; a BBQ pavilion; children's playground; tennis, tetherball and basketball courts; and putting green. Outdoors, gracing the magnificent private and gated property are abundant mature trees, orchards, gardens and patios.
Pryor purchased the Northridge "Sherwood Forest" home in 1974 and lived there for several years. In 1979, Walters of ABC-TV interviewed him at his property. An incident that occurred inside his home a year later is said to be the reason why Northridge and Parthenia Street were placed on the map—that and the Northridge earthquake, which happened 14 years later in 1994. The current main house was destroyed by the earthquake, but was rebuilt in the style of the original.
Aside from comedy, Pryor was also a television writer and movie actor, starring in films like Stir Crazy and Greased Lightning. In 1986 he was diagnosed with multiple sclerosis, but continued to perform for several more years. In 2005, he died of a heart attack.
For more information on the property, visit www.hiddensherwoodforestgem.com
For The Hollywood Reporter's story, click HERE
The Real Deal LA, HERE
Curbed LA, HERE
YAHOO, click HERE
[su_slider source="media: 17164,17163,17162,17161,17160,17159,17158,17157,17156,17155,17154,17153,17152,17151,17150,17149,17148,17147,17146,17145,17144,17143,17142,17141,17140,17139,17138,17137,17136,17135,17134,17133,17132,17131,17130,17129,17128,17127,17126,17125,17124,17123,17122,17121,17120,17119″ limit="46″ width="1600″ height="500″ responsive="yes" title="no"]