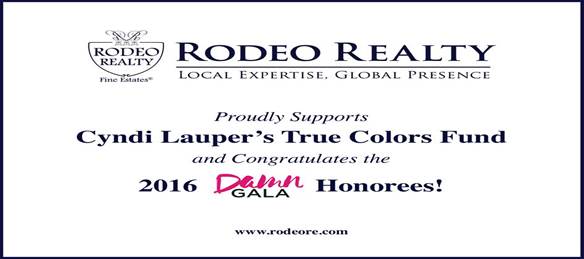 Cyndi Lauper, the True Colors Fund, and some pretty awesome people came together in October for an unforgettable evening filled with revelry, music, food, and performances!
Rodeo Realty is proud to have taken part in the event that focused on raising money to support the True Colors Fund's efforts to end homelessness among lesbian, gay, bisexual, and transgender youth in America. The non-profit organization, co-founded by Cyndi Lauper in 2008, has striven to provide a safe space in which LGBT youth could feel free to express themselves. Through community organizing work, public engagements, public policy, research, and youth collaboration, they hope to not only end LGBT youth homelessness, but to also prevent it from occurring.
Among various supporters, Rodeo Realty was one of the sponsors for Cyndi Lauper's Damn Gala. Together, President of Rodeo Realty Syd Leibovitch and his wife Linda donated a total of $7,000 to the organization and its event.
The event was held at The Hollywood Athletic Club. Network and Los Angeles LGBT Center were this year's honorees.
Rodeo Realty proudly supports Cyndi Laurper's True Colors Fund and congratulates the 2016 Damn Gala honorees.
About True Colors Fund:
In America, up to 40 percent of the 1.6 million youth that are homeless each year identify as lesbian, gay, bisexual, or transgender. Yet, only up to seven percent of the general youth population is LGBT. The most cited reason for this disproportionate rate is family rejection due to the young person's sexual orientation or gender identity.