Day of the Dead in Los Angeles is definitely one of the most interesting holidays to celebrate locally. The festival of the deceased isn't about haunted spirits or drawn-out grieving, rather offers a solid viewpoint on existence in the wake of death. Participants of the Mexican holiday (customarily held after Halloween) visit friends and family's headstones as a part of open get-togethers: you'll find cultural affairs around the city with dance rituals, musical performances and plenty of calaca (skeleton) costumes. Get a taste of the holiday with some of our favorite Day of the Dead events, as well as the tastiest Mexican food in town.
What is Day of the Dead?
Day of the Dead is a Mexican holiday that involves family and friends gathering to pray for and remember friends and family members who have died, and helping support their spiritual journey. In Mexican culture, death is viewed as a natural part of the human cycle. Mexicans view it not as a day of sadness but as a day of celebration because of their loved ones awake and celebrate with them.
Day of the dead begins October 31 and ends November 2, 2019.
Día de Los Muertos at Hollywood Forever
Hollywood Forever Cemetery, Hollywood
Nov 2, 2019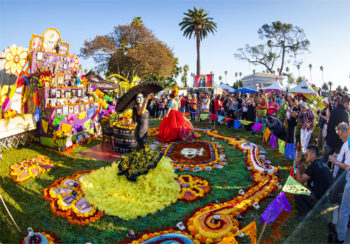 Hollywood Forever Cemetery claims to host the largest Day of the Dead celebration in California, and we wouldn't doubt it. The cemetery grounds are covered with art exhibitions, dance rituals, musical performances, children's arts and crafts projects and food vendors (and crowds) aplenty. You'll see altars to the dead created by community artists, and can either watch or participate in the calaca (skeleton) costume contest. This year's theme honors sacred migrations and the monarch butterfly. It's sure to be a spectacular display, as always. And there's something to be said for a Halloween-time event that respects and celebrates the very (and often forgotten) roots of the holiday.
The event turns out to be exceedingly packed after sunset. Plan on arriving before 4pm if you plan on parking in the neighborhood.
Grand Park Downtown Día de Los Muertos
Grand Park, Downtown
Until Nov 3, 2019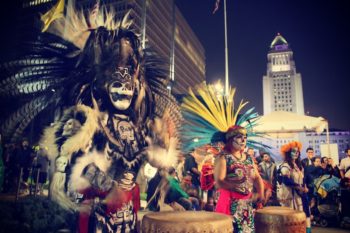 Join Grand Park and Self-Help Graphics & Art for a nine-day display of altars erected within the park alongside large-scale art installations curated by LORE Media and Arts. The altar displays kick off on October 26 with a traditional Noche de Ofrenda ceremony to pray for and honor the dead, featuring a communal circle and blessing led by the indigenous community. The festivities culminate in Selena for Sanctuary, a free concert on November 1 that features Empress Of, San Cha, Ceci Bastida and more.
Self Help Graphics & Art, Boyle Heights
Nov 2, 2019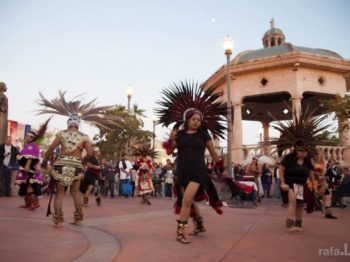 Boyle Heights' Self Help Graphics & Art has presented this Day of the Dead celebration for over four decades. The event begins at Mariachi Plaza, where a handful of theater groups lead an animated procession to Felicitas and Gonzalo Mendez High School. Here, you'll find local food and craft vendors. In addition, the arts center hosts free community art workshops on Saturdays in October as well as a Day of the Dead-themed art exhibition.
Day of the Dead at El Pueblo
Olvera Street, Downtown
Until Nov 2, 2019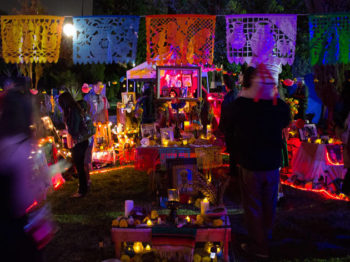 Peruse altars in the plaza of El Pueblo at this Day of the Dead celebration. Expect plenty of festive wares from the merchants on Olvera Street, along with children's crafts in the morning and a candlelight procession every night. Stop by during weekends for face painting, mariachi bands, Aztec dancers and more.