Halloween is not canceled this year! We have rounded up some Halloween-Specific Events for the family to enjoy socially distant from others. Book early before they are all sold out!
Haunt'oween LA Halloween Drive-through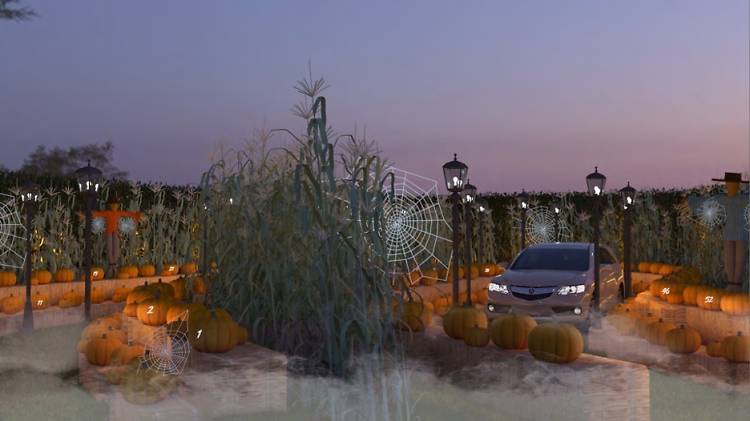 When: October 9 – October 31
Tickets: www.hauntoweenla.com
Where: Westfield Promenade (6100 Topanga Canyon Blvd)
Trick or treating will look a little different this year, but that doesn't mean you can't get the whole family together for a drive-through experience to get spooky. Coming to Woodland Hills on October 9, a new Haunt'oween L.A. event promises jack-o'-lantern tunnels, pumpkin picking, family-friendly sights and even a bit of "door-to-door" trick or treating—all socially distanced, of course. The entire experience runs between 25 and 35 minutes and costs $70 per car. You'll find it at 6100 Topanga Canyon Boulevard on the site of the former Westfield Promenade. Tickets are on sale now. 
Nights of the Jack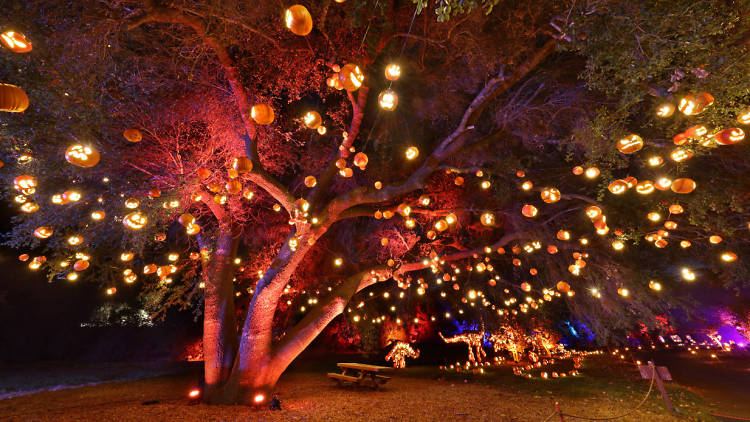 When: October 1 – November 1
Tickets: www.nightsofthejack.com
Where: Calabasas
Cruise across the grounds of the scenic King Gillette Ranch as the Santa Monica Mountains hideaway is illuminated with thousands of hand-carved jack-o'-lanterns. Nights of the Jack returns this year with a drive-through edition, with timed tickets required each night. Expect to spend about 25 minutes on the mile-long trail, and just a heads up that there will be no food or beverages for sale, nor will bathrooms be available.
Disney+ Drive In Festival 

When: Oct 6 – Oct 11
Tickets: https://www.showclix.com/event/disney-drive-in
Where: Santa Monica Barker Hangar
Want to watch some Disney classics somewhere other than your couch but you don't have a subscription to Disney+? Allow this free drive-in movie series at Santa Monica's Barker Hangar to help. The early October series starts and ends with a pair of invite-only Disney+ original premieres (astronaut series The Right Stuff and music drama Clouds) but in the middle you'll find a decades-spanning mix of open-to-the-public classics: Tangled, Coco, Star Wars: The Empire Strikes Back, a Halloween-themed Hocus Pocus screening, a sing-a-long edition of The Sound of Music, and Captain Marvel. Free reservations open up on Monday, September 28 at 10am, but capacity is "extremely limited" (we'd say the fact that the ticketing page already leads to a virtual queue probably tells you everything you need to know about the demand for tickets). Each reservation is good for one vehicle with up to four guests.
Huluween Drive-In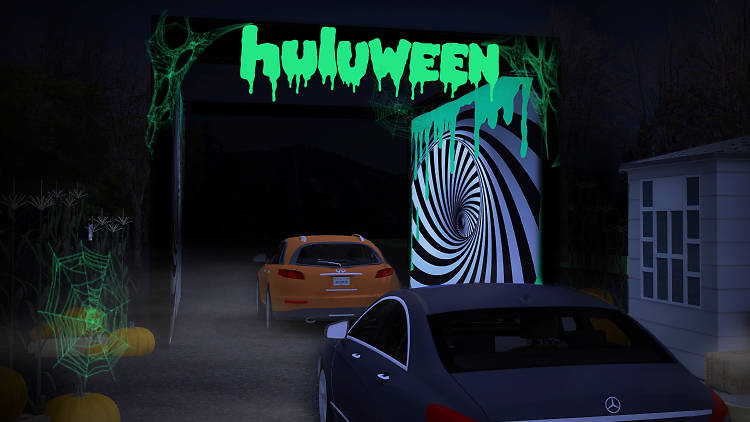 When: Oct 22 – Oct 25
Tickets: https://1iota.com/show/1143/huluween-drive-in
Where: Los Angeles Equestrian Center, Griffith Park
Drive through a haunted forest and catch screenings of a pair of new horror movies as well as a mix of old classics. Hulu is taking over the L.A. Equestrian Center for some spooky screenings ahead of Halloween, including its new originals Bad Hair and Books of Blood, plus favorites like Hocus Pocus, Beetlejuice, I Know What You Did Last Summer and Carrie (as well as an opening and closing night set from DJ D-Nice). As for that forest, all we know is that it doesn't include jump scares, but that it's at least spooky enough that Hulu says it's not suitable for young children, and that a bypass option is available. Tickets are totally free but very limited (capped at 150 cars per screening). Also, just a heads up that ticket requests don't guarantee admission.