Holiday door decor is not necessarily at the top of your list of things to decorate during the holidays.  However, a well put together door speaks volumes to those who pass it by. There is some sort of energy influence that a well-decorated doorway has over those who acknowledge it.  Using decorations like wreaths, garlands, lights and decorative window art will have your whole neighborhood in awe. There's no better way to welcome family and friends to your home this season.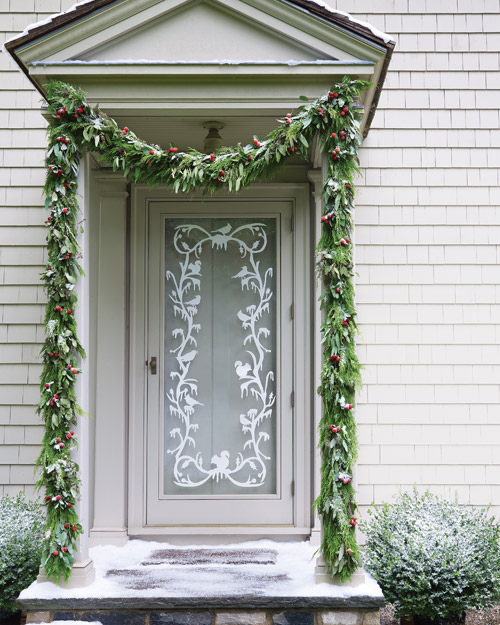 Frost The Glass
Visitors will be in awe of these instant etchings – vines and fauna. As intricate as it looks, this artwork is easy to create! Start by printing out a template of choice, which comes in sections, onto paper. Trace onto the back of white vinyl using transfer paper, cut out designs with scissors, and align to form the larger design. Static holds the pieces in place on a glass or mirrored surface without the need for adhesive, so you can reuse this snowy silhouette for years to come. Talk about eco-friendly.

Dazzle with Evergreen Stars
Think of the front exterior of your home as a blank canvas. Pictured here, these eight-point stars are staggered, making the front door its focal point. Evergreens are formed on simple bases made from wooden strips; using varieties like rosemary, juniper, cedar, boxwood or white spruce. (Tip: When choosing cuttings, opt for cedar, which can withstand wintry weather). You can also gather trimmings from your backyard.

Keep it Pretty and Practical
Even the smallest front porch and its door can be an efficient use of space. On this front porch are the most important items: sturdy boots, firewood, extra pinecones, and moss for the weekend projects. The lush wreath requires no complicated tools for assembly – just floral shears and wire.

Upcycle Your Treasures
Among all the holiday guests who come flocking to your door, none are as charming as the feathered ones who already inhabit your backyard. An idea that caters to them is easy: Prop a weather-worn basket onto the door with a bundle of greenery and perhaps a pinecone or two coated with peanut butter as a special treat for the birds? Sit back with a cup of hot chocolate and watch the show from your window.

Add Greenery and Shine
Wreaths are considered the darling of any front door, but why not exaggerate its grandeur with a trailing greenery of laurel branches and silver baubles. For a cohesive look, you can enliven an urn or potted planter that's empty for the winter with any leftovers of laurel and a gazing ball.

Invite Familiar Characters
Charm and tradition go hand in hand for the holiday season. At this holiday open house in Wilmington, North Carolina, the front door is decked out in merry red and green colors. On either side: ribbon-tied topiaries with poinsettias, glass lanterns and a larger-than-life Nutcracker standing at attention.

Craft a Whole New World
The most well-decorated front door offers your house guests a few telling clues about what awaits them inside. Outside, a welcoming sight of mushrooms, woodland gnomes and bottlebrush animals greet those who approach to enter.

Get the Party Started
If you're playing hostess to a crowd, here's a sweet idea to greet your guests: roll out a bar with your signature cocktail and a few decorative elements. At this whimsical holiday party, a life-size Nutcracker stands nearby, offering a fun photo-opp as people enter the party. And if you didn't the transformative power of paint, just check out that cotton-candy pink hue.
***Most of these projects have an added advantage: the structural underpinnings can be saved and reused. After the holidays, you can dismantle the displays, discard the faded greenery and save the base decoration. Next year, when winter returns once more, you can unpack your creations and dress up your doorway for the holiday season. Ideas sourced from Martha Stewart.